Around the Quads
Alumni in the News
Ronald Weich '80, former assistant attorney general for legislative affairs in the Department of Justice and former chief counsel to both Senate Majority Leader Harry Reid (D-Nev.) and Sen. Edward Kennedy (D-Mass.), was named dean of the University of Baltimore School of Law in April. In a press release announcing Weich's appointment, University of Baltimore President Robert L. Bogomolny said, "Ron Weich is the right person to continue the growth and transformation of the UB School of Law. During this time of considerable transition in legal education and the legal profession, it is important to have leadership with integrity and vision. Ron Weich embodies those qualities."
The Vatican hired Fox News correspondent Greg Burke '82, '83J as its senior communications adviser in June. His appointment comes in the wake of a series of public relations issues, including attacks by international media on the lack of transparency at the Vatican bank and the leak of classified documents, claiming corruption within the Vatican, by Pope Benedict XVI's butler. In an interview with The New York Times, Burke compared his new role to that of the White House press secretary: "It's a strategy job. It's very simple to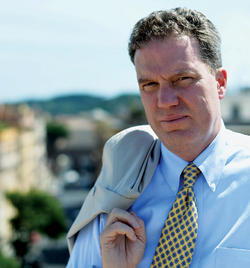 Greg Burke '82, '83J PHOTO: ALBERTO PIZZOLI/AFP/GETTYIMAGES explain, not so easy to execute: to formulate the message and try to make sure everyone remains on message," he said. The first communications expert hired outside the Roman Catholic media, Burke covered the death of Pope John Paul II and the election of Benedict for Fox News, where he had worked since 2001.
ESPN reported in August that entrepreneur Randy Lerner '84, '87L has reached an agreement to sell the NFL's Cleveland Browns to truck-stop magnate Jimmy Haslam for more than $1 billion. He now will focus on another of his sports properties, the Aston Villa soccer team in England's Premier League. Lerner inherited the Browns from his father, Alfred Lerner '55, namesake of Columbia's Alfred Lerner Hall student center, who died in 2002. Al Lerner purchased the then-inactive franchise from the NFL in 1998 for $350 million.
A July New York Times article praised the unconventional self-promotional strategies of venture capital firm Andreessen Horowitz, co-founded by Ben Horowitz '88. The article notes that while "most venture capitalists operated under levels of secrecy typically reserved for Swiss banks," Andreessen Horowitz has worked to brand itself as a top firm, featured on the cover of Fortune and Wired magazines and in Vanity Fair's 2011 "New Establishment" list of the year's top influencers. The Times reports: "All that pitching seems to have paid off. In just three years, the firm has raised $2.7 billion — more than any other venture capital firm in that same time span." Horowitz's public persona includes a blog (bhorowitz.com) on which he presents business lessons alongside lyrics from hip-hop songs. The Times also reports that Horowitz was invited to speak at Harvard's hip-hop archives and rapper Snoop Dogg, now known as Snoop Lion, has requested a meeting with him.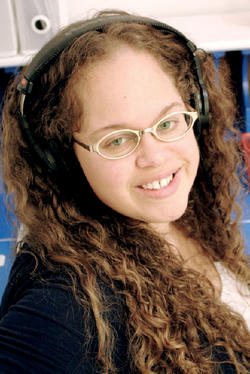 Phyllis Fletcher '94 PHOTO: JOSH KNISELYThe Radio Television Digital News Association presented Phyllis Fletcher '94 with a 2012 National Edward R. Murrow Award in Audio Feature Reporting for her story "Secrets of a Blonde Bombshell," which originally aired in September 2011 on Studio 360 with Kurt Andersen. A reporter and editor for Seattle's KUOW public radio station, Fletcher uncovered that the subject of her story, the "blonde bombshell bandleader" Ina Ray Hutton of 1930s swing band fame, was actually part black and had been passing as white since childhood. Hutton, who conducted, sang and tap danced in her all-female band the Melodears, died in 1984 having never acknowledged her black heritage. The story also received a Gracie Award for Outstanding Portrait/Biography from the Alliance for Women in Media Foundation. In a KUOW press release, Fletcher said, "I'm thrilled for the late Ms. Hutton and her family that this new telling of her life story has been acknowledged with a Gracie Award, and has shone new light on Hutton's contribution to music history."
In June, Institutional Investor magazine named Rick Nardis '98 of UBS to its list of hedge fund rising stars. Nardis joined UBS in 2001 as a senior investment officer working at one of the company's fund-of-hedge-funds businesses. From the time he came on board until 2008 when he was named co-CIO, the group's assets grew from $900 million to $48 billion. Despite losing ground during the financial crisis, Nardis' group has climbed back to $28.5 billion and went from being one of six fund-of-hedge-funds companies at UBS to its only remaining one. According to Institutional Investor, "Hedge fund managers and investors alike say they have the utmost respect for Nardis."
Maggie Gyllenhaal '99 stars alongside Viola Davis in the film Won't Back Down, a drama in which two mothers stand up against a powerful bureaucracy to transform their children's failing inner-city school in Pittsburgh. Inspired by true events, the film focuses on trigger laws — which currently exist in four states and are being considered in a dozen more — through which parents can demand changes to, or even a complete restructuring of, their children's schools if a majority sign a petition. USA Today reported in August, "It's rare that a Hollywood movie actually gets out in front of a social trend, but when Won't Back Down premieres this September, it may well spawn reams of petitions from fed-up parents."
Karen Iorio