Cover Story
Good Chemistry
James J. Valentini Transitions from Longtime Professor to Dean of the College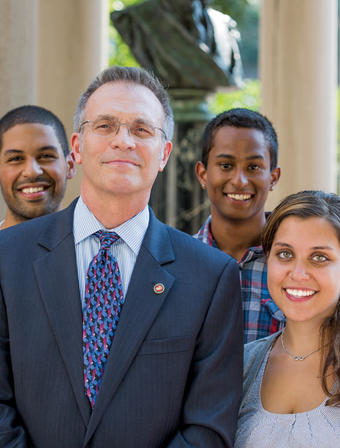 Dean James J. Valentini is joined by (left to right) Michael Cadiz '14, James Ramseur '13 and Stephanie Grilo '13 in Van Am Quad. PHOTO: LESLIE JEAN-BART '76, '77JJames J. Valentini, a professor of chemistry at Columbia for more than two decades, was named the 16th Dean of the College and the second Vice President for Undergraduate Education on June 11, after serving in those roles on an interim basis for nine months. Valentini also now is the Henry L. and Lucy G. Moses Professor.
Valentini earned a B.S. from Pittsburgh, an M.S. from Chicago and a Ph.D. from UC Berkeley, all in chemistry. He worked at the Los Alamos National Laboratory and taught at UC Irvine before joining the Columbia faculty in 1990. He was chair of the chemistry department and director of undergradu­ate studies for chemistry, has been a member of the University Senate and has sat on numerous Uni­versity, College, and Arts and Sciences committees, including the College Committee on Instruction, the Committee on the Core Curriculum and the College Committee on Science Instruction.
He is married to Teodolinda Barolini, the Lorenzo Da Ponte Professor of Italian at Columbia, and has three sons.
Valentini's term as interim dean proved popular with various constituencies, including students. "If there's such a thing as a populist dean, James Val­entini is it," declared Spectator, citing among other examples his having personally matched gifts at the kickoff event for the Senior Fund, his support of the Student Wellness Project and his embrace of the student-coined nickname "Deantini."
In July, Valentini sat down with CCT editor Alex Sachare '71 to introduce himself to the global com­munity of College alumni — or former students, as he prefers to call them — and to speak about some of his plans.
---
For the many Columbians who are just beginning to get to know you, what would you say are your strengths?
While I was interim dean for less than a year, I've been a professor at Columbia for almost 21½ years and I've been involved in the College in many different ways over almost that entire time. I think I've served on every College committee at least once, some of them multiple times. I was director of undergraduate studies in chemis­try for many years before I became dean and I've taught literally thousands of students in chemistry and other science classes. So I have a lot of experience to bring to this. I think that can justifiably be considered a strength; it's certainly an advantage.
I love the College, I Iove the students in it. I feel a great sense of responsibility and obligation to them, and a similar sense of obligation and responsibility to the faculty. The faculty and the students, they are the College. Without faculty and students there wouldn't be a College. The dean's role is to make sure that the experience that faculty and students have in interacting, which is the essence of college life, be as good as it can possibly be. I am thrilled to be involved with former students, current students, fu­ture students and the faculty who will be teaching them and the staff in the College who will be supporting them. Fundamentally, I like dealing with all the people I get to deal with, and that's re­ally the great thing about being able to be Deantini.
How do you feel about the Deantini nickname?
I read Bwog [an online student publication: bwog.com] for the first time on the day that the president asked me to be dean, because he and someone else said, "Don't read Bwog." And of course, being an adolescent at heart, the first thing I did was go read Bwog. So I stumbled upon this competition to nickname the dean. I found that they had nicknames for the president and oth­er people, I saw the competition, I saw that the prize was a sand­wich from Milano [a deli near campus]. This was 3 o'clock on a Sunday morning. I decided to post on Bwog and I said that this was far too important to me to let it have a mere prize of a sand­wich from Milano, and that the winner of the competition could have his or her Milano sandwich with the dean in the Dean's Office, we'd get a plaque with the dean's nickname engraved on it and the winner would have his or her picture taken with the dean. Now maybe it was because it was 3 a.m. on a Sunday that I did that, but I thought it was really interesting that they had nicknames for people and I just kind of intuitively and in­stinctively got involved in it. It was rash in some ways because I hadn't carefully read the Bwog page. Some suggested nicknames were listed on a bar at the right of the page, and some of them, you wouldn't express that to your mother or your children. I should have realized that students here are sensible enough not to choose such a nickname, although they might suggest it. But I like Deantini. It's a good nickname. I'm happy with it.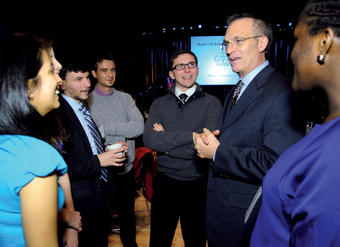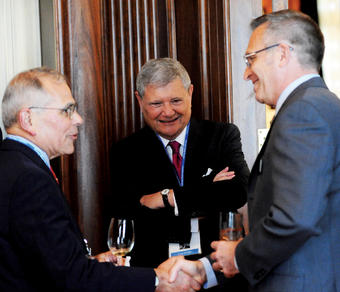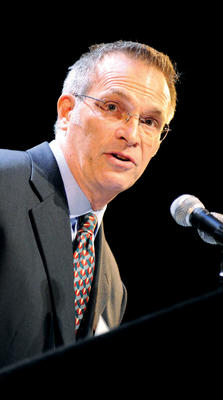 It seems to build a connection, to take away some of that "us vs. them" relationship that can exist between students and administrators.
Yes, you're right. There is a distance between anyone who has an administrative title and faculty, and there is a distance between anyone who has an administrative title and students. So anything you can do to diminish that and to personalize the person — to personalize the dean or personalize the president — so that they're more than a title, I think is a really good thing. This isn't just in the minds of students. My wife, whom I've known for 18 years and been married to for 11, said to me when I was asked to be dean, "Now you're going to become one of them," meaning you're go­ing to become an administrator and not a faculty member. Faculty members started talking to me differently. Even after 21 years and knowing lots of people and I had a reputation, when you become dean you're a different person. The dean or the president can be seen as a somewhat distant figure, someone who sits in a fancy office and doesn't have much to do with students or faculty. That's not how I conceive of the job, and I think having a nickname is a good way of documenting that that's not how I think of the job.
Having been a faculty member for more than 20 years, even though you were heavily involved in committee work, how much of what you just mentioned went into your thinking about this job? Did you ask yourself, "Is this something I really want to do?"
That's a good question. I had never actively sought positions like dean, vice president, president, provost, anything with a title, even though people had said to me, "You'd be really good at this." Every job I've ever gotten was offered to me; someone came to me and said, "Would you like to do this?" That's how things have worked out well for me. I was willing to become dean because the presi­dent asked me and people thought they needed me to be dean. Was I sure I wanted to be dean permanently? No, I wasn't. So in some ways being interim dean was advantageous for me, because it gave me an op­portunity to do something without having to make a long-term commitment.
I love the College. I love the students in it. I feel a great sense of responsi­bility and obligation to them, and a similar sense of responsibility and obligation to the faculty ... Without faculty and students, there wouldn't be a College.
To follow up on that, what were the advantages of spending nine months as interim dean?
Let me start by saying it had disadvantages, because any time you have a position where the word "interim" appears in your title, it diminishes people's commitment to what you want to do because you're temporary. That's what interim means: We're giving you this job temporarily. People aren't going to be as committed to what you want to do. You can't undertake anything that's long-term, you can't really guide things in a different direction, because in effect you're temporary.
But you're also not making the same commitment. It gives you an opportunity to try it out. It's like when businesses hire temps — it gives them a chance to see whether they like the job you are doing and it gives you a chance to see whether you like them. I wasn't thinking about any of that when I was asked to be dean; I did it out of a sense of duty and responsibil­ity and loyalty to the University. That was the only reason I did it. They needed a dean, I was asked to be dean, they thought I could do it, I thought I could do it, so I said I would do it. I wasn't thinking long-term at all.
I understand that you were the first in your family to graduate from college.
I was indeed, yes. My father didn't even graduate from high school. My mother did. My grandparents didn't finish grade school.
And now you've had a long and successful career in academia.
Yes, and my brother's a professor, too. It's remarkable, not in the sense of trumpeting achievement, but to have two professors like that is pretty interesting from a family where no one really had an education.
What about academia was so attractive to you?
When I went to college, I really didn't know much of anything. I grew up in a small town [Lafferty, Ohio] and didn't know anyone who had gone to college, except for the nuns and priests who taught at my school. So I didn't have a vision of what you go to college for. I did it because I had two choices: I could go to work in a coal mine or I could go to college. This was not a hard choice. People were killed in the mines, including people in my own family. Practically every adult male I knew who was over the age of 60 was suffering from black lung disease. The life prospects for this were not great. So this was not a hard choice.
In many ways I consider the life I had so disconnected from the life I have here, it's hard to talk about it. Obviously as a kid I was a good student, but I didn't really have any intellectual pre­tensions. I liked school and I worked hard at it because I knew that was the only way out of this town. And I wasn't alone in that thinking; probably half my high school graduating class went to college, which for a backward, depressed area like that was pretty remarkable at that time. But it wasn't until I got to college that I began to really enjoy learning stuff. I went to col­lege with an interest in science and was taking all the courses needed for a chemistry major, but early on I took a philosophy course and thought I would be a philosophy major because I found philosophy really, really interesting. I took several more philosophy courses, then I got to this course on Kant and I couldn't understand a word the guy was saying — it was im­possibly difficult — so I said to myself, you're not smart enough to be a philosopher, choose something easier. I was doing well in my chemistry courses and I liked them, so I stayed with that. It was a good decision. I was valedictorian of my class.
I got interested in science in college, but I didn't really de­cide to go to graduate school until I was about a junior. And I went to graduate school because I liked studying science. I didn't have an intention of being a professor, I didn't have an intention of being anything in particular except a scientist. In grad school I worked with Yuan Lee, a fantastically energetic and brilliant guy, who later won the Nobel Prize. I believed I could never be of that caliber, so I hesitated in becoming a professor myself. I became a professor because another Nobel Prize winner, Sherry Rowland, came to Los Alamos where I was working and he said to me, "Would you like to come to [UC] Irvine?" Well, I always wanted to live in Southern Cali­fornia so I thought, let's check it out. So I went and I became a professor. It was not entirely by accident, but certainly it was not by design. And I've always liked being a professor. There are two things about it I've really liked. One is interacting with graduate students as well as undergraduates, which you don't have when you work at a place like Los Alamos. It was a won­derful lab with many more scientists than exist at any univer­sity, but you didn't work with students. And you didn't teach. I really like teaching.
Columbia has always prided itself as being a place of opportunity for first-generation college students. How important is that to the nature of the College and, if it is important, how do you preserve that?
I think it's very important. I think a lot of other people think it's very important as well. Just having the dean think it's important isn't sufficient; there has to be a larger commitment to that. It speaks to what the role of the university is in the larger society and what our social obligation is. Part of that social obligation is to make available to everyone who is qualified this opportunity. I've said lots of times that the College should look like America. I don't mean visibly, I don't mean you line up all the students and then say, "Ah, that looks like America." I mean it represents what America is. And a large measure of what it represents is opportunity. I became Dean of the College from an unusual place; do deans of the College start that way? Probably not. But in Ameri­ca you can. It really is possible.
Providing opportunity to people is important, but first-generation students also contribute to the lives of everyone in the College. Students learn as much or more from one another as they do from professors. You don't want everyone in the Col­lege to be alike. You learn by being around people who have different points of view, different life ex­periences. It's why we try to get students from all over the United States, why we have international students, why we recruit scientists, athletes, writers, people interested in theatre. We want people with a wide range of backgrounds, interests and experiences contributing to the education of students in the College. Everyone benefits from that. And first-generation students bring a particular perspective.
The day I had a first discussion with the president about be­ing dean was August 31, 2011, when we had the academic re­sources fair, where every department sets up a table in Roone Arledge Auditorium and students come and talk about study­ing in those departments. Because I was the director of under­graduate studies in chemistry, I was there for chemistry. A young woman comes up to me at the end, when all the other kids have left, and she clearly had some reluctance to talk to me, but she said, "You know, I'd like to be a chemistry major, but I grew up in a small town in Georgia where there were no research opportuni­ties. Since I've been here I've talked to all these kids who have done all this research and have had all these experiences and I don't really think I can be a chem major." I said to her, "No, to be a chem major you just have to be really interested in chemistry and willing to work hard, and that's all that really matters. That previous experience doesn't matter, and besides, those other kids aren't as smart as they think they are." That day, I talked to the president about being dean and I talked to her, and I'm not exag­gerating, talking to her was more important to me than talking to the president. I don't know if she was a first-generation student, but Columbia attracts students like that. We give students an op­portunity. That's really important to me.
Did she become a chem major?
We don't know yet, because she's a rising sophomore and stu­dents don't declare majors until the second semester of their sophomore year. But I'm going to find out.
Financial aid is an important piece of the puzzle. Recently there has been a significant change in how financial aid is going to be administered at Columbia, taking the responsibility from Arts and Sciences and moving it to the Office of the Provost. What does that mean and how does that impact the College?
I'd like to put that slightly more broadly. For many months, start­ing around Christmastime, when there was discussion about administrative realignment within Arts and Sciences and the College, I argued that financial aid was an expression of the Uni­versity fulfilling its sense of social responsibility and social obli­gation, and as such it was an institutional obligation. Therefore, it wasn't reasonable, given that it was an institutional obligation being expressed here, that the financial responsibility should be carried by the Faculty of Arts and Sciences or Faculty of Engi­neering. It should be carried by the University.
The undergraduate part of any institution is the most visible, the most public. When people say Columbia or Harvard or Berkeley or the University of Texas or Caltech or whatever, they're really think­ing about undergraduates. All those places are famous for their graduate education and professional schools and research. But when people talk about a university in general conversation, they're talk­ing about the undergraduate part of the institution because that's the part people are most concerned about. Because of that, when the University is expressing its sense of social obligation, which it does in part and in a very significant way through financial aid, that's an institutional responsibility. And that's why I argued that the finan­cial sourcing should be matched to that, because it's viewed as a so­cial responsibility. By having it effectively be a faculty responsibility, you're asking faculty to make really hard choices about how they deploy resources for teaching and scholarship as opposed to benefit­ing students more directly as in financial aid. That's a tough position to put faculty in. And that's why I argued that the financial sourcing of financial aid should be matched to the social responsibility — it's an institutional responsibility.
You mentioned the restructuring that involved the Faculty of Arts and Sciences. Let's turn to that relationship, which is a complex one but an important one for the College. Can you describe the relationship, and how it might change with your being part of the new three-person Arts and Sciences executive committee?
The Faculty of Arts and Sciences was created about the time I came to Columbia. It's kind of an odd structure, and I use the word "odd" carefully. We have a collection of schools [Columbia College, the School of General Studies, the Graduate School of Arts and Sci­ences, the School of the Arts and the School of Continuing Educa­tion] that have students and deans but no specific faculty, and then we have this body called the Faculty of Arts and Sciences, which contains all the faculty but no students. It's kind of a curious thing. This kind of separation between schools and faculty, organization­ally, suggests difference and separation that functionally doesn't really exist. I mean, if people go into a classroom and teach, you don't really think about whether the students are in the College or General Studies or wherever. You're a faculty member teaching a bunch of students and de­veloping a faculty-student relationship. The fact that as a faculty member you are a member of the Faculty of Arts and Sciences, while the students are enrolled in a school and not enrolled in the Faculty of Arts and Sci­ences, doesn't really come into play. It only comes into play when you talk about how you make decisions; it's an administrative dichotomy that is not really a functional dichotomy.
Students learn as much or more from one another as they do from professors. You don't want everyone in the College to be alike. You learn by being around people who have different points of view, different life experiences.
And the deans of all the schools have reported to the vice pres­ident [of Arts and Sciences]; that's what it says in the statutes of the University. That has certain complications. It inevitably leads to certain kinds of differences of opinion about what should be done and how things should be done, because there are different representations. The vice president represents a different set of in­terests from the deans of schools, so there are always going to be disagreements about what should be done. The structure didn't allow for the most effective way to make decisions. So now we've created an Executive Committee of Arts and Sciences, which con­sists of the Dean of the Graduate School, the Dean of Columbia College, who is also the Vice President for Undergraduate Edu­cation, and the Vice President of Arts and Sciences, who also is the Dean of the Faculty. In my view, that's a much better way to make decisions because it combines representation of the three major constituencies in our enterprise. We have faculty interests, graduate student interests and undergraduate student interests — they're not in opposition, but they're not identical. So you put them all together and that group of three people has to come up with decisions about how to deploy resources, about faculty appointments, capital projects, budgets, development efforts — all the major things that you need to decide are now made by a group of people who can effectively represent all the points of view of all constituencies who make up this part of the Univer­sity. That's a much more effective way of making decisions.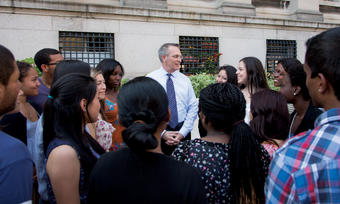 Professor at heart: Valentini chats with students outside Low Library this summer including (top, left to right) Annel Fernandez '16, Xi Wang '16 and Lorenzo Gibson '16. PHOTOS: LESLIE JEAN-BART '76, '77JIt's been functioning since mid-April, so we don't know ex­actly how it will work out, but so far it's worked out pretty well. It might be transitional, it might last only a short time or it might last well beyond my tenure as dean. Something else will replace it someday, something else always does. But I think this is much better than what we had.
It always struck me as odd that the Dean of the College couldn't hire a teacher in the College …
Yes, it is odd, isn't it [laughing]? Well, we started out with a col­lege and then we added these other schools, and each of them had a faculty. Functionally, faculty were teaching different stu­dents but had an appointment in one school. That was kind of awkward, so we created this one overall faculty. And that was awkward, too. There were dichotomies that were artificial and we tried to correct those by having something else that's slightly artificial. But you're gradually trying to remove artificialities. I have a 170-year-old house in New Jersey that I'm working on all the time, trying to make it a more functional house. The challenge isn't that it's 170 years old, it's that people have added things or changed things all along that weren't always done so well, so you gradually try to go back and make it right. That's essentially what we're trying to do here.
One thing that's lasted for a while, with changes and additions along the way, is the Core Curriculum. It's the College's sig­nature academic sequence and a bond among alumni. What is your vision of the place of a core curriculum in a liberal arts education, and how do you see Columbia's Core evolving?
I'll answer the last part first. The Core, with a capital "C," has existed for almost 100 years but it hasn't existed for all 100 years in exactly the same form. When Contemporary Civiliza­tion started, it used a textbook, written by people at Columbia, which included parts that dealt with industry and agriculture. Today, we don't teach anything about industry and agriculture in Contemporary Civilization, yet everyone views the Core as a permanent part of the Columbia educational experience. And it is. The idea that there is a certain intellectual experience that ev­ery undergraduate is going to have and it's going to represent a collection of ideas that the faculty feel is really important. That's the permanent part.
Exactly what those ideas are and what form that takes have been evolving. I mean, that CC textbook is really interesting. It is contemporary civilization of 1919; contemporary civilization of 2012 is a different thing. I think we ought to teach something about industry and agriculture, but that's just my view because students don't know anything about that and it's still part of life. But the curriculum has evolved and it will continue to evolve. We try things; some don't work and we replace them. The names get changed. There was Humanities A and B, this became Art Hum and Music Hum, this changed, that changed. There was Major Cultures and that led to the Global Core, Frontiers of Science was introduced, there was Logic & Rhetoric, now we have University Writing. Intellectual life moves forward, we learn new things and new things develop.
The Core, fundamentally, represents a commitment to an idea that at any one time there is a kind of collective intellectual experi­ence and a body of knowledge, information, ideas, that we want all the students to be exposed to, to learn, to experience for two reasons. One, we view that as essential to being an educated per­son. That's our expression as an institution, to say that to be an educated person we think you need to do this. But it's also the way we build an intellectual community at Columbia. All students here have taken Lit Hum, CC, Art Hum, Music Hum — it is part of the common dialogue, the basis on which they can relate to each other whatever else they've done. It builds a community, an intellectual community, and it also builds a social community. And it has cre­ated a trans-generational community, uniting former students, current students and future students. [Trustee Emeritus] George Van Amson '74 said that what we want is for our kids to read the books that we were supposed to read when we were undergradu­ates. Of course, he said that in jest, but even though the curriculum evolves, there are some commonalities that do persist over long periods. It's not that it changes so much that it's a completely dif­ferent course than it was 20 years ago or 40 years ago. It is some­thing that links people. There are certain ideas that we still believe are important for students to understand and be exposed to. We'll add new things, we'll modify things, but there will be some that we definitely will continue to consider are important.
The Core Curriculum represents a commitment to an idea that at any one time there is a kind of collective intellectual experience and a body of knowledge, information, ideas, that we want all the students to be exposed to, to learn, to experience.
It's also an expression of what Columbia considers an ap­propriate undergraduate education. At the opposite end are some peer insti­tutions that have little if any fixed required curricu­lum. That's an expression of a different philosophy. I won't say that one's infe­rior, but we've made a de­cision that there are certain things everyone should do. I have always agreed with that. Even though I came here to be a chemistry pro­fessor and the Core wasn't why I was recruited, I con­sidered it valuable. I do think there are things everyone should be exposed to and that's what the Core provides. I don't care if everyone studies chem­istry, I don't think that's important. I do think everyone should study statistics, and if I ruled the world I would have statistics as part of the Core Curriculum. But I don't rule the world, and no one singlehandedly decides what goes into the Core.
This year at reunion we introduced a new event, an open house in the Richard E. Witten Center for the Core Curriculum, where alumni could see what is taught in the Core today and meet some of the Core chairs and faculty. The turnout was amaz­ing. It was one of the weekend's most popular events.
It's not just a fetish, either. It could be easy for some people from a distance to think this is some sort of talisman and it's not re­ally substantive. But they're wrong. It is the thing that former students almost uniform­ly mention to me as the most important or one of the most important parts of their ex­perience. It's not that they just mention it, they actually explain to me why it was this valuable in their lives and how it informed their adult lives, and they speak very cogently about this. When I went to see Rob Speyer '92, one thing he wanted to tell me about was Jim Mirollo teaching him Lit Hum. There was a segment of The Divine Comedy that they were reading, and he remembers it so well and how important that class was to him. He can tell you why it was important, why it had value in his life.
Meet the Dean
Not on campus but still want a chance to meet the new dean? Come join Dean James J. Valentini in the following cities this fall, with more to come in the spring.
| | |
| --- | --- |
| September 20 | New York City |
| October 4 | Washington, D.C. |
| November 1 | San Francisco |
| November 5 | Los Angeles |
For further information, log on to
college.columbia.edu/alumni
.
I think it's really important that current students talk to former students about the value of the Core, because it has a value in the lives of former students. Dede Gardner '90 was one of the five alumni presented with a John Jay Award [for distinguished professional achieve­ment] this year. When I called her shortly before that, she wanted to talk about Lit Hum and how useful it was to her. She's a movie producer, and she wanted to talk about how important Lit Hum was to her. Former students talk about majors, too. But there are lots of different kinds of things you can major in; the Core is the common currency of everyone who went to the College.
When I was director of undergraduate studies in chemistry, I would ask students who were about to graduate what was the best part about being at Columbia, what was the worst part, what was important, what wasn't and what was the most important class they took. Now, I had actually taught most of these students and many of them still needed letters of recommendation, so you might think they would say, "Oh, Professor Valentini, your course was the most important." But hardly anyone ever said my course, even though I'm a good teacher. More of them, in fact the overwhelming majority of them, would cite a Core course — and then they'd explain why that was important to being a scientist. It has real value, genuine value in students' intellectual lives and in their subsequent professional lives. That's not a small thing.
What role should alumni play in the life of the College?
I prefer to call alumni former students because certain words ac­quire connotations that then become locked to them. Alumni is a term that implies a kind of distinction that's greater than I think is really warranted. If you think of people as former students, you think of them as continuing on in a connection that's different and yet the same. My middle son is in the Marine Corps, and I've learned that there are no ex-Marines. They say once a Marine, al­ways a Marine — that's it. It's a culture, a group of people. There are active duty Marines and inactive duty Marines but there are no ex-Marines. Once you are, you are. From my perspective, once you've been a Columbia student you're always a Columbia student, you're just in a different category. You're an inactive student, although we don't use the word "inactive"; I say you're a former student.
Valentini and CCAA president Kyra Tirana Barry '87 at the Alumni Reunion Weekend 2012 Dean's Continental Breakfast on June 2. PHOTO: EILEEN BARROSOFormer students bring real value to the University because they have a lot of life ex­perience from which they can tell you how their time at Columbia was valuable, so we can see how what we do for undergradu­ates adds value to the lives of those students when they become former students and also how it contributes to society. We're not just educating people for the sake of educating people. We hope that that actually produces something. We hope it produces satisfying personal lives for former students, the abili­ty to make a living — that's not a small thing — and to make a contribution to the larger world. Who can tell us most effectively whether we've actually achieved that? The people who actually have been students and have gone out and done things. They can help current students visualize what lies ahead for them in a way that faculty and the dean can't communicate to them, because the dean and faculty are just one small segment of society with limited experiences. Former students of the College have been in­volved in lots of different things, so they carry a lot of valuable information about what we're doing well and what we're not doing well.
They're also this huge army of 46,000 people — even if only 10 percent of them are really com­mitted to the College, that's a lot of people who can work on behalf of the College and the Uni­versity, at no cost to us. They may make financial contributions, that's obviously important to us and to any institution, but they also commit their time and their energy to helping make the lives of current students better, to helping make the institution stronger by working on its behalf in many different ways. Former students partici­pate in ARC [the Alumni Representative Com­mittee] by interviewing prospective students. That in itself is a very important thing. Former students know as well or better than anyone what it's like to be in the College and what kinds of students are going to do well in the College and can help applicants understand whether they really should be in the College. There's no way for the College itself to do that. We couldn't afford to hire enough people to do that. And that's just one thing — there are a lot of valuable things former students can do for the College and the University, supporting everything that we do and contributing their time and effort to getting things done. They are a phenomenal resource.
Projecting five or 10 years ahead, how would you evaluate your success or failure as dean?
If former students, current students and faculty say, "The College is a better place now than it was five years ago or 10 years ago," then I'll consider it a success. I'd certainly consider it a success if I feel it's a better place. But what does that really mean? Is there anyone who ends a term as something and doesn't think it's a better place, rightly or wrongly? Probably not.
There certainly are specific things we'd like to do, but they take a lot of explaining and don't have the same kind of emotion­al impact. I'll give you one example: I'd like us, both as a College and a University, to be financially more secure, by which I mean less dependent on tuition and revenue that we can bring in every year, so that we're less sensitive to the vagaries of economic life. If we had an endowment big enough to pay for everything that we want to do, that would be really great. Is that an achievable goal? No. In the same way that when I say the goal for the Columbia College Alumni Association is 100 percent alumni engagement and everyone in development cringes because you can't get to that — but we can work toward it. It's a destination. But that's technical, it doesn't have an emotional component. I'd like there to be an opportunity for every student to have an internship or a summer research fellowship. But that too is kind of specific. There are a lot of things we can do, specific things, some of which will work, some of which won't, some of which may work but won't actually lead to people thinking it's a better place, in which case they were interesting to do but not actually all that produc­tive. So how would I judge it being a success? If former students, current students and faculty consider it a success, then I will, too.
One last question: What is one thing about you that would surprise our readers?
That's interesting … let me think about that. Last September, when we had an all-staff meeting, I said there are three things that are important in my life: my family, the College and cars, in that order. I don't think people expect professors to be inter­ested in cars. But if you turn around you can see what's in my display case — six model cars, all of which were gifts from cur­rent students or former students who know how much I like cars. There are also two statues of Buddha. I like to think of the different ways we can express something important, to surprise people with the unexpected comparison or unanticipated anal­ogy. The Buddha and cars provide an example. The Buddha is supposed to have said, "There is no way to happiness, happiness is the way." I repeat that to myself each morning. Now there was for a while a poster in the entrance to the service area at the BMW dealer in Manhattan that said, "Happiness isn't just around the corner, happiness is the corner." It is the same thing. Any car guy would agree. And I tell chemistry students that the Second Noble Truth of Buddhism and the Second Law of Thermodynamics say essentially the same thing. I hope that surprises you, but you will have to wait for an explanation — or better yet, try to figure it out for yourself.