Features
Stand and Deliver
Joel Klein '67 looks back on extraordinary career as attorney, educator, reformer
By Chris Burrell
Joel Klein '67 was 16 when he made the leap from William Cullen Bryant H.S. in Queens to the Columbia campus, just a 6-mile car ride from one borough to the next but a world away from the public housing apartment where he grew up.
In that first week, then-dean of the College David Truman sat Klein and his father down for an advising session and tried to dampen the freshman's academic expectations. "My father was a postman, and it was a pretty daunting experience to meet with the dean," says Klein. "Truman said to me that given my background, I could expect — if I did really well — to graduate in the middle of the class at Columbia."
Such a prognosis didn't sit too well with the younger Klein, who piped up with this rebuttal: "I said, 'I don't know where I'll graduate, but my teachers at Bryant H.S. didn't send me here to graduate at the middle of the class. They sent me to graduate at the top.'"
The brazenness took his father aback, and afterward he asked how Klein could say that to the dean.
"I said, 'Well, Dad, that's the truth.' Anyhow, Truman and I became good friends."
Joel Klein '67, standing in front of P.S. 166 on the Upper West Side, says being NYC schools chancellor was the most exhilarating time of his professional career.PHOTO: WILLIAM TAUFIC
The year was 1963, and the ambitious teenager was just beginning to display the drive that later would empower him to challenge monoliths and monopolies, from mighty Microsoft to powerful teachers' unions.That moment almost 50 years ago also exposed Klein's nascent appreciation for the transformative power of education. Decades later, as chancellor of the New York City Department of Education, the nation's largest school system, that appreciation gave rise to a conviction to champion kids — much like himself — whose only foothold out of tough circumstances could be found in a classroom. But education, while Klein's signature issue, represents only one facet of an extraordinary and somewhat dizzying career. He has morphed from Beltway Democratic insider, vetting a Supreme Court justice for the Clinton administration and taking on Bill Gates in a monumental anti-trust case, into one of the country's leading and most controversial educational reformers — only to vault early last year into the executive towers of the conservative-leaning media titan Rupert Murdoch.
"My resume looks like it kind of got mixed and matched from three or four people," the 65-year-old Klein says while taking a break over a cup of hot tea in his Midtown office at News Corporation headquarters.
He began with law, graduating from Harvard in 1971 and working as a law clerk, first for David Bazelon, chief judge of the U.S. Court of Appeals for the District of Columbia Circuit, and then for Justice Lewis Powell of the U.S. Supreme Court. Following work at several law firms, in 1981 he co-founded a boutique D.C. firm, where he made his mark as a litigator: Klein argued 11 cases before the Supreme Court, and won nine of them.
When people talk about Klein, they describe a man who thrives amidst adversity, all the more when many eyes are trained on him. One of the people who worked in Klein's law firm in the 1980s was Peter Scheer, now the executive director of the First Amendment Coalition.
"What he's especially good at is being able to think very clearly in the midst of a crisis, where there's a lot of pressure and the world is watching," Scheer told Politico last year. "He's able to stay focused, and he's almost stimulated by all that pressure and media attention."
Those attributes are likely what caught the eye of President Bill Clinton in 1993 when he convinced Klein to become deputy White House counsel, tasking him with guiding the nomination process of Ruth Bader Ginsburg '59L to the Supreme Court. He also oversaw the Clinton White House's responses to the Whitewater inquiry.
Being tapped by Clinton caught Klein off-guard. "It struck me as strange because I'm not a political guy," he recalls. "There was a certain amount of apprehension. I mean, the White House is a very hothouse place and [the people there have] very sharp political elbows."
Klein's ability to more than hold his own in such a setting would come into play in his next posting, in 1995, to the Justice Department. Within two years he was named chief of the antitrust division, where he challenged Microsoft's monopoly in what Forbes magazine called "one of the largest and most dramatic antitrust battles in the nation's history."
"I still feel like America is falling down ineducation, particularly for the most challenged kids."
In June 2000, after a federal judge ruled to break Microsoft into two parts, Klein sat with Jim Lehrer of PBS and reflected upon the victory. "I do think the notion that anything goes, even in the new high-tech economy, is a notion that is very corrosive and insidious," Klein said. "It will be harmful to our markets, harmful to our consumers and ultimately harmful to our economy. When you use economic power to coerce people to stay out of the market, to basically tie up distribution channels, when that occurs ...you can count on the United States Department of Justice and I believe the federal courts [should] put a stop to it."
The victory was reversed on appeal, and by then the Bush administration had no interest in pursuing the case. But Klein's reputation as the guy who went toe-to-toe with a corporation then valued at $619 billion — more than Apple is today — never waned. In his four years at the head of antitrust, he established a record to stand on: Through 220 criminal price-fixing cases, 52 executives were sent to prison, corporations paid $1.7 billion in fines and individuals paid an additional $21 million. Klein also blocked or altered about 170 proposed mergers.
The Los Angeles Times dubbed Klein a "giant killer." And in assessing his legacy at the Justice Department, The New York Times heaped praise on him in a September 24, 2000, editorial: "Mr. Klein blocked a series of mergers — between Lockheed Martin and Northrop Grumman, WorldCom and Sprint, and Northwest and Continental — that had the potential to harm consumers. He also broke up price-fixing cartels, notably between international vitamin companies. He has not forged bold new antitrust principles or direction. What he has done is take antitrust enforcement seriously. For that alone he warrants the nation's gratitude."
For many years while the high-powered lawyer was racking up legal victories toiling in Washington, he also played on a different court with the same tenacity. The basketball league at the Washington Y had a roster of lawyers that included Larry Lucchino, now CEO of the Boston Red Sox.
"We played in a serious league," says Klein, who stands 5-foot-10. "I'm lucky I didn't break a leg."
Between hoops and law, Klein kindled his passion for education, teaching at Georgetown Law School. Unlike most adjunct professors, Klein didn't opt for an evening seminar; he taught a daytime class in civil procedure to first-year students.
One of his students was Michael K. Powell, who later was chairman of the Federal Communications Commission and is the son of former Secretary of State Colin Powell. "Joel was an extraordinary teacher who had a mastery of complex subjects and the ability to make them simple," Powell told The New York Times in 2002.
Teaching was not new for Klein. When he was at Harvard in the late '60s, he had taken a short leave to take education classes at NYU and to teach math to sixth-graders at a public school in his old Queens neighborhood. But despite these leanings toward the classroom and a chalkboard, he says he was flustered when he answered a phone call in 2002 and heard the voice of New York City Mayor Michael Bloomberg, asking him to consider tak­ing the post of schools chancellor.
"I said, 'Mike, you must have the wrong name. You clearly got one name too few in your Rolodex.' He said, 'No, no, we were thinking of people outside the box,'" Klein recalls.
At 56, the former corporate lawyer and trustbuster found his calling: To take charge of a public school system of 1.1 million stu­dents and to grapple with the complex realities and controversies of urban education.
"He has the leadership skills," Bloomberg said at a news con­ference introducing Klein in summer 2002. "He has the intergov­ernmental skills. He has the feeling and compassion for people. He is incorruptible. He is a visionary. And I believe that he will deliver to this city what we promised, a quality education for all of our children."
Bloomberg handed Klein the reins of a school system belea­guered by low test scores, high dropout rates and a shortage of teachers — a tough assignment that struck a chord not only with Klein's politics but also with his own past.
"I still feel like America is falling down in education, partic­ularly for the most challenged kids," Klein said recently, when asked to look back on his tenure as chancellor. "And this was a chance to really give back to the city and the school system that had given me so much. I wouldn't be here today if it weren't for what teachers in Astoria did for me." (Klein in fact credits his physics teacher, Sidney Harris, with changing the arc of his life: "In my junior year, he took me aside and said, 'You're doing fine, but you can do better. Why don't you stay after school and we'll study Einstein's theory of relativity, which will prove to you that you can play this game at a different level.'" Harris also pushed him to apply to the College rather than the obvious choice of CUNY's campus in nearby Flushing.)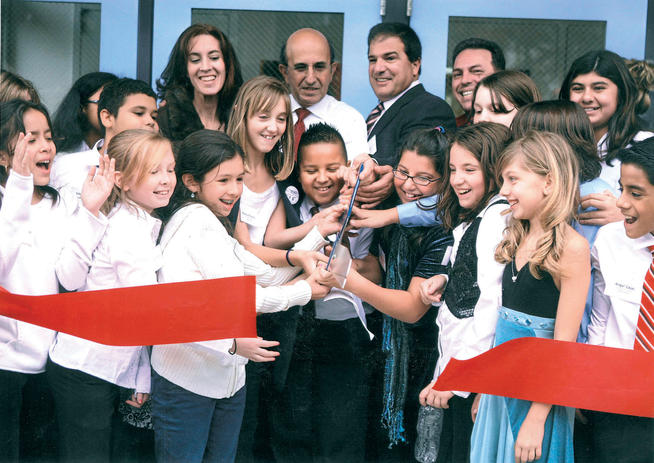 Klein participates in a ribbon-cutting ceremony at the opening of a school in Middle Village, Queens, in 2010. PHOTO: COURTESY JOEL KLEIN '67
As schools chancellor from 2002–10, Klein gave more power to principals and pushed for accountability, stamping schools with A-through-F grades in annual report cards, taking a stand against the widespread practice of social promotion of students up the grade levels and making city schools a model for data-driven teaching and policymaking. He also created more than 300 new small schools and charter schools for parents to choose from.
"I'm a big, big believer, whether it's for my children or any­body else's children, that people want choice," Klein says. "I used to ask people all the time, 'Of the 1,500 schools in New York City, how many would you send your own kids to?'"
Time and again, he hit on this point, allying himself with the schoolchildren and their parents' hopes and dreams for them. "Whose kids should go to the schools we wouldn't send our own kids to?" he asks. "Whatever community you live in, whatever your economic circumstances, you want your kid to have a shot. And education is one of those places where you can change lives.
The politics of Washington — those sharp elbows — served as the ideal boot camp for the intensity, unrelenting media scrutiny and controversy that came with leading a huge public school sys­tem. Not one to shy from confrontation, Klein attacked the city's educational establishment, from teachers' unions to bureaucracy.
"Being able to fight to change the world for kids is really for me personally as rewarding a thing as you can do."
"The basic challenge was changing a very complex organiza­tion that has a strong centrifugal force toward the status quo," he explains. "I was running a school system at $22 billion. There are a lot of people in that system who benefit from the way it's struc­tured. So when you come along and say we're going to do things differently — for example, we want to pay more for performance and not guarantee [teachers] automatic tenure, but actually do evaluations — it's inevitable that there will be resistance."
A Times editorial in November 2010, assessing Klein's eight years at the helm of city schools, credited him for improving graduation rates, creating higher-performing small schools and ending a policy that allowed senior teachers to transfer to oth­er schools and bump younger teachers out of the way: "Future schools chancellors in New York City will benefit from several important reforms put in place during the tenure of Joel Klein. Carrying out the mandates of the mayor, Mr. Klein helped to cre­ate clear lines of authority in a once-byzantine system and gradu­ally cleared away a pernicious bureaucracy that had outlasted all of their predecessors."
In some ways the city's schools are still reverberating from the Klein shake-up. In February, under pressure from local media outlets, New York City schools released those teacher evalua­tions, so-called "value added" reports that were meant to mea­sure a teacher's impact on his or her students' standardized test scores. Bill Gates chimed in on the op-ed pages of the Times, call­ing it a "big mistake" and "a public shaming" to reveal individ­ual teachers' scores.
Klein agreed that publicizing teachers' scores should not become a shaming exercise but also adopted the perspective of parents, cit­ing their right to know how teachers' performance might affect their children's learning, at least as measured in standardized tests.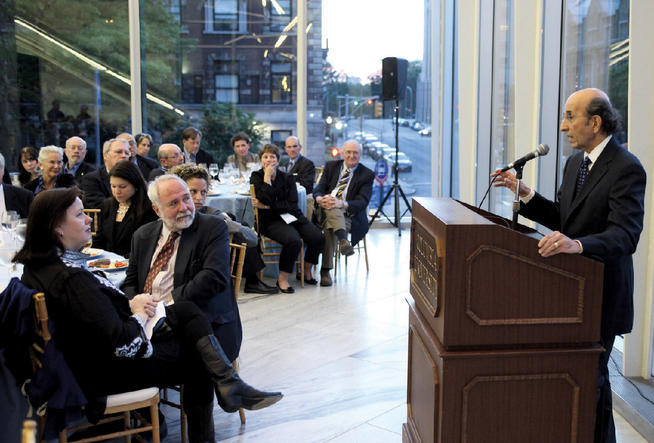 Klein spoke at the Class of 1967's reunion dinner on June 2, leading a lively discussion about education. PHOTO: MICHAEL DAMES"What Bill Gates wrote about is fair," Klein says. "But I've talked to parents, and they think it's valu­able. They want to make sure their kids are getting the education they need. It enriches the discussion and empowers parents."
For Klein, who still writes op-ed essays and book reviews about education in newspapers such as The Washington Post and The Wall Street Journal, the records' controversial release strikes at a core theme of his own reform gospel. "We need ways to fairly evaluate teachers," he says. "Ultimately, those who really perform at the top are seen as truly the heroes, and those who consistently un­derperform should be in another line of work. No­body wants a teacher for his or her kid who isn't up to the task."
Sizing up his years as chancellor, Klein conced­ed that some things he tried simply didn't work or were rushed, but he takes solace in a quote from Teddy Roosevelt that he carries in his wallet, attest­ing to this reality for change-makers: "Not every­thing is going to fly."
"Those eight, nine years working with Mike and the city were really the most exhilarating and the most important professionally," Klein adds. "Arguing Supreme Court cases and teaching law school, those things rang my bell … But being able to fight to change the world for kids is really for me personally as rewarding a thing as you can do."
After nearly a decade as schools chancellor, Klein's next act came as something of a shocker: In January 2011, he stepped into the corporate towers of Rupert Mur­doch's NewsCorp, an international media behemoth he had once taken a swing at in his antitrust days.
As surprised as some of Klein's friends and followers may have been to see this Democrat begin working for the parent com­pany of FOX News, there were ingredients from his experience as chancellor that shaped and informed this twist in his plot line. Education was the obvious link. Murdoch's offer made Klein the e.v.p. in charge of NewsCorp's fledgling educational technology division, appealing to his passion for metrics and data as levers to revolutionize teaching.
"In an organization like this, I don't look through a politi­cal lens," he explains. "My friends said, 'Why are you going to NewsCorp? You're a lifelong Democrat.' The answer was, Rupert gave me an opportunity and was willing to make a big bet on something I cared about. I've never had a discussion with him where I didn't learn something."
While schools chancellor, Klein had learned a lesson in former foes becoming allies. He tells an anecdote from a day spent at a high school in the Bronx in 2003. Bloomberg was there, but more importantly, so was Gates, the man he targeted in the highly pub­licized antitrust case.
"It was the first time I had seen Bill after the litigation," Klein says. "I was very nervous and apprehensive … and the event goes as well as it could have gone. Bill gave us $51 million that day, and I get off the stage really breathing a sigh of relief. One of my principals tugs at me and says, 'Chancellor, $51 million, that's a really good day's work. Think of what Bill Gates would have given you if you hadn't sued him.'"
Speaking as the educational reformer, Klein says that most schools are not intelligently using computer technology. "I think you can reduce education to two fundamental concepts: how good is the incoming and how much of it a kid absorbs. If the incoming is mediocre, even if a kid absorbs it all, you haven't achieved much. And if the incoming is terrific and a kid doesn't absorb it, you haven't achieved much, either."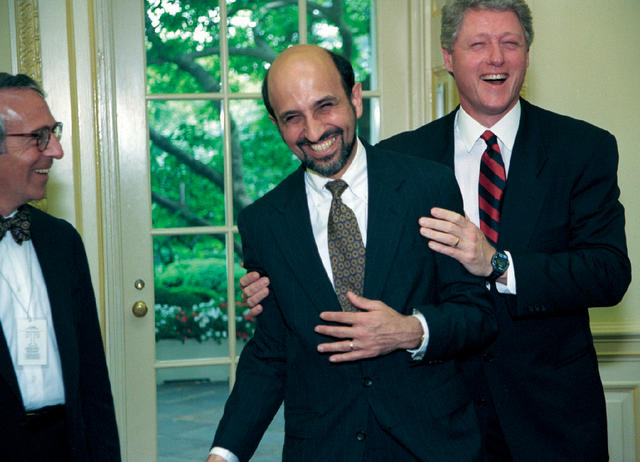 Klein jokes with President Clinton and attorney (now senior U.S. District judge) Charles Breyer in the Oval Office in 1994. PHOTO: COURTESY WILLIAM J. CLINTON PRESIDENTIAL LIBRARYKlein notes that a program to teach the Gettysburg Address can be customized to individual students, asking provocative questions, engaging them with games, social networks and re­wards, and measuring their responses. "Why should we have every teacher try to figure out those questions?" Klein asks.
NewsCorp formally unveiled its education business, called Amplify, in July along with plans, in collaboration with AT&T, to introduce tablet-based programs for teachers and students starting this fall. The company's stated mission is to reimagine K–12 edu­cation by creating products and services that empower teachers, students and parents in new ways. "I know that some are skeptical that a private company can bring needed change to public educa­tion," Klein, who now is Amplify's CEO, wrote in a blog post on its newly launched website. "But if we are going to see the kind of transformation that our teachers, students and parents deserve, I believe strongly that there is a much-needed role for private sector partners and providers to help place the big bets."
Prior to the launch of Amplify, however, much of Klein's at­tention was shifted from education to the company's main fo­cus — newsgathering, and specifically a phone-hacking scandal that had erupted at its tabloid newspapers in Britain. Murdoch turned to Klein to oversee the company's internal investigation into illegal activities by executives, editors and reporters at the newspapers.
Klein made it clear that he wouldn't answer questions for this story about the scandal or NewsCorp's manage­ment and standards committee, which he led up until June, but he did say that part of his job during that period was an early start to his day — 6 a.m. — so he could communicate with peo­ple in London about the investigation.
Among those who know Klein and watched him shoulder this new and unexpected role as Murdoch's de­fender, confidante and strategist in the midst of a headline-grabbing scandal was Howard Wolfson, one of Bloom­berg's deputy mayors.
"Joel is a wartime consigliere. He's very tough," Wolfson told Politico. "He would be somebody you would want in a foxhole."
While Klein demurs when asked about the scandal, he eagerly engages on the topic of the news media, his dealings with the press and some of his frustrations during his time as schools chancellor.
"I woke up every morning feeling so blessed to fight for kids, and then I'd sit down and read the papers, you know," he said, laughing and shaking his head. "I don't miss that."
He once raised the issue with a New York Times reporter.
"I was complaining to him, 'We tried a few things that worked really well, and now you want to keep writing about this thing that didn't work as well as we had hoped. Why would you do that?'" Klein recalls. "He said, 'In our business, we don't write about the planes that land.' But I said that in K–12 education, it's the planes that land that are the news and not the planes that crash, because we've crashed for so long."
That's the eternal questioner inside Klein, and it's almost ironic to picture this skeptic of the media occupying the highest echelons of the NewsCorp empire.
"I am more sympathetic to the subjects of the story just be­cause I've been the subject of a lot of stories. You get used to thinking maybe there's more to this story than you thought," says the man who's been in the crosshairs of so many headlines and news reports. "It always bothers me that people think what you read in the paper is accurate. It doesn't mean that it's inac­curate, but there is a kind of belief and so I always say to people when they read a story, 'Maybe.'"
"Finding a new hill to climb, an opportunity to do something new and exciting, always appealed to me," he says. "And fortu­nately for me, in no small measure because of the education I got at Columbia, I've had those opportunities."
Chris Burrell is a freelance journalist and illustrator based in East Boston, Mass. He has contributed stories to The New York Times, The Washington Post, Boston, PRI's The World and WBUR-Boston. His illustrations have appeared in The New York Times, The Washington Post and CCT.