Features
The Open Mind of Richard Heffner '46
Veteran PBS interviewer provides forum for guests to examine, question, disagree
By Thomas Vinciguerra '85, '86J, '90 GSAS
It was quite a celebratory lunch. Here were NYU President John Sexton and his one-time counterpart at Brown, Vartan Gregorian, now president of the Carnegie Corp. There were past New York State Chief Judges Sol Wachtler and Judith Kaye '58 Barnard. The New York Times Book Review editor Sam Tanenhaus mingled with former Nation editor Victor Navasky. Joan Ganz Cooney of the Children's Television Workshop and prolific producer Norman Lear were on hand, too. So were three-term New York City Mayor Ed Koch, legendary Manhattan District Attorney Robert Morgenthau, famed First Amendment attorney Floyd Abrams, journalist Bill Moyers ....
Then, too, circulating through the crowd, shaking hands, quietly accepting congratulations, was the courtly, slightly stooped, silver-haired fellow who had interviewed them all — and hundreds of others.
The celebration at the Mutual of America building in midtown Manhattan on June 30, 2011, marked the 55th anniversary of the weekly, half-hour public television talk show Richard Heffner's Open Mind, the unique legacy of Richard D. Heffner '46, '47 GSAS. From its debut on May 7, 1956, Open Mind has been a forum where guests, as the opening narration once put it, are "free to examine, to question, to disagree."
An Open Mind staff member prepares the set for Richard D. Heffner '46, '47 GSAS to interview Dr. Peter Bach, director of the Center for Health and Policy Outcomes at Memorial Sloan-Kettering Cancer Center in New York. PHOTOS: RANDY MONCEAUX
For Heffner, that philosophy has animated him across two professional generations and multiple media identities: com­munications consultant, broadcasting expert, network executive, public affairs adviser. At his core, however, he is one thing.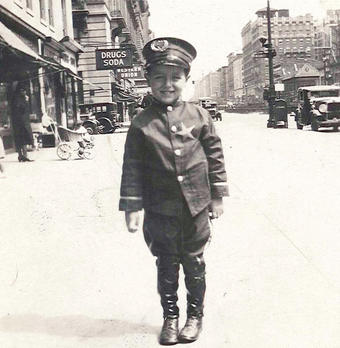 Heffner circa 1930 on Broadway and West 108th Street, near his childhood home, and (right) in his College graduation photo. PHOTOS: COURTESY RICHARD D. HEFFNER '46, '47 GSAS
"I'm a teacher," he says. "I'm a talker. I'm a speaker. That's who I am."
His Subaru station wagon even sports a license plate reading OPENMIND.
"He is one of the most intelligent, sensitive interviewers I have ever had in my life," says Nobel Peace Prize laureate Elie Wiesel, who has logged nearly 30 Open Mind appearances. "On every subject that he chooses — war, politics, literature — he manages to humanize it and bring it up, rather than bring it down. He's the Grand Inquisitor in the best sense."
Heffner likes to tease Abrams — whose 35 appearances on Open Mind make him his most frequent guest — that he is "a First Amendment voluptuary" because he is so passionate about free speech. And Abrams is happy to tease Heffner right back.
"Like Inspector Clouseau and Cato, Dick and I have sparred so often that we have no tricks left with which to surprise each other," he says. "He thinks, I do not know why, that I'm some sort of knee-jerk First Amendment absolutist. I think — and I know why — that he's too prepared to sacrifice core First Amendment principles to accommodate his social/political predilections. What I'm sure of is that I can't imagine anyone I'd rather argue with, and that we are all in his debt for his extraordinary contri­butions to public thoughtfulness."
Heffner is more modest: "I'm a person of rather limited talents. I don't dance, I don't sing." He refers wryly to "the 37 people who are watching the program." One of them, a cab driver, once delib­erately barreled down on him on Fifth Avenue.
"I thought the end was near — assassination by taxi!" he re­members. "Instead, a wonderfully smiling youngish driver thrust a wildly waving arm out his open window, hollering, 'Open Mind! Open Mind!' Was I ever grateful for a viewer."
It is taping day in the small studio at the CUNY Graduate Center on Fifth Avenue and East 35th Street. Beneath a blaze of overhead lights is Open Mind's intellectual battleground: a polished, round wooden table and two chairs. In the green room, amid a plate of cookies and a big-screen TV, Heffner re­views notes and consults with Daphne Doelger-Dwyer, his asso­ciate producer of more than 30 years. ("I've often thought Dick is the reason they invented Boss Appreciation Day," she says. "Just the same, I wish he would stop asking me to try to find articles he wrote during the Kennedy administration or yet another elusive piece on the National News Council.")
Today, Heffner will record four segments. First up is NYU professor Kim Phillips-Fein '05 GSAS, discussing her new book Invisible Hands: The Businessmen's Crusade Against the New Deal. Then he will greet Dr. Peter Bach of the Memorial Sloan-Kettering Cancer Center, whose subject will be caring for the dying. Next comes Heffner's youngest guest ever, his grandson, budding journalist Alexander, a 22-year-old Harvard senior whose topic is America's young electorate.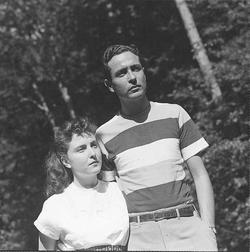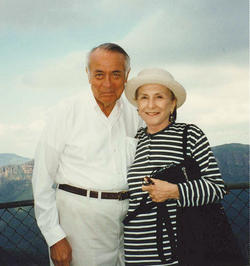 Heffner and his wife of 62 years, Elaine '51 SW, '86 TC, at the 1949 Tanglewood Music Festival, a year prior to their marriage, and on vacation in Sydney, Australia, in 1996. PHOTOS: COURTESY RICHARD D. HEFFNER '46, '47 GSAS
Finally, there is Frances Hesselbein, former president of Girl Scouts of the USA and president and CEO of the Frances Hes­selbein Leadership Institute (formerly the Leader to Leader Insti­tute). Attractively accoutered in black jacket and gold and black Hermès scarf, she also has brought along a jacket with bold tan and black stripes, which she shows to her host.
"I didn't know if you wanted something more like this," she says.
"You look gorgeous," Heffner replies.
She smiles and says, "I may never go home."
An hour later, after the taping, Hesselbein will engage in a few minutes of small talk. "I loved all your questions," she tells her host. "There wasn't one superficial one."
That's no accident. "There are comparatively few subjects on Open Mind that are likely to throw me because I don't choose sub­jects that I know I don't know enough about," says Heffner. "I owe it to my viewers, and I owe it to my guests, not to be dumb."
Heffner has been playing smart ever since he was a child suf­fering from rheumatic fever of the heart. "It was in defense that I became bookish," he told The New York Times in 2003. "I was sickly, so I wasn't allowed to play sports." (Perhaps presaging his role as a moderator in a number of capacities, he was, however, permitted to umpire baseball games.)
The boy who buried himself in books was the son of a man who made book: Al Heffner was a prosperous New York City race­track tout who lost everything during the Depression. "His very wealthy customers were big bettors. They would bet $100,000 on a race. And when they were gone, my father went broke."
After attending DeWitt Clinton H.S. in the Bronx ("greatest high school in America") with Paddy Chayefsky, Richard Ave­don and James Baldwin, Heffner became a devotee of historian Dwight Miner '26, '40 GSAS; literary critic Lionel Trilling '25, '38 GSAS; and philosopher Ernest Nagel '31 GSAS at the College. Outside of class he was one of the earliest on-air voices for the fledgling Columbia University Radio Club, delivering a week­ly current events report while future University Professor Fritz Stern '46, '53 GSAS made faces at him through the studio win­dow (something Stern has consistently denied).
As chairman of the College War Relief Drive, Heffner also suc­cessfully approached University President Nicholas Murray But­ler (Class of 1882) in his Low Library office to ask him to address a bond rally. Heffner recalls, "He was a large man sitting at a large desk, raised on a large platform at the end of the room as one ap­proached. I learned later that that was what Mussolini did."
Heffner, who majored in history, earned an M.A. in the subject in 1947 under Richard Hofstadter '42 GSAS but stopped short of a Ph.D., considering himself "a teacher, not a scholar." And teach he did, at Sarah Lawrence, UC Berkeley, Rutgers, The New School and his alma mater, where from 1950–52 he taught Contempo­rary Civilization. But he craved a larger audience. In 1952, as Heffner began editing A Documentary History of the United States, a still-popular, frequently expanded and updated paperback collection of vital documents and historical commentaries such as the Declaration of Independence and the Gettysburg Address, he knew he wanted to discuss contemporary events in a broader context.
"I believe history is the synthetic subject," he reflects. "I think it is the historian who embraces everything. The story of the past is the story of the present."
The chance to explore that link came in 1953, when Heffner de­cided to create a radio documentary marking the eighth anniversa­ry of the death of Franklin Delano Roosevelt. "I went to every sta­tion in New York and they all said, 'Who are you? You're a profes­sor. You've got this book but that doesn't make you a broadcaster.'"
Finally, WMCA consented. The highlight was an interview with FDR's widow, Eleanor, in her stone cottage at Val-Kill. Disaster nearly struck when an engineer accidentally wiped the tape but Heffner was able to sit down with her again, this time at the Park Central Hotel in Manhattan. "Instead of hearing the chimes of the clock in the background and the fireplace, you heard cars going from first gear into second and then third, 17 stories below."
Street noise notwithstanding, the effort went over well and WMCA gave Heffner a syndicated weekly half-hour program, His­tory in the News. Even before the show had finished its run though, toward the end of 1954, Heffner was looking ahead. Through Cali­fornia Gov. Earl Warren — the father of one of his students at Berke­ley — he met Edward R. Murrow, whose signature sign-off, "Good night and good luck," Heffner still uses to conclude Open Mind.
"Murrow liked me. He immediately called Stuart Novins, the head of CBS radio news. Novins offered me a job as a producer at CBS News. And I said — here is the ham in me — 'Can I be on the air, also?' And he said no. And I said, 'Thanks, but I want to be on the air.' Maybe it was stupid. Maybe I would be president of CBS News today."
In the end, he got his way. WRCA-TV, the predecessor to WNBC-TV, gave him Man of the Year, a public affairs show, in 1955. That led to All About Men-All About Women and Princeton '56, as well as ra­dio stints with Listen, Listen, Listen and Collector's Item. But Open Mind, which originally aired on WRCA-TV, remains the sine qua non of Heffner's broadcast life, the product of a fundamental ambition.
"I'm a teacher. I'm a talker. I'm a speaker. That's who I am."
"We're talking about 1956," Heffner says. "America had real problems. But they were laid over with cash and comfort of the wonderful suburban '50s. I had the feeling that there were com­paratively few places where Americans were confronted with important exchanges about important challenges that faced us, and that's what I wanted to be doing."
Soon enough, Open Mind was delving into such hot-button areas as alcoholism, integration, homosexuality, anti-Semitism and black­listing — so much so that a 1956 Newsday column was headlined "Open Mind Moderator Denies Show Seeks Sensational Topics."
But if the subjects were controversial, the guests were stellar. In the decades that followed, they have included Margaret Mead '23 Barnard, '29 GSAS; Joseph Heller; Martin Luther King Jr.; Max Frankel '52, ' 53 GSAS; Robert Redford; Max Lerner; Isaac Asimov '39, '41 GSAS; Gloria Steinem; Rod Serling; Norman Cousins '37 TC; Eli Wallach; Ruth Westheimer '70 TC; and Malcolm X.
In 1959, CBS chairman William S. Paley appointed Heffner secretary of the network's editorial board, "whipping the owned-and-operated CBS television and radio stations into doing editorials on a local level," as Heffner says. Though his power to set guidelines and supervise the editorials made him "very, very unpopular" among station managers, he did not suffer their displeasure for long.
Within a year, president-elect John F. Kennedy had designated Murrow to be director of the United States Information Agency, and Murrow had invited Heffner to go to Washington with him. But CBS president Frank Stanton convinced him to stay in New York instead, directing the effort being made by Stanton, John D. Rockefeller, Arthur Houghton, Devereux C. Josephs and other leading New Yorkers to obtain a television channel to be used for educational broadcasting. Heffner would then be named founding general manager of New York's first public television station, today's WNET.
The easy part about organizing the nascent station was raising the necessary $6.2 million in seed money. Rather more difficult was actually getting on the air. At the time, all seven coveted VHF stations in the New York area were already in use. So with the approval of the Federal Communications Commission, the New York group purchased WNTA, Channel 13, in Newark — much to the consternation of New Jersey Gov. Robert Meyner, who sued in federal court to block the takeover.
"Meyner was a strange man," Heffner recalls. "He said, 'You are raping the sovereign state of New Jersey. You are taking its only VHF station.' And it was perfectly true. But it was a bankrupt sta­tion. It was a distress sale, because it owed so much money."
Once the sale cleared, and the purchasers incorporated as the Educational Broadcasting Corp. (EBC), Heffner began a "pretty goddamned busy, pretty goddamned exciting" phase of his life as WNDT went on the air on September 16, 1962. Often work­ing from 6 a.m. until midnight, Heffner dealt with staff issues, logistics, budgets, programming and the occasional emergency — like when hordes of parents howled after he canceled a festival of previously unaired Charlie Chaplin films in favor of coverage of the Cuban missile crisis.
Not surprisingly, he was shattered when EBC fired him the following April amid conflicts over policy and the very nature of what was then called "educational television." Heffner favored a wide range of programming, especially expensive cultural fare; EBC, led by president Sam Gould, envisioned WNDT as a cheap­er classroom of the air, specializing in instructional programs. The New York Times covered the developing drama on its front page; some 50 non-union WNDT staff members offered to take a 10 percent pay cut to retain their boss.
As WNET prepares to celebrate its 50th anniversary this fall, the memory still stings. "As you can imagine, having spent those years in making a reality of something that had been a dream of mine. … How did I feel when suddenly the ground was pulled out from under me? Godawful."
But the morning after he was sacked, Rutgers president Ma­son Gross called and offered him a tenured faculty position; to­day, he is the University Professor of Communications and Public Policy. A few days later, pollster Elmo Roper provided him with a secretary, an office and an appointment with AT&T.
"He said, 'You have lunch with them, respond to their ques­tions, and be yourself.' I went down, had a very nice — though institutional — lunch and gave them some advice on communi­cations matters they thought terribly pressing. I came back, went into Elmo's office and said, 'OK, Elmo, what do I do now?' And Elmo said, 'Send them an invoice for $10,000.'"
It was the beginning of the consulting firm Richard Heffner As­sociates, whose clients came to include Time, Inc.; American Airlines; the American Association for the Advancement of Science; Sears Roebuck; and The Salk Institute.
Heffner often quotes John Milton's Areopagitica: "Who ever knew Truth put to the worse, in a free and open encounter?" But having spent decades in the trench­es, Heffner also knows how the world works. A good example occurred in 1987, when Judge Wachtler asked him to chair a commission to determine whether cameras should be per­mitted in New York state courtrooms. Years before the spectacle of Court TV and the O.J. Simpson trial, Heffner basically said no to broadcast cameras in the courts, concluding that stations would simply pluck juicy bits out of context. "They were eager to put on the air attractive, sensational, audience-building materials from trials. They were not eager to teach lessons about our court system."
In 1974, he got an even more bracing les­son in media reality, when he was named chairman of the Classification and Ratings Administration (CARA) of the Motion Pic­ture Association of America at the personal request of its president, Jack Valenti. Before long, he had become what the Los Angeles Times called "the least known, most power­ful man in Hollywood." As such, he was at the center of major ratings controversies over the violence in such movies as Cruis­ing and Scarface (directed by Brian De Palma '62); at one point he clashed with United Artists chairman Arthur Krim '30, '32L about Rollerball. Heffner felt it should be rat­ed "X," prompting Krim to thunder, "This man's predecessor was a fanatic about sex; this man is a fanatic about violence!"
Heffner enjoyed many aspects of the job, though. As he told film critic Charles Champlin in an exhaustive series of inter­views for the Columbia Center for Oral His­tory, "There were times when the picture was over and I would say to my colleagues, 'You know, this really makes it all worth­while.' And I meant it."
But there was also endless wrangling with Valenti and industry professionals who often tried to cajole, persuade or pressure Heffner and his board to assign a family-friendly "PG," rather than an "R" or a dreaded "X." Almost weekly, Heffner commuted to and from California to screen movies and meet with the board, refusing to move there because he feared that constant socializing with actors and directors would burden the rating process.
Not long after he was appointed, Heffner began to suggest to Valenti — "always with the utmost politeness" — ways of improving the system. He especially wanted to provide better ratings explanations and more fully fleshed out guidelines to distinguish between younger and older teenagers. At one point, he pushed for an "RR" category between "R" and "X," signaling that the content was, as he put it, "really rough." In the end, only an unrestricted "PG- 13" was added in 1984 and "NC-17" supplanted "X" in 1990.
By the time he stepped down in 1994, Heffner had grave doubts about the effectiveness of the self-imposed system. Im­mediately upon leaving CARA, he became a senior fellow at the Freedom Forum, at that time located on campus at the Journalism School. In the year that followed, Heffner attempted to sort out and put on paper the lessons he had learned in Hollywood (or, as he put it, "in GaGaLand"). He remains conflicted about completely voluntary ratings for films and, by extension, for TV shows, re­cordings and video games.
Indeed, he is convinced of one thing at least, probably much to the distress of his friend Abrams: "In a society so largely based upon unlimited free speech and free thought, and in a society that is as much based upon the almighty dollar as ours is, some degree of regulation is necessary."
Every Saturday at noon — except during pledge weeks — viewers can tune to Channel 13 and be greeted by the sight of two simple, intersecting human profiles with brain-shaped holes cut in them, slowly revolving amid the eerie strains of World Without Time by the Sauter [as in Ed­ward Sauter '36]-Finegan Orchestra. Although graphic designer Lee Moss designed Open Mind's iconic logo, it was Heffner who chose the accompanying theme, which he describes as "mental health music."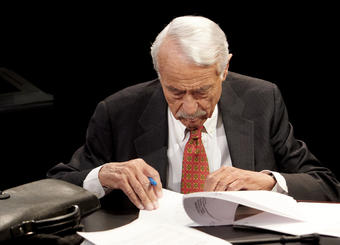 Heffner studies his notes in preparation for a taping of The Open Mind. PHOTO: RANDY MONCEAUX
How much longer will it continue? At 87, Heffner is hardly unaware of his mortality; he has even spoken with Alexander, his grandson, about taking over the program. Open Mind, however, is not just another venue for talking heads; its roster of guests and topics, its low-key, probing, intellectual give-and-take, constitutes a personal expression of the host himself.
Indeed, from 1959–67, when Heffner was busy with various ventures and put the Princeton historian Eric Goldman in the mod­erator's chair in his stead, he was unhappy with the result. He felt that Goldman, a cultural adviser to the White House, was push­ing a political agenda with the show. "He used his invitations at times to feather the nest of the Johnson administration. As far as I was con­cerned, this wasn't Open Mind. That's why, now, I'm much more honest about it. I call it Richard Heffner's Open Mind. It's not anyone else's.
"How long I'll be able to keep doing it, or how long my voice or my mind will last — who knows?" he says, lounging in the book-crammed study in his Riverside Drive apartment, his dog Cassie resting on the couch. "Would I like to continue? Yes. I'd like to continue to the point at which I know I'm no longer doing what I did and others also feel that way. Then I hope I have the good grace to say, 'Good night and good luck' a final time.
"Sure, maybe somebody can do Bill Moyers' Open Mind, or Al­exander Heffner's Open Mind, or whatever. But nobody's going to do what I did. I am who I am. And that's all that I am. I'm Popeye the sailor man."
He smiles and looks semi-serious. "Remember that."
Former Columbia College Today acting editor Thomas Vinciguerra '85, '86J, '90 GSAS is executive editor of This Week From Indian Country Today, a regular contributor to The New York Times and the editor of Backward Ran Sentences: The Best of Wolcott Gibbs from The New Yorker.