Features
The Home Front
Ai-jen Poo '96 gives domestic workers a voice
By Nathalie Alonso '08
Ai-jen Poo '96 spent her formative years as a Columbia Lion, but as an advocate for
domestic workers she identifies more closely with the tiger, her Chinese zodiac sign. So much, in fact, that she had its likeness tattooed on her right arm when she was in her mid-20s.
Ai-jen Poo '96 co-founded Domestic Workers United and now is director of the National Domestic Workers Alliance. She identifies with the tiger, her Chinese zodiac sign, and draws upon what she calls her "inner tiger" for courage as she works to better conditions and benefits for nannies, housekeepers and caregivers. PHOTO: MAX VADUKULBaring no teeth, Poo's tiger sports a penetrating stare that conveys inner strength rather than ferociousness. The unexpected image mirrors the stalwart yet heartfelt approach with which Poo, one of Time magazine's 100 most influential people in the world for 2012, has procured legal protections for nannies, housekeepers and caregivers to the elderly. This overwhelmingly female workforce has historically been excluded from labor rights laws, making its members — most of them immigrants, legal and illegal — vulnerable to underpayment, inhumane working conditions, exploitation and harassment.
"The women who do domestic work — whether they are nannies or caregivers for the elderly — really take pride in the work that they do. They love the people they take care of," says Poo, who in 2000 started Domestic Workers United (DWU), an organization that mobilizes immigrant domestic workers in New York City, and now is director of the National Domestic Workers Alliance (NDWA). "We believe it's their work that makes all other work possible. And so it's really important that it be recognized and respected as dignified, professional work.
"Fear often gets in the way of our taking risks necessary to make real change in the world," Poo adds. "The tattoo is a reminder to draw upon my inner tiger and to be courageous in the face of uncertainty in the service of a vision for a better world."
DWU was the major force behind New York's Domestic Workers' Bill of Rights, which took effect on November 29, 2010, three months after then-Gov. David Paterson '77 signed it into law. The country's first, it entitles domestic workers to overtime pay, one day of rest a week, three paid days off a year after one year with the same employer and inclusion in the state's Human Rights Law, which protects against sexual harassment and discrimination. The law applies to all domestic workers regardless of legal status (there are an estimated 200,000 domestic workers in the New York metropolitan area, according to DWU). California's state legislature is considering a similar bill.
"It was a breakthrough moment," Poo says. "We forced the state of New York to recognize domestic work as real work that deserves inclusion and protection, and reversed a legacy of exclusion and discrimination."
"Ai-jen makes the possibility for radical change palpable.She not only believes in the basic goodness of all people but also that we all inherently want fairness and equality to prevail."
For more than five years after Assemblyman Keith Wright (D-Manhattan) and Sen. Diane Savino (D-Brooklyn/Staten Island) introduced the bill into the state legislature in 2004, DWU staffers drove workers to Albany to lobby. Poo estimates that she made upward of 50 trips herself. Among those who shared their stories with lawmakers, she notes, was a Colombian woman in her 60s who cared for a disabled child in order to afford insulin for her own son. She worked more than 100 hours a week for about $3 an hour, cooking, cleaning, washing and ironing for the family of six, only to retire at day's end to a basement with an overflowing sewage system. She was fired suddenly without severance pay. Other workers testified to humiliations and sexual harassment by male employers.
"I've been fortunate to be a part of many collective efforts that involved sacrifice, spirit, heart and commitment on the part of a lot of domestic workers," says Poo of DWU's work. "It was never me alone."
Domestic workers are excluded from the National Labor Relations Act, which protects the rights of most other private workers to form unions, strike and bargain collectively. Nonetheless, DWU has close to 7,000 members who pay $5 a month in dues in return for free legal assistance, immigration advice and help with resume building and job searching. Funding comes mostly from private foundations. The organization's board comprises nine members who collaborate with director Priscilla Gonzalez '98 Barnard, herself the daughter of a domestic worker.
"Ai-jen makes the possibility for radical change palpable," says Gonzalez. "She not only believes in the basic goodness of all people but also that we all inherently want fairness and equality to prevail."
Poo realized the power of grassroots activism as a College student. She was arrested in April 1995 for blocking the Manhattan Bridge as part of a city-wide protest against police brutality. She also was among the students who occupied Low Rotunda and Hamilton Hall during the 1996 protests that called for more culturally diverse course offerings. Three years later, Columbia's Center for the Study of Ethnicity and Race was established.
"We were all working together with one really strong message to push the University to recognize this piece of intellectual work that is so important to how this country has unfolded," Poo recalls. "We wanted to send a message of how important it was for students to have access to that information.
"Students really worked together across communities. That was one of the things that was so powerful about it. It was a really exciting time. It informed how I understood how change happens and gave me a sense of the potential of organizing."
Born in Pittsburgh to Chinese immigrants, Poo transferred to the College after a year at Washington University in St. Louis, where she had enrolled with plans to become a potter. "I missed reading books, literature in particular," says Poo, whose father, Mu-ming Poo, was a pro-democracy activist in Taiwan and taught in Columbia's Department of Biological Sciences from 1988–95; her mother is an oncologist.
"I was excited about having New York City as a place to learn and grow," she adds.
Within a year of her arrival, Poo shifted her focus from art to women's studies. "I've been really passionate about women's issues since high school," she says. "When I got to Columbia, the women's studies department offered the opportunity to explore the intellectual work that had been done around women's rights and how gender has shaped our world and our history.
"There are a lot of strong women in my family tradition," adds Poo, whose family includes sister Ting Poo '00, a post-production film editor. "My grandmothers and my mom are very important role models for me."
Soon after arriving in New York, Poo began staffing a hotline as a volunteer at the New York Asian Women's Center, a domestic violence shelter for Asian immigrant women, where she got her first taste of women's activism. She later became involved with the Committee Against Anti-Asian Violence, where she was promoted to paid staff member upon graduation. Poo co-founded DWU with colleagues from CAAAV, where she had spearheaded an initiative that sought to empower Asian immigrant women employed in low-wage service industries.
Poo met her husband, attorney Tony Lu, while recruiting volunteers for CAAAV at NYU Law School, where Lu earned a J.D. Lu now works for Pro Bono Net, a nonprofit that uses web technology to increase access to justice for people who cannot afford lawyers. The couple lives in Queens.
Poo now heads the NDWA, a coalition she helped establish in 2007. It encompasses more than 30 member organizations nationwide that seek respect and fair labor standards for domestic workers. Though based in New York, Poo travels frequently to meetings and public speaking engagements.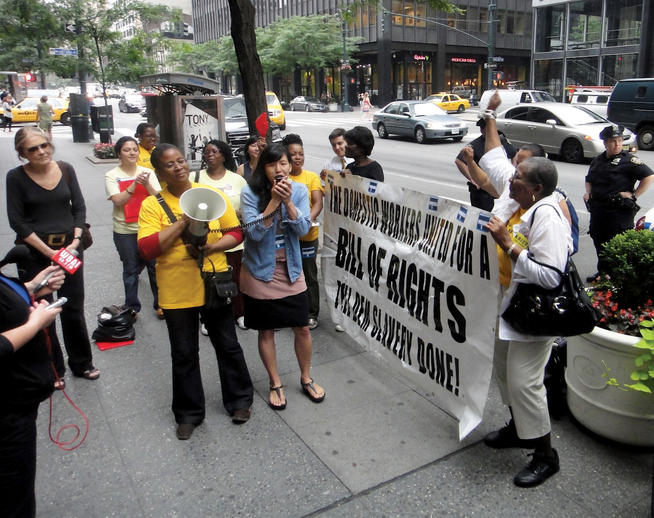 While Poo credits the collective efforts of fellow advocates for her groups' success, she still is on the front line and speaking out. PHOTO: COURTESY AI-JEN POO '96/NDWA
The NDWA celebrated in June when delegates to the International Labour Conference — the annual meeting of the member states of the U.N.'s International Labour Organization — adopted the Convention on Decent Work for Domestic Workers. The international treaty for the first time entitles domestic workers to fundamental labor rights and is binding for the states that ratify it. Though the United States has not done so, the NDWA worked with the Department of Labor to draft the federal government's response. (The NDWA also had sent a domestic worker to the conference as a voting delegate.)
In 2011, Poo's groundbreaking work earned her the American Express NGen Leadership Award bestowed by Independent Sector, a leadership network for charities and foundations. The award recognizes nonprofit leaders under 40 who have had a significant impact on a societal need. The $3,000 grant has gone toward training and capacity building for domestic worker leaders.
"Ai-jen is a leader of the present and future," says Mikaela Seligman, Independent Sector's v.p. of nonprofit and philanthropic leadership and practice. "The way she sees leadership is that her role is not to be out in front publicly or privately, somehow leading the charge, which is really a model of the past. Her role is fundamentally to mobilize resources to achieve a goal. She does that ably, she does that graciously and she does it with love."
In 2009, the Center for Social Inclusion awarded Poo the $25,000 Alston-Bannerman Fellowship for Organizers of Color, which allowed her to take a four-month sabbatical, part of which she spent re-energizing in Hawaii, a logical destination once she mentions her affinity for the outdoors and "places where mountains and ocean meet." Poo's husband and a few friends accompanied her for part of the trip, but she also spent time alone practicing yoga and sleeping at least eight hours each night, which she rarely gets to do. Moreover, she used the time off to convoke a national meeting of female organizers. That same year, Crain's New York Business named her one of its "40 Under 40" rising stars. Then came Time's "100 Most Influential People in the World" list this spring.
Ever-humble, Poo is quick to attribute such accolades to her cause rather than her aptitude. "It's really recognition of both the importance of domestic work in society today and the significance of domestic workers organizing, advocacy and leadership in the social change arena," she says. "I feel proud to be a part of a movement that inspires so many people."
Watch videos of Poo discussing issues facing domestic workers.
Nathalie Alonso '08 is a freelance journalist and an editorial producer of LasMayores.com, Major League Baseball's official Spanish language website. She also writes Student Spotlight for CCT.