Obituaries
1933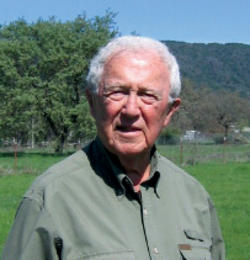 Leo Rangell '33
Leo Rangell, psychoanalyst and emeritus clinical professor of psychiatry, Los Angeles, on May 28, 2011. Rangell was born on October 1, 1913, in New York. He earned a scholarship to Columbia and studied medicine at Chicago, graduating in 1937. Rangell prac­ticed psychiatry and neurology in New York until WWII, then spent the war years as a psychiatrist in the Army Air Forces. After the war, he moved to Santa Monica and studied at the Los Angeles Psychoanalytic Institute. He became a leading psy­choanalyst who argued forcefully that theoretical fads and factions threatened to erode consumer confidence in the field. Rangell was a clinical professor of psychiatry at UCLA and UCSF, wrote more than 450 published papers as well as sev­eral books and twice was president of the American Psychoanalytic Association and the International Psychoanalytical Association. Rangell was seeing patients until shortly before his death. His chief contribution to the field was cham­pioning a comprehensive theory of psychoanalysis to counter the waves of new schools of thought that emphasized one approach over all others. Rangell was predeceased by his wife of 58 years, Anita, and a son, Richard. He is survived by his daughters, Judith Alley and Susan Harris; son, Paul; sister, Sydelle Levitan; seven grandchildren; and six great-grandchildren.
1940
Hermon W. "Hy" Farwell Jr., retired speech professor, Pueblo, Colo., on April 6, 2011. Farwell was born on October 24, 1918. At Columbia, he was a member of the crew team. Farwell enlisted in the Army and then transferred to the Air Force in 1944. He retired from military service in 1966, taught Air Force ROTC and earned a master's from Penn State. He then moved to Pueblo to begin a second career as a professor in speech at what was then Southern Colorado State College, retiring in 1984 as professor emeritus from the Department of Speech Communication at USC. He continued to write and speak to many organizations throughout his retirement. Farwell was well known for his work in parliamentary pro­cedure, about which he published several books. He was a member of a number of local organizations. Farwell was preceded in death by his two siblings and one grandson. He is survived by his wife of 69 years, Martha; son Gardner and his wife, Cindy; daughter Linda and her husband, Rick Hammer; daugh­ter-in-law, Margie; four grandsons; and seven great-grandchildren.
Edmund W. White, retired chemi­cal engineer, Silver Spring, Md., on March 5, 2011. White was born in Philadelphia on July 8, 1920, and raised in Brooklyn, N.Y. He earned three degrees from Columbia: a B.A. from the College, and then a B.S. and M.S. from Engineering in 1941 and 1942, respectively. White earned a Ph.D. from Lehigh. He retired from the David Taylor Research Center in Annapolis, Md., in 1995. White was active in the American Society for Testing and Materials, the Potomac Curling Club and the National Active and Retired Federal Employees Associa­tion. He is survived by his wife, Na­thalie; children, Christine, William, and his wife, Cheryl, Thomas and James; and one grandson. Memorial contributions may be made to the Ed and Bill White Junior Curling Fund at the Potomac Curling Club, 13810 Old Gunpowder Rd., Laurel, MD 20707, or to American Diabetes Association, PO Box 11454, Alexan­dria, VA 22312.
1942
William Pfeffer Jr., pediatrician, Randolph, N.H., on September 25, 2011. Born on April 25, 1921, Pfeffer was a graduate of Harvard Medical School in 1944 and was inducted into the Alpha Omega Alpha Honor Medical Society that year. While in medical school, he served in the Army and then completed his in­ternship and residency at Children's Hospital, Boston. Pfeffer was one of the early practicing authorities in pediatric exchange transfusions and one of the first to recognize maple syrup urine disease, a genetic meta­bolic disorder. He went into private practice in Wellesley, Mass., in 1952, and for more than 30 years was the consulting pediatrician to the Children's Mission (Parents' and Children's Services). Pfeffer married Jean Wilkinson in 1943. In 1985, the couple retired to their summer home in Randolph, N.H. Following Jean's death, Pfeffer married An­gela Chakalis in 2001. Pfeffer was a skilled photographer, watercolor artist, writer, musician and wood­worker. In 1999, he founded the Randolph Art Show and was the curator and organizer for 11 years. He is survived by his wife; son Wil­liam and his wife, Anne; daughter Jane Jerry and her husband, George; two grandchildren; a niece; and a grandniece. Memorial contributions may be made to the Benevolence Fund, Randolph Church, c/o Mrs. Mark Kelley, 98 Randolph Hill Rd., Randolph, NH 03593.
1943
Martin S. James '43 Martin S. James, professor emeritus of art history, Ann Arbor, Mich., on October 11, 2011. James was born in London, England, on July 7, 1920, and raised in Paris, France, where he attended Lycée Janson de Sailly. He honed his passion for modern art both at Columbia under Profes­sor Meyer Schapiro '24, '35 GSAS and as an assistant and translator to artists and architects including Kurt Seligmann and Le Corbusier. He earned an M.A. (1962) and Ph.M. (1973) from GSAS. Subjects of scholarship included Ad Reinhardt '35, Fernand Leger and Sigfried Giedion, with a special emphasis on Piet Mondrian, about whom James wrote several books and articles. While teaching at Brooklyn College from 1949–85, James created one of the first collegiate programs on urbanism with Professor Charles Ascher '18, '21L as well as other interdisciplinary programs in indigenous and public art. James also fought to make urban renewal adopt what he called a "human scale" throughout New York City. James was married twice and was predeceased by both wives, the former Betty Barras '46 Barnard and Jan Henry, and is survived by his children, Elisabeth and Stephen; stepdaughter, Deborah; and two grandchildren. Memorial contributions may be made to the National Parkinson Foundation.
1944
William W. Baines Jr., retired sales representative, Owings Mills, Md., on May 26, 2011. Born in Brooklyn, N.Y., on November 17, 1922, Baines interrupted his time at Columbia to fight in the Pacific in WWII on the aircraft carrier U.S.S. Belleau Wood. Upon his return from the Navy, he was part of the Columbia varsity basketball team that won the Ivy League Championship in 1947. After graduation, he worked for Wilson Jones, selling stationery supplies. Married in 1949, he spent much of his adult life in the Balti­more area and volunteered a great deal of his time in his community, both in the church and within local civic groups, winning honors from PennMarVa and others. Baines also dedicated much of his time to coaching sports in his hometown of Pikesville, Md., and was named Man of the Year in 1974. He is survived by his wife of nearly 62 years, Carol; four children and their spouses; 10 grandchildren; and two great-grandchildren.
1946
Charles H. Arnoldi Jr., retired sur­geon, University Park, Fla., on April 26, 2011. Arnoldi was born in West Hoboken, N.J. At the College, he was a member of the V12 program. In 1949, he graduated from George­town University College of Medicine and was a practicing surgeon in Orange and South Orange, N.J., for more than 50 years. He was a member of the American College of Surgeons and the American Medical Association, and was a past presi­dent of the Essex County Medical Society. Arnoldi was a Navy veteran of the Korean War and served in the Naval Reserves for many years. He is survived by his wife, Jane; son, Jeffrey; daughters Amy, and Karen Costello; sister, Alma Torello; and four grandchildren. Arnoldi was predeceased by his first wife, Avis, and a daughter, Janice.
1948
Richard van Frank, retired editor, Montclair, N.J., on July 4, 2011. Born and raised in New York City, van Frank completed a pre-med degree after serving as a U.S. Army medic in Italy and North Africa during WWII. He did graduate studies at Harvard in vertebrate paleontol­ogy and worked at the American Museum of Natural History and at Harvard's Museum of Compara­tive Zoology. Van Frank had a long career as an acquisitions editor in academic publishing, concentrating on textbooks and journals in the biological sciences. His retirement activities included visiting art museums, attending Shakespeare, probing classical Greek and com­parative Indo-European linguistics and reading (and writing) science fiction. Van Frank is survived by his wife, Leslie; daughters, Katherine, and Jennifer and her husband, Barat Dickman; and two grandchildren. Memorial contributions may be made to the Cancer Center of Clara Maass, 1 Clara Maass Dr., Belleville, NJ 07109, or to the Overlook Hospi­tal Foundation, 36 Upper Overlook Rd., PO Box 220, Summit, NJ 07902.
1949
Ross J. Wilson, retired actuary, Hilton Head Island, S.C., on Sep­tember 23, 2011. Wilson was born on February 16, 1925, in Flatbush, Brooklyn, N.Y. At age 18, he enlist-ed in the Army Air Corps as an aviation cadet, serving as a first lieutenant bombardier in the 15th Air Force during WWII. After the College, Ross entered the actuarial training program at Home Life Insurance Co., in New York City. He later joined the small actuarial consulting firm of David G. Stone in Newark, N.J., where he became a partner with the then-named firm Stone, Young and Associates. The group merged into Watson Wyatt Worldwide Consulting Actuaries in the early 1980s, and he retired from it in 1987. Ross was a member of the American Academy of Actuaries, an associate of the Society of Actuaries and, while actively consulting, a fel­low of the Conference of Actuaries in Public Practice. He is survived by his wife of 61 years, Geraldine; daughter, Leslie R. Degenaars; sons, Keith and Craig; seven grandchil­dren; and one great-grandchild. Memorial contributions may be made to Hilton Head Island Deep Well Project, PO Box 5543, Hilton Head Island, SC 29938.
1950
Arthur S. Campbell, retired psychiatrist, Upper Saddle River, N.J., on July 9, 2011. Campbell interned at Seaside Memorial Hospital in Long Beach, Calif., and did a residency in internal medicine at Walter Reed Army Hospital in Washington, D.C., graduating in 1954. He continued studies with a two-year fellowship in cardiology, followed by a final residency in psychiatry. After returning from his first European tour, he and his wife, Astry '48 Barnard, '49 GSAS, and their three children settled in Short Hills, N.J., where Campbell practiced psychiatry. A dozen years later, Campbell did a second stint in Europe, and returned stateside as an Armay colonel. He was chief of psychiatry at three Army hospitals: Frankfurt, Heidelberg and Land­stuhl, Germany. Campbell ended his Army career as a psychiatrist at West Point Military Academy. He then became a staff psychiatrist at Valley Hospital and later opened his own practice in Ridgewood, N.J., from which he retired in 2011. Campbell is survived by his wife; children, Brenda Leigh Haynes, A. Scott and Laura; and five grandchil­dren. Memorial contributions may be made to the Valley Hospital Hos­pice Care, 15 Essex Road, Paramus, NJ 07652.
John D. "David" Suomi, retired dentist, New Wilmington, Pa., on May 8, 2011. A native of Brooklyn, N.Y., Suomi earned a D.D.S. in 1953 from the Dental School and an M.P.H. in 1962 from the School of Public Health. He was in private practice in Tuxedo Park and Suffern, N.Y., before joining the U.S. Public Health Service in 1962; he retired in 1983 as a captain. Suomi served with the Division of Dental Health, the Office of the Assistant Secretary for Health and the National Institute of Dental Research. Suomi's research studies were important in establishing the link between poor oral hygiene and periodontal disease. He was a recipient of the PHS Meritori­ous Service Medal. Suomi was a life member of the American Dental Association and the American Asso­ciation of Public Health Dentistry as well as a diplomate of the American Board of Dental Public Health. During WWII, he served with the Army in Europe. Survivors include his wife, Anne; daughters, Susan Herchenroether and her husband, Peter, and Linda Bethke and her husband, Paul; and four grandchil­dren. Memorial contributions may be made to the Suomi Scholarship Fund c/o Westminster College, New Wilmington, PA 16142.
1953
Rolon W. Reed, retired attorney, former mayor, Mount Dora, Fla., on September 18, 2011. Reed was born in Pittsburgh on April 8, 1931. An aspiring journalist, while in junior high school and high school his sports writing appeared in The New York Times. At the College, Reed was on the Spectator staff, rising to man­aging editor. He also participated in the editorial decision to endorse Adlai Stevenson for President dur­ing the 1952 campaign. Stevenson's opponent, Dwight Eisenhower, was Columbia's president at the time, which made the endorsement controversial. Reed was a member of Phi Gamma Delta fraternity. After graduating from Yale Law, he joined Simpson Thacher in 1956, where he was named partner and remained until his 1984 retirement. He also took part in government service in the Village of Dobbs Ferry, N.Y., his home from 1963–89. Entering local politics in 1974, Reed successfully ran for Village Trustee as a self-proclaimed "irate tax­payer." After twice being re-elected, he accepted an appointment by New York Gov. Mario Cuomo to serve as a Justice of the Westchester County Court. Following his court service, Reed and his second wife, Diana, relocated to Florida. Reed is survived by her; his three children from his first marriage, Rolon '82, Hilary Yeo and Jennifer Simon; and four grandchildren.
1955
OTHER DEATHS REPORTED
Columbia College Today also has learned of the following deaths. Complete obituaries will be published in an upcoming issue, pending receipt of information. Due to the volume of obituaries that CCT receives, it may take several issues for the complete obituary to appear.
| | |
| --- | --- |
| 1936 | Malberry Smith Jr., attorney and former state legislator, Savannah, Ga., on June 11, 2012. |
| 1938 | Howard G. Law Jr., retired attorney, Oak Harbor, Fla., on May 14, 2012. |
| 1943 | Walter A. Petryshyn, retired otolaryngologist, Sarasota, Fla., on May 15, 2012. |
| 1945 | Thaddeus J. "Ted" Czarnomski, retired technical director, Scotch Plains, N.J., on July 10, 2012. |
| | David R. Hays Jr., physician, Fincastle, Va., on May 23, 2012. |
| 1947 | Edward N. Costikyan, political adviser and University trustee emeritus, Mount Pleasant, S.C., on June 22, 2012. |
| 1948 | George J. Poris, retired advertising executive, Haworth, N.J., on May 29, 2012. |
| 1949 | Howard J. Baker, engineer and project manager, Basking Ridge, N.J., and Greenacres, Fla., on February 22, 2012. |
| | Stephen Jarvis Jr., mathematician, Bandon, Ore., on June 17, 2012. |
| | Walter H. Mitton, retired engineer, San Diego, on February 27, 2012. |
| 1950 | William H. Dickie Jr., retired, Douglaston, N.Y., on October 5, 2010. |
| | F. Theodore "Ted" Reid Jr., physician, Ajijic, Mexico, on July 15, 2012. |
| 1951 | Arthur Schon, musician, singer and endodontist, West Palm Beach, Fla., February 27, 2012. |
| 1952 | Jay R. Carver Jr., retired, Atlantic Beach, Fla., on May 25, 2012. |
| | Mark Flanigan, retired naval officer, Washington, D.C., on May 26, 2012. |
| | Albert K. Roemermann Jr., Middletown, Conn., on April 22, 2012. |
| 1953 | Charles M. Fainsbert, retired CFO, Somerset, N.J., on April 23, 2012. |
| 1954 | Peter D. Ehrenhaft, attorney, Washington, D.C., on July 25, 2012. |
| | Edward G. Holteen, retired dentist, Ambler, Pa., on July 13, 2012. |
| | Melvin Goldstein, chemist, Beer Sheva, Israel, on May 13, 2012. |
| 1955 | Samuel Astrachan, novelist, Gordes, France, on August 5, 2012. |
| | James J. Phelan, bank executive, New York City, on May 21, 2012. |
| 1956 | David E. Boyer, civil engineer and project manager, West Caldwell, N.J., on July 8, 2012. |
| | Leonard M. Florentino, retired, Hartford, Conn., on July 19, 2012. |
| | Charles B. Grace Sr., dentist, Manchester, N.J., on June 29, 2012. |
| | Michael I. Spiegel, attorney, San Francisco, on August 3, 2012. |
| 1960 | Leonard Lustig, real estate practitioner, Stony Brook, N.Y., on April 1, 2012. |
| | Nelson S. Lyon, screenwriter, New York City, on July 17, 2012. |
| 1961 | Thomas E. Bratter, psychologist, Salisbury, Conn., on August 3, 2012. |
| | Edward R. Hotelling, retired pilot, Somis, Calif., on May 21, 2012. |
| | Barry H. Jacobs, eye surgeon, New York City, on May 9, 2012. |
| | Louis R. Tomson, attorney, New Scotland, N.Y., on May 8, 2012. |
| 1962 | Charles R. Miller, bookseller, Salem, Ore., on May 10, 2012. |
| 1963 | William M. Guttman, retired attorney and professor, Palm Beach, Fla., and New York City, onJuly 13, 2012. |
| | Charles J. Piera, retired supervisor of volunteer services, Sundown, N.Y., on August 1, 2012. |
| | Robert T. Schiro, land developer, Bergenfield, N.J., on April 28, 2012. |
| 1964 | Peter K. Shack, attorney and singer, Davis, Calif., on July 3, 2012. |
| 1967 | James N. Woodruff, legislative specialist, Washington, D.C., on April 5, 2012. |
| 1977 | Marcel P. Desbois, sales manager, Scarsdale, N.Y., and Bangor, Pa., on May 1, 2012. |
| 1980 | Brian F. Smith, teacher, Norwich, Conn., on April 17, 2012. |
| 1991 | Juan J. Calderon, attorney, San Antonio, Texas, on June 12, 2012. |
| 1992 | Robert A. Ray, management consultant and attorney, Tampa, Fla., on June 26, 2012. |
Denis A. Haggerty, retired execu­tive, Melbourne, Fla., on July 11, 2011. Haggerty was born on May 26, 1933, in Brooklyn, N.Y., and grew up in Saint James, N.Y. He attended Columbia on a Hayden scholarship and played football. Haggerty served two years in the USMC as a reserve officer. He lived much of his life in Suffolk County, Long Island, working in the electronics industry as an owner of TX Sales and then as v.p. of JACO Electronics. He retired to Titusville, Fla., in 1997. Haggerty was active in the Big Brothers of Brevard and was a member of the Stony Brook Yacht Club and the St. George Golf Club, both on Long Island, and the LaCita Golf and Country Club in Titusville. He is survived by his wife, Jacqueline; children, Timothy, Peter and his wife, JoEllen Gasior, and Lynn Haggerty King and her husband, David; four grandchil­dren; and sister, Patricia Stoddard. He was predeceased by a son, Christopher. Memorial contribu­tions may be made to Hospice of Saint Francis, 1250-B Grumman Pl., Titusville, FL 32780 or the American Cancer Society.
1956
James S. Williams, retired execu­tive, Fallbrook, Calif., on May 22, 2011. Williams was awarded a Varsity C in baseball in 1955 and 1956. He joined the Marine Corps following graduation and was honorably discharged with the rank of captain. Williams spent his early years in the advertising business on Madison Avenue, then moved to Denver in 1977. He founded Evergreen Resources, an oil and gas exploration company, with Terry Dreisewerd, his long­time business partner. Evergreen was sold in 2004 to Pioneer Natural Resources. Throughout his life, Williams entertained family and friends by playing the piano. He is survived by his wife, Shirley, and her children, Ken Plattner, Paul Plattner and Kelli Garecht; his chil­dren, Mitch '80 and Erin Hurley; and seven grandchildren. Memo­rial contributions may be made to Nadia's Gift.
1957
Frederick W. Korz, retired educator, horologist, Middletown, Conn., on April 4, 2011. Born on October 26, 1935, in New York City, Korz was raised in New Hyde Park. He graduated from Sewanhaka H.S. in Floral Park, N.Y., and received a full Joint Industry Board of the Electrical Industry Scholarship to the College, where he was president of Delta Phi. Korz earned an M.A. in history from Teachers College and was a history teacher and administrator in Lawrence H.S., Cedarhurst, N.Y., for 34 years. He did further graduate work at Hofstra, earning a degree in administration. The author of articles on history and teaching, Korz also was on the faculty of Long Island University, where he taught in the Arts and Antiques Institute. Long an active horologist and appraiser, he was the author of a major work on antique clocks and consultant to various museums and historical societies. He is survived by his wife, Virginia; sons, Frederick '93E, '94E and Charles; brother, Alan '61 and his wife, Margaret; sister-in-law, Barbara Nielsen; brother-in-law, Richard Wagner; and numerous nieces, nephews, great-nieces and great-nephews. Memorial contributions may be made to the Columbia College Fund.
1958
Joachim Neugroschel, literary translator, Brooklyn, N.Y., on May 23, 2011. Neugroschel was born in Vienna on January 13, 1938, and im­migrated to Rio de Janeiro in 1939. His family arrived in New York City in 1941. The son of Yiddish Galician poet Mendel Neugroschel, he took an interest in translating from Yiddish and translated more than 200 books — from that lan­guage as well as from French, Ger­man, Russia and Italian — includ­ing the work of Nobel Prize-winner Elias Canetti. Neugroschel's Yiddish anthologies, The Shtetl and Yene Velt, reached a wide audience, and his translations of S. Ansky's play The Dybbuk and Sholem Asch's drama God of Vengeance were produced. Neugroschel also was a critic and poet, and he founded and edited the poetry journal Extensions, which was published from 1970–75. He is survived by his former partner, Aaron Mack Schloff.
1959
George R. Carmody, biology pro­fessor and DNA evidence expert, Ottawa, Ontario, on June 13, 2011. Born on March 29, 1938, in Brook­lyn, N.Y., Carmody was educated at Brooklyn Technical H.S. and Columbia, where he earned a Ph.D. in 1967 from GSAS in biological sciences. He was a post-doctoral fellow at Chicago and in 1969 joined the Department of Biology at Carleton University, Ottawa, where for 42 years he taught courses in evolutionary biology, population genetics and forensic science. He also was associate dean of science and head of Carleton's Integrated Science Program intermittently. Carmody developed an interest in forensic DNA and statistical biology, and became a consultant to government agencies, testifying on DNA evidence issues at trials in Canada in the 1990s as well as assisting with 9-11 and Hurricane Katrina. He lectured internationally and assisted with victim identifica­tion efforts in Chile and Guatemala. Carmody enjoyed photography, jazz, vintage Cadillacs, railroading, fine dining and ethnic cuisine, and was an amateur mechanic. He is survived by his wife, Zoë; sons, Chios and Ian; daughter, Daphne; and two grandchildren. Memorial contributions may be made to the George Carmody Memorial Award for Forensic Biology, Department of University Advancement, 510 Rob­ertson Hall, Carleton University, 1125 Colonel By Drive, Ottawa ON K1S 5B6 (carleton.ca/giving).
1961
Arthur D. Friedman, retired profes­sor and publisher, San Diego, on October 24, 2011. Born in New York City on April 24, 1940, Friedman earned an M.S. (1962) and a Ph.D. (1965) in electrical engineering from the Engineering School. After doing research in computer science-elec­trical engineering at Bell Telephone Laboratories, he joined the faculty at the University of Southern California and then moved to the George Washington University, where he taught for more than 20 years. The author of numerous articles and books, Friedman was elected a fel­low of the Institute of Electrical and Electronics Engineers. In 1974, he and his wife, Barbara, founded Com­puter Science Press, which published more than 100 text and reference books and was recognized by Inc. 500 magazine several times as one of the nation's 500 fastest growing, pri­vately owned companies. Survivors include Friedman's wife; sons, Mi­chael and Steven '01 Business, and their wives; four grandchildren; and a brother, Stanley '54, '62 GSAS. Me­morial contributions may be made to the Cardiac Treatment Center at Scripps Memorial Hospital La Jolla, PO Box 2669, La Jolla, CA 92038; or the American Cancer Society, 2655 Camino del Rio North, Suite 100, San Diego, CA 92108.
1969
Joseph J. Okon, physician and medical educator, Norwalk, Conn., on May 6, 2011. Born in New York City, Okon earned an M.D. at the Albert Einstein College of Medicine. He devoted his career to obtaining funding for the advancement of medical education and devoted his life to his family and his friends. A lifelong philanthropist, he was espe­cially dedicated to spreading a Jew­ish education to those in need. Okon was a member of several boards of directors, including the UJA Federa­tion and Bi-Cultural Day School. He is survived by his sons, Benjamin, Ezra and Alexander; friend, Sandy Samuels; and late brother Paul's family. Memorial contributions may be made to the Okon Family Philan­thropic Fund II (2474) of the Jewish Communal Fund, 866-580-4523.
Lisa Palladino