Web Exclusive
Overtime with Football Coach Pete Mangurian
Columbia's new football coach, Pete Mangurian, sat down for an interview with CCT Editor Alex Sachare '71 in August, prior to the start of Mangurian's first season at the helm of the Lions. Some of what they discussed went into "Within the Family" in this issue, but there was much more that didn't make it into print. Below is an edited transcript of the interview.
---
CCT: What makes you believe you will be able to bring success to the Columbia football program, when so many coaches who preceded you were unable to do so?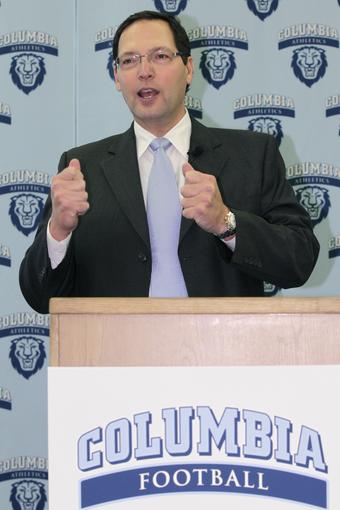 PHOTO: GENE BOYARSMangurian: I've been doing this for 33 years. I've been fortunate to be around some very successful programs. I've been to what people in the football world would consider the pinnacle, the Super Bowl, and I've worked in organizations that are arguably the best in football. Hopefully, I've picked some things up along the way. One of the biggest lessons you learn in this game is to evaluate the situation objectively, have a clear idea of where it is you actually want to go and what you want to accomplish, then use your experience and the experience of others to put together a road map to get there. I'm not really interested in the pitfalls and the things that have come before. I'm fully aware that those things probably will present themselves along the path to where we want to go. I'm not a believer in "That's just the way it is and it's always going to be that way." I think, objectively evaluating the situation, we perceive and see roadblocks and we don't even know why those roadblocks are there. They happened so long ago, and the people who you talk to can't even tell you how they came about.
CCT: Can you be specific and talk about one of those roadblocks?
Mangurian: The perception that there's a conflict or a butting of heads, if you will, with the faculty — that's all a misperception. It's not true. The faculty is more than willing to help reach the objective, which is to make sure that these young men get the education they need and have experiences they need and make the most out of this experience and still be successful at football. They have no problem with that. Now, as a coach, you've got to show that you're willing to do the things to facilitate that, in more ways than just talking about it. We've instituted some pretty stringent academic checkpoints along the way with our players, more stringent than the University's. We'll suspend players if they don't have a certain GPA. If you don't meet certain criteria you're suspended indefinitely; if you don't meet certain criteria you're suspended until midterm when we review your grades; if you don't meet certain criteria you're in study hall four nights a week.
Some will say, that's special treatment, why do they need that when other students don't get that? And the answer is they spend 20 hours a week playing football. Those 20 hours a week when they're playing football, other students are studying or in the library or working in group sessions and doing what they have to do. So there's an exceptional load put on these guys, although it's voluntary on their part — the reality is, to do all those things, to juggle all those balls and to do what you have to do to play this game, because you have to practice to play this game, they need support. There are no gifts. We're not giving them anything, but there's support. If you look at the time requirements, it would be challenging for anybody to take 20 hours out of their week and survive in the classrooms here and compete with the other students on this campus.
Those things are pretty objective. And that's the world we try to live in. This is the reality of what we do. Believe me, every day I face, "Well, that won't work" or "That's not the way it is" or "Those people won't cooperate with you." It's myriad things every time we turn around. My answer to that at this point is, "Why?" And I usually don't get a very good answer because the person that I'm talking to wasn't even around when that problem took place, and perception becomes reality and we move on. I know this: When I came back here, I had already coached in this league at another school [Cornell] for three years. As much as we're all unique, we're all the same in a lot of ways. People are very entrenched, they have their own little kingdoms, their own little fiefdoms. When you've been around that long, that dynamic happens and the only way to reach success in these schools, with these players, in this sport, is to bring together the two sides. If you're opposing one another or there is a fight about what's more important, this will never happen. There's no way these kids can do both these things in an environment that's got conflict in it. You've got to learn to bring the two together. You've got to learn that what makes one group successful makes the other group successful. There's no difference between going to practice and doing your homework — you're practicing for the test. When you put things in that perspective, it's easy to see. Why wouldn't you want to work with these guys? They have a work ethic, they're intelligent, they're logical thinkers, they're goal-oriented. Take all those things and bring them together and create the product that we all want, which is that when they leave here they do well because they got the education they wanted. But that doesn't mean that they can't play good football and we can't be successful.
CCT: Why did you choose to return to the college ranks, when so much of your career has been in the NFL?
Mangurian: There are a lot of things about the National Football League that aren't great, and I can say that because I've been there for more than 20 years. You reach a point in your life where you say, "I don't want to deal with these kinds of people." Don't get me wrong, 95 percent of the people in the NFL are great people and 95 percent of the players are great people. What you hear about are the ones who aren't great. I was fortunate to be with great organizations and great people, for the most part. I started to have an issue with the NFL when some of the coaches started becoming obstructionists to success, when it became more important for a coach to keep his job than to do what's best for his team, when it became a power play among the coaches and the objective wasn't to do what's best for the team. That never happened to me in New England or with the Giants. But my last experience, in Tampa, was an organization and a staff that had absolutely no regard for what was best for the team. Everybody was fighting their own little personal battles. When you get to the age that I am and have done this long enough and have been the places that I've been, you get a very clear picture of what's acceptable and what's not. If I have 10 more years of coaching in me, and I look back over my career and ask where was I the happiest, and that would be when I was coaching these kinds of players.
CCT: What specifically about this job was attractive to you?
Mangurian: The challenge, obviously, is everybody saying, you can't do it. I sit around here and I do not understand why people say we can't be successful. I don't see it, I just don't. There are too many resources here, there are too many unique things about this University — where it is, the proximity of the alumni, the energy level that's brought about by being in New York City, the diversity, all those things are huge plusses for the University.
I tend to absolutely believe in shaping the total person, the Core Curriculum and all those things, developing the whole person and preparing somebody to be able to go out and do whatever it is that may come along instead of teaching somebody along a very narrow path. We make our players learn what everybody else does. We make the players aware of what our strategies are, how we think, play the whole game, understand the rules. I sent the rule book to them over the summer and said, "Read the rule book. I'm going to test you on the rule book when you get back." Instead of just saying, "Do your job, tackle your guy, block your person," I want them to understand and know the whole game. So there's a lot of common ground between what this University stands for from an educational standpoint and my approach to how you teach and what educating somebody really is. So there were a lot of matches.
And I knew [Athletics Director] Dianne [Murphy] from Cornell [where he was head coach 1998-2000]. When I came in for the interview, I not only had somebody who I could talk to who knew me — she knows how I am, she knows how I think — but having been through this process before, I knew which questions to ask and I knew who I wanted to talk to. I wanted to talk to the president. I wanted to talk to [Dean] Jim Valentini. There were people on the check list who I knew I needed to talk to to find out if we really were committed to doing this. Like I said, all those answers were positive.
CCT: What personal qualities in you will help overcome the obstacles and change the culture?
Mangurian: I can be selectively myopic about what I'm trying to do … I know what I want our football team to look like. I know what I want them to look like when they're walking around campus, when they're in the classroom, when they're playing on Saturday, on Friday nights when they're getting ready. I know what this is supposed to be like and I'm just not going to accept it not being that way. I'm just not going to accept it, until somebody can show me a reason why it can't be done — and I just don't think that exists. I think it can be done.
I'm completely committed to creating an environment more than just a team. I'd say if there's anything that really defines how I approach things, it would be this: It's great to have a goal, everybody has them, but the real work involved here is how do you get there. A lot of times we focus so much on the goal, we don't focus on how we are going to get there, the methods to achieve that goal, and that's what as a staff we spend all our time working on. The goal will happen if you do the other things along the way. And so you spend all your time with the details of doing the other things along the way. I spent almost a whole day here trying to figure out how we're going to practice during freshman orientation. Our freshmen are going to be really important to this team. There are some teams where it isn't that important because they're not going to be part of who you are, at least not right away. There's a component here that it's very important to stay on schedule. I think that's one thing these guys really need. They need to be on a schedule that doesn't change. There are enough variables in their lives, outside of football, that I can't be another distraction. I can't be another variable. With our program, they have to know exactly where they're supposed to be and exactly what they're supposed to do. It's more productive and it's more comfortable. Those two things are very important. So when I start changing the bus times to Baker or changing when breakfast is, when I start doing those things they're going to freak out. They're not going to practice well because they don't know what's coming. So you spend a lot of time working on that and you've just got to make it where it all fits, with the freshmen as well as with the upperclassmen. We need these young guys out on the field. They're going to be a big part of what we do this year.
CCT: Talk about recruiting for a bit. You were named coach in December, so how much of the incoming class were you able to recruit?
Mangurian: This is pretty much our class. There were about four guys who were committed to Columbia before we got here, and we ended up bringing in 32. We talked a lot about what kind of kids we wanted, what kind of families they came from, what you heard from the coaches when you talked to them, what you heard from the counselors when you talked to them. We spend a tremendous amount of time on those official visits putting those kids in different situations and watching them. I probably spend more time watching people during those visits than I do actually talking to them. We separate the parents and the kids at two points during the weekend, intentionally. I want to spend time with the kids and I want to spend time with the parents but not always when they're together, because people are different then. I was different when I wasn't around my parents, I know that, and I'm different now when I'm not around my kids. You need to find out what that's all about. I think when you bring a large group together, 15–20 kids with their parents, you screen for the basic qualities that you are trying to find. They're accountable. They communicate well. They're honest. They're all those things that you look for in people, so you bring together a group that has a lot in common even though they may be from all different parts of the country. But when you put them in the same room and within five minutes they're all sitting down at the table talking to one another like they've known each other their whole lives, then you say, "OK, we did it. We got what we wanted." But there will always be one or two, who will be sitting over in the corner, who don't blend in, who don't feel comfortable, and it immediately tells you that they're not what we're looking for.
We're very open with them about priorities. Football is important. It had better be in the top three. Family and faith go together with me, then academics and football and that's it. If there's something else that's more important so football's not in the top three, that's OK, there's nothing wrong with that, but this isn't the place for you to come. I'm very honest with them about how I expect them to act and what we're going to do. I'm not a pressure recruiter where they say, if you go visit another school then we're not going to recruit you, and that goes on in this league. I know all the trap doors in this league. I know what the perception is but I also know what the reality is. I'm not going to play those games; I'm not going to do it. Some people think that's the way business is being done so that's the way we have to do it, but I'm not going to do that. We tell a very straightforward, honest story. I think recruiting is about informing the recruits and their parents of what you have to offer, I think recruiting is about making sure you find out what you need to find out about them as people and what they want to be. And then, at the end of the weekend, they go home and sit down at the kitchen table and decide where they want to go, and we go in the staff room and decide whether we want them. There's clearly a component here about our deciding whether we want them or not. I tell recruits that I'm not in the business of collecting players; I'm in the business of building a team. And there's a difference. I can go out and collect a bunch of kids with real high academic indexes and say I've got a team, but it doesn't work that way. There are a lot of things to it other than how they did in calculus; that's important, but it's not everything.
And it starts with evaluating your own team. We spend a lot of time in the off-season, after recruiting, evaluating our own players and really having a sense of what they were. You need to objectively evaluate your own team in order to know where you need to go recruiting-wise. That process of how you evaluate your own team starts you down the path of how you evaluate recruits, because human nature dictates that you really compare people. You create a frame of reference. So when you go out recruiting, if we really know our own people and talk in the same language and have the same thought process about guys we're recruiting, you have a frame of reference and communicate those things better and you know what you're looking for.
This is the most fun time of year, the most exciting time of year. I love the recruiting part of it, because you're building your team and that's exciting.
CCT: So what kind of team can we expect this fall?
Mangurian: We'll be better. We've got some strengths. I think defensively, up front, we'll be pretty good. We've got some good players — Seyi Adebayo '13, Josh Martin '13, those guys are good, Zach Olinger '14 is a good middle linebacker, we've got some good defensive linemen and our linebackers are solid. The secondary will be young, I think, although Brian DeVeau '13 should help back there. We'll see how they rise up.
Our mentality going into training camp is that our older players have had a chance to show us what they could do in spring practice, and now these young players are going to get the opportunity in training camp. Within a week to 10 days we have to make a decision. We had 12 days during the spring with the older players and we'll have 10–12 days with the young players in training camp and we'll have to decide where to plug people in and how to build a team. It's not a lot of time, you wish you had more. We could have put in more time on football schemes and all those things in the spring, but I don't think that makes sense until you know your players and how they're going to perform in pressure situations, in specific situations. You can go out there and put plays in, but you won't learn anything about your team. So we put a lot more emphasis in spring on finding out who we could trust. Trust is a big word around here. Who can we trust? Who's going to do the things that we ask him to do when we ask him to do it? Who can we count on? If there's a lot of pressure in that and a lot of feeling of looking over your shoulder, of being afraid of making mistakes, that's part of it. If you can't handle that, then you can't be the kind of player that you ultimately want to be.
We believe in putting more pressure on them in practice than they'll probably have in a game. I guarantee you there will be a little bit of relief when these guys get to go out and play and we're not standing right behind them, getting on them. But I think you have to harden them. You have to put them on the anvil and hit them with the hammer and make them harder, so that when it gets tough they'll be able to respond. It's no different from a professor who teaches his class and makes them study. It's no different. Whether it's arguably more admirable or whatever in the academic world … but what you're trying to do is the same thing. You're trying to prepare them. And I'm not afraid to say that. To anybody. And that becomes some of the issues in schools like this. "Well, you can't say that." Yeah, you can. To anybody. And come right out and say it. We've become crippled by what we'll call political correctness and it breaks down the organization. The organization here is the whole University, it's not just this [football] office. And when we stop communicating, or you can't have open dialogue, then inevitably you can't commit to whatever it is that you decided to do and it just doesn't work. So the only way to break that down is to come right out and confront it. 'You can't do that?' Yeah, you can. Why not? What's wrong with that? I can take it. I can give it out, but I can take it, too. And I'll fight back if I feel like I should.
The reality is we're all trying to do the same thing. We're all trying to be the best. Whether you see the merit in what I'm doing or not, that's a personal viewpoint. But there are people who don't appreciate dance and there are people who don't appreciate art. It's all out there. I'm not making a value judgment on anything. I'm just saying the process of how we go about it and how you're successful is the same. So in that context, why can't we be successful? There's no reason.
CCT: When did you know you wanted to be a football coach? What makes you a football coach?
Mangurian: My dad was a physician, and he had a unique way of looking at things. He was a big-picture guy and I think that rubbed off on me. He was a police physician for a city in California and he had a private practice, and he was there long enough so that he saw two generations of families and he became very aware of long-term cause and effect. He saw people go through different stages of their lives, he saw what stress did to them, he saw how they learned, he saw how families changed, he saw how kids reacted to their parents and all those kinds of things, which is really what this is all about.
When I went to college at LSU, I had a coach who was a mean guy, and it really affected me; to say it was tough love is an understatement. But he could come by every single day after practice and make you feel like he hadn't said one mean thing to you the whole day. He could do it; he'd kill you when you were on the field, but he'd make a point every day of coming through the locker room and talking to you after practice and bringing you back to real life. I think that's what taught me that this game, while it's being played, is a little different. And let's be honest, you could get arrested for the stuff that we do on the field if you did it on the street. But there's a place for it and there's a grace to it when you watch it and it's done really well, and I enjoy the excitement part of it. But I enjoy the teaching part of it, too. I enjoy seeing the light go on. I enjoy seeing when all of a sudden, they get it. I think that's why teachers do what they do. And in general, that's what I am — I'm a teacher. You'll hear a faculty member say 20 years later when they come back, that means the most to you. I just heard from a kid who we drafted when I was in Atlanta, he's 12 or 13 years out of the league now, and he said, "You know, I didn't get it when we were doing it, but I get it now." He had a 10-year career, and he looks back over it, and the things we taught those first two years when they have no idea what it means to be a pro football player, those are the things that carry you through.
So hopefully it's the same way here. Whether it's the resilience or the mental toughness or the thought process or the work ethic or whatever you want to say it is, the ability to work with other people, the camaraderie of being around a team and understanding what a team is — all those things at some point become valuable in another context.
CCT: How do you judge success?
Mangurian: The bottom line is winning. I'm not going to mince words on that. It's winning. You've got to win. That's life. I've got three kids, one of them is out of college, one of them is in college and my young one is 13 and playing travel baseball and doing all those kinds of things. I've been through this "everybody gets a trophy" deal, and I get it, to a certain extent. But the real world doesn't work that way. It doesn't work that way in business, it doesn't work that way in the classroom … You get an A or you get a B, and it's hard to get an A. A's are special. You talk to people in admissions and they tell you, they want to see A's. A's tell you something. B's are good, but A's tell you you did a little bit more. It takes a little bit more to get an A. And you've got to win. It's about winning. It's about being successful.
But here's the other side to that. Like I said earlier, if you do the things along the way to get that A and you get it the right way, those are the lessons that go with you, not the wins and losses. It's hard to win. It's hard. You can say, they should be better, they should do this or that, but the reality is teams don't do those things because they make mistakes, they don't prepare well, they don't recognize and execute at a certain emotional moment in the game. Learning to do those things, that's the most important lesson, but the result of doing those things is winning. So I can have success — bottom line, win games — but if we do it the right way, if you don't cheat which we're not going to do, if you go through the process to reach that level of success, then you've really kind of checked off all the boxes along the way. It doesn't happen unless you do the right things, in this context. And that's one thing about this league, there are rules as to what you can do, rules about the kind of players you can have, and all those things. The only way to really be successful in this league is to play to those things and not to try to get around it, because you can't get around it, really.
So I think the bottom line is winning. But what everybody has to understand is that if you do win, then you learned a lot and accomplished a lot along the journey. It wasn't just the destination. But I think once you start not paying attention to the destination, then you lose sight of it and you get off the path. But if you just focus on that and not on the path to get there, you're not going to get there. So it's a delicate balance.
CCT: What's one thing about you that would totally surprise our readers?
Mangurian: I have no idea [laughing]. I grew up surfing in California, that's how I grew up. I lived at the beach every summer. I surfed every day. When I was in high school we had two-a-days, we'd practice in the morning, throw our surfboards in the car and drive all the way to Malibu and surf in the middle of the day and come back for the night practice. That's what we did. I went to surf camp. When you grow up in California, you go to surf camp. That's what we did, that's how we were. And I still know all those guys who I went with.
CCT: If you weren't a football coach, what would you be?
Mangurian: I don't really know how to answer that. I don't know. There are a lot of things that really interest me. A lot of it's just telling the story, doing something where I could tell the story. I've done a lot of TV and radio stuff and I really like that, because I like the explanation of things — why it's good and why it's not. Before I became realistic about what it is I wanted to do, I wanted to go to law school because I like the problem-solving aspect of it — looking at a situation and solving the problem. So there are a lot of areas that I'm interested in.
I grew up in an ethnic, Armenian home. My grandmother basically raised me. My grandmother and father spoke Armenian back and forth all the time, but I never learned it, I was too dumb at the time to realize what an opportunity that was. But I mean, she was an opera singer and a ceramist and I've been around art all my life. I appreciate that. She had a studio till she was in her 80s and she worked and she's got art all over the world. My mother's sister was an actress who was on Broadway, so I've been around the arts my whole life; I have a healthy respect for that because I know what it takes to be really good at it. It's no different from what it takes to be really good at anything else, but I have a visceral reaction to those kinds of things. So there are a lot of things that interest me.
I just really strongly feel that there's so much to be learned from what it is we do. That's really an important thing. I look back now and I don't know what else I would have done, to be honest with you, I really don't. I think, fortunately, I got smart enough to realize that this is what I really want to do and for the last 10, 15 years of my career I'm going to do the things I want to do and have fun and do the things I believe in doing. Make less money [laughs] but do what I want to do. And even my kids have noticed. They say, "Dad, you're happy again." I like going to work, instead of just dreading going in and dealing with people you hate dealing with. There are bigger effects to this than just getting a paycheck and trying to win a game.