Alumni Profiles
Melinka Thompson-Godoy '98 Helps Create Movie Magic
By Laura Butchy '04 Arts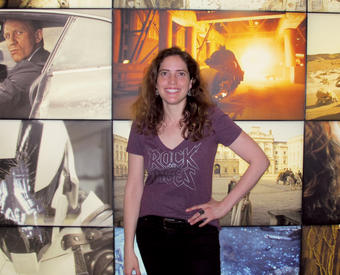 Melinka Thompson-Godoy '98 in the lobby of her office at Double Negative Visual Effects. PHOTO: EMILY PEARCE
Watching James Bond motorcycle across rooftops, moviegoers rarely stop to think about the hundreds of people who make those moments possible. If all goes well, what is real and what was created through effects blends together into movie magic, created by film experts such as visual effects producer Melinka Thompson-Godoy '98.
The work of a visual effects producer changes day to day, which is one reason Thompson-Godoy loves what she does.
At her desk at Double Negative Visual Effects in London, she jug­gles budgets and spreadsheets to ensure effects are finished on time and to the satisfaction of the client and her company. She is a liaison between Double Negative's visual effects artists and a film's director as well as the visual effects and production teams. On location, Thompson-Godoy often interacts with the visual effects team and many other artists, including the director, editors, special effects department and art department.
"Melinka worked with her team of artists to deliver on schedule 403 stunning visual effects shots," says Leslie Ler-man, who was VFX producer and Thompson-Godoy's client on the 2012 blockbuster Skyfall. "In the film world, the edit and/or the artistic design can change overnight. Sometimes a shot you've been working on for months can end up on the cut­ting room floor. Melinka always handled those pressure situa­tions with poise."
Thompson-Godoy's experience with Skyfall marks part of what she describes as her "favorite year." In 2012, she moved to London to accept a position at Double Negative just in time for the Olympics and the Queen's Diamond Jubilee. Her resume already included memorable proj­ects all over the United States, from her first gig in Los Angeles on the Kevin Costner vehicle For Love of the Game (1999) to as­sisting on the first season of the hit television series Lost (2004) on location in Hawaii.
Travel is natural for Thompson-Godoy, who was born in Colombia and, starting at 4, lived in many locations throughout the U.S. as her family moved to follow her parents' education and work.
She also has been fascinated with film from an early age. "As a teenager, and even before, I loved to watch HBO Behind the Scenes," she says. "You would see it all come together. I always wanted to do that."
After researching New York schools that offered film majors, Thompson-Godoy decided she wanted to study more than film and chose the College. "The idea of having a Core Curricu­lum and learning about every discipline was very cool to me," she says.
She majored in film studies and earned a spot on the Dean's List all four years; off-campus, she took as much film work as she could find. As an intern on the George Clooney and Michelle Pfeiffer romance One Fine Day (1996), Thompson-Godoy observed everything in the production. "I'm detail-oriented, and producers had a hand from beginning to end," she says about her choice to become a producer. "I learned what I wanted to be as well as what not to do."
After graduation, Thompson-Godoy was senior assistant to Ted Hope, a producer and then–co-owner of the independent film company Good Machine. She later was a production executive on the unconven­tional biopic American Splendor (2003) and the film adaptation of the play The Laramie Project (2002) before reuniting with a friend from Carman 8, Chris Perkel '98, to produce The Town That Was (2007), a documentary about a town in Pennsylvania destroyed by an underground mine fire; Perkel also directed.
"Melinka's greatest strength, in my opinion, is her commit­ment," Perkel says. "She works harder and cares more than anyone and that's why every­one loves working with her. She loves films, she loves her work and she's completely dedicated to the tasks at hand and the welfare of the project."
Though she had never worked in the field, visual effects company Amoeba Proteus hired and trained her as a visual effects coordinator in 2003. "Being that I was always so fascinated with what hap­pens behind the scenes, visual effects is almost like working with a magician who shows you how the trick you always liked was done," Thompson-Godoy explains. "It was really cool, and each year the tech­nology advances."
For the next few years she worked for several companies and productions, including Lost. She became visual ef­fects producer at Look Effects in 2007. During her four years at the company, she worked on films as diverse as the fantasy sequel Underworld: Awakening (2012), psychologi­cal thriller Black Swan (2010), comic book adaptation Captain America: The First Avenger (2011) and historical drama The King's Speech (2010). The variety in content is one of the aspects of her work that stimulates Thompson-Godoy.
Her efforts haven't gone unnoticed. In 2008, she was nominated for a Primetime Emmy for her contributions to the History Channel film Life After People, and she was nominated for a Visual Effects Society Award for her work on the sixth season of Lost in 2011.
Thompson-Godoy's current project is The Hunger Games: Catching Fire. The much-antici­pated second film in the series, set to release in November, is sure to be filled with incredible visual effects created in part by her. Although, she points out, "If we do our job properly, then no one notices. It's a curse and praise that no one knows how much work you put into something."
Click here to view a clip of the official Skyfall trailer, which showcases Thompson-Godoy's work.
Laura Butchy '04 Arts is a professor, dramaturg and writer based in Brooklyn.