Alumni Profiles
Art Means Business for Jeffrey Lee '01
By Mary Jean Babic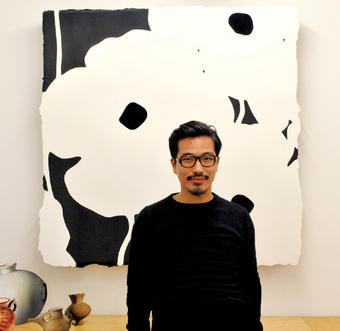 Jeffrey Lee '01, who co-owns the Ryan Lee Gallery in NYC, credits Art Humanities for his career path. PHOTO: DEREK PIECH
Trim and welcoming in black-rimmed glasses, Jeffrey Lee '01 is a gracious guide around the new Ryan Lee Gallery, which he co-owns with Mary Ryan, in the Manhattan neighborhood of Chelsea. On this June day, the gallery is exhibiting the work of young artist Bradley Castellanos. Lee draws a visitor's attention to Castellanos' technique of layer­ing paint over large-format pho­tographs, lending an otherworldy feel to the stark landscapes. They hardly look like photos at all. Lee explains that because photography is ubiquitous these days, on social media and else­where, young artists are driven more than ever to break out of existing ideas of what photogra­phy can be.
Clearly, this is what Lee loves — championing artists whose work speaks to him — and he has built a career doing just that. For more than a decade, Lee worked at the former Mary Ryan Gallery, which occupied the same ground-floor space on West 26th Street. This spring, he and his former boss became business partners, launching their eponymous joint venture. It all started, Lee says, with the Art Humanities class he took his freshman year. "That was a wonderful, eye-opening experience," says Lee. His initial intentions of taking up a math or science major vanished as he grew more engrossed, espe­cially once the syllabus hit the 20th century; socialist realism was an early passion.
Lee became smitten with Columbia when, while visiting a friend at The Juilliard School, he strolled across College Walk and took in the campus for the first time. "It was love at first sight," he says. Learning about Colum­bia's academics, the Core Cur­riculum excited him as a way to explore subjects he might not otherwise have chosen.
Born in Seoul, Lee was 7 when he moved with his mother and older sister to the suburbs of Washington, D.C., to be near his mother's family. His father remained in Seoul, visiting the family twice a year. Lee's upbringing, he says, did not include much art appreciation, so Art Humanities marked his first significant encounter with the subject. In his spare time, Lee hopped around museums to view firsthand some of the very art that he was studying in class. "Having the city as an integral part of my college experience was life-altering," he says.
He decided to stay in New York the summer after fresh­man year. Browsing through job listings at the Center for Career Education he stumbled upon an internship opportunity at the Mary Ryan Gallery, then on West 57th Street.
As Ryan's intern, Lee worked on the estate of Louis Lozo­wick, a Russian émigré artist who died in 1973. Much of the collection eventually went to the Whitney. The experience gave Lee his first glimpse of art world business and it dawned on him that this was something he could do with his life. When he returned to Columbia his sophomore year there was no question that he'd major in art history. He held internships each summer while in college — at MoMA, at Cooper-Hewitt — and he studied abroad in Paris his junior year. This af­forded him the opportunity to travel around European cities, "which is basically like walking around museums," he says. One of his favorite trips was to Istan­bul, where he visited the Blue Mosque and Hagia Sophia.
In 2003, Lee bumped into Ryan at an art auction. She offered him the job of assistant director at her gallery. He accepted, and a few years later he rose to gallery director.
Ryan calls Lee "a great art dealer," with a keen eye for iden­tifying exciting art. "It's easy to do it when the names are known," she says. "It's more difficult to do it when people are starting out."
Lee likens his job to that of a literary agent — he sells art he loves to appreciative buyers and also helps new artists navigate the business side of the creative enterprise. He maintains relationships with collectors, curators and other serious buyers while always being on the lookout for compelling artists to rep­resent. Since he started in the business, Lee says, art fairs have become more critical for getting artists, dealers, gallery owners and buyers together. He goes to about five a year, indulging his passion for travel. Everything, however, is done in the interest of artists. "The more visibility the gallery can have, the better it is for the artists," says Lee.
The economics of running a gallery are daunting. Lee pro­vides this example: If a gallery mounts a show with 10 paint­ings, each priced at $10,000, and all sell, the gallery will end up with $50,000 after splitting the proceeds with the artist (standard practice). That's a trifle in pricey Manhattan, and it's rare for a show to sell out. A robust network of collectors behind the scenes is essential. That's why having an experi­enced partner like Ryan, who started her gallery in 1981, is so valuable, says Lee.
"This allowed us to get a new gallery that can focus on contemporary art from all over the world" — the gallery will feature both emerging and established artists — "and that gives a nice dialogue on how art can look," Lee says.
Ryan Lee Gallery's inaugural exhibition, of art by Korean-born artist Sangbin IM, ran from April 26–May 24.
Like any art dealer, Lee gets a buzz from closing a sale, but says nothing brings him joy like "placing work that you're passionate about from artists you care about very much with institutions and private collec­tors. It's just so gratifying."
Mary Jean Babic is a freelance writer who lives in Brooklyn. Her most recent article for CCT was a profile of Nate Bliss '05.