Cover Story
Trail Blazer
Sheena Wright '90, '94L is breaking ground as the first female CEO of United Way of New York City.
By Yelena Shuster '09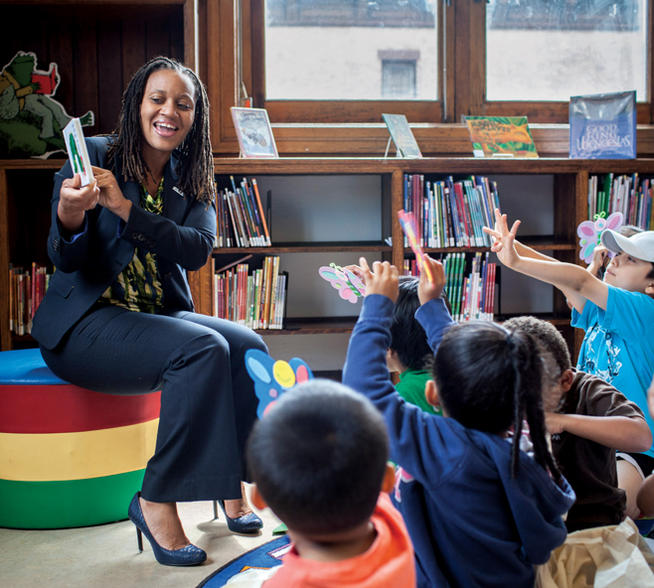 Sheena Wright '90, '94L reads The Hungry Caterpillar during a United Way program at the Mott Haven Public Library in the Bronx. PHOTO: NATALIE KEYSSAR
As a 7-year-old, Sheena Wright '90, '94L watched on TV as her mother was arrested for protest­ing what she saw as racist tenure policies at Hunter College. A decade later, Wright fol­lowed in her mother's marching footsteps and chained herself to Hamilton Hall to protest perceived racial inequality at Columbia.
Now, at 43, Wright is still fighting to make a difference, except she's traded in placards and chants for fundraising goals and board meetings. She no longer protests for social justice; instead, she executes it every day as the recently appointed CEO and president of United Way of New York City. Wright is the first female to hold the title in the charity's more than 70-year history.
"The great thing about United Way is that it's citywide. We touch about a million New Yorkers," Wright says from her midtown office, which is decorated both with printouts of new mission statements and her 5-year-old son's crayon drawings. "We are able to not only identify, fund and co-create significant programs but we're also able to change policy that has an impact on systems and really can cause huge, wide-scale social change."
Wright knows the importance of such relief programs. She grew up in the impoverished South Bronx during the height of the '70s crack epidemic with a single teen mom, who stood guard on their stoop so that Sheena and her older sister, Tanya, could play out­side. Undeterred by hardship, their mother, Debra Fraser-Howze, not only finished high school but also earned a bachelor's from Hunter and a master's from Baruch.
"My mom's trajectory was just inspiring. Most people would think that's it, your own life and your own success are over. Through her own striving, she demonstrated that no matter what your obstacles, you can persevere and reach your goals."
Fraser-Howze recalls asking herself, "Are you going to wind up a statistic or are you going to get up and make things happen for you and your family?"
She chose the latter.
"My mom's trajectory was just inspiring," Wright says. "Most people would think that's it, your own life and your own success are over. Through her own striving, she demonstrated to us that no matter what your obstacles, you can persevere and reach your goals."
Fraser-Howze devoted herself to activism, working first at the New York Urban League and then founding the National Black Leadership Commission on AIDS. "My mom took the issue head-on and said, 'This will not be a death sentence for these members of our community.' That's just who she is," Wright says. "And to me, that's an example of what I was supposed to do: to stand up for those who have obstacles put in their path."
As early as 3 years old, Wright stood out. The precocious toddler sat in the back of her moth­er's Hunter College lecture, fitting right in at the "big people school" and even raising her hand to partici­pate. "I remember touching her hair and saying 'No, baby, you can't answer the questions,'" says Fraser-Howze, laughing. "She loved it. She was always excited to be there. She was very wide-eyed and ready to learn."
So much so that Wright woke up every morning grabbing books to read. "I had to make her stop reading so she would get dressed," recalls Fraser-Howze, who herself cooked with a pasta ladle in one hand and a book in the other. "We all knew she was particularly gifted. She could breeze through something and go in and ace the test. It was really remarkable."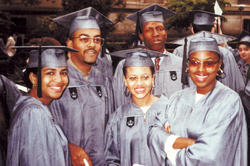 Class Day: Left to right, Hollee Freeman '90; Dr. Michael Jones '90, '94 P&S; Wright; Gregory Gittens '90; and Michelle Byrd '91. PHOTO: COURTESY SHEENA WRIGHT '90, '94LFraser-Howze didn't intend to let her daughter's gifts go to waste. Wright was a student in the worst-performing school dis­trict in the city until her mother intervened. Both sisters had out­paced their peers in reading scores and Fraser-Howze petitioned another school district to let them attend a high-performing mid­dle school in the North Bronx. The sisters commuted three hours a day for the privilege of experiencing quality education for the first time. Both also signed up for a free after-school tennis pro­gram sponsored by Pepsi. Wright turned out to be as skilled with a racquet as she was with her No. 2 pencil.
The Pepsi executive leading the program, John Hoffman '79 GS, also happened to be recruiting a more diverse student body for George School, a Pennsylvania Quaker boarding school he had attended. He met Wright, who was already a year ahead of her peers in school, and was immediately impressed. "She was this pint-sized little girl. She must have been 4-ft.-10, if that, brim­ming with energy, bright-eyed, bushy-tailed," he says. "It was ex­traordinary how vibrant and mature she was for an 11-year-old, so I was sold." The director of admissions hesitated because of Wright's age, but changed his mind after interviewing her. At 12, Wright enrolled in the high school with a full scholarship and quickly found her footing. In addition to her strong academic performance, she became the best runner on the girls' varsity cross country team two weeks into her first year despite no prior experience.
Wright enrolled at Columbia before she was old enough to get a driver's license. "She started at 16 and nobody would have guessed it from the way she be­haved. She's quite something," recalls Roger Lehecka '67, '74 GSAS, who worked at the College for more than 30 years, the majority of the time as dean of students. "My main memory of Sheena is as a student leader. She brought people together because she was so charismatic. The ball of energy she is now, she always was."
In addition to lettering in varsity track and field and cross country, the history and sociology major was president of Delta Sigma Theta and head of the Cultural Affairs Committee of the Black Students Organization. Wright also co-founded the Pan-African House, a specialinterest housing community devoted to raising awareness of diversity across the globe, especially apartheid in South Africa. "It was a great way to learn about organization and leadership — how do you organize a collective around an issue and achieve results?" Wright says.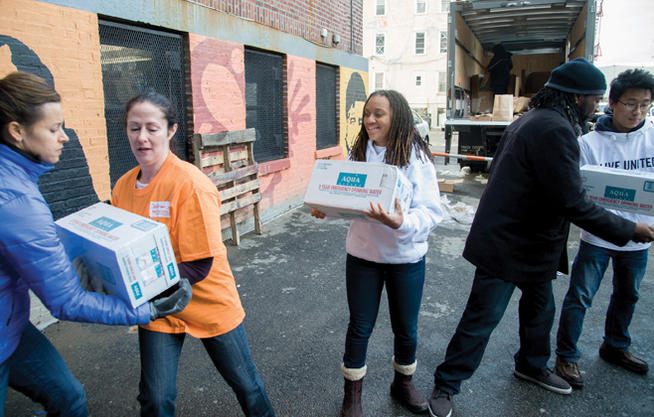 Wright led the United Way of New York City's relief efforts on Coney Island in the aftermath of Hurricane Sandy. PHOTO: COURTESY UNITED WAY OF NEW YORK CITY
The specific results she was after included more diversity in the Core Curriculum and pushing Columbia to divest from com­panies that conducted business in South Africa. "We believed economic sanctions were a big driver in social change," Wright says. After a brawl outside student center Ferris Booth Hall in 1987, she and fellow activists chained themselves to the entrance of Hamilton Hall — a hallowed Columbia protest tradition. Their efforts spotlighted the need for greater multiculturalism, and Co­lumbia announced an African-American studies major in 1987, a policy of complete divestment from business in South Africa in 1988 and the Major Cultures (now Global Core) requirement in 1990.
Maurice Coleman '91, a fellow protester and student-athlete, remembers Wright's influence. "Sheena was an important part of pushing the University in thinking about how it could become better and how it could leverage its own backyard — the cultural richness of Harlem — to enhance its offerings while also enhanc­ing the relationship with the community." Coleman, an SVP at Bank of America, adds, "I just thought she was a leader, and she proved herself to be exactly that."
Despite her prep school and Ivy League bona fides, Wright never forgot her roots, volunteering at Community Impact and the Double Discovery Center to support underprivileged teens in Harlem. "She was an immediate personification of what youth who are walking around the greater Columbia community could aspire to," Coleman says. "Those of us who were behind her saw her as a role model that we would strive to emulate. She was strong and fiercely competitive on the track field, and she was equally competitive and equally strong academically, and just as socially conscious."
Wright's Columbia education didn't end at the Col­lege. She returned to the Law School after a stint at The New York Times as an editorial assistant. De­spite enrolling with a 1-year-old son in tow, she graduated as a Harlan Fiske Stone Scholar for outstanding aca­demic achievement. "Most people would have been defeated by that set of circumstances and she was not, which makes me think nothing will ever defeat Sheena," says Lehecka. "If I ever needed a lawyer and she was practicing law, I'd want her."
His was not a minority opinion. In 1994, Wright landed a cov­eted position at Wachtell, Lipton, Rosen & Katz, a prestigious firm famed for handling high-stakes transactions of Fortune 500 companies. There, she was the second black female lawyer in the firm's history. Even in the corporate world, the value of social justice never left her. "I started thinking about how business is connected to inequity and how economic empowerment and ac­cess to capital can really level the playing field," she says.
In 1999, Wright became a senior associate at Reboul, MacMur­ray, Hewitt, Maynard & Kristol, where she negotiated, structured and executed financial deals for clients such as Welsh, Carson, Anderson & Stowe. A year later, she became general counsel and EVP of business development at Crave Technologies, focusing on product patents and negotiating investment partnerships. But af­ter nearly a decade of mergers and acquisitions, Wright yearned for more fulfillment. "I needed to be doing work that was more closely connected to the community that I came from and help­ing people who started out with more similar circumstances to mine," she says.
Wright pursued her higher calling at the 205-year-old Abys­sinian Baptist Church's nonprofit arm, the Abyssinian Develop­ment Corp. (ADC), one of Harlem's largest affordable housing developers focusing on community and economic enrichment. In 2002, she was tapped to be COO and later that year was promot­ed to president and CEO. As a member of the church and a long­time Harlem resident, she brought new life to the role. During her 10-year leadership, ADC built 785 units of residential housing in 78 buildings and nearly a half-million square feet of community, commercial and retail space, including the first new high school building in Harlem in 50 years, the Thurgood Marshall Academy for Learning and Social Change, creating more than 1,000 jobs in the process.
"Expect that people will underestimate you as a woman, and use that to propel you forward," advises Wright. PHOTO: NATALIE KEYSSAR
Additionally, Wright spearheaded the creation of the Abyssin­ian Schools division, which manages five educational institutions that annually serve 2,100 school children and their families. Wright developed an award-winning workforce development program that has helped 200 high school dropouts obtain their GED or high school diploma. She also developed a neighborhood-based Natu­rally Occurring Retirement Community that annually serves more than 1,000 seniors.
"It was wonderful to be working on the ground in the neigh­borhood I came of age in," the mother of three says. "Looking at the young people we served in our schools or through our youth programs was like looking at me and my friends and my neigh­bors growing up and being able to give them what I was able to get. It was very, very fulfilling."
During Wright's tenure at ADC, then-chairman Larry Dais '76 Business — who had been Columbia's assistant v.p. and director of the Office of Government and Community Affairs for 37 years — witnessed firsthand the impact she had on the community. "ADC provided the vehicle for her to bring about meaningful and measurable changes in the Harlem community," Dais says. "Sheena's commitment to community and public service has been the core of her professional life. I think she'll be focused on doing that for the rest of her life."
"It was wonderful to be working on the ground in the neighborhood I came of age in. Looking at the young people we served in our schools or through our youth programs was like looking at me and my friends and my neighbors growing up and being able to give them what I was able to get.
It was very, very fulfilling."
On her first day at United Way of New York City, Wright hit the ground running — liter­ally — as the Northeast was struck by Hur­ricane Sandy. Without access to electricity or the office, she led relief efforts by mobilizing hundreds of volunteers to check on the elderly and disabled living in Coney Island's high-rise apartments. She also created and managed the United Way Hurricane Sandy Recov­ery Fund, which has raised more than $10 million.
Since then, her days have been spent on strategic planning sessions, fundraising and managing the exe­cution and operations of the organization. Thus far, she has already revised its mission and vision statements, and looks forward to helping the national United Way campaign double the number of kids reading profi­ciently by 2020 in some of the toughest neighborhoods. "Right now in New York City, only 30 percent of kids are reading at grade level by the end of third grade," she says, explaining that such a deficiency at a young age leads to higher drop-out rates. "It puts us in a scary place as a city without having a well-educated popula­tion that is going to innovate and drive the economy and be successful citizens."
Wright's fierce work ethic is what impressed Robert J. Kuep­pers, chairman of the Board of Directors and chief volunteer of­ficer of United Way of New York City. "Her vision and her inten­sity were clearly very appealing, which is impressive particularly given that she's 10–15 years younger than your typical CEO," he says. "Her track record is impressive. She is the next-generation woman to move us forward in our 75th year."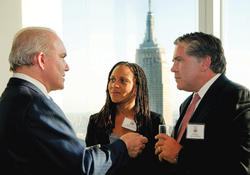 Wright with Ted Mousi (left) and Joseph Cabrera '82 at the kickoff to the annual Gridiron Gala, which benefits United Way-led initiatives in NYC. PHOTO: COURTESY UNITED WAY OF NEW YORK CITYKueppers is not alone in singing Wright's praises. Everyone from Sen. Kirsten Gillibrand (D-N.Y.) to Starbucks CEO Howard Schultz has lauded the nonprofit star. Hoffman, who recruited Wright for prep school years ago, believes she can end up like an­other illustrious College alum with a background in community service. "I wouldn't be surprised if you told me she was running for President of the United States," he says. "She's as brilliant as they come. She's a phenomenal people person. She's very ener­getic, very driven. She's got all her ducks in a row."
Wright is open to the general idea of political office: "It is ex­tremely important who holds political power and how policies are made and resources allocated. The dearth of women in politi­cal office is astonishing, and I would not rule out an opportunity to serve."
To wit, Wright is passionate about helping women in any of­fice shatter the glass ceiling. "Expect that people will underesti­mate you because you're a woman and use that to propel you for­ward," she advises. "Don't be surprised by that, because unfortu­nately in 2013 in the United States of America, there's still a lot of disparity and sexism in the workplace that you have to contend with and it's real." From her corporate days, Wright remembers meetings with mostly white men, where she would be asked to get coffee or take notes. The words "I'm a lawyer just like you; I'm not the assistant" became routine. "There are always going to be assumptions about who you are and why you're in the room and what you know and what you don't know," she says.
Yet she's been overcoming that type of prejudice since her days at the mostly white George School, when a classmate said she had three strikes against her for being black, female and poor. That made no sense to Wright: three strikes means you're out, and even back then, she was very much in the game.
"Other people look at you and say those are strikes against you. I say maybe those are things that make me better. Maybe they make me stronger, more resilient, more focused," Wright says. "Those experiences of being a person of color in a country that has a lot of racism and being a woman where there are a lot of gender stereotypes — maybe those things make me stronger, maybe better, but they definitely don't strike me out."
Yelena Shuster '09 is a freelance writer living in Brooklyn. Her work has appeared in Cosmopolitan, Us Weekly and New York magazines. Follow her on Twitter @YelenaShuster.