Features
New Orleans' Music Man
After 25 years in NOLA, Scott Aiges '86 is dedicated to preserving and promoting its musical traditions.
By Alexis Tonti '11 Arts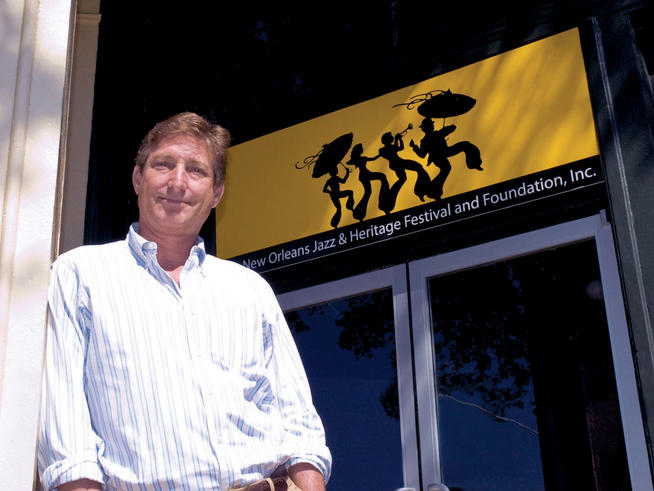 Scott Aiges '86 is director of programs, marketing and communications for The New Orleans Jazz & Heritage Foundation. PHOTO: KELLI BINNINGS/SCENE MAGAZINE

There is a small hill to the east of Congo Square, on the border of the Tremé and French Quarter neighborhoods in New Orleans, which approached from a cer­tain angle obscures what lies beyond.

And so it was, after drifting through the quiet Quarter streets one Sunday afternoon in March, that an intermit­tent blast of horn and roll of snare drum was hardly preparation for the sight, upon cresting the hill, of roughly 150 students — members of 13 middle and high school brass bands — milling about un­der a cloudless sky. All wore the standard brass band uniform of white button-down shirt and black pants; some had added bow­ties or neckties and white, black-brimmed caps. Between them they carried bass and snare drums, trumpets, trombones and tubas, saxophones, a few clarinets and at least one banjo.

The occasion was the Class Got Brass competition, part of the two-day Congo Square New World Rhythms Festival. The day before had been rain-threatened and lightly attended, which made the contrast in audience all the more stark. By the time festival workers laid out metal barricades to create an alley for the bands to parade through, more than 600 people had gath­ered. Each band performed a five-minute program that opened with a dirge before shifting to a medley of up-tempo num­bers. The energy was infectious, uplifting. The audience clapped and bounced and stomped and sung.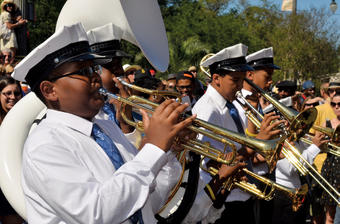 Middle and high school students carry on the New Orleans-style brass band tradition in the Class Got Brass competition. PHOTO: KIM WELSHMicrophone in hand, offer­ing color commentary from his on-stage spot next to the judges' panel, was Scott Aiges '86. The competition is his brainchild, designed to promote both mu­sic education in Louisiana schools and the New Orleans-style brass band tradition, and is one of many events he oversees as di­rector of programs, marketing and communications for The New Orleans Jazz & Heritage Foundation. The foundation is one of the city's central nonprofits and guardian of its cultural traditions, best known for producing the New Orleans Jazz & Heritage Fes­tival — Jazz Fest to the more than 400,000 attendees who come to the city's Fair Grounds Race Course over two weekends each spring. The multi-stage music and food extravaganza pumps about $300 million a year into the local economy, and though Aiges' focus during Jazz Fest is on managing a complementary business conference, his overall work relies on its success. Refer­ring to producer Quint Davis, Aiges says, "Quint's job is to make the money and my job is to spend it."
Aiges is well suited for his position. He has lived in New Orleans since the late '80s and was a longtime music writer for The Times-Picayune, the city's daily newspaper, as well as the di­rector of music business development under Mayor C. Ray Na­gin from 2002–05. He also has been a band manager, a booking agent and an independent events producer, through it all making himself into one of the most versed, and versatile, people on the local music scene. In the crucible of the Crescent City, known for jazz in all its many forms as well as for soul, R&B, Cajun, zydeco, bounce and hip-hop, that's saying a lot.
Watching Aiges backstage while the Class Got Brass votes were tallied, it was clear he wears his role comfortably. A self-described Type A personality, he seemed in constant motion — attending to details, phone pressed to his ear more often than not. When the closing act arrived, he pointed them toward barrels of ice water and Abita beer. Next came his production manager, wielding a decibel meter and concerns about noise levels. A stranger wan­dered over to suggest an act for Jazz Fest. A text message arrived and he tapped out an answer. For his wife, Lisanne Brown '86 Barnard, he stopped and shared a dance.
On the Thursday before the Congo Square festival, Aiges is driving along Chartres Street through the Bywater neighborhood, where he has lived for 15 years. To the right are industrial lots and the broad expanse of the Mississippi River. To the left, houses, retailers and restaurants in pastel shades and various states of renovation speak to the neigh­borhood boom of the past five years. Aiges keeps up a tour guide patter, in between talking about his background: He was raised in Fort Lee, N.J., graduated from Deerfield Academy, a boarding school in Massachusetts, and chose Columbia so he could be closer to home. He met Brown while studying at Butler Li­brary in December of his senior year. He'd been noticing her for weeks and one afternoon, when they were at the same table, she posed the open question of whether anyone wanted coffee. Aiges offered to go with her. "My one smooth move," he says with a laugh.
After graduation, the politi­cal science major spent time as a freelance journalist in Nicara­gua before moving to Washington, D.C., to write for the States News Service. "Their shtick was they hired these really young reporters who were willing to work for no money, and we acted as the Washington bureau for regional papers in different states." (His was Pennsylvania.) It was solid training, but after nearly two years he craved a livelier milieu. He and Brown, then still his girl­friend, pulled out a map and drew up lists of towns with decent newspapers where he might be interested in trying to get a job.
Not on the list was New Orleans, although Aiges, a guitar player since childhood, had lately found his way to the city's mu­sic through a friend with whom he played in a band, The Wires. "He's the one who turned me on to The Meters and Dr. John, The Neville Brothers, zydeco — all that. I'd known nothing. I hadn't even known about Mardi Gras." During lunch one day with a different bandmate who also was a journalist, Aiges started agi­tating about his need for a change. The friend mentioned that the Picayune was hiring.
"It was like I was hit with a bolt of lightning. And what I said to him was, 'You mean, people actually live there?' New Orleans was just a fantasy place to me."
The city also appealed to Brown, for whom Tulane offered a fit for her public health interests. (She earned an M.P.H. and a Ph.D. in epidemiology.) Aiges applied and landed an interview. With the meeting scheduled on a Monday, the couple flew down on Friday for a long weekend: "The Neville Brothers were at Tipitina's on Saturday night, and we were hooked. That was it," Aiges says.
Aiges learned some hard lessons about trying to be an objective journalist while being part of the community.
Scenes from the Congo Square New World Rhythms Festival. PHOTOS: ALL COURTESY NEW ORLEANS JAZZ & HERITAGE FOUNDATION/(CLOCKWISE FROM TOP RIGHT) ERIC SIMON, ERIC SIMON, KIM WELSH, KIM WELSH
The Picayune assigned him to St. John the Baptist Parish, part of the River Parishes Bureau. Because the paper required report­ers to live in the area covered by their bureau, he rented an apart­ment in Destrehan, often driving the 40 minutes into the city to go out at night; Brown stayed a while longer in D.C. "I had no idea that I was in the most obscure bureau in the most obscure place in the world and that no­body really cared what I was doing," says Aiges. "I was tak­ing it seriously. And I was hav­ing a great, great time."
"This was the industrial cor­ridor along the Mississippi Riv­er, upriver from New Orleans," says then-bureau chief Ron Thibodeaux, an editor with the newspaper for 25 years. "Not the most scenic place you've ever been, but a great place to be a journalist. The politics are nasty and the dynamics of power — the way the indus­tries influence everyday life and the day-to-day operations out there — are interesting to sink your teeth into."
He recalls Aiges as "talented but not at all a prima donna" and recounts the time when Aiges and a photographer staked out a public official's vacation home, on the southwest cor­ner of Lake Pontchartrain, on a tip that the official was using public equipment to make improvements to private property. The official spotted and confronted them, and "the next thing we knew, Scott and the photographer are being hauled off to jail for misdemean­or trespass on this guy's property — they hadn't [trespassed], of course, but it was happening." Thibodeaux posted bail, the article documenting it all was published and caught the attention of the EPA, and the public official eventually was indicted. "He ended up going to prison for violating the federal clean water act based on the story that Scott wrote, which he had to work pretty hard for; that's a pretty good indication of his determination to get the story and to go full throttle at anything he did."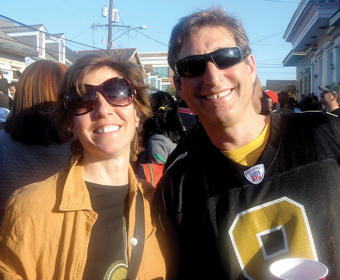 Aiges and his wife, Lisanne Brown '86 Barnard, celebrate the Saints' Super Bowl victory in 2010. PHOTO: COURTESY SCOTT AIGES '86Thibodeaux adds that Louisiana is different from any other place in the country — "with a rich and exotic history and pecu­liar ways about a lot of things" — and that it can be a challenge to adapt. "But Scott was excited about landing here and he did great work. He was very open to my direction and guidance about not only the professional stuff and how to do his work better but also getting attuned to the rhythms of what makes Louisiana different and special. He certainly embraced it and never let go."
After about a year, a posting went up for the position of music reporter — the first in the Picayune's history. "It was incredible that a daily newspaper in New Orleans up until the late 1980s didn't have its own full-time music writer," says Thibodeaux, who often spoke with Aiges about their shared interest in rock music. "Scott sheepishly came to me and said 'I'd like to apply' and I said I thought he'd be perfect for it."
Aiges imagined he'd be competing against established music writers from outlets like The New York Times, the Los Angeles Times and Billboard, and thought his chances slight; the Picayune's editor viewed the beat different­ly. "He told me to come down to the main office and we went for coffee and he said — I'll never forget this — 'You have a perfectly promising career as a newspaper reporter, what are you doing? Music? Seriously?'" Aiges made the case that mu­sic coverage could encompass more than show previews and reviews; he wanted to treat it as a cultural phenomenon as well as explore the business side, ad­dressing, among other things, why the local industry wasn't prospering the way everybody thought it should. "And he bought it," Aiges says.
Aiges' first byline as a music writer was in October 1989 — about a series of surprise shows by Harry Connick Jr. at the jazz club Snug Harbor — and for the next six years he attended almost every major concert and club show, going out on the local scene six nights a week. Along the way he met musicians, club owners, producers, record label own­ers and just about everyone involved in the industry. He wrote al­bum criticism and show reviews, features, musician profiles and industry news; his articles appeared in the news, living and busi­ness sections as well as Lagniappe, the Friday entertainment sec­tion. In 1993 Aiges garnered a Louisiana Press Association award for a series he co-wrote about the passing of the last generation of jazz musicians who were old enough to have seen Buddy Bolden, the "king" cornet player and progenitor of jazz, firsthand.
"It was my graduate school and the place where I learned about everything that goes into the music and culture of New Orleans. I gained tremendous respect for it, and I enjoyed it tre­mendously," Aiges says.
When Jazz Fest rolled around each April, he filed daily re­views from the fairgrounds, connecting to a dial-up modem from an early portable word processor in the press trailer. "I was dumb enough to think I was reporting for The New York Times, so I would try to see every act. I would carry my schedule around with checkmarks on the ones I'd seen and the ones I'd missed, and then at 5 p.m. I'd go into the trailer and say, 'Of all this stuff, how do I put together one piece?'"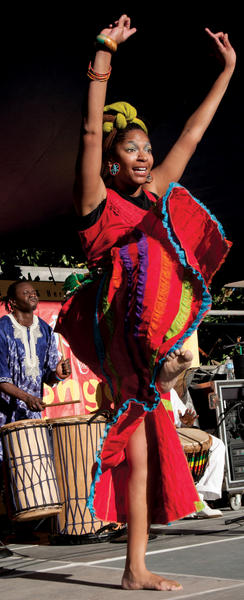 A dancer with N'Fungola Sibo. PHOTO: COURTESY NEW ORLEANS JAZZ & HERITAGE FOUNDATION/ERIC SIMONAiges also learned some hard lessons about trying to be an objective journalist while being part of the community.
"I was meeting all of these people — some of them I really admired; some of them were actually my heroes," he says. He relates a story about The Meters, the legendary funk band includ­ing two of The Neville Brothers, vocalist Art and drummer Cyril, bassist George Porter Jr. and others. The group had reunited in 1989 after more than a decade apart, and through the year Aiges had interviewed band members individually, and in December reviewed their reunion concert, and in between he joined them for Thanksgiving.
Come January 1990, Aiges dropped by Ultrasonic Recording Studios one aimless afternoon. A group was working on the track for Aaron Neville's Star Spangled Banner, recorded ahead of time per CBS so he could lip-synch for the Super Bowl. In the process of layering in orchestral music, the engineers had discovered a lyrical slip-up: Neville sang "gave proof to the night" rather than "gave proof through the night."
"I walked in right when they finished fixing his mistake," Aiges says. "This was before digital editing technology, and basically someone had to go 'thr' into the mic. They told me this whole story, none of us thinking it was going to be in the paper. But after I left I realized what I had and wrote it up, not thinking anything of it." After the article ran, Aiges received a phone call from Art Neville. "He said, 'Aren't you the same man who came over and ate gumbo with us at Thanksgiving? Who do you think you are?'"
Aiges was speechless, crushed at the thought of having an­gered the entire Neville family, New Orleans' music royalty.
"In the end, it's probably things like that that contributed to my feeling that I didn't want to write anymore. I didn't want to be that guy with the notepad in the corner and have to maintain this distant relationship; I wanted to be in the mix and to have real relationships with people."
Other factors were at play. Aiges felt wrung out by the de­mands of his reporting schedule. Also, after years of 360-degree exposure to the music scene, "I thought that I was a lot smarter than I actually am; I just thought this whole thing was not that difficult, so I had this genius idea to quit a perfectly well-paying job to be a band manager and get into the music business and see if I could do it for real."
Aiges left the paper in October 1995, and the reality check followed quickly. From the challenges of getting club owners to return a phone call, to lining up gigs for a tour, to working with studios and recording budgets, to advocating for support from a music label, "It was not as easy or obvious as it seemed," he says. Still, he persisted for six years. Notably, he worked with the Con­tinental Drifters, named in a 1994 Rolling Stone critics' poll as one of the two best unsigned bands in the country ("They made this incredibly cool, rootsy, pop-rock sound that was a cross between The Band and The Mamas & the Papas"). Later clients included Royal Fingerbowl, the New Orleans Klezmer All-Stars and a con­temporary jazz band, Astral Project.
Looking back, he speaks with a weary wistfulness: "Managing a band is the best education about how to find your way around the business because you are literally involved with every single aspect of a professional career. I learned a lot. … All the bands that I worked with, none of them got rich and famous and it wasn't for lack of trying. It's an extremely competitive business and everything has to line up in the right way."
The experience also crystallized a question that has driven him in one form or another ever since: "How does one go about earning a living as a musician, not becoming rich and famous but just being sustainable, being able to make a career out of your chosen craft? How can one do that?"
"How can we help musicians learn to work smarter, to takeadvantage of technology, to help them access the global market?"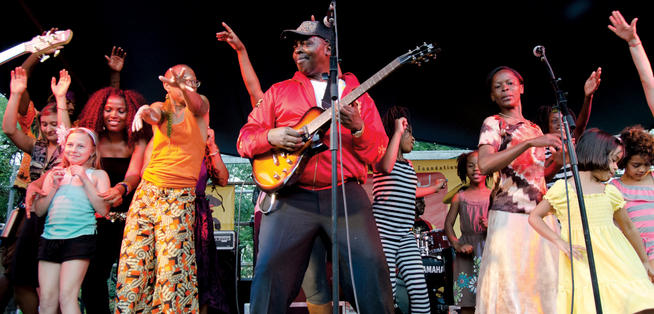 Audience members join Diblo Dibala on stage during a Congo Square New World Rhythms Festival. PHOTO: COURTESY NEW ORLEANS JAZZ & HERITAGE FOUNDATION/ERIC SIMON
One afternoon in early 2002, a friend of a friend was look­ing for someone to prep a mayoral candidate, C. Ray Nagin, on the music industry for an upcoming debate. Today the mention of Nagin's name to New Orleans residents is enough to elicit a sour reaction (he was indicted in Jan­uary on 21 corruption charges); then he was just a businessman, an executive with Cox Communications, president of the New Orleans Brass hockey team and one of 15 candidates in what the Picayune billed early on as "the most unpredictable mayor's race in more than 20 years." Aiges frankly didn't even know the name, but he put some notes together and went to meet him. "I really liked him. I thought he was cool. He was young, he was funny. It was the first time I had ever seen a BlackBerry."
At the debate the next night, Aiges recalls, the moderator asked a music question and most of the candidates' flubbed their re­sponses; then he saw Nagin reach into his pocket, pull out his notes and study them. "He took three things that I had told him and put them together in his own way that was very funny and very clever and got a standing ovation, and I was like — this is the guy!"
The next day, Aiges volunteered for the campaign. ("I didn't have a job and I used to watch The West Wing — I figured that was how these guys get their gigs.") Folding tables and plugging in telephones turned into writing email blasts to voters and, after Nagin was elected in March 2002, writing press releases and re­sponding to constituent mail in the press office. In August, Aiges was hired to the newly created position of director of music busi­ness development in the Mayor's Office of Economic Develop­ment. The following summer, New Orleans Magazine cited him among its "People to Watch," part of the city's arts and entertain­ment dream team "dedicated to elevating the visibility of New Orleans as a viable place for artists, musicians and filmmakers to live and work."
"What I liked was his perspective," says Beth James, who ran the economic development office. "Typically you're either an art­ist or a business guy in the music industry, but Scott had a unique understanding of both sides. Because of that, and because of his personality, he was able to bring people together who had never even been in the same room, much less working toward a com­mon goal." She adds that his moral compass is unshakable. "He tells people the truth; they can take his word for it."
"It's been pretty miraculous getting to do all the things I love to do most. I've been very lucky."
Aiges advocated a trickle-up theory founded on the premise that the key to developing the local music business lay in putting more money into the hands of the musicians, who would then spend it on entertainment lawyers, booking agents and manage­ment companies. Then there were the nightclub owners, radio stations, record producers, recording studios and others in the industry who stood to benefit from a core of strong musicians.
The idea, says Aiges, was, "How can we help musicians learn to work smarter, to take advantage of technology, to help them ac­cess the global market? If they can develop more revenue streams by licensing their music to film and TV, by getting more gigs in Europe, by getting more teaching jobs or whatever else it may be, then hopefully little by little it will start to snowball." Among the initiatives that came under this umbrella was a deal to sup­ply XM Satellite Radio with CDs from the city's up-and-coming, and unsigned, artists, and the New Orleans Music Business Co-Op facility, developed in partnership with Tipitina's Foundation, which provided artists with computer access, training and other promotional resources.
Most significantly, Aiges led the statewide effort to enact legis­lation creating tax incentives for the sound recording industry. He based his plan on Louisiana's film tax credit program, which had been passed in 2002. "Basically, I took a copy of the law, dropped it in a Word document, and everywhere it said film production I substituted 'sound recording.'"
The work grew more challenging from there, and in 2005 Aiges began lobbying in the state Legislature. As Aiges recalls, the may­or's office was indifferent to the bill while the governor's office op­posed it, largely because of some financial wrinkles that had turned up in the film program with which it shared DNA. In the course of making daily trips to Baton Rouge he met Sherri McConnell, a lob­byist who had been tracking the progress of the first entertainment tax credits in the United States, and in particular the film law in Louisiana. She "became my crying shoulder," Aiges says.
McConnell remembers seeing Aiges in committee, struggling with the legislative process. She offered to provide guidance pro bono. "He was really by himself in the effort, working for the city but truly out there and not being helped by whatever resources the city had to offer," she says. "We became fast friends and have been close ever since."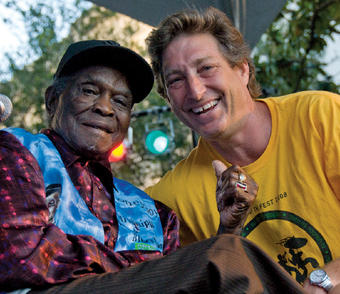 Aiges with the late blues musician David "Honeyboy" Edwards in 2008. PHOTO: COURTESY SCOTT AIGES '86Recalling the backdrop of the state's budget crisis, McConnell points out that it wasn't easy to suggest "we're going to spend millions of dollars in providing tax breaks to people who are re­cording music, or anything for that matter. But Scott is passion­ate, articulate, convincing. I gave my guidance in terms of who he needed to talk to. But he does his research, and his ability to articulate the potential impact of the legislation and systemati­cally move it through the process, he did that himself."
Passage remained dicey until the end, with Aiges and one of the governor's policy directors hammering out details on the last day of the legislative session in late June. In its final form, the Sound Recording Investment Act created refundable tax credits ranging from 10–20 percent for recording projects or infrastructure. Na­gin finally gave his support, and Gov. Kathleen Babineaux Blanco touted it as one in a three-part package of entertainment industry bills (the others focused on expanded film incentives and digi­tal media). Music industry professionals dreamed of siphoning business off from the city's "big three" competitors, Los Angeles, Nashville and New York. Aiges celebrated with a family trip to his parents' vacation home in East Hampton, returning to attend the governor's August 15 ceremonial bill-signing.
Two weeks later, on August 29, Hurricane Katrina hit.
Aiges recalls the surreality of the time; on Saturday morning prior to landfall, he was at a kids' birthday party, sitting under sunny skies and chatting with the other parents about what was then the earliest specter of evacuation and whether the storm would amount to anything. Arriving home, he found Brown standing in front of the television. "There was this enormous purple blob over the Gulf of Mexico and we looked at each other and went, 'Ummmm …'" They spent the next 12 hours packing and battening down the hatches.
The couple and their children, Ella and Ben, then 6 and 3, bounced from New Orleans to Bir­mingham and Huntsville, Ala., to Nashville and finally back to East Hampton to stay at his parents' place. Aiges worked remotely as best he could: "I'm trying to stay in touch with what's going on in my office at the city and everybody's dispersed, cell phones aren't work­ing, nobody is replying to emails, nothing is happening — and I was the music guy, right? Every­body's calling. Bonnie Raitt wants to know what she can do for New Orleans, and I can't get anybody on the phone."
In October, he returned to find his immediate neighborhood had been spared the worst of the dam­age. The water on his property had filled the trunk of the car they left behind, and rose to about a foot-and-a-half in the backyard shed he used as an office. Their house, at three feet off the ground, was largely OK.
About the same time, the state hired Aiges as a short-term con­sultant, working through the nonprofit Louisiana Music Export Office that he created. His main charge: "to make sure every­body knows that Louisiana is still in business." (This included executing a major concert at South by Southwest (SXSW) Music Conference and Festival in Austin, Texas, in March 2006.) As for his job with the mayor's office, he organized a free Thanksgiving weekend rallying event with Kermit Ruffins and the Barbecue Swingers and other bands. Not long after, the work sputtered out altogether, part of the city's vast cutbacks.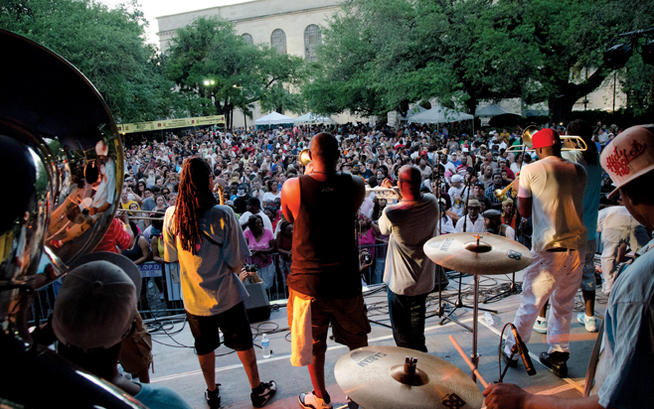 The backstage view of Rebirth Brass Band; says Aiges, "When I look out and see Congo Square like that, that to me feels like a win." PHOTO: COURTESY NEW ORLEANS JAZZ & HERITAGE FOUNDATION/ERIC SIMON
The offices of The New Orleans Jazz & Heritage Foun­dation are on North Rampart Street in the Tremé, in a converted house full of hallways and small rooms — rumored to have been a brothel, Aiges says. His of­fice is large and light-filled, with an L-shaped desk covered in papers and with awards clustered in one corner. Tacked onto a bulletin board are concert passes and crayon drawings by his children. The other available surfaces — walls, table and shelves, fireplace mantel — are covered with music-related photos and paraphernalia from his years with the foundation. He indicates a photo above his desk from last year's Congo Square New World Rhythms Festival, taken from the band's point of view and show­ing the shoulder-to-shoulder audience: "When I look out and see Congo Square like that, that to me feels like a win."
Aiges was hired at the foundation in November 2006. "Scott had done something very dynamic and visionary in helping the state establish the tax incentives for the recording industry," execu­tive director Don Marshall says. "And he's always been a strong, passionate voice in the community for the music industry and the arts. After Katrina we really wanted to do more for the community, with a focus on helping rebuild the music and arts community. I was interested in creating new events and festivals to employ our musicians, helping them to get back here and survive, and Scott had had a lot of experience in that."
"It was the first time in my life where I got to a place where I wasn't the one music guy in the corner of the building. Every­body around me was focused on the same thing, and it was all about music," Aiges says.
His first task was planning and executing the Crescent City Blues Festival, one in a new series of smaller festivals (including Congo Square) designed to spotlight different niches in the city's musical culture. The production of these and other festivals and concerts, like the rest of Aiges' responsibilities, comes under the umbrella of education, economic development and cultural en­richment. He also coordinates lecture series, workshops and con­ferences, including Sync Up, the entertainment industry confer­ence that takes place during Jazz Fest; oversees a grants program that distributes more than $300,000 annually to educational and cultural programs throughout Louisiana; and is the spokesman and marketer for the foundation.
"I never saw someone who could handle five projects simul­taneously as he does and with the professionalism and creative vision that he does," Marshall says.
Aiges also oversees administration and curriculum develop­ment at the Don "Moose" Jamison Heritage School of Music, a free after-school program that teaches technique and theory of jazz to kids ages 11–17. Leaving the foundation office, Aiges points out the building next door — a former funeral home, paint-cracked and Gothic-columned — that is being refurbished as the first per­manent home for the school. Plans call for seven state-of-the-art classrooms including drum and piano labs and technology for capturing audio and video for distance learning. The building is also to serve as a community center, with a 200-seat auditorium for concerts, lectures and other events, and a recording studio for local musicians. Aiges estimates it's two years from opening.
Reflecting on his work with the foundation, Aiges says, "It's been pretty miraculous getting to do all the things I love to do most. I get to throw these incredible parties and hire all of these musicians who are talented and inspiring, and we get to teach all these young people how to play, and to try to help people in the community figure out how to deal with issues, whether it's zoning and noise ordinances or accessing computer technology for the arts — it's an incredible platform. And we've got money to do all of this.
"All the time people say to me, you have the best job in the world, don't you? And I'm like, yeah, kind of. I don't want to gloat but yeah, I kind of do. I've been very lucky."
Alexis Tonti '11 Arts is CCT's managing editor.