Roar, Lion, Roar
Football Unveils New Look
The 2013 Columbia football season brings with it something old and something new. As the revital­ized Baker Athletics Complex celebrates its 90th anniversary, the 2013 Lions will be sporting a mix of veterans and new players under second-year coach Pete Mangurian — and unveiling new uniforms as well.
The new look of the Lions: (left to right) Zach Olinger '14, Seyi Adebayo '14 and Hamilton Garner '14."History tells you that your second season is when you make your biggest jump in a new program," said Mangurian during the Ivy League Media Day teleconference in August. "Your players understand what you're looking for and develop a work ethic. I think we've created competition at every position. … I also think we're bigger, faster and more explosive than a year ago."
Columbia opens its season at Fordham on September 21, fol­lowed by the home opener against Monmouth on September 28. The Lions begin their Ivy schedule at Princeton on October 5, with Homecoming as a highlight on October 19 against pre­season Ivy favorite Penn.
Seeing as the Lions seek to improve on last year's 3–7 record (2–5 in Ivy competition) and will be doing so in new uniforms, we thought it would be a good time to take a look at Columbia uniforms through the years.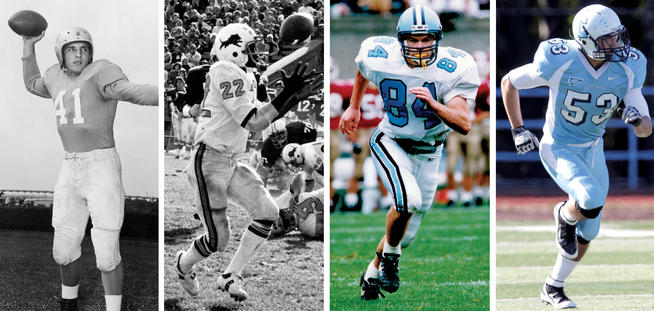 Lionswear through the years: Opposite, lower left to right: 1905 team picture; Cliff Montgomery '34; George Kisiday '48 TC. Above, clockwise from upper left: Lou Kusserow '49; Bruce Stephens '78; Brian East '14; Wes Root '01. PHOTOS: COURTESY COLUMBIA UNIVERSITY ATHLETICS
Save the Date!
SEPTEMBER 21
Football opener at Fordham
SEPTEMBER 28
Football home opener vs. Monmouth
OCTOBER 3
Women's Leadership Council Fall Event
OCTOBER 19
Homecoming, football vs. Penn
NOVEMBER 8
Women's basket­ball opener at LIU
NOVEMBER 9
Men's basketball opener vs. Maryland-Eastern Shore
Homecoming 2013: Saturday, October 19,Columbia vs. Penn
PICNIC, 11 a.m.–1:30 p.m.
Enjoy a barbecue buffet under the Big Tent before cheer­ing the Lions on to victory. Picnic tickets are $20 for adults, $10 for children under 12 if purchased online at college.columbia.edu/alumni/homecoming by Thursday, October 17. Tickets also may be purchased on Saturday at the Big Tent ($22 for adults, $12 for children under 12). Each ticket includes an all-you-can-eat buffet, soft drinks and admission to the Columbia Homecoming Carnival. Beer, wine and cocktails will be available at an additional cost. There will also be limited cash-and-carry items.
CARNIVAL, 11 a.m.–3 p.m.
All members of the Columbia community, young, old and in between, are invited to participate in face painting, balloon-making, magic shows, games and interactive activities.
FOOTBALL, 1:30 p.m.
To purchase tickets to the game, call 888-LIONS-11 or visit gocolumbialions.com/tickets. Premium chairback seats are $25; reserved bench seats are $15. Tickets also may be purchased at the Athletics Ticket Office on the fourth floor (campus level) of the Dodge Fitness Center or on game day at Lawrence A. Wien Stadium ticket windows 1, 2, 3 and 4. Tickets can be held at will call and picked up on game day at the stadium.
YOUNG ALUMNI GUIDE TO HOMECOMING
Put on your most spirited Columbia gear (Young Alumni Game Day t-shirt perhaps?) and meet us at Robert K. Kraft Field for Homecoming! Your Columbia College Young Alumni team has put together a "Guide to Homecoming" that will walk you through the day's events. You don't want to miss out on any of the action! Activities include a pre-game barbecue lunch, carnival style games and free beer. Show your support for your Columbia Lions by following and posting #RoarLionRoar and #TurnItBlue. Download the guide — we recommend you save it to your phone or tablet!

GETTING THERE
Baker Athletics Complex is located at 533 W. 218th St. (west of Broadway). Neighborhood parking is limited and preferred parking is avail­able only to those making quali­fying gifts to Columbia Football. By subway, take the No. 1 train to 215th Street or the A train to Inwood – 207th St. (Note: Due to occasional service interruptions, we suggest you check the MTA website prior to travel.) Complimentary shuttle buses from the Morningside campus will depart from the main gate at West 116th Street and Broad­way starting 90 minutes prior to kickoff and will return to campus immediately following the game.
Campbell Sports Center scoreboard
10 Columbia student-athletes in spring sports who earned Academic All-Ivy honors
17 Ivy League individual titles won by Columbians in 2012–13
90 Ivy League Individual titles won by Columbians since 2008–09 — the most in any five-year span in Columbia history
90 Years since the opening of the Baker Athletics Complex
123 Football teams in school history
142 Columbia senior student-athletes who graduated in May
For the latest news on Columbia athletics, visit gocolumbialions.com.