Alumni Profiles
For 32 Years, David Alpern '63 Offered Ears on the World
By Jessica Gresko '05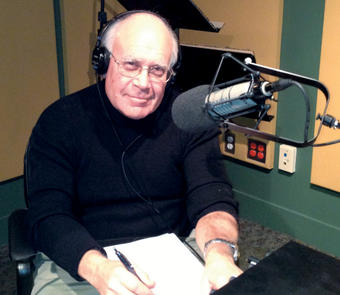 David Alpern '63 has interviewed many of the biggest names in politics and entertainment from his radio studio. PHOTO: JESSICA GRESKO '05Stacked on a landing that leads to a loft in David Alpern '63's New York City apartment are about a dozen plastic bins filled with tapes and CDs. There are some 1,500 recordings in all, and for years Alpern added a new one every week.

Each is a recording of his weekly radio show, For Your Ears Only (formerly Newsweek on Air), which celebrated its 32nd anniversary in April. On those recordings, Alpern's voice mixes with his guests: Nancy Reagan and Hillary Clinton, Katharine Hepburn and Katharine Graham, Bill Gates and Jay Leno. Behind the scenes of most of the shows, meanwhile, are the Columbia students who have served as Alpern's interns for decades.

Now, however, Alpern is retiring. He has scheduled his last show for the end of September. He says he's enjoyed his time behind the microphone "trying to understand the world and present it in a way that is useful and understandable to other people." He doesn't have a date for a last show, but anticipates that it will be within the year. Alpern turned 72 in August and says he wants to spend more time traveling with his wife, Sylvia Clark, and playing tennis, although he says he feels "quite mixed" about retirement.

"I love to do this show. It's always interesting. It's always exciting," he says.

Alpern started out not in radio but as a print journalist. A history major and news editor at Spectator, he joined Newsweek magazine soon after graduating and had jobs there as a writer, poll director and editor.

In 1982 the magazine launched its own radio show, Newsweek on Air. Alpern, already a frequent guest on other radio shows, was tasked with helping create and co-host the hour-long program. The format he helped create stayed largely unchanged through the years: a mix of domestic and international news plus entertainment segments, often something about a recent book or movie.

Another show constant: Columbia interns. Alpern started hiring students during the show's early years and never stopped. Hundreds have worked on the show, confirming appearances, doing research and making sure Newsweek guests were paid. In the early 2000s, intern Katori Hall '03, now an award-winning playwright, successfully pushed to have the students introduce the show's last segment, a replay of one of the stories that ran on the show the same week a year ago.

Former intern Jimmy Vielkind '07, the Albany bureau chief for the political website Capital New York, recalls Alpern's tip for being on-air: "Speak one-third more slowly than you normally would. Don't rush."

Alpern says he's been delighted to watch former interns like Vielkind go on to careers in the media. Other former interns include Washington Post PostEverything deputy editor Amanda Erickson '08, WNYC Morning Edi­tion host Soterios Johnson '90, JRN'97 and freelance radio newsproducer and editor Isaac-Davy Aronson '02, SOA'09.

Aronson has returned to co-host with Alpern numerous times and says Alpern "cares about journalism and he cares about the next generation of journalists. I think that's his lasting gift to Columbia students."

Alpern took a buyout from Newsweek in 2002 but continued to host Newsweek on Air until 2010, shortly before the financially ailing magazine was sold by The Washington Post Company, at which time he found nonprofit funding and re-named the show For Your Ears Only. At its height the show was broadcast on some 200 stations; today it's on about 40.

In April, the San Francisco-based Internet Archive agreed to help preserve the show by creating a free, searchable archive (archive.org/details/foryourearsonly). Already, the show's last three years are online. Alpern says he's pleased it will live on. And he is ready to get the archival tapes and CDs out of his apartment and into a new home.

Listen to an episode of For Your Ears Only.

Jessica Gresko '05 lives in Washington, D.C. She was a Newsweek on Air intern during the early 2000s.