Around the Quads
Student Spotlight: Sasha DiGiulian '16
By Nathalie Alonso '08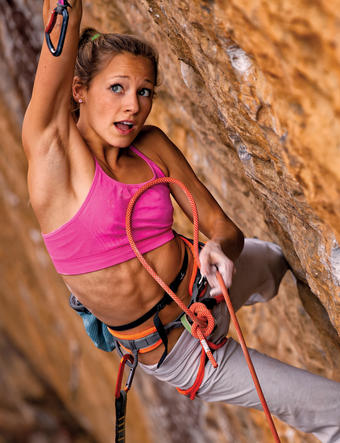 Sasha DiGiulian '16 climbs in Kentucky's Red River Gorge. PHOTO: CHRIS NOBLE, NOBLEFOTO.COM

Rock climber Sasha DiGiulian '16 has a penchant for doing what no woman — and in some cases, no person — has done before.

A series of unprecedented feats have propelled DiGiulian to the pinnacle of outdoor sport climbing. In July 2013, while exploring South Africa's Waterval Boven, a renowned climbing destination, DiGiulian stumbled upon an unconquered route that another climber had laid out more than 10 years before. A few days later, she made headlines as the first person to finish the route, which entitled her to name it. She chose Rolihlahla, Nelson Mandela's middle name. Two weeks later, DiGiulian notched a second first ascent — lingo for the first successful completion of a route — in Montagu, another South African climbing hotspot, and dubbed that route Miss-Behaving.

By then, DiGiulian had traveled the world while accomplishing some of the most difficult climbs ever by a woman, most notably Pure Imagination in Kentucky's Red River Gorge, which she conquered in October 2011 during a gap year between high school and college. Rated 9a on the widely used, open-ended French system of difficulty grading, it remains the hardest route any American woman has climbed. "It was the point at which I realized that impossible doesn't exist," says DiGiulian, the third female worldwide and the youngest to complete a 9a route. She added a second 9a route to her list in April 2012 when she became the first woman to summit Era Vella in Margalef, Spain.

DiGiulian believes such achievements help "open the floodgates for women's progress within the sport. When someone comes along and shows that it's possible, it becomes achievable in everyone else's eyes."

Based on her last 10 climbs, DiGiulian was ranked at presstime as the top female sports climber in the world. Unlike traditional climbers, who shield themselves from falls by inserting and removing anchors as they work their way up, sport climbers attach a rope to anchors that have been affixed permanently to the rock, leaving them free to focus on executing gravity-defying, gymnastic-style moves. DiGiulian's achievements have attracted sponsors such as Adidas, Red Bull and Petzl. Each sponsor pays her a base salary and covers her expenses when she travels on its behalf.

DiGiulian has also earned cash prizes at major climbing competitions. In 2011, she emerged as the Female Overall Champion at the International Federation of Sport Climbing World Championships, in Italy. From 2010 to 2012, she won three Sport Climbing Series National Championships, and in 2012, she also finished first overall at the PanAmerican Championships in Venezuela.

DiGiulian was 6 when she first attempted climbing, during her older brother's birthday party at a local gym in her native Alexandria, Va. She began climbing outdoors at 9 under the tutelage of Claudiu Vidulescu, who since 2007 has been head coach of the U.S. Youth and Adult National Climbing teams; DiGiulian is currently a member of the latter. "Once she got to a certain level, her talent became even more evident. She didn't have to work a whole lot more to maintain what she had," says Vidulescu. "She uses her experience and she's also very smart, which helps a lot when you're in a competition or ascending a really hard route."

At 12, DiGiulian began traveling to New York City on weekends to train on the rock walls at Chelsea Piers. Her affinity for the Big Apple was among the reasons she chose the College.

DiGiulian rents an apartment in Chelsea and typically practices five days a week for two to three hours at Chelsea Piers, Brooklyn Boulders or The Cliffs in Long Island City. Her workout program includes several hours a week of cardio and strength to bodyweight ratio exercises. She spends most weekends climbing out West, in Europe or even in Asia — trips that, combined with academic responsibilities, allow her little free time. "It comes down to time efficiency and not procrastinating," says DiGiulian, who is majoring in creative writing with a special concentration in business management.

This summer, DiGiulian traveled for the first time to South Korea, bringing the number of countries where she's climbed to 33. While chasing the next challenge, she also teaches clinics and promotes climbing as an athlete ambassador for several charities.

"Climbing serves as my passport to see the world through a unique lens," says DiGiulian. "I want to transmit this passion to as many people as possible."

Read about, watch videos of and listen to DiGiulian.

Nathalie Alonso '08, from Queens, is a freelance journalist and an editorial producer for LasMayores.com, Major League Baseball's official Spanish language website.