Around the Quads
Five Minutes with ... Robert Friedman
Raised near Boston, Professor of Mathematics Robert Friedman earned a B.A. and an M.A. in 1976 and a Ph.D. in 1981, all from Harvard. He has been a faculty member at Columbia for more than 30 years and chaired the Department of Mathematics 2001–04. His books include Smooth Four-Manifolds and Complex Surfaces, co-authored with John Morgan, and Algebraic Surfaces and Holomorphic Vector Bundles. He won the 2014 Mark Van Doren Award for Teaching, presented annually by the Columbia College Student Council in recognition of a faculty member's "humanity, devotion to truth and inspiring leadership."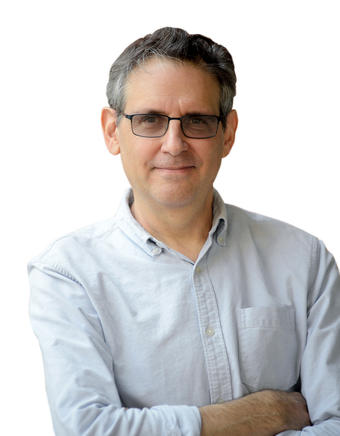 PHOTO: EILEEN BARROSOWhat did you want to be when you were growing up?
Honestly, I had always thought about doing some kind of academics. But I didn't discover math until I was 15. I was at boarding school and blundered my way into a very advanced class. After two weeks I knew this was what I wanted to do.

Do you remember what about it grabbed you so quickly?
The subject just seemed so beautiful, the idea that through these abstract and logical methods you could get insight into simple and fundamental things. For me, it's always been more about the intrinsic beauty of the subject than about applications or understanding of the natural world.
What is your specialty?
Algebraic geometry. Roughly speaking, it's the study of geometric objects that are defined by polynomials and several variables but it's hard to give a flavor for what that really means. It involves a lot of areas of mathematics, from topology to algebra to analysis; it draws upon a wide variety of techniques and has both general structural results and beautiful examples.
How do you split your teaching between graduate students and undergraduates?
It's about 50-50. I love to teach undergraduates — the undergraduate culture here is really great. We teach calculus to several thousand students each year, and many of those need it for economics, premed or one of the sciences. So while it's not really part of the Core, calculus at some level is an experience for a large segment of students. And it's always a challenge to make it interesting and to make it real to the students. … I also love teaching the more advanced courses for the majors. For example, the course that really excited me when I was 15 — a version of "Introduction to Modern Algebra" — is one that I love teaching; it's nice to try to communicate some of that excitement. When I first came to Columbia, that's a class where we would have been lucky to have 15 or 20 students and now typically we have 70 or 80.
What's the most important thing a teacher can do for his or her students?
Our goal as professors is to help students to think critically and imaginatively, regardless of what the field is — to help them engage with complicated material for its own sake, because it's beautiful, and because it enriches their inner lives and challenges them to stretch their mental horizons.
You describe math as beautiful. Can you say more about that?
It's beautiful much in the way music is beautiful: It has structure, it has an internal logic, it has defined rules, but within those rules is a great freedom to experiment and to improvise and to think creatively — to both understand current ideas deeply and to bring in new ideas, to see unexpected patterns, to see connections you never saw.
Tell me about the Mark Van Doren Award.
I was completely caught off-guard. I knew that I'd been nominated but that was pretty much the last I heard of it until they told me I won. There are so many wonderful teachers at Columba, in many departments that I think are perhaps perceived as more accessible — the humanities or social sciences — so it's really nice for our department that mathematics is recognized by students as a place where great teaching happens.
What's your favorite place to be?
In the mountains near Rangeley, Maine, by the New Hampshire border and close to Canada. I like to go there with my family and look for moose.
What talent would you most like to have?
I wouldn't mind playing the guitar really well. My daughter thinks I should pick up the banjo. If I could miraculously get good without practicing, that would be fun.
Where do you stand on sports?
I'm an incurable Red Sox fan. When I moved to New York, I tried to shake them but I couldn't. But I do think it's easier to like them, being here, than being a Yankee fan in Boston. For a long time I had a chocolate lab named Fenway. Shortly after we named her, we discovered there were two other chocolate labs named Fenway at our dog run.
What are the odds?
I like to think we were the first.
Interview: Alexis Tonti SOA'11
Photo: Eileen Barroso