Around the Quads
De Bary Honored with National Humanities Medal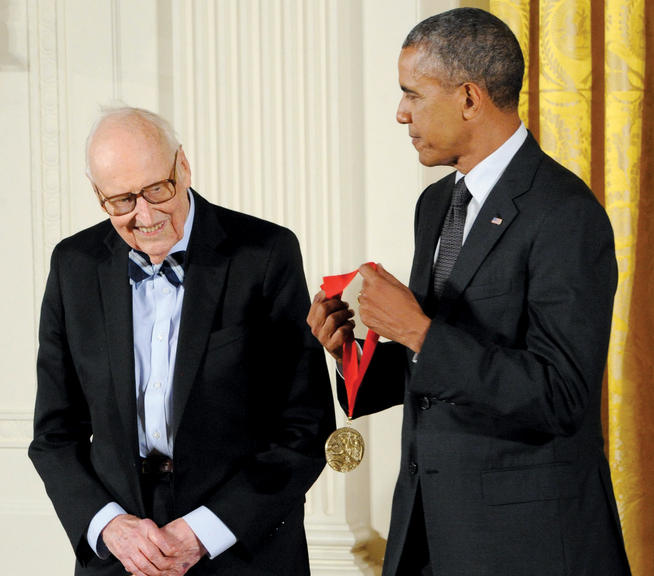 Wm. Theodore de Bary '41, GSAS'53 received a National Humanities Medal for his work in East Asian studies. PHOTO: JOCELYN AUGUSTINO; COURTESY NATIONAL ENDOWMENT FOR THE HUMANITIES


Wm. Theodore de Bary '41, GSAS'53, the John Mitchell Mason Professor Emeritus and Provost Emeritus who has spent his entire career at Columbia, was named by President Barack Obama '83 as one of 10 recipients of the 2013 National Humanities Medal for his pioneering work in East Asian studies.

The award honors individuals and groups who have furthered America's understanding of the humanities, especially in the fields of history, cultural studies, filmmaking, cultural commentary and historic preservation. In presenting the medals during a July 28 White House ceremony, Obama said to the honorees, "The moments you help create — moments of understanding or awe or joy or sorrow — they add texture to our lives. They are not incidental to the American experience; they are central to it, they are essential to it. So we not only congratulate you this afternoon, we thank you for an extraordinary lifetime of achievement."

De Bary began developing Columbia's program in East Asian studies in 1949 while a student in the Ph.D. program, recruiting translators for classic Chinese, Japanese and South Asian works to create a core reading list for students wishing to learn more about Asian cultures. After helping form the basis of the program, in 1960 de Bary became head of the Department of East Asian Languages and Cultures. Since then, he has held many prestigious positions at Columbia, including EVP for academic affairs, and has been recognized with numerous awards for his dedication to teaching and commitment to bettering Columbia, including the Lionel Trilling Book Award, the Mark Van Doren Award for Teaching and the Alexander Hamilton Medal.

De Bary has left his mark on the humanities at Columbia, founding a number of programs to improve the University's cultural offerings, including the Alumni Colloquia in the Humanities and The Lionel Trilling Seminar. He is also responsible for the founding of The Heyman Center for the Humanities, the Society of Fellows in the Humanities and the Society of Senior Scholars. His National Humanities award cited his influential work in cultural studies and the humanities: "As a scholar of East Asian Studies, Dr. de Bary has fostered a global conversation based on the common values and experiences shared by all cultures, helping to bridge differences and build trust."

Dean James J. Valentini praised de Bary's work and dedication to Columbia: "Ted de Bary is a Columbia College institution. He first stepped into Hamilton Hall as an 18-year-old freshman from Leonia, N.J., studied CC with the future College Dean Harry J. Carman, who encouraged him to incorporate Asia in his studies, and began planning and directing Core courses in Asian Humanities and Civilization as a graduate student. He still teaches in the Core today, at age 95. We are so proud of Ted's accomplishments and congratulate him on this great award."

Anne-Ryan Heatwole JRN'09

Watch Wm. Theodore de Bary '41, GSAS'53's National Humanities Medal ceremony.