Cover Story
Majesty and Humanity
By Jamie Katz '72, BUS'80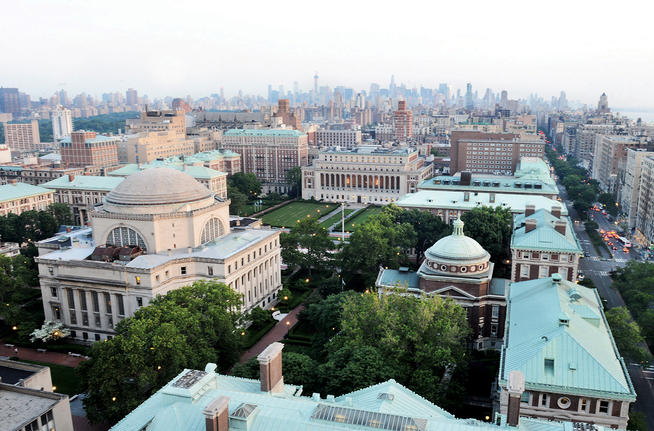 PHOTO: EILEEN BARROSO
Boldly conceived and built to last, Columbia's Morningside campus has provided a distinctive urban oasis for teaching, learning and discovery for more than a century. CCT invited seven distinguished architects and scholars to share their thoughts on the monumental but very human environment that has shaped University life since 1897.
The drama of the moment strikes people with surprising force the first time they experience it, and it never gets old. It almost feels staged. Maybe it was staged.Barry Bergdoll '77, GSAS'86, the Meyer Schapiro Professor of Art History and Archaeology and former chief curator of architecture and design at MoMA, describes the scenario: "Soon after you enter the main campus gate at 116th Street and Broadway," he says, "just at the point where you pass the corner of Dodge Hall and emerge from the shadows, you are startled by the sweeping vista that opens up from Low Library to the far edge of South Field. Whether I've been away for two hours or two weeks, it never fails to surprise me and make me think, 'This is an incredible place.' I get emotional even talking about it."
Noted architecture critic Martin Filler '70, GSAS'72 clearly remembers his initiation to this scene, in 1965, when he visited Columbia to attend a high school debate conference. "I was deeply impressed," he says. "There was just something about the grandeur of the space that seemed very profound and very urban to me. That was really the aha! moment when it all came together."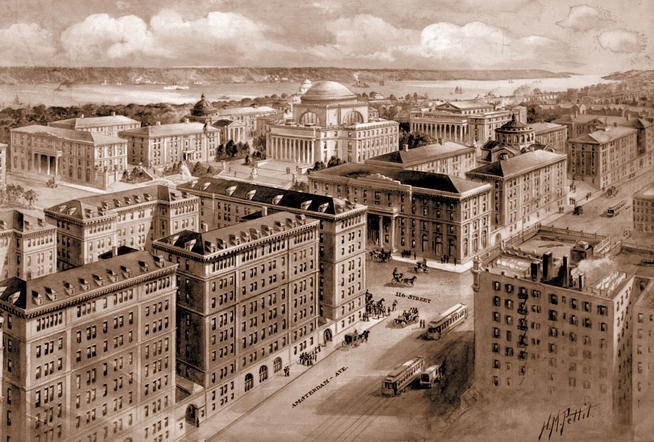 A rendering of Charles McKim's original plan for the campus shows, in the foreground, buildings (never built) that would have formed a quadrangle with Hartley and Wallach.
To Professor Andrew S. Dolkart GSAPP'77, who heads the Historic Preservation Program at the Architecture School, the panorama illustrates the genius of Charles McKim, the principal architect of the Morningside Heights campus: "He holds back the most dramatic moment till the absolute last second. You really have no indication that that's going to happen until it happens. And I think it's spectacular. You are totally being manipulated, to maximize the drama of architecture and through that, of course, symbolically, Columbia."
These three are hardly alone in their thinking. CCT asked a group of experts to talk about the glories of the Morningside campus, from its grand design to its quieter pleasures and epiphanies, and most acknowledged having a similar reaction to the vista that materializes as you traverse College Walk. Three spontaneously offered virtually the same account. It was almost like something out of The Manchurian Candidate.
There are other ambitiously planned spaces that break up Manhattan's rectilinear street grid in a significant fashion — Rockefeller Center, Lincoln Center for the Performing Arts, Stuyvesant Town–Peter Cooper Village housing development. But the Columbia campus is in many respects unique: an oasis of tremendous variety and drama that blends areas of intense activity with enclaves of park-like tranquility. And while Columbia is not alone in offering a fine urban campus, its location in the beating heart of the nation's largest city makes the University's grand spaces and distinctive features seem all the more miraculous.
What are the key elements that distinguish the Morningside campus? Before jumping into a discussion of the Beaux-Arts pavilions and red-brick piazzas that account for so much of the campus' basic flavor, architect and planner Frances Halsband GSAPP'68 thinks it's worthwhile to step back and address a basic question: What is a campus?
"Everyone uses the word pretty well in sentences, they've got that down," she says, "but no one stops to define what a campus is." Halsband is a leading architect and planner whose many Columbia projects include designing the Computer Science Building and the restoration, renovation and expansion of Hamilton Hall, completed in 2004. Her definition of a campus, like the structures and spaces she designs, emphasizes human purposes, values and pleasures.
The Low Steps' design makes them ideal for sitting, creating a relaxed scene in contrast to the formal building behind. PHOTO: COLIN SULLIVAN '11"First of all, it's a place with green space. If you don't see grass and trees, you don't really think you're on a campus," Halsband says. "Another thing is, no cars. Once you're freed from dodging traffic, you can think big thoughts. You can stop and say hello to people. You're not under any pressure to conform to another set of rules. Important-looking public buildings are another marker — buildings that you can walk into and feel connected to a bigger picture. And then finally, monuments, signs — things that say, 'This is a significant place, with history.' If you have all those elements, people immediately understand that it's a campus. There are other ways to conjure it: At NYU, if you're standing under a purple flag, you're on the campus. But you're really much more integrated with the city. I think there's something very precious about drawing a line and saying, 'Within this space, you are free to be a human being who thinks your own thoughts.' The Columbia campus does that, magnificently."

The large bronze plaque honoring Charles Follen McKim on Low Plaza has no doubt been trampled upon millions of times by people unaware of his ambitious master plan for Columbia on Morningside Heights, the school's fourth home since its founding in 1754. The College's earliest classes were held in the vestry room of a new schoolhouse on the grounds of Trinity Church in lower Manhattan. In 1760, students and faculty moved to a three-acre campus overlooking the Hudson River at a site between Murray Street and Park Place near today's new World Trade Center. In 1857, Columbia migrated uptown to East 49th Street and Madison Avenue. And in 1893, the trustees approved a general scheme proposed by McKim's firm of McKim, Mead & White for the elaborate campus on the Heights that opened just four years later. McKim's basic plan called for a unified procession of neo-classical brick-and-limestone buildings of equal height, symmetrically arranged around four shaded quadrangles to the east and west of a central axis that would be crowned by Low Library. Though never fully realized, the McKim plan forever defined Columbia's profile.

"It was startling — it was the next important step in American campus design," says Robert A.M. Stern '60, the famed architect and planner who taught at Columbia for decades before being named dean of Yale's architecture school in 1998. "It was a very bold idea." And a profoundly urban one.

"The new Columbia campus was meant to be a radical break from existing campus design, which reflected this quasi-English, quasi-pastoral idea of green yards where the buildings would be set and then covered in ivy," explains architect, author and filmmaker James Sanders '76, GSAPP'82. "The older American campuses, including Columbia's, were usually built in a Federal style or a Gothic or Victorian Gothic style, building by building. By comparison, McKim's was a bold Italian-Roman-imperial vision of the new American imperium. It was a huge piece of true urban composition, beyond anything I think New York had seen up to that time."

Curiously, the more agrarian, Thomas Jefferson-designed core of the University of Virginia is Columbia's closest American model, embodying, Sanders says, "the idea of a unified vision, with a domed library as its focal point and a series of academic buildings flanking it." Jefferson went even further, at least in one sense: His plan incorporated student quarters that were gracefully integrated with faculty homes and grouped around common green space and gardens; he called the whole an "academical village," and numbered it among his proudest achievements.

Stern marvels at the "brilliant organism" McKim created. "What you see on the North Campus is a kind of modern, multilevel, mixed-use enterprise," he says — "a brilliant machine, if you will, in the modern sense." By moving a lot of earth, adjusting the contours of the site, McKim was able to create a level podium, Stern says. Above it would be a set of intimate academic courtyards; below it, a nether world of mechanical and heating systems, pipes, storage and shop space, connected by tunnels that thread through the campus and serve up into each building. The architect and former Columbia Architecture School Dean James Stewart Polshek likens the concept to a naval aircraft carrier: "The only part you see is the tower that is asymmetrically placed, and then a great big landing field. But underneath, there's an army of thousands of people supporting that. In this case, it's not necessarily populated underneath; it's almost like a catacomb. But it has lasted for so many years and has allowed for expansion and things that would otherwise disturb life. So that's a very subtle part of the campus that is relatively unknown."

McKim's original plan only pictured the North Campus; designs for the South Campus — eventual home of Hamilton Hall, the Journalism School, Butler Library, the undergraduate residence halls and student center — would come later. Residence halls in particular were absent from the original vision, a gap that would take nearly a century to address fully. And only one of the four planned North Campus quadrangles was ever completed — the one bounded by Avery, Fayerweather, Schermerhorn and St. Paul's Chapel. None of the similarly arranged South Campus quads ever materialized.

One happy result has been the survival of an ample bowl of space that allows the South Campus to enjoy a good deal of sunlight and breathing room as well as large patches of greenery. To Polshek, this open, freely accessible area, stretching close to the full width from Broadway to Amsterdam and along the central axis all the way from Low to Butler, may be the campus' most precious asset.

"It's absolutely enormous," he says. "I don't know the exact dimensions of it, but I'll bet it's over four acres, and it may be more than that. That's rare, and it's kind of centering for the University. I went to Yale, which has lots of wonderful courtyards, but it doesn't have a single central space; Stanford doesn't either, actually, nor does Princeton."

The tension between the fullness of McKim's vision and the uneven narrative of its evolution fascinates Bergdoll. He points, for example, to the asymmetry of the halves of the upper campus — the more densely built-up sector east of Low Library versus the grassier, less populated Lewisohn-Mathematics area. "It's that dialogue between the planned and the incomplete that is really beautiful," he says. "If McKim's plan had been fully realized, including its extension to the South campus, it probably would have been a little bit of a nightmare, because it was so incredibly dense."

Halsband is more sanguine. "It would not hurt this campus to have more buildings added on South Field," she contends. "It is possible to do something in a modern idiom that still respects the scale, color and general feeling of the older buildings." Lerner Hall's Broadway wing explicitly relates to neighboring Furnald Hall in such a way. To Halsband, it is Davis, Brody & Associates' eight-story Havemeyer Extension on the North Campus that most successfully relates to the older neo-classical buildings. "There are monumental windows that are well-proportioned and give a lot of light to the inside," she says, "and they've actually taken the time to figure out the same brick coursing pattern, which no one else has bothered to do."

Materials, colors, patterns, textures, proportions, historical symbols and echoes all play a part in McKim's enduring symphony, which climaxes at the University's centerpiece and most famous building, Low Library — fronted by massive Ionic columns, aglow in Indiana limestone reflecting subtly shifting hues of sunlight from dawn to dusk. The building fairly exudes classical sensibility and authority. And on a warm spring day, the contrast with the scene below on Low Steps is delicious: It becomes Low Beach, under the ever watchful eye of Alma Mater, Daniel Chester French's iconic statue.

McKim's design has everything to do with the suitability of Low Steps for hanging out, Stern explains.

"The risers of the steps are shallow, the treads are very deep, so you move more easily on the diagonal rather than straight up and down. It invites people to sit," he says. "I don't think McKim ever thought that the Low Steps would be Columbia's south-facing urban beach, but when the weather turns nice, people sit out there and take the sun; they chat with their friends and pretend to be doing a little work." Says Halsband, "You can talk about the architecture, but it's really the human values that the architecture sets up that make it a wonderful place. You don't write home and say, 'Gee, Mom, I just saw a stone urn that was 10 feet tall.'"

Each of Columbia's buildings has a story to tell, and there are myriad tour-guide nuggets and scholarly treatises about the campus to be found in libraries, bookstores and websites. One building above all excites the interest of connoisseurs: St. Paul's Chapel, with its Guastavino tiles and stained-glass windows by Maitland Armstrong and John LaFarge.

"The chapel is a delight to me. I think it's one of the great masterpieces of religious architecture in America," Dolkart says. "I don't think it's as appreciated as it should be. I love the fact that behind the lamps on the front façade there are scallop shells embedded in the interstices of the Greek crosses, which is a symbol of welcome. The interior has one of the great Guastavino tile installations, and it works with the brick and the terra cotta to create a singular masterpiece."

Filler echoes the praise, adding a personal note: He and his wife, architectural historian Rosemarie Haag Bletter GS'62, GSAS'73, were married there in 1978.

Of the newer buildings, three in particular drew comments from the expert panel, mostly in a positive vein: Fairchild (1977), designed by the partnership of Mitchell Giurgola; the generically named Northwest Corner Building (2010), by Spanish architect Rafael Moneo; and Kliment Halsband Architects' Computer Science Building (1983), which earned nothing but praise from those interviewed for this story.

"That is a gem; it manages through very small gestures to organize the potential cacophony of what's around it," Bergdoll says, explaining how the structure had to mesh with four existing buildings — Mudd, Fairchild, Engineering Terrace and Schermerhorn Extension — in an already jam-packed corner of the campus. "Of course it's a totally Columbia building," he adds. "You're not quite sure where it touches the ground and where it hits the sky. You're not sure where it is! It is best seen from Amsterdam Avenue, at 119th Street." Stern favors it, too: "It is a very sensitive insertion — probably my favorite intervention of the post-WWII era," he says.

Where does one go to savor the subtler, more private pleasures — to amble or sit, commune with friends or tackle today's KenKen puzzle in the Times?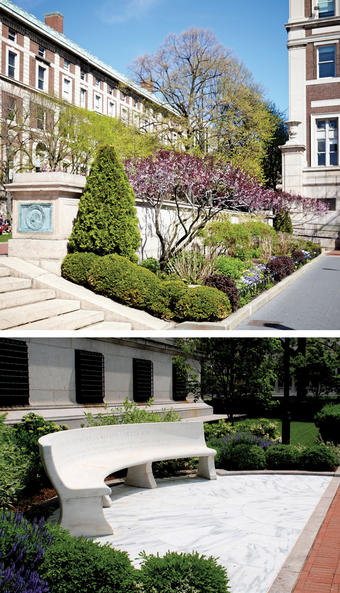 Greenery and sculpture add touches of beauty. PHOTOS: TOP, FRANCIS CATANIA; BOTTOM, COLIN SULLIVAN '11The graceful, curved bench between Low Library and the chapel — a gift from the Class of 1886 — is a popular choice. "They took this very hard, tough piece of stone and turned it into this very soft, round space. It's just an amazing place to be," Halsband says. Bergdoll loves it, too, noting that the form replicates an ancient exedra bench, most famously used in antiquity along the Appian Way. "They were places to gather for repose as you were walking on these streets out of Rome."

Another grace note is the much-improved quality of plantings around campus. "Columbia's handling the landscape wonderfully, which was not something that was accented in the McKim plan," Dolkart says. "And so I think that that has been a real advance. It looks terrific."

Smiling at the perennial borders at the foot of the College Walk retaining wall — a profusion of lush greens, white hydrangeas and purple cranesbill geraniums and catmints — Halsband remarks, "They're amazing, beautiful things. This really says to me, 'We love you, we love being here; we want you to be here and love it, too.' It's all about happy feelings. I believe this tiny bit of landscaping is hugely important for the campus."

Sanders enjoys wandering by the stretch of Morningside Drive that runs by the President's House. "I always find that to be a kind of lovely, campus-like space," he says. The handsome residence was designed by McKim, Mead & White.

"I find Charles McKim's vision to have a kind of fragile grandeur," Sanders says. "He believed that overnight, the United States could create something as exciting or even grander than Europe, which had taken 600 years or 800 years to do the same thing. By God, they were gonna just do it in 10 years," Sanders says. "Columbia had the money, and McKim and his partners had the vision. And there on the wilds of Morningside Heights, something remarkable took shape.

"Now it's all mellowed and aged, but you can still truly feel McKim's exciting vision of what it was supposed to be, and what to a great degree it still is. I love that sense you get when you pass Low Library and go up toward Avery. You feel that you're floating in this wonderful classical platform, and with the trees having grown in as beautifully as they have and the campus now being taken care of reasonably well, I find it very, very moving and very beautiful."

View the one-minute television spot "A Doubled Magic," which is based on the words of Pulitzer Prize-winning author Herman Wouk '34.

Former CCT Editor Jamie Katz '72, BUS'80 writes for Smithsonian Magazine and other publications. One of his transformative experiences at Columbia was a senior-year College course in modern architecture taught by art historian Eugene Santomasso GSAS'73.