Cover Story
Quiz: Columbia in NYC
In keeping with this issue's theme, we offer this quiz on Columbia's Morningside Heights campus and New York City.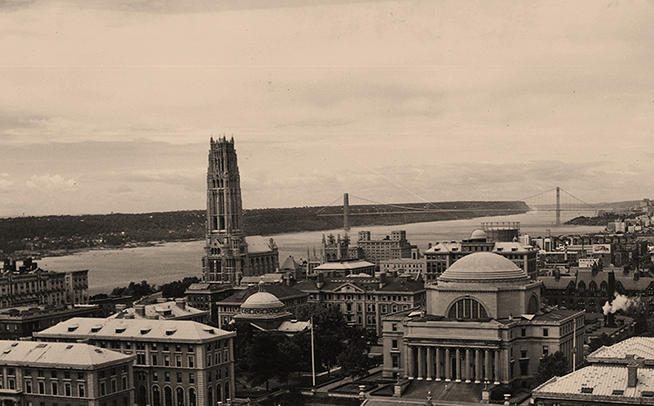 A view of the Morningside Heights campus in the 1940s looking northwest toward Riverside Church, the Hudson River and the George Washington Bridge. PHOTO: CCT Archives
1. Columbia students know the 1 train well, but what number train (discontinued in 2005) used to share the line with the 1?
2. While Columbia students can take advantage of the city's many cultural destinations, there are also great opportunities right on campus. For example, what is the name of the art gallery on the eighth floor of Schermerhorn Hall?
3. In what year did Columbia move from its East 49th Street location to Morningside Heights?
4. In 1910, the Class of 1885 gifted which well-known Columbia landmark to the College?
5. Which four Columbia buildings are National Historic Landmarks?
6. Alfred Lerner Hall, which opened in 1999, was built on the site of which building?
7. What was the name of King's College's first faculty member (simultaneously the school's first president)?
8. Name the four generally accepted boundaries of Morningside Heights.
9. Which revolutionary war battle occurred where Barnard College is located?
10. What is the name of the architectural firm that designed the original Morningside Heights campus?