Features
Only in New York
Alumni, faculty and students on their favorite sites and memorable experiences
By Shira Boss '93, JRN'97, SIPA'98
The core of the Morningside campus is bounded by Broadway and Amsterdam, West 120th and 114th Streets, but in many ways Columbia College extends throughout Manhattan and even the outer boroughs. New York City is the ultimate classroom. Its streets, sights and sounds offer countless opportunities to expand on the lessons of the Core, to gain hands-on career experience through internships, to pursue extracurricular interests and to experience those serendipitous moments that tend to leave the most lasting impressions.Here, alumni, faculty and students share highlights of their time outside the gates of Columbia.
---
"One of my fondest memories as a student was just after Orientation when what seemed like the entire campus (and was probably just my floor) piled into the subway. We were all heading downtown for many people's first East Village and St. Mark's experience. For many, the ride — full of jokes and singing — was an experience itself. And the night filled with karaoke, dancing and late-night falafel was the ultimate way to bond in the Big Apple."
David Chait '07, BUS'13
Entrepreneur
Lincoln, Neb.
---
Columbia: Treasure of New York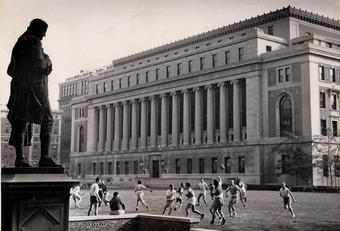 PHOTO: COURTESY COLUMBIA UNIVERSITY
For 260 years, Columbia has been an integral part of New York City, shaping its landscape and influencing creative thinkers from around the world.
This September, WNET (the New York metropolitan area PBS affiliate) explores the relationship between the city and the University in Treasures of New York: Columbia University, the latest episode of the Treasures of New York series, which is broadcast in the New York area on THIRTEEN and WLIW21. It is not distributed via PBS so it does not air on other PBS member stations, although people outside the metropolitan New York area can watch it via online streaming after the premiere.
The documentary begins in 1704 in Trinity Church with the first recorded appeal for a college in New York; King's College officially opened, with eight students, 50 years later. The documentary traces the school's progression to being renamed Columbia College and then Columbia University, the move to Midtown and the creation of the campus in Morningside Heights. Along the way it focuses on legendary alumni such as Alexander Hamilton (Class of 1778) and the Beat poets, and important events in Columbia history such as the Spring 1968 protests and current expansion into Manhattanville.
"Columbia is right there for every milestone that happens throughout New York City," says producer Amanda Kinsey BC'00, BUS'12.
Treasures of New York: Columbia University features photographic and video content from the Columbia University Archives as well as interviews. University President Lee C. Bollinger; actress Amanda Peet '94; architect Renzo Piano, who created the master plan for the Manhattanville campus; University Professor and the Kavli Professor of Brain Science Eric Kandel; Professor of Professional Practice in Film Jamal Joseph; and author Caleb Carr, son of Beat poet and former College student Lucien Carr, all offer perspectives on life at Columbia.
Kinsey says that the documentary should appeal to Columbia students and alumni but is also accessible for those who aren't familiar with the school. "I hope that it sheds a bit of light on what a great impact on and important contribution Columbia has made to the city and the world," she says. "I think that [viewers] will take away a real appreciation of the critical minds that have come through the school."
Anne-Ryan Heatwole JRN'09
Treasures of New York: Columbia University premieres on Sunday, September 21, at 7 p.m. on WLIW21 and on Monday, September 22, at 9 p.m. on THIRTEEN. The program will be available for streaming after the premiere broadcast at thirteen.org/treasures-of-ny.
"I was a local kid, raised in lower Westchester with high school in the Bronx. But I was not a Manhattanite by any means and in fact was pretty parochial. I remember during Orientation, our floor counselor took us on an excursion to the tip of Manhattan to ride the Staten Island Ferry. The trip out was rowdy and exuberant but coming back we all got quiet, taking in the lights of the skyscrapers, which did not even include the World Trade Center towers at the time. Pretty magical stuff. I've been here ever since."
Lawrence J. Momo '73
Education counselor
New York City
---
"It's exciting to convince the students that a ramble from almost any subway stop leads to great architecture. 'Don't miss any open door' is my mantra. In addition to walking tours of, say, modernism in Midtown — from Lever House to Rockefeller Center to the little known Noguchi lobby design at 666 Fifth Ave. — I love giving students long lists of buildings to choose from for written analysis. It provokes them to go to parts of the city they might not frequent, and encourages them to look up when most of the city is wandering around looking at an iPhone."
Barry Bergdoll '77, GSAS'86
The Meyer Schapiro Professor of Art History and Archaeology
Department of Art History and Archaeology
---
"One of my most memorable NYC moments was stumbling across a silent disco under the Manhattan Bridge in Brooklyn: a crowd of strangers, all wearing oversized neon headphones, dancing to music only they could hear."
Mihika Barua '15
Political science major
Mumbai
---
"One of the great things about going to school in New York is that all you have to do to fit in here is want to be here.There's a place for everybody, however quirky. And in my field, art history, it's almost overwhelming: There are more people making, exhibiting, curating, writing about, buying, selling, looking at and thinking about art here, per square foot, than any place else on earth. The energy extends into our classrooms. If you want to study art history, this is the place to be."
Robert E. Harrist Jr. GSAS'81
The Jane and Leopold Swergold Professor of Chinese Art History
Department of Art History and Archaeology
---
"I try to take the time out of my schedule every once in a while to escape the sometimes hectic world of Columbia and to relax at the Met. It's one of the most beautiful and inspiring places in the city. Even the building is magnificent and has a storied past. Inside, there's so much that every visit is its own new adventure. When old friends come into town, I take them to the Met. When I make new friends on campus, I take them to the Met. When a couple of newly accepted students from my high school visited, the first place I showed them in the city was the Met."
Carl Yin '17
Economics and computer science major
Chapel Hill, N.C.
---
"I love the domestic atmosphere at the Frick Museum — a fireplace still burns in the library, surrounded by neatly shelved leather-bound books that emanate a slight old book scent; the mood changes as you move from room to room; and the Vermeers, the Goyas, the Rembrandts and the El Grecos are humanized by their surroundings. There are no cameras, no cell phones, no children and surprisingly few tourists. It's a break from the city, and given its small size, a break that fits into city time."
Pria Narsiman '15
Neuroscience and French major
Sydney, Australia
---
"I grew up in Brooklyn, yet there were many places in New York City I had never been. I remember going to the Brooklyn Botanic Garden for the first time, with my Art Humanities class, and visiting the Japanese garden. I was amazed that I had never visited such a beautiful place in my own neighborhood."
Francis Phillip '90
Attorney
Brooklyn, N.Y.
---
"I'm involved with Columbia Youth Adventurers, a mentoring program within Community Impact that takes kids from Harlem and Morningside Heights on trips throughout the city. Every Saturday we go to a museum, to a zoo or to the movies, or on a picnic, or even to do recreational things like rock climbing or laser tag. We've gone to the Statue of Liberty and to the Museum of Math — this being New York, we don't run out of ideas. It's been a way for me to get off campus and explore the city, too. After all, what's the point of studying in New York if you're not going to explore it?"
Adrian Silver '15
Urban studies major
Boston
---
"The Metropolitan Opera had score desks in the back of the theater, supposedly for music students although they never checked. It only cost two or three bucks to see the opera and all you had to do was to be able to read music well enough to turn the pages at the right times, so you didn't look too suspicious."
Bob Rabinoff '69
Software engineer
Fairfield, Iowa
---
"Going to school in New York City was such a gift. Anything I wanted to experience and learn from was at my fingertips. My freshman year I was studying art, so I would hop on the bus and head to the Met. My sophomore year it was jazz, so I hopped on the train one night to go hear Wynton Marsalis. And when I realized I wanted to write musicals for a living, Broadway was just down the street. Seeing Rent gave me the inspiration, passion and courage to follow my dreams."
Tom Kitt '96
Composer
New York City
---
"In my computer science class, I sat next to a young woman who had just been cast in an Off-Broadway musical. She was ecstatic; because she was in New York City, she could easily attend auditions and subsequently rehearsals. I was able to do the same. I had taken lessons at the Manhattan School of Music, which had a cross-registration program, and was singing with the Bel Canto Opera company when I was cast in a modern-day showing of a Pirandello piece, The Giants of the Mountain, at the old Ohio Theater. In this show, I could experience what we were writing and thinking about in our Core courses."
Nairi Checkosky Balian '88
Real estate investor
Chevy Chase, Md.
---
"The bright lights may not make NYC a great place for astronomy researchers to search for the faintest objects in the night sky, but it is a great place for us to share our interest with millions of New Yorkers and countless visitors. For big events, like the transit of Venus across the sun in 2012, or sometimes for no better reason than we feel like it, we take telescopes to the Manhattan streets and invite passers-by to take a look. It's always fun for the astronomy faculty and graduate students but also a first chance for our undergraduate majors to share some of their newfound knowledge with the world."
Kathryn Johnston
Professor of Astronomy and Chair
Department of Astronomy
---
"New York represents the essence of the idea of America worldwide, all immigrants coming here and retaining their culture — a gorgeous mosaic. You could see what you could see on Broadway all over the country. …
"You could hear what you could hear in schools, churches and hallways, accents from different ethnic groups, and by taxi drivers having their own language, and this for me was cinema, but we were real people. …
"Everything was happening here in New York and constantly changing into something new. It's all about the energy and how the benefits of attending Columbia University in the City of New York made it seem like anything is possible."
Fernando Ortiz Jr. '79
United Nations official
Liberia
---
"Nothing was as fun as taking the subway, jumping off at a random stop and exploring the city on foot with CU friends. We could have a fantastic time for very little money."
Chris McGowan '92
Private equity investor
Chicago
---
"Working for Spectator, you felt like you were working for a 'real' newspaper in New York, covering Morningside Heights, including crime, local politics, tenant strikes … It made you feel like you were competing with the New York papers, instead of working on your campus paper. Because of Spectator I got to know Harlem somewhat. I never would have gone alone to an all-black neighborhood in Chicago, where I grew up, but with my Spectator credentials I felt entitled to talk to anyone."
John "Rick" MacArthur '78
Magazine publisher
New York City
---
"Experiencing the city is an excellent supplement to lectures and readings about urban history. Why just discuss the importance of leisure at the turn of the previous century when you can physically go to Coney Island and experience the greatest amusement park in American history? Why just talk about the shift from an industrial to a service economy when you can walk along the High Line or eat in Chelsea Market (a converted bakery)? Why just quote statistics on the exodus of factories from Manhattan when you can visit the Meatpacking District and watch the shift happen before your eyes? My experience has been that after you have seen a neighborhood or a distant nation you are more apt to study it and read about it."
Kenneth T. Jackson
The Jacques Barzun Professor in History and the Social Sciences
Department of History
---
"Columbia's location is a big plus for Italian studies. The student-run club Società Italiana saw Andrea Bocelli in concert in Central Park, attended a Verdi opera at the Met and viewed films by up-and-coming filmmakers at the Lincoln Center Italian Film Festival. They also went to the San Gennaro Festival in Little Italy and to Eataly, which has authentic Italian products not found elsewhere in the United States."
Jo Ann Cavallo
Professor of Italian and Chair
Department of Italian
---
"Don Mankiewicz '42, Art Wellington '42 and Don Dickinson '42 and I were members of the Columbia Certified Degenerate Horseplayers Club. We liked to bet on the races, and found an illegal bookie room in back of Adler's Candy Store at the corner of West 106th and Amsterdam. Mr. Adler was an elderly, quiet man. He had some kind of arrangement with two tough bookies from Chicago, Solly and Nick, who took our bets, paid us when we won and paid off the cops on the beat."
Dr. Melvin Hershkowitz '42
Retired physician
Northampton, Mass.
---
"As a big food lover, exploring local eateries is a hobby I have picked up — from the creperie The Crooked Tree in the East Village to a new macaron bakery that specializes in exotic flavors. I have ventured around the city to areas that each have their own unique tastes: Harlem with the soul food flavors, and the bakeries and ice cream shops that line the Upper West Side. I also take advantage of pop-up eateries in parks and along pedestrian walkways."
Brian Sarfo '17
Urban studies major
Bronx, N.Y.
---
"This past summer, my Columbia friends and I decided to push ourselves to try new restaurants every weekend. While this has put quite a damper on my available spending money, I think our plan has helped us to explore different areas of the city. One restaurant that stands out is Nyona, a Malaysian restaurant. The food was amazing, but what made this outing unique was that it was a Malaysian restaurant in the heart of Little Italy, which is adjacent to, or some consider inside of, Chinatown. The sharp change in languages as you walk is remarkable."
Kareem D. Carryl '15
Economics major
Brooklyn, N.Y.
---
"I remember looking out my Carman 13 window onto the lights of the campus, and then at the beautiful uptown skyline that extends beyond. I loved being able to walk out of the Columbia gates and hop a quick subway ride to Times Square to see a Broadway show, or to Greenwich Village to visit a favorite restaurant or to Soho to explore the modern galleries."
Rita Pietropinto-Kitt '93, SOA'96
Actress and teacher
New York City
---
"A place that meant a lot to me was Cannon's, a divey bar that used to be on Broadway. I spent a fair amount of time there, a place that smelled bad and had moldy wood and you could get cheap beer. I spent a lot of time having intense conversations and arguments with my classmates. One late afternoon junior year I went there with my friend Patrick Waters '88 to figure out what we wanted to do with our lives. I was interning at a law firm and thinking about (dreading) law school. My other option was to become a journalist. Finally Patrick said to me, 'Marge, what do you want to do, in your heart?' I looked up and saw Dan Rather on the TV and said, 'That's what I want to do — that's what I've always wanted to do — to report the news, and go all over the world to do it.' I got an internship with NBC News shortly thereafter and that started a 17-year career in print and broadcast journalism."
Margaret Traub '88
Humanitarian worker
Marina del Rey, Calif.
---
"What first comes to mind is my involvement in Model UN at Columbia and having the United Nations headquarters [not far away] as a resource. As a student, I visited a half-dozen consulates and met ambassadors, leaders and diplomats from around the world. … At the end of my senior year I went from Commencement, in my cap and gown, to the rostrum of the UN General Assembly, where I served as secretary-general of a Model UN conference with 2,000 students, welcoming delegates and introducing the actual secretary-general, Ban Ki Moon, to deliver the keynote address."
Chuck Roberts '12
Paralegal
Brooklyn, N.Y.