Message from the Dean
How NYC Enriches the College Experience
You have probably heard me refer to Columbia College as "the greatest college in the greatest university in the greatest city in the world." I truly believe that. We are the cornerstone school within Columbia University in the City of New York. And our greatness — and institutional history — is intertwined with the great City of New York that surrounds us.
Founded in 1754 as King's College in a schoolhouse at Trinity Church on Rector Street, we moved uptown following the development of the city — from a parcel of land bordered by Church Street, Barklay Street, Murray Street and the Hudson River (in 1755) to a three-acre site at Park Place overlooking the Hudson River (in 1760), to East 49th Street and Madison Avenue near what is now Rockefeller Center (in 1857) to Morningside Heights (in 1897).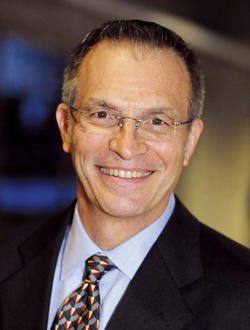 PHOTO: EILEEN BARROSOOur location "in the City of New York" has always been a defining feature of a College education, and it provides countless opportunities, cultural diversity and experiences that only New York City can provide. These are incorporated into our students' curricula and daily lives and contribute to the exceptional value of a Columbia College education. And today, more than ever, the resources and diversity of the city expand the academic experience.
Students go to the symphony, opera and museums; tour neighborhoods on bicycle to learn about New York City history; and study New York City landscape, architecture, culture and ecosystems, all as part of their coursework. The Columbia Arts Initiative "Passport to Museums" program gives students free access to a variety of cultural destinations including MoMA, the Studio Museum in Harlem, the New-York Historical Society and Socrates Sculpture Park; the Ticket and Information Center offers reduced-price or free tickets to theater, dance and music performances; and the Urban New York program provides students with a chance to receive free tickets to exciting trips around the city and to interact with faculty in social settings.
Students can participate in internships at world-class institutions and large corporations such as Bloomberg, Christie's, MTV, Amnesty International, Lincoln Center, Louis Vuitton, The New York Times, the New York Philharmonic, UBS and Viacom. They can carry out research at premier facilities such as Memorial Sloan Kettering, the American Museum of Natural History, the Bronx Zoo and the Wilderness Society.
Our location in New York City means that students can take advantage of Columbia-run career development programs such as the Columbia Arts Experience, Columbia Communities in Action and the new Start Up Internship Program; that recruiters from a variety of industries will be on campus for job fairs and one-on-one interviews; and that students can attend important research conferences and related events, explore a variety of industries, corporations and professions, and take advantage of the College's network of 47,700-plus alumni, about 45 percent of whom live in the greater New York City area.
When renowned speakers and world leaders come to New York City, they often also come to Columbia. Celebrated Russian conductor Valery Gergiev spoke to Music Humanities students when he was in New York City to perform at Carnegie Hall's opening night; internationally acclaimed jazz musician Wynton Marsalis spoke at an undergraduate jazz class in connection to his role at Lincoln Center; and students attended talks by journalists Mika Brzezinski and Joe Scarborough, writers Zadie Smith and Jamaica Kincaid, entrepreneur and Twitter founder Jack Dorsey, philosophers Cornel West and Judith Butler and many others. Students also can attend Columbia's World Leaders Forum, which in recent years has offered talks by Bill Clinton, Nicholas Sarkozy, Vladimir Putin and the Dalai Lama, among others — all because of our location in New York City.
This issue of Columbia College Today focuses on the great City of New York that surrounds us, and particularly our neighborhood, Morningside Heights. Both the city and the neighborhood have changed since many of you were here but they remain as central to our identity as a college as they were 260 years ago. We encourage you to visit the Columbia College Timeline to learn about College history; to view our Instagram page to see images of the present-day campus; and to share your memories of Columbia College and New York City on the Columbia College Alumni Association Facebook page or via email at ccalumni@columbia.edu.