Roar, Lion, Roar
Football Coach Mangurian Stays the Course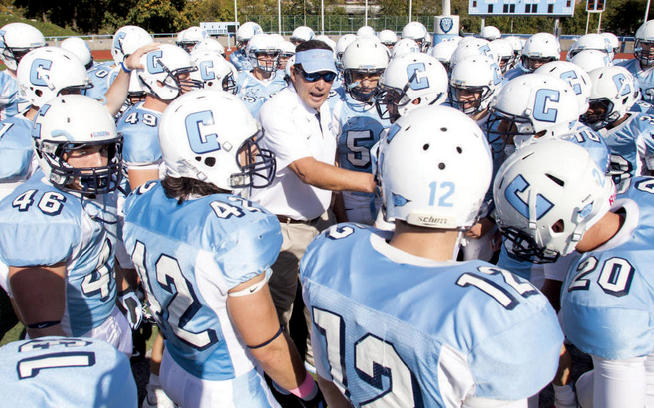 Coach Pete Mangurian exhorts his team during the 2013 football season. PHOTO: MIKE McLAUGHLIN/COLUMBIA ATHLETICS

Pete Mangurian recognized the challenges when he became Columbia's 19th head football coach in December 2011. He was positive and upbeat then, and he remains positive and upbeat after two seasons in which the Lions have won a total of three games.

"When I came here, I thought, 'We'll remodel the house,'" Mangurian reflected this past summer as he prepared for the 2014 campaign, which opens on Saturday, September 20, with a home game against Fordham. "But after talking with people and going through all these meetings, the real solution became clear: tear it down and build it again. So that's what we've done.

"It takes a little longer, but when you're done you've got what you want."

To continue the analogy, Mangurian believes a solid foundation is being laid upon which Columbia can build a successful football program.
Save the Date
Sept. 20: Football season opener: Columbia vs. Fordham
Oct. 23: Athletics Hall of Fame black-tie dinner and induction ceremony
Oct. 25: Steve Franke [SEAS'67] memorial benches dedication
Oct. 25: Homecoming: Columbia vs. Dartmouth
"We've established a standard and we hold the players and everybody involved in the program to that standard in academics, career development, football, personal development. It isn't, 'We can be strong in this area so we can be weak in another' — we have to be strong in all four. So what you do is you build a culture that's based on, 'I need your absolute best in every single thing you do.' That's tiring for them. It wears them down. They have only so many hours in the day. But that's what we work to support and that's what we have to demand. For me to do my job the way it really needs to be done, I have to demand that."
Mangurian, who has coached for more than three decades at all levels and participated in two Super Bowls and five major college bowl games, recognizes that coaching at Columbia is not the same as coaching in the NFL. The oft-repeated quotation, "Winning isn't everything, it's the only thing," doesn't tell the full story. It's not that winning isn't important — "This is a wins and losses game," says Mangurian — but it's far from the only thing.
"Everyone wants to talk about winning. I get it," says Mangurian. "One of the greatest coaches in any sport ever was John Wooden [the legendary basketball coach at UCLA] and he never talked about winning. He talked about the process of getting there, what you had to do to win. If you do the things you have to do to get there, then you'll win. That's our philosophy.
"Everybody wants to win, but not everybody is willing to do the things that it takes to do it. That's the challenge. We're trying to change a culture here."
Mangurian says being successful away from the football field goes hand-in-hand with winning on the field. "I can sit here and spend every hour I have with the players talking about 'who do you block, who do you tackle,' all those kinds of things. That doesn't help them be successful here," he says.
"I firmly believe that until we create an environment where they can be the most productive — and we're all most productive in the least stressed environment we can possibly be in — we're not going to be successful in any area. There's a stress factor that you have to minimize by supporting them, getting them off on the right foot — mandatory study hall for freshmen, weekly grade reports that we review that aren't just grades, but 'when's the last time you talked with your professor, when's the last time you talked with the TA, what test is coming up, what paper is coming up, what test did you just have?', where we're up to date on everything. The advising process, the monitoring process, getting kids to interact with faculty … all those kinds of things become part of how they live. And when football's over, those are the skills they need to learn.
"The basis of our program is that all those skills, all those tools, all that interaction, if aligned properly, the byproduct of that will be us having a good football team. If you can communicate, be unselfish, be disciplined, be accountable — all those things that are going to be required for you to be a good student or to be a good employee or to start a business or whatever it is, all those things are going to make you a good football player, too. So aligning all those qualities is our challenge."
Without success on the field to serve as positive reinforcement, it might be easy to become discouraged or to say the challenge is too daunting. Mangurian does not feel that way, and perhaps more important, he says he's seen no sign of it in the Columbia players despite a season in which the Lions compiled a 0–10 record and were outscored by 329 points. As evidence, he points to this year's 34 first-year players, who Mangurian describes as "more talented, better students, the strongest class we've had." And while Mangurian and his staff devote a lot of time in the offseason to trying to identify and recruit players for Columbia, what decides the issue is when those prospects come for their campus visits and meet the current players.
"I can say whatever I want, but our real recruiters are our players. I promise you that when the recruits come in and they talk to our players, if the players don't believe in where we're going, those kids don't come," Mangurian says. "When those kids spend the night with our players in the dorm and are around our team, they get a sense of whether these guys want to be here and whether these guys believe in what's going on, or [leave feeling like] 'This is a disaster and I don't want any part of this' … Even though our players went through that season last year, they can look these kids in the eye and say to them, 'This is where we're going, this is what we're doing and this is how we're getting there.'"
Mangurian also feels that despite the lack of immediate results, he has the support he needs to build a successful program. "Every part of the University, whether it be the administration or the faculty, that I've sat down with and said, 'This is what I'd like to do to facilitate our kids being more successful,' has been supportive. I think there's an element of trust there. I think all those people believe that we're motivated the right way, we're doing this for the right reasons, and they want to be part of that. Football has nothing to do with it. It's education. And that takes time.
"We've spent a considerable amount of time getting it right. Unfortunately, the result of doing all these things the right way is going to be winning — not the other way around. The last thing that's going to happen is we're going to start winning like we should, but only because we've done all the other things up to that point correctly."
Scoreboard
5
Ivy League team championships won by Columbia in 2013–14: men's cross country, men's fencing, baseball, men's tennis, men's golf
6
Ivy League yearly awards won by Columbia student-athletes in 2013–14 (see Sports Shorts)
11
Columbia baseball players named to All-Ivy League teams in 2013–14
22
Wins posted by the men's tennis team in 2013–14