Roar, Lion, Roar
2014 Hall of Fame Class To Be Enshrined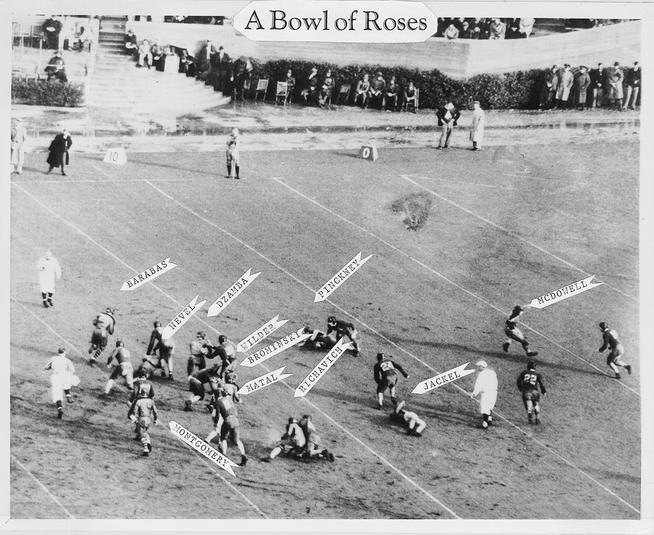 KF-79: In arguably the most famous play in Columbia sports history, Al Barabas '36 turns the left corner and heads for the end zone to score the touchdown in Columbia's 7–0 win over Stanford in the 1934 Rose Bowl.
Al Barabas '36, who scored the only touchdown in Columbia's landmark 7–0 victory over Stanford in the 1934 Rose Bowl, headlines the 2014 inductees to the Columbia University Athletics Hall of Fame. A total of 16 former student-athletes, one head coach and four teams, selected by a committee of Columbia Athletics affiliates including alumni and administrators, will be inducted at a black tie dinner in Low Rotunda on Thursday, October 23.
"All 17 individuals made a tremendous impact on Columbia Athletics and on their respective varsity sports programs," says
M. Dianne Murphy, director of intercollegiate athletics and physical education. "We are excited to honor a women's team for the first time in Athletics Hall of Fame history, two outstanding modern men's teams and one of the truly great rowing teams in Columbia history."
Columbia's Rose Bowl win ranks among its greatest sports victories. Barabas, a running back, scored on a hidden-ball play known as KF-79 in which quarterback Cliff Montgomery '34 faked a handoff to Ed Brominski '35 going to the right, pulled the ball back and slipped it to Barabas, who sprinted around left end from 17 yards out for the only touchdown of the game. Barabas, who helped Columbia to a 19–6–1 record in his three varsity seasons, also played baseball at Columbia and later played both sports professionally.
The first women's team inducted to the Hall of Fame is the 2005 women's cross country team, which won the Ivy League championship behind 2012 Hall of Fame inductee Caroline Bierbaum LeFrak '06, who won the Ivy title and finished second in the NCAA championships. All-American Lisa Stublić '06 and All-Ivy Tenke Zoltani '06 also starred for the team, which won Columbia's fourth consecutive Ivy crown.
Also joining the Hall of Fame in the team category are the heavyweight crew that went undefeated during its regular season and won the 1929 national championship; the Ivy League champion and nationally ranked 1987 men's tennis team and one of its stars, Howard Endelman '87; and the 1996 football squad that compiled an 8–2 record, the second-best mark in program history behind the 1961 Ivy championship team.
In addition to Barabas and Endelman, now associate head coach for Columbia's men's tennis, other individual inductees include three-time All-American and National Basketball Player of the Year Ted Kiendl (Class of 1910) and 1984 Hermann Trophy winner Amr Aly '85, SEAS'85 from men's soccer. Renowned fencing coach George Kolombatovich, who guided Columbia to five national crowns during his tenure from 1979 to 2011, also will be inducted, along with four first-time nominees: basketball and baseball standout John Baumann '08, national individual fencing champions Emily Jacobson '08 and Daria Schneider '10 and four-time All-Ivy tennis star Milena Kachar '07.
Other inductees include Jacqueline Adelfio SEAS'06, SEAS'07 (softball), Liz Cheung-Gaffney '98 (women's soccer), John Howard Johnson '22 (men's basketball), Kathy Lavold BC'03 (volleyball), Len Renery '71 (men's soccer), Eugene Rogers SEAS'45 (men's swimming), Bruce Soriano '72 (men's fencing) and Steve Sundell '04 (men's cross country/track and field).
Tickets to the black-tie dinner and induction ceremony are available by contacting Cathleen Clark at cc3470@columbia.edu or 212-851-9610.