Alumni Corner
Who Needs Change for a $10 Bill?
By Bob Orkand '58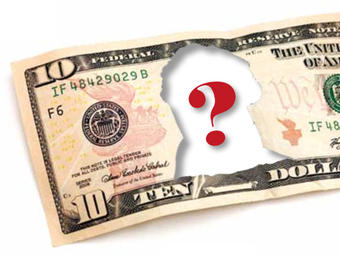 I graduated from a college in Manhattan that a wag once described as a seat of learning nine blocks south of the Apollo Theater in Harlem.
Arriving for class at Columbia each morning a few minutes before 9, I'd pass a bronze statue of Alexander Hamilton (Class of 1778) that stood 14 ft. tall mounted on a formidable pedestal in front of the academic and administrative building bearing his name and where many of my classes took place.
I think he frowned more than once at the sophomoric casualness with which I was under-applying myself to what should have been a quality educational experience. After all, my professors were some of the greats in their fields, namely Mark Van Doren GSAS'21, Lionel Trilling '25, GSAS'38 and Jacques Barzun '27, GSAS'32 as well as lesser-known but equally brilliant scholars and teachers such as Charles Everett GSAS'32, Richard Chase, Quentin Anderson '37, GSAS'53 and George Nobbe.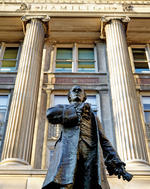 PHOTO: FRANCIS CATANIAAt my tender age, I lacked the maturity to recognize and appreciate the wisdom and depth of knowledge to which I was being exposed and, for my troubles, ended up during my senior year receiving a "greeting" and calling from my "friends and neighbors" on the local draft board to undergo a different type of educational experience with a large nonprofit organization known as the United States Army.
After I'd been commissioned and had served the first of what would be three duty tours in Asia, Uncle Sam allowed me to return to Columbia (at my own expense, of course) to complete the final semester I needed to qualify for my B.A.
As I returned to Hamilton Hall after a four-year absence, I was convinced the statue out front looked down at me — still holding, apparently, the same sheaf of papers in his left hand and striking his chest with his right — as if to say, "See, smarty pants, if you hadn't been so lazy and unappreciative of what was being offered, you might by now have risen to become an English instructor in this very building, instead of needing eight whole years to earn your B.A."
As you can see, my relationship with Hamilton is a close, personal one that goes back many years, and I'm one of those who's aghast at the recent and misguided initiative by the Treasury Department (which Hamilton founded in 1789, for heaven's sake) to more or less bump him off our $10 bill.
The statue celebrates one of Columbia's earliest students, who became one of our nation's Founding Fathers. Hamilton, in fact, might very well have been one of our early Presidents except for accidents of birth and death.
He was born in 1755 (maybe 1757) in the British West Indies, the illegitimate progeny of a married woman and her wealthy paramour, but despite his many qualifications was rendered ineligible at birth for the U.S. presidency because he wasn't a natural-born citizen. This was stipulated by Article II, Section 1 of the very Constitution he was instrumental in getting adopted. And when he was slain in 1804 at 47 (maybe 49) in a pistol duel in New Jersey by Vice President Aaron Burr, it pretty much closed the book on whatever unlikely chances he had to become our nation's chief executive.
But in his all-too-short life, Hamilton's achievements were assuredly on par with other achievements of Founding Fathers who ascended to the presidency. After all, he served bravely as an artillery captain at the Battle of Trenton and later as a general and close confidante to Washington during the American Revolution.
In addition to being the first Treasury secretary, Hamilton also created our central banking system, is credited with the establishment of Wall Street and its stock exchanges, founded the Federalist Party, campaigned successfully for the adoption of the Constitution, fought against slavery, wrote many of the Federalist Papers, was instrumental in founding the Coast Guard, got the U.S. Mint established, argued incessantly but productively with Jefferson, Madison and Adams (not withstanding l'affaire Burr) and helped craft Washington's Farewell Address.
Featuring a woman on our paper money needs to be done. But at Hamilton's expense? For shame!
So now comes Treasury, ready to ax its founder in favor of a deserving woman — perhaps Harriet Tubman, Rosa Parks or Eleanor Roosevelt. Featuring a woman on our paper money for the first time in almost 1½ centuries is a commendable idea and needs to be done. But at Hamilton's expense? For shame!
A better target would be Andrew Jackson, whose portrait is on the $20 bill and whose track record includes the Trail of Tears that evicted Native Americans from their ancestral lands, along with making a tidy little profit from slave trading. (Jackson reportedly kept hundreds of slaves at his Hermitage plantation near Nashville.) He deserves to go, not Hamilton.
Treasury Secretary Jack Lew (who ironically holds the post created by Hamilton) says that the $10 bill has been slated for an anti-counterfeiting redesign for some time and, as part of the process, an opportunity arose to honor a deserving woman with the central portrait while still recognizing Hamilton in some undetermined way. But when Treasury made the announcement in 2013 that the 10-spot was up for redesign, nothing was said about taking aim at Hamilton. That makes it either an odd omission from the original announcement or a more recent decision that warrants explanation and consideration beyond the convenience of timing.
Others are with me — notably a grassroots organization called "Women on 20s," which has been campaigning for a woman to replace Jackson on the $20 bill since late last winter. This solution also was endorsed by The New York Times in a July 4 editorial. However, as things stand now, Hamilton won't keep his star billing on the sawbuck while "Old Hickory" continues in undiminished glory on the $20 bills dispensed to us by ATMs in never-ending profusion.
It's enough to make a statue weep.
Bob Orkand '58 entered with the Class of 1954 and graduated while serving in the Army. He retired as a lieutenant colonel of infantry; from Knight-Ridder Newspapers as president and publisher of the Centre Daily Times in State College, Pa.; and as a high school teacher in Texas. He writes a weekly opinion column for his local paper, The Huntsville (Texas) Item, where an earlier version of this article appeared; it is reprinted and adapted with the Item's permission.