Alumni News
Back to School with … Doug Wolf '88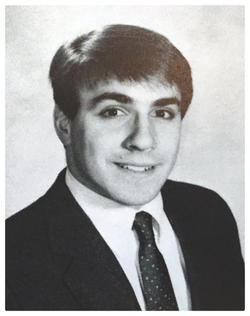 With a new school year just begun, CCT spoke with Columbia College Alumni Association president Doug Wolf '88 about his years on campus, the classes that changed his perspective and the advice he'd give to today's first-years. If you want to share your own answers to these questions, send them to ccalumni@columbia.edu.
What one keepsake did you bring from home your first year?
Bringing a Red Sox hat to New York City was my way of staying grounded. How could a born-and-raised Bostonian not carry his true colors into the heart of Yankee fandom?
What was your most surprising or enjoyable class?
My seminar class in physics was spectacular for its guest lecturers — the leading scientists of the day spoke to our group of 10 each week. But I loved Logic, which was a class in the philosophy department. The combination of elegant solutions to word problems and language analysis hit the spot in so many ways. I insisted that my friend take the class, and she lists it as one of her favorites, too. Still, I hope she [Sherri Pancer Wolf '90] married me for other reasons.
Did you have a favorite study spot?
In my search for the quietest library, I studied at least once in every library on the Morningside Heights campus. In the end, my go-to place was with the poltergeists on any random floor in the Butler stacks. The darker the floor when I got off the elevator, the better. Then I would hunt for the furthest desk with a chair and light, and sit down with my Diet Coke and Baby Ruth.
What extracurriculars did you participate in?
I was involved with the University Dorm Council and while I don't remember my precise title, I was head of intramural sports for the Board of Managers; our committee allocated student funds to about 50 intramural sports. I recall hockey took the "lion's" share. In hindsight, participating in activities outside of academics and sports added experiences that were invaluable. It may not have seemed like much then but we were involved in negotiations with the teams, managed disappointment [for the ones that didn't receive as much money as they wanted], worked with the administration and had real responsibilities.
I did not join a fraternity but through my time wrestling during my first year, and having a brother, Eric Wolf '86, involved in Greek life, I was generally welcomed into frats on 114th for events.
What would you join if you were doing it all over today?
It certainly seems there are many more clubs and activities now than in the late 1980s! I'd probably look to some of the entrepreneurial-based organizations. I've generally been business-leaning in my interests, and something that would expose a student to that world at an early point would fascinate me.
Along those lines, I would also look to organizations that included alumni interactions. That sounds like a convenient view given my role today but it is actually my recognition that networking is critical in many social, philanthropic and business pursuits; building those connections as early as possible is something that many students don't appreciate. I impress this upon my daughter, who is attending a different institution. She was hesitant as a freshman to attend alumni-inclusive events but has immediately seen the advantage in being one of the few underclassmen there and experiencing the enthusiasm of those alumni.
What do you think is the most exciting change at the College since you were on campus?
There have been many physical changes during the last 25 years, and I am envious of many — the abundance of places to eat, the makeover of most of the residential spaces and the new academic buildings. While I may reminisce about places like the student-run store in Furnald, its demise was probably for the best. I particularly like the seemingly popular gathering spots in Alfred Lerner Hall (on the site of Ferris Booth Hall, the student center in my era) as well as the common sight of clubs and other groups positioned on the ramps within. It provides a strong community feeling, which was more difficult to find years ago.
What advice would you give to new students on making it through the first semester, being away from home and navigating NYC?
On the issue of academics, the College does a fantastic job of screening candidates. Students are there because it's the right fit for them. Do not be discouraged if there are subjects that are difficult to grasp and seem so easy for others. Those who appear not to be studying are. The Core is not easy and I used to get dizzy trying to make sense of the various concepts. But I knew that others had to feel the same way even if they did not show it. And that applies to more than academics. Students can take comfort from the fact that when they arrive on campus, there are more than 1,000 other students who have the same insecurities, concerns, anxiousness and excitement — none are as cool as they appear.