Alumni News
Alumni in the News
Three Lions baseball players were selected in June's Major League Baseball first-year player draft. Outfielder Gus Craig SEAS'15, the Co-Ivy League Player of the Year, was taken by the Seattle Mariners in the 30th round. Pitcher George Thanopoulos '15 and outfielder Jordan Serena '15 both were picked up in the 35th round, Thanopoulos by the New York Mets and Serena by the Los Angeles Angels of Anaheim.
---
In more Lions sports news, Katie Meili '13 won a gold medal for the 100m breaststroke during the 2015 Pan American Games, finishing in 1:06.26. During the race preliminaries, Meili set a Pan American Games record for the 100m breaststroke with a time of 1:05.64, beating the previous record by two full seconds.
---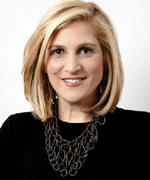 Lea Goldman '98 PHOTO: COURTESY Hearst MagazinesIn June, Lea Goldman '98 was promoted to the role of executive editor at Marie Claire magazine. She began at the women's magazine in March 2008 and previously was its features and special projects director, as well as its deputy editor. In her new role, Goldman will manage writers and editors, continue to write and edit features on politics, women's rights and international issues, and will have a special focus on the Marie Claire @Work section.
---
U.S. District Judge Alvin Hellerstein '54, LAW'56 was in the news for his July 7 decision on robocalls, the automated calls that come from a dialing device and deliver a recorded message. In a civil suit brought by a Texas woman against Time Warner Cable, Hellerstein ruled that the company violated the Telephone Consumer Protection Act in making 153 robocalls to her mobile device even after she told Time Warner that she was not the intended recipient and did not wish to be called. The plaintiff was awarded $229,500 in treble damages.
---
College alumni were well represented during Emmy nomination season. Saturday Night Live's Kate McKinnon '06 received a nomination for Outstanding Supporting Actress in a Comedy Series; House of Cards creator Beau Willimon '99, SOA'03 and Orange Is the New Black creator Jenji Kohan '91 both received nominations for Outstanding Drama Series; and Maggie Gyllenhaal '99 was nominated for Outstanding Lead Actress in a Limited Series or a Movie for her work on The Honorable Woman.
Steven Bargonetti '78In other entertainment news, Steven Bargonetti '78 received The Boston Theater Critics Association's 2015 Elliot Norton Award for Outstanding Musical Performance by an Actor for his work in the play Father Comes Home From The Wars (Parts 1, 2 & 3.) Bill Condon '76 directed the film Mr. Holmes, starring Ian McKellen and Laura Linney, released in July to favorable reviews.
---
Poet and artist John Giorno '58 has two major exhibitions in 2015: His solo show at New York's Elizabeth Dee Gallery, "SPACE FORGETS YOU," was on view April 2–May 9, while a retrospective of his work will open on Monday, September 28, at Paris' Palais de Tokyo as a mash-up of his poems against a backdrop of graffiti from French street artists Lek and Sowat.
---
New York Gov. Andrew Cuomo appointed Gerrard P. Bushell '83, GSAS'04 president/CEO of the Dormitory Authority of the State of New York, one of the nation's leading issuers of tax-exempt bonds and a major source of capital for infrastructure. DASNY provides financing and construction services for public and private universities, hospitals and healthcare facilities, and other nonprofits. "I am excited by the opportunity to serve Governor Andrew Cuomo and the people of New York State as we commence on an ambitious journey," Bushell said in a DASNY press release.
---
The New York Times featured Tifphani White '98's relationship with now-husband Michael King as part of its "Summer Love" series exploring romance in New York City; the July 9 article was headlined "An Ice Cream Cone, a Ring, Then After 23 Years, a Promise." White, the first African-American woman to become a tax partner at financial network Deloitte, began dating King in high school; the article covers the couple's long courtship, including White's time at Columbia, where she double-majored in economics-philosophy and dance. White and King were married at St. Paul's Chapel on June 26.
Anne-Ryan Heatwole JRN'09