Alumni Profiles
Little Started Demartini on the Path to Success
By John E. Mulligan III '72
Dr. Felix E. Demartini '43, PS'46 spent his career at the University's medical complex and helped to usher it into the modern era, starting in 1977, when he became the first doctor to serve as both president and CEO of what was then called Presbyterian Hospital at the Columbia-Presbyterian Medical Center. But Demartini says his first mentor was not a prominent physician. He was a Lions legend: football coach Lou Little, who was a stickler for good grades and who pushed his players to be off-the-field leaders.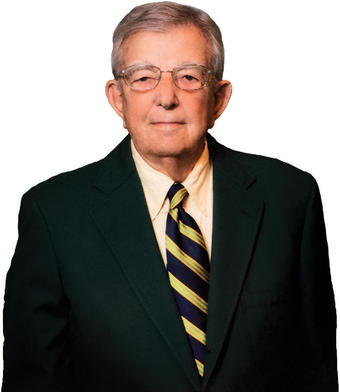 PHOTO: COURTESY DR. FELIX E. DEMARTINI '43, PS'46Demartini was an accomplished high school player in 1937 when he made a recruiting visit to Little, the engineer of Columbia's famous upset of Stanford in the 1934 Rose Bowl. But Demartini says he was also "a screw-up. I don't think I'd ever read a book all the way through."
An assistant coach delivered bad news: "You don't have the grades to get into Columbia." But, he said, Demartini might be admitted after a post-graduate year at prep school.
Back home in Ridgefield, N.J., this was not a tough call for Demartini's father, a successful textile salesman. Andrew Demartini started working after eighth grade and spent years building a career. To the senior Demartini, education was everything.
"Don't even think about it," Demartini's father said of the chance. "Do it!" So Demartini spent a year at Connecticut's Cheshire Academy, where, he says now, "I found to my surprise that I could do the work if I disciplined myself." The school's academic rigor and the individual attention wrought "a profound change in me."
And thus, in fall 1939, Demartini was playing freshman football at Baker Field. Great Britain was at war with Nazi Germany but Demartini says he and his friends "weren't concerned about the war yet." He was making his mark on the gridiron as a 6-foot-1, 185-lb. guard who stung opposing runners more with quickness than with strength.
A few weeks after the 1941 season, however, Pearl Harbor changed everything, Demartini says. Military service became a preoccupation on campus.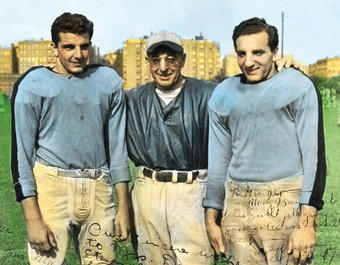 Lions 1942 co-captains Dr. Felix E. Demartini '43, PS'46 (left) and Paul V. Governali '43 (right) with football coach Lou Little.PHOTO: COURTESY JOHN EISINGERDemartini and All-American quarterback Paul Governali '43 were co-captains in 1942. "Our team was decimated because so many people were drafted or left school to enlist," says Demartini. He, too, had a foot in the future. Months ahead of schedule, he left the College for a war-shortened course at P&S — 36 months instead of four years. He later practiced medicine as an internist.
Also in 1943, Demartini began his nearly 67 years of marriage to his childhood sweetheart, Mildred Van Valkenburg, who died in 2010. They had three children: Felix Jr. '71; Paul '72, PS'77; and Lisa Demartini Ogburn.
After P&S graduation and an internship, Demartini served two years as an Army doctor aboard Navy transport ships. He began his residency and fellowships in 1949 at Columbia's hospital. In 1953 he began his practice on the hospital staff. Later in the 1950s, he began teaching clinical medicine at P&S.
At that point, Demartini happily chose the track he followed until retirement: splitting his time between his practice and teaching. "The atmosphere was really unbelievable," he says. So many professionals "were at the cutting edge of medicine that I wanted to continue in this institution."
In 1974, Demartini began several years as the hospital board's vice chair for professional and scientific affairs. At the time, the hospital faced two dire problems: The facility was so antiquated that it couldn't be properly modernized (e.g., the old hospital building had been designed before X-rays were as routinely used as today — to say nothing of more modern high-tech equipment — and thus X-ray rooms were inconveniently located) and the institution was stricken with financial woes, partly rooted in the changes Medicare and similar programs had made in the economics of hospitals.
In 1977, the hospital board asked Demartini to tackle such challenges as its president and CEO. He compares the task to solving a huge, complicated puzzle. While making improvements to the old plant during his first years on the job, Demartini also had to develop the hospital's plan for a large-scale modernization of facilities, technology and finances. Then he led the creation of the bricks-and-mortar modernization plan. Major pieces would include the Milstein Hospital Building; a string of storefront ambulatory care clinics in Northern Manhattan; and The Allen Hospital, a community hospital to provide cost-efficient care of illnesses and injuries that didn't require the full resources of a major hospital. (Fittingly, the smaller community hospital's location was a rocky parcel of Columbia land by the Broadway Bridge — yards from where Demartini had played for Little more than 40 years earlier.) After seven years at the helm, Demartini and his team had set the wheels in motion for the construction of the new complex.
Demartini, who turned 95 on September 9, views his leadership years as the capstone of an association with Columbia that lasted from the 1939 football season until his 1984 retirement. He feels "those seven years had more impact" on the hospital than all the work he did in his previous years in medicine.
Demartini has devoted his retirement to the same passions that drove him as a younger man: family, medicine and sports. He enjoys regular reunions with his children and their families and as an accomplished golfer, he belongs to the American Seniors Golf Association. Among other medical administrative work during his retirement, Demartini has served on the board of trustees of the Indian River Medical Center Foundation near his home in Vero Beach, Fla.
One day in the 1950s, Little sent Demartini a warm note with a copy of the football program from the 1940 game at Dartmouth — a 20–6 upset for the Lions, and the first game Demartini started on the varsity.
That's "what Mr. Little was like," Demartini says. "He remembered something important to an old player, long after he was of service on the field."
Bill Campbell '62, TC'64, who as the Lions' captain led Columbia to its only Ivy League football crown in 1961, says Demartini was cut from the same cloth as Little. "He played on great Columbia teams under the greatest Columbia coach," in an era when the Lions still competed with major football powers and produced nationally-known players, says Campbell.
At the same time, adds Campbell, Demartini embodies the Columbia scholar-athlete who was hungry for a great education and career and who felt obliged to help subsequent generations to aim as high. Demartini always had time to give a tour of the medical school to young football players who were interested in medicine, Campbell says.
"This is what people in my era wanted to be like," Campbell says, calling Demartini a mentor to younger Columbians who demonstrated that "you could be a jock, but you could also be a doc."
John E. Mulligan III '72 is a former reporter for the Providence Journal.