Around the Quads
Double Discovery Marks 50 Years
In 1965, a group of College and Barnard undergraduates formed a pilot program with the dual mission of engaging Columbia students with the neighborhoods around them and helping the youth of those neighborhoods — who often attended underserved, underperforming schools — have a better shot at college.
Double Discovery in its first year, 1965 PHOTO: COLUMBIA PUBLIC AFFAIRS OFFICE/COURTESY COLUMBIA UNIVERSITY ARCHIVESThe Double Discovery Center, as the program came to be called, has since developed into a multifaceted nonprofit offering services to NYC youth from tutoring and one-on-one advising to internships, academic classes, career days and more. In a half-century DDC has successfully served more than 15,000 young people. Now, it annually works with more than 1,000 students; 90 percent of its high school seniors graduate on time and enroll in college.

To celebrate its milestone year, DDC is holding a 50th Anniversary Gala on September 10 in Low Rotunda. The dinner will feature a silent fundraising auction and remarks by Dean James J. Valentini as well as the presentation of the James P. Shenton Awards, given in recognition of recipients' accomplishments and contributions to DDC's mission. This year's honorees are Roger Lehecka '67, GSAS'74, DDC co-founder and the College's dean of students from 1979 to 1998, and Joel I. Klein '67, CEO of Amplify and EVP of Newscorp.

"We wanted to use the 50th anniversary to highlight one of Columbia's best-kept secrets — and arguably one of New York's best kept secrets," said Constantine Dimas '96, chair of the DDC Board of Friends. "This celebration will hopefully usher in a new and significant era for the organization and the students it serves."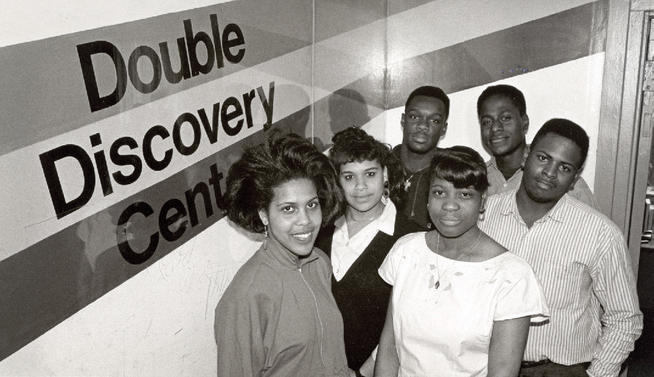 Six of the 268 NYC high school seniors who earned DDC certificates in June 1988. PHOTO: COURTESY COLUMBIA UNIVERSITY ARCHIVES

Fundraising, Dimas explained, is a new part of DDC's strategic plan: "We began [raising money] in earnest for two reasons. One was the very real risk of depleted federal funding for the program; the second was that we wanted to draw attention to Double Discovery and to pursue specific initiatives that will be rolled out in the coming months — things like focusing on technology and creating a permanent endowment for DDC. We want to ensure DDC's survival as it currently stands but also to reach much further — to helping more students in more, different ways."

DDC executive director Joseph Ayala '94 had high praise for the honorees.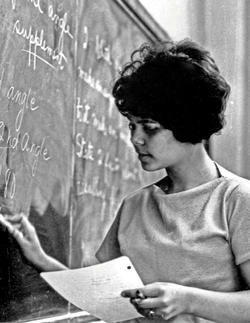 Double Discovery student Maria Martinez, circa summer 1966. PHOTO: COLUMBIA PUBLIC AFFAIRS OFFICE/ COURTESY COLUMBIA UNIVERSITY ARCHIVES"With Roger, you're talking about an individual whose commitment and dedication is in many ways responsible for the survival of Double Discovery throughout the years," Ayala said. "It's important to him that there be some extension of the wonderful education that happens here at Columbia to children who wouldn't otherwise get it. He has been a steadfast supporter of the program throughout his career and, now in his retirement, he is still one of the principal supporters."

Shifting to Klein, Ayala added that many of DDC's goals and aspirations are embodied in his career, which included eight years as NYC schools chancellor. "When you think about those themes of our mission, it's fitting to honor someone like Joel," Ayala said. "He has been a big voice for educational innovation and a leader in our area."