Columbia Forum
The House Tells the Story
Homes of the American Presidents, in text and watercolors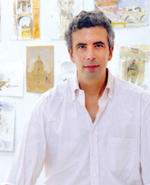 PHOTO: Mimi Capone
In fall 2011, Adam Van Doren '84, GSAPP'90 sent the first of many illustrated letters to eminent historian David McCullough from FDR's home in Hyde Park. ("It was a frigid day and I damn near froze to death trying to render the house," he complained, in impressively legible handwriting.) It was at McCullough's suggestion that Van Doren, an architectural painter, had traveled to Hyde Park to sketch the house. Knowing Van Doren's love for history — and his skill at rendering facades — McCullough suggested that he undertake the project of trying to paint the homes of America's Presidents: a sidelong way of revealing each leader's essential character.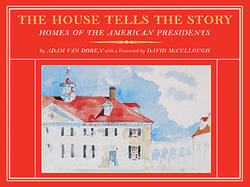 As Van Doren traveled from Virginia (Monticello) to Texas (Prairie Chapel Ranch) and Missouri (Harry S Truman National Historic Site), he was taken by a gradual realization: It was not the majesty but the authenticity and, occasionally, humility of these not-always-stately homes that impressed him most. Our Presidents' lives "are so staged, so scrutinized, that it is hard to separate public persona from private. But to see where they live ...
is to learn first-hand what makes them human," Van Doren says. Fifteen houses later — after Mount Vernon in Virginia, the Coolidge Homestead in Vermont and Sagamore Hill in New York — he was done.
The House Tells the Story: Homes of the American Presidents, a collection of these letters accompanied by evocative watercolors and with a foreword by McCullough, was released this year by art publisher David R. Godine.
Rose Kernochan BC'82
Foreword
Adam Van Doren is one of those people who has such enthusiasm for a variety of interests that he is himself invariably interesting. Added to this is a grand sense of humor and great talent as an artist.
He lives with his family in New York, teaches a popular course in watercolor painting at Yale, and keeps in touch with friends with illustrated letters that are treasures.
Adam and I first met at a reception in New York and found we shared a common interest in architecture and painting, and it was not long after that the remarkable letters began arriving, mostly about Boston and Yale to begin with.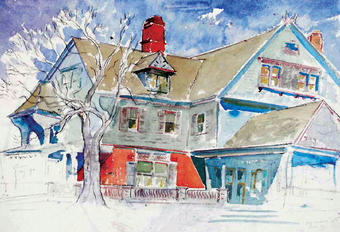 Sagamore Hill, home to Teddy Roosevelt, in Oyster Bay, N.Y.
The first of those letters chronicling his tour of the homes of the presidents was dated November 22, 2011. And clear it was from the start that he was off and running in grand spirit. There was nothing imitative about the letters. They were just as he is, refreshingly observant, good-hearted, entertaining, alert always to those details that distinguish one setting or one individual from another.
The homes of our presidents have, of course, been photographed time and again over the years, but with his eye for architecture and the human element, not to say his distinctive sense of humor, Adam presents these historical landmarks, as well as their former occupants, in a manner quite his own. He sees them anew, and consequently, so do we.
The letters kept coming. Of the forty-two presidential homes open to the public, plus a few that are not, he traveled to fifteen. Some he was seeing for the first time. Others he had visited before, but never to study and sketch.
He started with Franklin Roosevelt's house at Hyde Park, New York, on the Hudson. It was his first time there and I love that right away he singles out the formidable portraits of FDR's mother and wonders how it must have been for Eleanor Roosevelt to have had to face them every day. Empathetic note is made, too, of FDR's beloved Fala, and with understanding comment on what the little dog's companionship must have meant to someone with the weight of the world on his shoulders.
Setting foot in the habitat of a major historic figure, moving from room to room, paying attention to details, you nearly always feel another level of understanding of the human being who lived there. It is a degree of appreciation to be found in no other way, in my experience. And it is this that Adam's letters convey page after page, in both what he writes and his lively watercolor sketches.
Fair to say that in all these houses one feels acutely the presence of their former occupants, but at none more so perhaps than Sagamore Hill at Oyster Bay, Long Island. Sagamore Hill is big, rambling, full of books and hunting trophies — elk and moose heads, elephant tusks — a house chock full of Theodore Roosevelt. There is never a question of who lived there.
A highlight of Adam's two letters from Sagamore Hill is his account of working alone out on the grounds one morning, concentrating on a watercolor of the house while trying to cope with the stiff winds of a November day. ("The ghost of Teddy?" he wonders.) Suddenly a voice speaks to him from behind. "Nice work. Keep it up." Turning, he sees Teddy himself — or rather, an actor dressed for the part, James Foote, who does dramatic recreations on the site.
Taken all together there never has been a tour of the presidential home places so refreshing as this, or one conducted by so congenial a tour guide.
David McCullough
---

Sagamore Hill, Oyster Bay, New York
Teddy Roosevelt (1858–1919)
[term of office: 1901–1909]
Sagamore Hill is an elegantly designed, perfectly proportioned Queen Anne house, a masterpiece of late shingle-style architecture. It is not, however, what many people expect Teddy Roosevelt's house to look like. They envision a Parthenon-sized log cabin with massive timbers and boulder chimneys. TR, after all, was the swashbuckling hunter of big game, the larger-than-life hero of San Juan Hill, the colossal face on Mount Rushmore. But this is Oyster Bay, not Mount Olympus. Roosevelt had titanic energy and a notoriously fiery temperament, but he was equally capable of tenderness and subtlety; he loved poetry (a champion of Edwin Arlington Robinson) and was deeply affected by the beauties of the natural world. His house is full of books, artwork, and souvenirs from a life that reveals and confirms a thoughtful, even sentimental figure. Of all the presidential homes I have visited, Sagamore Hill is perhaps most remarkable for the many original personal objects that are still present, and they provide revealing insight into his wide-ranging, if not contradictory, character. There is a gun room upstairs, for instance, where he collected Winchester lever-action rifles. He was fond of hunting big game out West; and yet, ironically, this was the same man who also founded the National Parks.
At the side of the house, there is a generous porte-cochère supported by sturdy wood columns. It evokes images of the Roosevelts arriving for the summer by horse and carriage from Manhattan, all six children in tow. I could only imagine what the sweltering heat of the city must have been like in 1890, with the redolent odor of horse manure — and worse — filling the streets. The cool shade of the large overhang and the sweet smell of the evergreens must have felt wonderfully restorative. It was the closest thing to air conditioning one could experience in the nineteenth century.
Entering the wide front hall, I felt as if I were embarking on a great adventure. The rooms on the first floor have a decidedly more virile quality than the exterior of the house: this part is pure man-cave. Mahogany beams and dark walnut moldings create a smoky atmosphere, like some back room of a Bull Moose Party gathering. The entrance to the large sunken living room, with its high vaulted ceiling, is punctuated by two great elephant tusks thrusting upward. Hunting trophies with jutting antlers line the walls, and animal skins cover the floors. I could name at least some of the slain creatures: elk, bighorn sheep, rhinoceros, wolf, antelope, moose, cougar. Where was my Panama hat and machete, after all? I felt like I was in the American Museum of Natural History in New York. But then again, and not surprisingly, Teddy was one of its founders.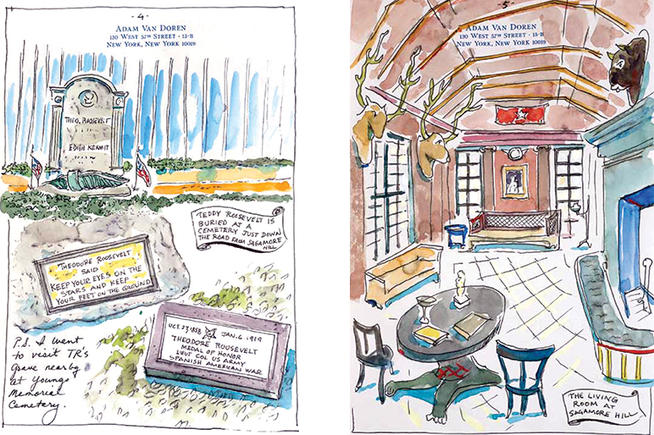 The library parlor is less dramatic, and more intimate. I was given special permission to sketch it, as long as a ranger sat beside me. The supervision seemed excessive, but I was happy to oblige. Family portraits hung above three-quarter bookcases and a fireplace with arched brickwork. By the window was a rocking chair in which TR presumably relaxed; though I imagine, given his restless nature, he never sat for long. He was too busy plotting another safari, running a campaign, founding the Progressives. My friend Roger Angell, a writer for The New Yorker, once told me that Roosevelt suffered from manic depression and that's why he was always on the move, to distract himself from his own black moods. Kay Jamison, the author of Exuberance, characterized TR as "hypomanic on a mild day."
Roosevelt, despite his privileged, Gilded Age upbringing, was no stranger to tragedy. His first wife, whom he adored, died in childbirth (the same day his mother died). "The light has gone out of my life forever," he wrote in his diary. In order to submerge his grief, he requested, in true Victorian fashion, that his family never utter her name again. No doubt Freud, who emerged on the scene only a few years later, would have had a field day with this repressed notion of how to deal with loss.
After stepping out onto the back porch, with its sweeping view of the Hudson, I walked down the sloping green lawn and set up my drawing stool near the flagpole — the same pole which rises above the graves of TR's sons, Quentin and Teddy, Jr., who died in World Wars I and II, respectively. Some of the children visiting the grounds took a break from sightseeing and seized the opportunity to roll down the incline in teams. I imagined the house as it once was, alive with Roosevelt's kids. Teddy once wrote to [his son] Kermit in 1904, "[No] matter how things came out, the really important thing was the lovely life with Mother and you children, and that compared to this home-life everything else was of very small importance from the standpoint of happiness." (Kermit became a soldier and a businessman; daughter Alice became a writer and socialite; Archibald a distinguished army officer; and Ethel a World War I nurse who led the efforts to save Sagamore Hill).
When the coast was clear and the children had stopped careening past me down the hill, I began drawing my picture. I had just reached my stride with the pencil when I heard a deep basso voice behind me remark, "Good job!" Startled, I turned around and to my astonishment it was — TR himself! He was short and stout with spectacles, and wore his trademark wool vest and riding boots. In actuality, it was the actor James Foote playing the part. He visits the site once a month to entertain tourists, bringing the president back to life with an uncanny likeness. Foote is very convincing; he certainly had me fooled. In my mind's eye, I saw the real Teddy, bellowing with his hearty laugh, his squinty eyes, and his lust for life.
From The House Tells the Story by Adam Van Doren. Reprinted by permission of David R. Godine, Publisher, Inc. Text copyright © 2015 by Adam Van Doren. Illustrations copyright © 2015 by Adam Van Doren. Foreword copyright © 2015 by David McCullough.