Cover Story
Beating Bias
By Alexis Tonti SOA'11
A 15-minute writing exercise, done by African-American students in seventh and then again in eighth grade, can make a difference in whether they go to college.
That's the powerful message Associate Professor of Psychology Valerie Purdie-Vaughns '93 has just delivered at the start of the keynote lecture at Dean's Day in May. Purdie-Vaughns is an expert in the causes and consequences of what could loosely be called insider-outsider dynamics and, 10 minutes into her lecture, the atmosphere already feels more like a TED Talk than a standard classroom address. She paces and punctuates her speech with the ease of a natural storyteller. The stillness that settles over the almost 200 attendees is telling: Everyone is paying attention.
The context for the study being explained is critical. These students, a mix comprising mainly whites and African-Americans, attend an inner-city middle school outside Hartford, Conn. Typically its sixth graders start out doing equally well but as they move through seventh and eighth grade, a difference in the performance of the two groups appears and widens — the oft-cited achievement gap.
In this case, Purdie-Vaughns and her team had a subset of the roughly 200-member seventh grade class participate in what they term an affirmation exercise. It asked the students to reflect on and write about their most important values, such as athletic ability, creativity, religion or sense of humor. Wrote one girl: "My family, I can't live without them. My friends, I am my real self around them (and my sister). I can be silly, goofy and weird and they don't care, they accept me for who I am." The rest of the class served as the control group, writing instead about their least important values and why they might be significant to someone else.
Ultimately, the students completed four of these affirmations over the course of seventh and eighth grade. A transformative effect was evident in the minority students' report cards by the time they graduated from middle school — but the stunner came seven years later, with college enrollment. Of the control group, 80 percent of white students and 76 percent of black students were attending college. For whites in the "affirmed" group, the number hovered around the same level as their control counterparts. For African-Americans, however, it climbed to 87 percent.
The explanation behind this change in academic trajectory is complex, and during the next hour Purdie-Vaughns carefully lays out the factors at play. She describes the nature of the self and of stereotype threat — a person's awareness that he or she may be contending with a negative stereotype, such as the notion that African-American students do poorly in school, or fear of doing something to inadvertently confirm that stereotype. She explains how this threat can hurt both the physical and mental health of people on the receiving end, and how its existence and potency changes depending on the situation. And, as the affirmations showed, she and her colleagues are onto solutions for helping people to protect themselves, in a lasting way, from its most deleterious effects. Purdie-Vaughns also makes clear that this is not a minority story. Everyone experiences stereotyping.
Valerie Purdie- Vaughns '93 delivered the keynote lecture at Dean's Day in May.Photo: Scott Rudd
Purdie-Vaughns works in a large windowless office at the end of a hallway on the fourth floor of Schermerhorn. It's messy on this afternoon, several weeks after Dean's Day, and she apologizes: books, notepads and paperwork are spread out over a table-turned-second-desk and its chairs, and indeterminate clutter makes sitting on the couch an impossibility. A chalkboard hangs on one wall; bookshelves line two others.
The interesting thing about the office, however, is its history: The room was a storage closet before she claimed it upon arriving at Columbia to be a professor, in 2009, and more than a decade before that it was the place where she worked for three years as lab manager for psychology professor Geraldine Downey. "It has sentimental value for me because this is where I learned to be interested in scholarship," Purdie-Vaughns says. She points to each corner, conjuring where she and three fellow researchers sat.
Indeed, as Purdie-Vaughns tells it, hers is a tale of two Columbias, and the varsity basketball player who was "an underperforming student" never would have imagined the professor sitting here now: director of the Laboratory of Intergroup Relations and the Social Mind, the hub for her research into how differences between social groups affect human behavior; a faculty member with the Robert Wood Johnson Foundation Health & Society Scholars Program; a former research fellow with the Institute for Research in African-American Studies; and a 2014 recipient of the Lenfest Distinguished Columbia Faculty Award for teaching. Purdie-Vaughns also speaks at colleges and companies nationwide and contributes to media from NPR to PBS' Tavis Smiley Show to Fortune magazine and Huffington Post.
Political science professor Fred Harris, who directs the Center on African-American Politics and Society, underscores the value of this last point — especially, he says, given the carefulness of her research and caution when interpreting its implications. "Her work on conscious and unconscious bias is important," he says. "Particularly with the events of the past year, with the incidents of police misconduct and police violence against people in this country, I think her research becomes much more relevant. She is one of the rational voices out there in the public realm."
Downey notes, "Valerie is a social psychologist, but what differentiates her is that she links it to really pressing social problems and has a really good understanding of what it's like to come from a minority group. She can get into the heads of people and understand how what they're doing is shaped by the context they're in."
Purdie-Vaughns herself volunteers that she has struggled with questions around insiders and outsiders her whole life. She grew up in a lower-middle class, largely Italian neighborhood in Brentwood, N.Y., on Long Island — a railroad track town, she says, with whites on one side of the tracks and blacks on the other; hers was the first black family on their block. Her mother was a third-grade teacher and her father was an engineer at nearby Long Island MacArthur Airport; brother Vincent is 1½ years older.
"My parents spent a lot of time and energy, I can see now, trying to both raise black children to be aware of who we were as racial beings but also to protect us from a lot of the things that were happening in our neighborhood, some of them being really unpleasant," says Purdie-Vaughns.
She shares an anecdote from when she was in fourth grade and auditioning for The Pirates of Penzance. She and a white girl were the finalists for the lead female role, and she recalls the music teacher telling her, "You're the best and you should be the head actress, but you're black and the part can't be for someone who looks like you ... so we're going to make you the lead musician so you're not on stage."
Purdie-Vaughns shakes her head. "I didn't tell my parents but I remember thinking, why does it actually matter? You're acknowledging that I'm the best actress but I don't look like what you think it should be ... your imagination can't be stretched to think about what I could be in this role?"
Purdie-Vaughns was recruited by Columbia to play basketball — power forward — which became the anchor of her undergraduate experience. (At nearly 6 ft., she recalls with a laugh that her original sport was gymnastics.) Of the lessons of athletics, she says, "I wouldn't be a candidate for tenure if I didn't play sports; that was how I learned how to compete — the mental discipline, being able to push yourself, being able to do something that you never thought was possible."
Academics were another matter. "I wanted to do well enough to not get kicked out," PurdieVaughns says. "I thought getting into college was the end game, not the beginning of something else. I'd never even met anyone who had a master's degree — maybe one of my parents' friends? — and I wouldn't have known what that meant, or why you would need to have one."
"I realized I had different ideas about research questions because I have a different way of seeing the world, because I myself am a minority," says Purdie-Vaughns.
Her plan was to be a teacher, and after graduation she took something of a related job with the I Have A Dream Foundation, running a program that created mentoring and summer camp programs for third-graders in under-resourced communities. In 1996, when she wanted to learn how to track her students' progress in school across the longer term, to see if they made it to college, she turned to "the only professor I felt comfortable coming back and talking to" — Downey, with whom she'd taken an abnormal psychology class. The conversation piqued Purdie-Vaughns' interest and she soon decided to leave the foundation for a job in Downey's lab.
Downey's research at the time centered on understanding teens' transition from friendships to romantic relationships. Purdie-Vaughns quickly became excited by the work. "I realized I had different ideas about research questions because I have a different way of seeing the world, because I myself am a minority. And that was when I realized I had something to say to this thing called the research community."
She also discovered that "being a researcher is like Wendy Williams, just a nosy person who wants to know the answer." She laughs. "You can be a reporter, a researcher, a talk show host — the difference is just the training, learning the methods to go answer the questions."
She soon began thinking about graduate study, and Stanford appealed to her for the opportunity to work with social psychologist Claude Steele. A leader in the field, Steele was among the first to establish and explore the concept of stereotype threat. (He also was Columbia provost from 2009 to 2011.) Purdie-Vaughns' parents were by then divorced and, wanting the chance to meet Steele before applying, she persuaded her mom to take her and her brother on a California vacation, hiding her motive all the while. Purdie-Vaughns then camped outside Steele's office one day until he had time for a conversation.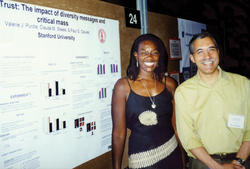 Social psychologist Claude Steele was Purdie-Vaughns' Ph.D. adviser at Stanford.Photo: Courtesy Valerie Purdie-Vaughns '93
"He was known for his work showing that stereotypes are a big part of the story of what adds a unique form of stress for minority students, and that this stress undermines performance," she says. "My entire life, I had always thought that minority students underperform because they come from bad homes or because they had bad culture, bad study habits. I never thought about the idea that there was something in the environment that has to do with bias that can be the cause of this underperformance.
"It was an epiphany to think you could capture this thing called social context that could tell you about the amount of bias in the environment, and then that would in turn tell you something important about human behavior."
Purdie-Vaughns earned a Ph.D. in social psychology from Stanford in 2004, with Steele as her adviser. ("If you accept me, I will never disappoint you," she recalls saying to him, adding, "I don't know; I hope I haven't.") She then was an assistant professor in the psychology department at Yale until 2009, when she came to Columbia.
Purdie-Vaughns underscores that she wouldn't be in her position without the support of her family: her mother, Shirley Purdie; husband, David Vaughns, a social worker and family therapist; and daughter, Marin (7). "When I applied for my first job, my husband listened to my job talk 26 times. It's insane that I would practice 26 times, but it's insane that he would listen 26 times. And my mom, who's almost 80, has been watching my daughter since she was born.
"I didn't come from a wealthy family. I didn't have all this day care and extra support. It's been amazing. It's important to know, it's not each one of us alone."
These days, Purdie-Vaughns is interested in any idea that connects identity, and the stressors that go with identity, with human behavior. "The way I like to think about it is: How does the dynamic of insiders and outsiders get set up in institutions? What does it look like, how does it feel, and what are the costs of that?"
"To me, these are the most important discussions of our time," Purdie-Vaughns says about the need to understand and find ways to improve intergroup relations.
This insider-outsider dynamic can assert itself in instances of race, age, gender, ethnicity, religion, sexual orientation and more. Along with the minority achievement gap, Purdie-Vaughns has studied women in the sciences, gender and negotiations, racial health disparities, concealment in the workplace by members of the LGBT community, the meaning of national identity and how it affects immigrant citizen relations, and people's propensity to associate blackness with criminality, and conversely, criminality with being black. She and Downey are embarking on a project with formerly incarcerated individuals and their capacity to find work.
"To me, these are the most important discussions of our time," she says, citing examples from the past few weeks alone: the church shootings in Charleston and President Barack Obama '83's response to them; the revelation that an NAACP leader deceived people about her race; and the U.S. Supreme Court's ruling that same-sex couples are guaranteed the right to marry.
And though every situation comes with its own particularities, Purdie-Vaughns says, there are common themes.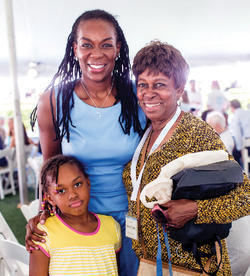 Purdie-Vaughns with her daughter, Marin, and mother, Shirley Purdie.Photo: Scott RuddFor example, the source of the bias almost always starts with the institutions in which people find themselves. Consider a 50-year-old at a Silicon Valley company; he sees his much younger colleagues arrive to work on bicycles or scooters, or sitting around on giant inflatable green balls. "That tells you something powerful," says PurdieVaughns. "It's visual, it's immediate. It's not policy, and yet it's saying: 'You don't belong there.' We need to be thinking, 'What is it about institutions that make people feel like they don't fit in?'"
Second, contending with bias hurts physically. The resulting stress can manifest in ways from extending the time it takes to recover from a cold to contributing to early onset heart disease and increased risk for heart attack. "Just like people know that eating enough potato chips puts you at higher risk for all kinds of cardiac problems, enough stress will have similar effects," she says. "And it's not just stress — the stress associated with bias in particular. I always laugh when I see policies coming out of Congress or the New York State Senate, aimed at getting people to exercise. If you think about where the health payoff is, I would put my money on reducing bias and discrimination because it takes such a toll on mortality, health, psychological well-being, how we treat our children."
The last commonality, she says, "is why I study this: it's not that hard to change." The key is to eliminate either the stereotype or the stress that comes from it.
To help with the former, she advocates for structural changes in institutions. Diversity in the workplace, for example, may be increased by switching to cluster hiring — interviewing for and filling multiple positions at once — instead of hiring for individual positions. (People operate in a different mindset when they are considering groups, she explains: They think instead about teams, who fits best together and how there are many ways to define "best," rather than fixate on some prototypical employee ideal.)
As for easing the stress of stereotype threat, the psychological armor described in her Dean's Day lecture is one strategy; it causes students to reappraise their capacity to cope, with a ripple effect that ultimately puts them in better position to focus on schoolwork.
"You can protect minority students, women, LGBT [individuals], from the stress of stereotypes," Purdie-Vaughns says. "There's a lot of work that can be done. The key is getting it out of the laboratory and into practice. That's hopefully the next big part of my career: integrating the world of academia with the world of policy."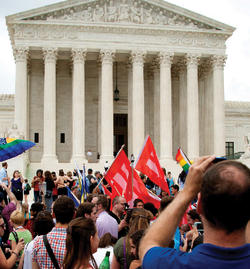 Gathering outside the U.S. Supreme Court after the ruling that same-sex couples have the right to marry in all 50 states. Photo: Rena Schild/Shutterstock.com
Purdie-Vaughns dreams of building a center at Columbia where people interested in policy, journalism and both basic and applied research would come together for discussion. Her media appearances are another way of increasing understanding about the causes of bias as well as raising awareness of potential solutions. "I don't even think my opinion is important when I go on these shows," she says. "I like to bring the science — to say, we can talk about these issues but psychologists study them, rigorously, and there are scientific answers to these questions."
Of course, Purdie-Vaughns also is having an influence through the classroom and in her research lab. She regularly teaches "Introduction to Cultural Psychology" and "Cultural Psychology in the Public Interest" in addition to graduate courses. Her lab engages postdoctoral and doctoral students as well as postbacs and undergraduates, the latter through the Lobel Fellow Program. Now in its second year, the program provides funding for up to four undergraduates to work in her lab every year, including 15 hours a week during the school year and full-time in the summer.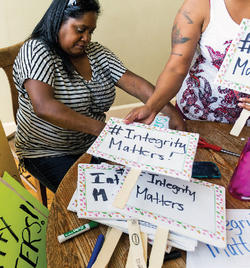 Preparing for a rally in Spokane, Wash., in response to news that the head of the local nAACP chapter lied about her race. Photo: Shawn Gust/Coeur D'Alene Press"Columbia students care deeply about something in the world. It may not be the thing that I care about," Purdie-Vaughns says, laughing, "but they care about something — and they're going to get you on board." With that in mind, she adds, "My goal is to turn on every student in all my courses once — just one day — to get them to think a little bit differently. That's a lot of students, that's a lot of days! But that's what I ask for."
Former lab manager Nick Camp '09 attests that Purdie-Vaughns' passion is contagious and her philosophy inspiring. "What I really learned from Valerie is that research, when it's done right, has something to say to society and something to give back to society — and vice versa," says Camp, now a Ph.D. student in social psychology at Stanford.
"Dynamic is a clichéd term but Valerie has the most positive energy of any academic I've known," he adds. "She is constantly in motion and you can feel the energy in the room change when she enters; there's a spark there."
Downey agrees — "she pulls people along with her" — continuing, "Valerie has a capacity to communicate that's presidential. She's able to speak to the public in the different ways that are needed, to do it for broad and different audiences — not just [translating it into] layman's terms, but whomever the audience is; she seems to be able to make that switch."
Both qualities were on display during PurdieVaughns' Dean's Day lecture, as was the excitement generated by her research. She gamely took a 20-minute detour for questions in the middle of her talk, criss-crossing the room and half-jogging up the stairs to get closer to each questioner — then let the 15-minute Q&A portion run double. Afterward, attendees queued for more conversation; Purdie-Vaughns clarified concepts, shared her email address freely and invited one high-schooler to get in touch for a tour of the research lab. An hour passed before the last person said goodbye.
Purdie-Vaughns later reflected, "I'm looking at Columbia students across a 50-year span and I'm thinking, 'Wow, this is our brand. This is what a Columbia student looks like.' They're asking questions, they're attacking my theories. At the same time, they're cheering me on, totally respectful. They're being inspired, and they're inspiring. It blew me away."
She added that the outpouring of positive reactions was overwhelming. "I'm not an emotional person, but I went home and tears were running down my face. It was an amazing day and an amazing moment. I realized, 'I'm an insider. ... I am a Columbian.'"
View a talk by Purdie-Vaughns on bias and brain science.
Alexis Tonti SOA'11 is CCT's managing editor.