Features
Clock Spotting
From doorway adornments to under-eave hangings, timepieces grace the campus' oft-overlooked spaces.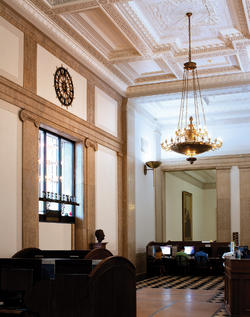 Butler, main deskThose who live on the academic clock often mark the passage of time by the progression of fall and spring semesters, midterms and finals, Convocations and Commencements. Meanwhile, summer, which on Morningside Heights lasts from late May to late August, seems to exist outside of time altogether.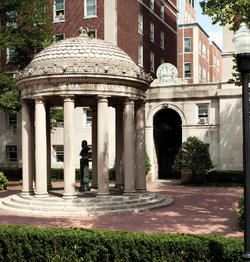 Van Am QuadCampus empties, the pace of life eases and a comparative quiet settles over the paths and green spaces. Buoyed along by these warm and mind-wandering days, it's hard not to think about time — how it's measured and the many reasons, despite the steady tick of the second hand, it feels like it speeds up or slows down. With that in mind, we went beyond that most familiar of campus clocks, the Sundial, in search of spots that actually do (or did) count the University's minutes and hours. This photo essay features some that we found, complemented by a new series of poems titled The Big Clock: Ten Haiku by David Lehman '70, GSAS'78, the editor ofThe Best American Poetry series.
Alexis Tonti SOA'11
Havemeyer 309
Camp Columbia Sundial in front of Pupin; Schermerhorn; and Hamilton lobby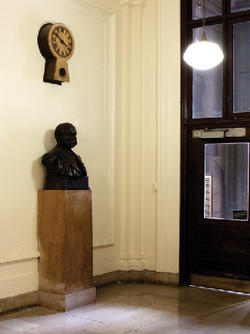 Havemeyer lobby
The Big Clock: Ten Haiku
Comes love but then comes
work, time to work, must leave love
back in the bedroom.
Love is time's foe but
the balance of the battle
hangs on the weather.
Love is time's fool and
the Fool tells truths, lies, and truths
that sound like lies. Poems.
What is poetry
if not chance, work, and time, which
equals love times death?
Love and time are linked
in the realm of aesthetics
and not in real life.
Real time meant reel time
in Holland where I watched High
Noon dubbed into Dutch.
Time's nonpartisan —
it is anti-Semitic
but otherwise fair.
Even if you work
at something you think great, the
time goes by too fast.
The time has come to-
day: time to quit work, go home,
embrace spouse and kids.
The face of time for us who
live in the past is
a big shattered clock.
Poetry: David Lehman '70, GSAS'78; Photos: Jörg Meyer