Features
Switching Sidelines
After nine Ivy League championships, Al Bagnoli has traded Penn's navy for Columbia's light blue
By Alex Sachare '71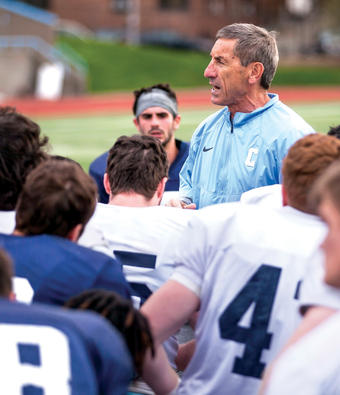 On rare occasions, life gives you a mulligan. You make a decision, things don't turn out quite the way you expect and suddenly you have a chance to do it over and make it right.
That's exactly what Al Bagnoli did last winter. Following 33 years as a head football coach, 10 at Union and the last 23 at Penn — with the Quakers winning nine Ivy League championships — Bagnoli had decided the time was right to pass the torch to longtime aide Ray Priore and step into an administrative role in Penn's athletics department. It was a logical move, but not the right one for Bagnoli.
"I'd always had an interest in the administrative world of athletics," Bagnoli says, "but it wasn't as challenging as I thought it would be. I guess I'm used to a different pace, different responsibilities. After three months, I had experienced it long enough to know it wasn't really for me."
That's when Bagnoli got his mulligan, courtesy of Columbia and an intermediary named Andy Talley, the head football coach at Villanova for the past two decades and previously an assistant coach at Brown. Talley knew Bagnoli well as a Philadelphia football coaching rival. Talley also knew Peter Pilling, who at the time was a candidate to succeed M. Dianne Murphy as Columbia's athletics director; Pilling had been an associate athletics director at Villanova 1998–2002.
"Andy put the two of us together," says Bagnoli. "I think Andy understood my situation at Penn and that I was getting restless, and he might have been stirring the pot a bit."
At a news conference on February 24 in Faculty House to announce Bagnoli as the Patricia and Shepard Alexander Head Coach of Football, the 20th man to head the Columbia program, Pilling revealed that he set the wheels in motion even before he was named Columbia's AD. "I called Andy Talley, the coach at Villanova whom I had worked with, and I gave him a list of some people" Pilling thought would be candidates to head Columbia's football program. "When we reached the end of that list, he said, 'You know, Al Bagnoli may be looking for a job.' I thought that was very interesting. He and I started a dialogue, and when I was appointed athletics director three weeks later, I got on a train to Philadelphia and we met in person to continue the dialogue."
The bold move to hire Bagnoli drew positive reviews around the Ivy League.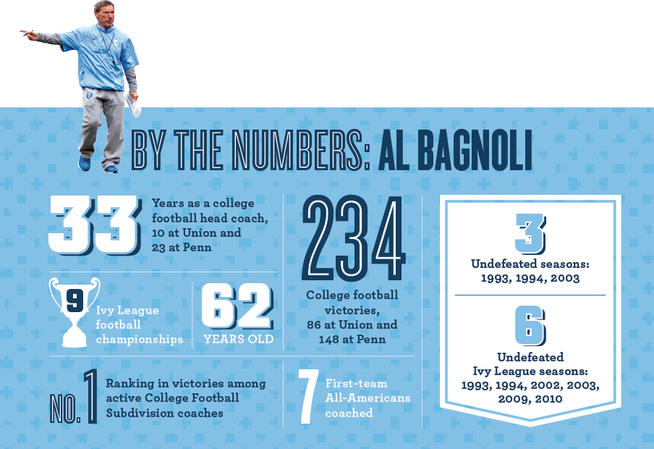 What Pilling found was a man who was restless. "I had the title 'director of special projects,'" Bagnoli says. "I guess I was kind of like the catch-all. I did everything from writing recruiting protocols and financial aid explanations to equipment inventory procedures and football scheduling. When the smoke cleared, I was more meant for coaching than being an administrator.
"It was like being on sabbatical," Bagnoli adds about his time as an administrator.
But when the topic of possibly returning to coaching came up, Pilling noticed a difference in Bagnoli. "He had that fire in his belly," Pilling says. "That was one of the things that struck me as a real positive."
Bagnoli was the only coaching candidate that Pilling met with, and his hiring was accomplished in a matter of days. The bold move drew positive reviews around the Ivy League, as typified by this reaction from longtime Harvard coach Tim Murphy: "This is a great statement saying football is important at Columbia. In Al they are getting an outstanding veteran coach who will recruit well, get the most out of the kids and represent Columbia in a classy manner."
The 62-year-old Bagnoli, whose teams compiled a 112–49 Ivy record at Penn including three undefeated seasons and who has an overall head coaching record of 234–99, knows full well that Columbia football has not enjoyed that kind of success. "If you like challenges, this is it," he said at his introductory news conference, drawing a laugh from the crowd. But he feels there is a commitment at the highest levels of the Columbia administration to turning the football program around and is confident he will have the resources to do so.
"I knew the whole thing would have to change radically," Bagnoli says. "If they were going to do business as usual, they were going to run into the same problems. If there wasn't that commitment in terms of finances and attitude and other things, then I didn't want to be involved. But I really became intrigued after speaking with Peter Pilling and President [Lee C.] Bollinger and hearing their commitment to doing things the right way, and I realized that this could be right for me."
Step one, Bagnoli says, is "making football fun again" for Columbia's players. "Practice has to be the best two hours of your day."
Football has not been much fun at Columbia for a while, if you equate fun with winning. The Lions have lost their last 21 games and were outscored 389–103 last season. Columbia's last winning record was in 1996, and it has enjoyed just five winning seasons since the Ivy League began football competition in 1956.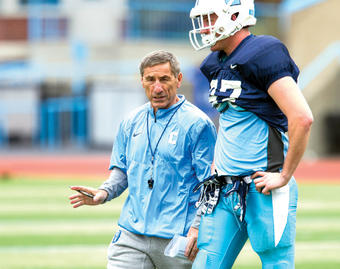 Bagnoli at practice in April. photos: Mike McLaughlin
"There has got to be a cultural change," Bagnoli said in an interview in July, as he prepared for his first Columbia campaign. "We already have been able to do some things in terms of strength and conditioning coaches, practice times, things like that, which are relatively easy. The harder thing in terms of the kids is getting them to really enjoy football. It can be really discouraging when you're not enjoying much success. We needed to loosen up the reins."
Toward that end, Bagnoli assembled a staff of assistants that includes some coaches he worked with at Penn, some coaches with experience at other Ivy League and Patriot League schools, and "some guys with other backgrounds for new ideas. It's a nice mixture of people from various backgrounds," he says.
Bagnoli was encouraged by what he saw at spring practice in April, where one of his goals was to get a firsthand look at the returning players. "So far, so good," he said after the first day of workouts. "We didn't want to go into spring football with any biases or preconceived notions. We want everybody to have a clean slate and take it from there. We want to figure out whether we have kids at the right positions or whether we should shuffle things around. We're really going to try to tailor things around what kids can do well, what they are comfortable doing, and then try to expand on that."
Although Bagnoli arrived at Columbia late in the recruiting season, he was able to add two first-years and several transfers to the first-year players who had been recruited by interim coach Chris Rippon, former coach Pete Mangurian and their staff. And since arriving on Morningside Heights, Bagnoli already has gotten several prospects to commit to Columbia for 2016.
Asked in July to look ahead to the coming season and assess the team's strengths, he said, "Coming out of spring ball, once we get our defensive line intact, that's going to be a good unit. With Hunter Little '16 and Chad Washington '16 coming back to join Niko Padilla '16 and the rest of the guys we have, that should be a strength. Our kicking game, especially our punters, looked good in spring practice. And the offense did a really nice job adjusting to a new offensive system.
"We're cautiously optimistic. I'm very pleased with the work ethic and the attention to detail that I've seen."
Columbia opens its season at Fordham on September 19, with the first home game against Georgetown the following week. The Ivy League campaign begins at Princeton on October 2 and features a Homecoming matchup against Bagnoli's former team, Penn, on October 17.
Realistically, how would Bagnoli ask fans to judge the program's progress this season?
"Part of that is the won-loss record, of course," he says. "But you want to look at some different things as well — are we scoring more, are we giving up fewer points, are we gaining more yards and giving up less, do the kids play hard the whole game, what's the morale of the team? Those are things you look for. You have good morale if the kids are playing hard the whole time, and that helps your retention rate. You've got to be able to hold onto your players and develop them over the long haul.
"This place has great potential. The longer I'm here, the more I believe that."
Columbia can thank a veteran coach from Philadelphia's Main Line for helping to get Bagnoli out from behind a desk and back on the sidelines in coaching gear.
"Andy Talley was the matchmaker, and we owe him some nice Italian meals," says Pilling.
Alex Sachare '71, Columbia College Today's editor in chief, has seen 11 Columbia head football coaches since entering as a freshman in September 1967.