Message from the Dean
Lessons from a Campus Landmark
Meet at the Sundial" may be one of the phrases most frequently used by Columbians. It's the best-known spot on campus. You may not be able to direct a visitor to Casa Hispanica, or maybe not even to Havemeyer, but there is no doubt you could give directions to the Sundial. We know the landmark so well, it's so familiar, that we don't actually think much about the Sundial.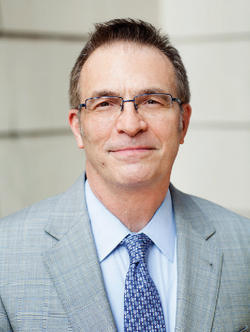 PHOTO: MATTHEW SEPTIMUS I recently found myself contemplating the Sundial when I learned that this issue of CCT would have a photo essay featuring clocks around campus. Sundials are of course the precursors to mechanical clocks and have been in existence for millennia, used for telling the time of day. Not our sundial. It no longer has a gnomon — typically the blade-like piece that projects from the sundial's face — to cast the shadow that reveals the time. But even when it did have a gnomon, our sundial was used to tell the date, not the time of day. Harold Jacoby (Class of 1885, GSAS Class of 1895), who became chair of Columbia's astronomy department, conceived it that way. The Sundial was his class' gift to the University upon its 25th reunion. Its gnomon was an immense granite sphere, which sat grandly at its center until 1946, when it developed cracks, and the prospect of 15 tons of granite falling on a passerby suggested its removal would be wise.

Even though the Sundial's function and gnomon were both unconventional, anyone viewing it would have seen its physical operation as familiar. The shadow it cast moved in a clockwise direction when looked at from above. The rotation of the earth made it so. And the revolution of the earth around the sun made it possible for Jacoby's sundial to indicate the date.

Our revolving earth makes many things predictable, in the sense of the recurrent: the seasons, the calendar and the cycle of the academic year. This is the College's 262nd year; that is a recurrence of which we all can be proud. So, too, can we be proud of this being the Core's 96th year. We can equally be proud that this recurrence means permanence but not stasis, as it should be when one of its anchor courses is called Contemporary Civilization.

This year we are very much focusing on securing the recurrence of our success and abjuring the stasis that would diminish our future. We are working on a strategic plan for the College, a plan that will engage all of us, because that future belongs to all of us. What future is worthy of a college that has existed for more than a quarter of a millennium? What do we need to produce that future? How do we acquire what we need?

Alongside that institutional plan, we are developing a "strategic plan" for every Columbia College student. It identifies a set of outcomes — knowledge, skills, abilities, perspectives, understanding, awareness — that we think every College student should possess at graduation. It also provides a guide for every College student outlining the many opportunities offered by the College that will enable each of them to plot a trajectory to achieve those outcomes — no matter their academic or extracurricular interests.

We would like those outcomes to be as recognizable in every Columbia College graduate as "meet at the Sundial" is to every Columbia College graduate. You could say that we want every Columbia College graduate to be as imaginative as Jacoby was when he conceived a sundial to tell the date, not the time of day. And you'd be right.