Obituaries
Don M. Mankiewicz '42, Film and Television Writer, Novelist
Don M. Mankiewicz '42, an Academy Award-nominated screenwriter and novelist, died on April 25, 2015, in Monrovia, Calif. He was 93.
The son of Herman J. Mankiewicz (Class of 1917), co-writer of Citizen Kane, and the nephew of Joseph L. Mankiewicz '28, a writer and director of films including All About Eve and Julius Caesar, Mankiewicz was born on January 20, 1922, in Berlin, where his father was a foreign correspondent for The Chicago Tribune. He grew up and attended high school in Beverly Hills. Mankiewicz enrolled at the Law School but left to join the Army; he served in military intelligence in France, Belgium and Germany.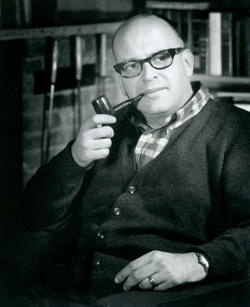 Mankiewicz published his first story in The New Yorker in 1945, thereafter joining the magazine as a staff writer. He wrote his first novel, See How They Run, in 1950. His second, Trial, was published in 1954 and made into a movie in 1955 starring Glenn Ford and Dorothy McGuire. That same year the novel garnered him the Harper Prize. In 1966, he published his third novel, the semi-autobiographical It Only Hurts a Minute, which analyzes his poker skills, said to be considerable.
In 1957, Mankiewicz was assigned to adapt F. Scott Fitzgerald's The Last Tycoon for the CBS television series Playhouse 90, which produced weekly 90-minute dramas. His script for the 1958 film I Want to Live! was loosely based on the true story of Barbara Graham, a prostitute wrongly convicted of murder and put to death in California's gas chamber in 1955. Mankiewicz received an Academy Award nomination for the screenplay, an adaptation of Graham's letters and the newspaper coverage of her execution.
Mankiewicz also wrote the pilot episodes for the successful television series Ironside, in 1967, about a paraplegic detective, starring Raymond Burr, and the medical drama Marcus Welby, M.D., in 1969, starring Robert Young. Mankiewicz contributed later episodes to both. Between 1950 and 1986, he wrote or co-wrote approximately 70 television episodes. These included a first-season episode of Star Trek, titled "Court Martial"; episodes of MacGyver, Mannix, McMillan & Wife and Simon & Simon; and the 1964–65 NBC series Profiles in Courage, adapted from President John F. Kennedy's book.
While living on Long Island, Mankiewicz was drawn to local Democratic Party politics and union activism. In 1952, he lost a race for a New York State Assembly seat but remained active in local and state politics for years. In 1966, he ran as an at-large delegate to the state constitution convention, outpolling one of New York's biggest vote-getters, Sen. Jacob K. Javits, a Republican. As a member of the Writers Guild of America, Mankiewicz helped to gain union representation for quiz-show writers.
Mankiewicz returned to California in the early 1970s. He is survived by his second wife, the former Carol Bell, whom he married in 1972; their adopted daughters, Jan Diaz and Sandy Perez; his children, John and Jane, from his first marriage to Ilene Korsen; and four grandchildren. Mankiewicz was predeceased last October by his younger brother, Frank, a top aide to presidential candidates George McGovern and Robert F. Kennedy as well as the president of NPR from 1977 to 1983.
Karl Daum '15 and Lisa Palladino