Obituaries
Andrew D. Hyman '88, Healthcare Advocate
Andrew D. Hyman '88, a government official, healthcare advocate and philanthropic leader, died on February 24, 2015. He was 49 and lived in Princeton, N.J.
Hyman was born on January 21, 1966, and grew up in Englewood, N.J. He graduated from Horace Mann H.S., majored in history at the College and graduated from Fordham Law in 1991, after which he joined Bill Clinton's first presidential campaign. Hyman served in the Clinton administration for eight years, first as special assistant to the general counsel of the Department of Health and Human Services, headed by Secretary Donna Shalala, and later as the HHS assistant secretary for intergovernmental affairs. From 1998 to 2001, Hyman was the deputy director and then director of the Office of Intergovernmental Affairs at HHS, serving as Shalala's liaison to state, local and tribal governments. His work at HHS also included efforts to combat tobacco use, implement the Children's Health Insurance Program and advise the secretary on Medicaid.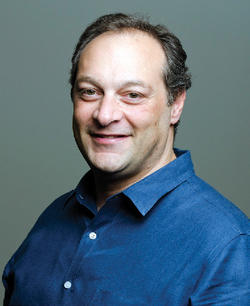 Photo: Peter Murphy/Used with permission from the Robert Wood Johnson FoundationHyman next served as director of government relations and legislative counsel for the National Association of State Mental Health Program Directors, which represents the public mental health systems in every state. In that role, he sought to advance policies that secure positive health outcomes and full community participation for individuals with mental disorders.
In 2006, Hyman joined the Robert Wood Johnson Foundation, where he worked with policy experts, researchers and advocates to help state and national policymakers to enact and implement policies designed to expand coverage. He also worked with the foundation's staff to develop a strategy and design programs to address violence and its impact on children and families, with a particular focus on mental health.
Hyman's passion was ensuring that everyone in America, especially the poor and the underserved, has the coverage necessary to access high quality health care — physical, behavioral or both. He worked tirelessly to create the State Health Reform Assistance Network to help states implement the coverage provisions of the health care law.
Hyman also made sure that consumer advocates had seats at the tables where decisions are made. To that aim, he helped establish Consumer Voices for Coverage, a national program designed to strengthen the role consumer advocates play in state health reform efforts.
A committed board member of HiTOPS, a Princeton-based organization promoting the health and well-being of young people through prevention, education and support groups, Hyman also was active in several philanthropic and Jewish organizations.
Hyman's family and good friends are raising an endowment to create nonprofit and government internship opportunities for students. If you have comments or questions regarding participation, contact Jim McMenamin, senior associate dean for Columbia College development and senior director for principal gifts: 212-851-7965 or jtm2@columbia.edu.
Hyman is survived by his children, Lily and Nathaniel; parents, Valerie and Dr. Allen Hyman '55; brothers, Joshua '85, PS'90 and his wife, Elizabeth, and Jonathan and his wife, Susan, and their families; and former wife, Molly Chrein.
A memorial lecture is scheduled for Thursday, October 15, at 4 p.m. in the P&S Alumni Auditorium, 650 W. 168th St., First Fl. Shalala is scheduled to speak.
Lisa Palladino