Roar, Lion, Roar
Matchup of the Year Highlights Homecoming 2015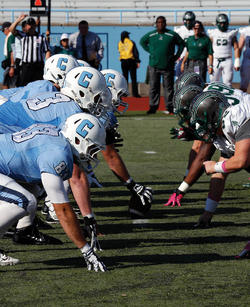 Kickoff is at 3:30 p.m.
Homecoming is always a big day on the fall calendar, but Homecoming 2015 promises to have a little extra juice.
That's because when the Lions run onto Robert K. Kraft Field at Lawrence A. Wien Stadium at 3:30 p.m. to face the Penn Quakers, it will be the first time new Columbia coach Al Bagnoli faces the team he guided for 23 years before resigning last winter.
Bagnoli, the all-time winningest head coach in NCAA Football Championship Subdivision history, led the Quakers to nine Ivy League championships and 148 victories during his successful tenure in Philadelphia. Last winter, he opted to pass the coaching torch to longtime aide Ray Priore and transition to an administrative position in the Penn athletics department. But when Bagnoli discovered that deskwork was not as much to his liking as striding the sidelines, and Columbia came calling, he traded in his Penn navy for the Lions' light blue (see "Switching Sidelines").
Save the Date!
September 26
Football home opener
Columbia vs. Georgetown
October 17
Homecoming
Columbia vs. Penn
The football matchup that both schools' fans have been waiting for since Bagnoli's move was announced in February will cap a big day for Columbia alumni, who will gather starting at noon for the camaraderie and family-friendly programs of Homecoming at the Baker Athletics Complex.
The Picnic Under the Big Tent will take place from noon to 3:30 p.m., with tickets priced at $20 for adults and $10 for children under 12, if purchased by Friday, October 16. A limited number of tickets will be sold on site for $22 and $12, respectively. Each ticket includes an all-you-can-eat barbecue buffet lunch, soft drinks (beer, wine and cocktails will be available at an additional cost) and admission to the Homecoming Carnival, where all Columbians — young, old and in between — may participate in face-painting, balloon-making, magic, games and other activities.
Picnic tickets may be bought online at college.columbia.edu/alumni/homecoming/2015. Tickets for the football game must be purchased separately by calling 888-LIONS-11 or online at gocolumbialions.com/tickets.
At halftime, which should be about 4:45 p.m., everyone is invited back to the Big Tent for dessert and refreshments before returning to the stadium to cheer on the Lions.
The Columbia University Marching Band will rally fans under the Big Tent before the game. Photos: MICHAEL DiVITO
Single-game parking is not available at Baker Athletics Complex and street parking is limited, so the best way to get there is by mass transit. The complex is at Broadway and West 218th Street; take the 1 train to 215th Street, the closest stop to the stadium, or the A train to Inwood - 207th Street. There are often weekend subway changes, so visit mta.info for the most up-to-date transit schedules.
Complimentary shuttle buses will be available from the Morningside campus to and from Baker Athletics Complex. Buses will depart from the gate at West 116th Street and Broadway starting at 11 a.m. and will return to campus immediately following the game.
For more information, please contact Fatima Yudeh, Alumni Affairs: fy2165@columbia.edu.