Alumni Profiles
Dr. Robert Butler '49 Advocates for Older People
By Kim Martineau '97J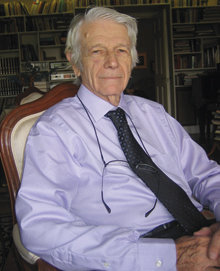 Dr. Robert Butler '49, '53 P&S talks about his work from his New York City living room. PHOTO: KIM MARTINEAU '97JWhile some people live out their golden years on the golf course or at the beach, Dr. Robert Butler '49, '53 P&S has no use for retirement. At 81, Butler still is living the life he preaches. Tall and trim, he continues to champion the needs of older people.
"I'm just as busy," he says.
Butler's pioneering research in the 1960s challenged basic assumptions about aging. By studying the aging process of healthy, older people, he discovered that many of the traits associated with old age were actually caused by disease, poverty and personality.
Butler coined the term "ageism" in 1969 and founded the first medical school department of geriatrics in 1982, at Mount Sinai Medical Center.
In his 1975 Pulitzer Prize-winning book, Why Survive?: Being Old in America, Butler recommended ways for society to improve life for older people. He now runs the International Longevity Center, a think tank affiliated with the Mount Sinai Medical Center in NYC that promotes healthy, productive aging.
On a crisp morning in October, Butler sat for an interview. Later, he would head to Pfizer for a meeting, consult with his accountant on what Wall Street's financial woes had done to his portfolio and answer his mail.
"I always try to be open to people," he says. "Part of my job is to be a teacher."
Butler's latest book, The Longevity Revolution: The Benefits and Challenges of Living a Long Life, came out in March 2008, but already he's thinking about his next, on the philosophy of aging.
In the last century, our life expectancy has grown by 30 years — the largest gain in human history, he explains. Butler recommends we use that time constructively and by that, he means more than squeezing in an extra round of golf per week.
"Butler exemplifies what he's arguing for," says geriatric-health expert Dr. Linda Fried, dean of the Mailman School of Public Health. "We're entering into a new age where people stay active and contribute much longer into life."
In his living room overlooking Central Park, Butler reminisced about the College, where he discovered his gift for words. As editor of Spectator in 1948–49, he wrote editorials and managed the staff, learning discipline and "how to boss people around," he jokes.
Butler credits the Core Curric­u­lum with teaching him to think broadly across subjects, a skill that was vital to his research. In fact, the Core came up so often in conversations with his late wife, Myrna I. Lewis Ph.D. '65 SW, '00 SW, that she convinced Columbia to let her audit the courses in the early 1980s. When Butler later came into a $500,000 windfall, he repaid the favor by donating it to the program.
As a boy, devastated by his grandfather's death, Butler knew he wanted to be a doctor. But it wasn't until medical school that he found his specialty: geriatrics.
Butler was shocked at how little doctors knew about treating older people. He was even more surprised by their contempt. He remembers overhearing some call their frailest patients "crocks," like easy-to-break bowls.
As the age boom continues, Butler worries about the baby boomers. By 2025, a fifth of the country's population will be retired and will encounter a shortage of doctors trained to care for them, he warns, and little progress on the diseases that most afflict them, including Alzheimer's.
Aside from some slight hearing loss, Butler is in remarkable health. His secret, he says, is exercise and drinking and eating moderately. Twice a week he runs on the treadmill in his library and on weekends he walks around Central Park with friends.
A healthy lifestyle, however, offers no immunity against heartache. Butler still mourns the death of his wife of 30 years to brain cancer three years ago. He continued working, but his friends noticed a change.
"You could just see he was carrying a weight on his shoulders — I'd never seen that before," says Dr. Diane Meier, a gerontologist at Mount Sinai who calls Butler her most important mentor.
Lately, though, his bachelor pad has grown livelier. After graduation, Butler's grandson, Brendan Gleason '07, moved in, along with Butler's youngest daughter, Alexandra, who starts at the School of Social Work in January. "I can't sneak girls in with all these young people around," he jokes.
With humor, Butler tries to make light of his grief. But after a few minutes, he admits somberly: "For a long time, I couldn't think of other relationships. I don't think I'd ever get married again."
In his living room, the baby grand piano his wife once played sits silent while the antique clocks she loved to collect measure out time — a reminder of his remarkable longevity but also the price that has come with it.
"Loss and grief," he says, shaking his head softly, "are the companions of old age."
Read an excerpt from The Longevity Revolution.
Kim Martineau '97J is a freelance journalist living in New York.