Alumni Profiles
David Klingerman '72 Harvests His Roots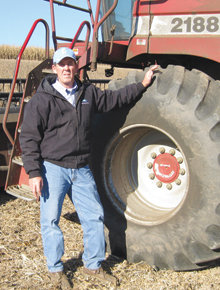 Pennsylvania farmer David Klingerman '72, with tool of the trade Case International Combine, at one of his family's farms during the 2008 harvest season. Photo: David Klingerman Jr.The roads College alumni take out of the gates of Columbia lead to any number of places with any number of opportunities. David Klingerman '72 took I-80 west back home to Mainville, Pa., arriving at rolling hills, wheat-spotted fields and cattle. "I'm what you would call a grain farmer," says Klingerman. "Agriculture is the thing I absolutely love."
Owning more than 1,000 acres, Klingerman is a farmer by trade and by birth. "My dad was born in what's now my bedroom," he says with a deep, slow voice. "It's a family thing. My four kids live on four farms within half a mile of my farm."
Klingerman, who majored in economics, returned to his hometown to begin working with his father on their farm and in their feed mill. Currently, Klingerman Farms, owned and operated by Klingerman, produces soy beans, wheat, corn and beef cattle. It's quite different from the fast-paced, concrete life of New York City. In fact, with a population of 83 according to the July 2007 census, Mainville is not even classified as a city. "It's a township," Klingerman notes, a township whose population is approximately 1.8 percent of the total number of students at the College.
A small-town farmer's son and one of four children, Klingerman chose to attend the College simply because it was in the big city.
"As luck would have it, Henry Coleman '46, the dean of students, was my adviser," Klingerman says. "At the beginning of my freshman year, I went to Hamilton Hall to meet with him so he could introduce himself and explain how he would help with my schedule. He was leaning back on a chair and he looked at my information and said, 'What in the hell are you doing at Columbia?' And I said, 'You know, Dean, I know what I'm doing and where I'm going, so I thought, why not go to New York for four years?'"
Klingerman remembers the day he arrived on campus. "My parents drove away and I just stood on 116th and Broadway. Believe me, there was a shock." That day may have been the last day before his graduation that Klingerman had time to stand around. On top of earning his degree and playing football, Klingerman worked all four years in Columbia food service, even during football season; married his high school sweetheart, Donna, during semester break in 1970; and during his sophomore year, had his first child, daughter Jamie. "It was a busy time for me, believe me," Klingerman jokes. Yet, he says, "It was pretty amazing. And I wouldn't trade it for anything."
As a stand-out high school football player, Klingerman had been recruited by Columbia as well as by others. After visiting some of the schools, he narrowed his choices to Cornell, Rutgers and Columbia, ultimately joining the University as an offensive tackle. When asked about his most memorable football experience, Klingerman recalls it well.
"It was Cornell's homecoming, and we played them at Ithaca the day Ed Marinaro broke the NCAA rushing record in 1971. We ended up losing by 3, but it was an exciting game. I'm not a rah-rah guy at all, but that was a day I almost lost complete control. I really wanted to win. We lost to Harvard by 2 and Cornell by 3 my senior year. But we beat everyone else."
The 1971 Columbia football team was honored in fall 2007 at Homecoming, the first game in 36 years that Klingerman attended since graduating. He bemoans, "Fall is a busy time on the farm."
Farming, though, is just one of the many activities Klingerman spends his days on. In 1981 he purchased a nursing home in Millville, Pa., with his older brother, Doug, and in 1983 he pursued and was awarded his nursing home administration license. Now, Klingerman and his brother own and operate the JDK Management Co., which manages 40 Perkins Restaurant & Bakeries, several hotels and three nursing homes. Because farming is a seasonal activity, Klingerman spends about 60–70 percent of his time working with JDK.
A father of four — Jamie, Jennifer, David Jr. and Josh — and a successful businessman, Klingerman believes his Columbia degree has played a big part in his success. "When I graduated from Columbia, I was proud of it; because when I make a presentation and they see on your resume 'Columbia,' it means something." Education is important to Klingerman, who is a trustee for Bloomsburg University.
Beyond the degree and the College, Klingerman attributes his success to hard work. "We're believers in the old-fashioned work ethic," he says of himself and his family. "I have a great life, and I'm thankful for it." And hard work, Klingerman says, is the "one thing responsible, something more than Columbia but something I took to Columbia."
Klingerman may be a long way from New York City, literally and figuratively, but the small-town farmer's approach to the College and farming are not so different. "You kind of settle in on what you have to do and you just get it done."
Gordon Chenoweth Sauer '11 Arts