Alumni Profiles
Nick Olsen '04, The Deal Hunter
By Roy Cureton '08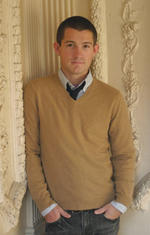 Nick Olsen '04 serves up stylish and affordable design tips in his Domino magazine blog The Deal Hunter. PHOTO: REBECCA PHILLIPSLooking for advice on how to dress up your living room? Nick Olsen '04 can give you some ideas that won't break the bank but will definitely impress. And his advice is in high demand. Olsen's Domino magazine blog, The Deal Hunter gets about 18,000 visitors a month, and the feedback is enthusiastic.
The blog is Olsen's way to spread the word that anything can have high-style potential. "I'm always looking for that diamond in the rough," he says, "something with good design elements that needs tweaking to fit my style, whatever that may be at any given moment."
Even at the young age of 15, in his hometown of Pensacola, Fla., Olsen lived by this idea; he bought his first sofa at a yard sale for $40 and has recovered it twice, with plans for a third incarnation. He's always been interested in things that enabled him to express himself creatively. Olsen took photography and art classes while enrolled in the Pensacola H.S. International Baccalaureate Program, where he explored his dream of becoming an architect, a career aspiration he remembers choosing in third grade: "Perhaps I'd watched too many episodes of Lifestyles of the Rich and the Famous," he jokes. He designed and modeled houses, complete with porte-cochères fit for the model cars he loved so much. And there was the relentless thrift store and yard sale trol­ling, an early sign that Olsen's current moniker, The Deal Hunter, was one he was made for. "I love, love a bargain and even more so the potential in an object or piece of furniture," he says.
Olsen enrolled at Columbia hoping to take advantage of its world-class faculty and the richness of New York City with "a McKim, Mead and White campus a perfect backdrop." He knew little about the school's architecture classes, only that his then-hero, Robert A.M. Stern '60, was chair of the graduate program. In his first year, Olsen created a clothing line that he describes as his "first taste of 'who says I can't' New York-style initiative." He collaborated with hometown friend Carissa Ackerman '04 NYU on the label they named Mandate of Heaven, inspired by Olsen's Major Cultures class in East Asian studies. The two reworked garments in their dorm rooms that they found in thrift stores, and sold the results in boutiques. Ackerman continued the label and currently sells garments in Manhattan and Brooklyn.
The College's art history classes were memorable for Olsen. He says that he is "a bit of a classicist," and recalls classes on Schinkel, Viollet-le-Duc and Le Doux, a Roman art and architecture course and one on 18th-century English gardens. Olsen's "Architecture Criticism" seminar with Suzanne Stephens, though, proved impactful in many ways. Stephens encouraged critical engagement with historical styles and theories and was impressed enough with Olsen's writing to offer him an internship at Architectural Record Magazine. "Suzanne believed in my writing," Olsen recalls. "We've stayed in touch and I'm proud to call her a friend."
From there, Olsen snagged the job of assistant to decorator Miles Red, then creative director of Oscar de la Renta Home and currently an international interior designer whose services have been solicited from France to Wyoming. Olsen came across Red's townhouse in W magazine in 2004, and remembers its creative use of color, the wittiness of the style: "I was so affected by the spread and the lifestyle it projected that I decided to write him a letter … He wrote back immediately and set up a meeting." This, too, proved to be a promising connection for Olsen. In addition to the full-time assistant position, Olsen also got his Domino blogging job thanks to Red, who put in a word for him at the magazine.
Olsen's success with The Deal Hunter can be summed up in one reader's response to the blog: "Nick, I always love your posts. It doesn't really matter what they're about, you never fail to make me smile." Olsen's wit and love for personal expression are staples that keep readers hungry for more. "I love most trends," he says, "but when I start to see them on every other page of a magazine I get bored and my contrarian side comes out. I see a lot of fresh, whitewashed spaces in design mags and it makes me want to live in 'a garden in hell' like Diana Vreeland. Or I start to think, how can we make needlepoint modern? These are the questions that keep me up at night."
Roy Cureton '08 lives in Virginia Beach, Va.