Around the Quads
Eric H. Holder Jr. '73, '76L Nominated as Attorney General
By Alex Sachare '71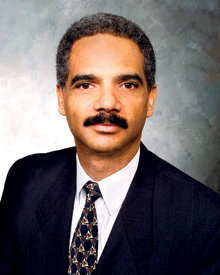 Eric H. Holder Jr. '73, '76L has been nominated to become the nation's first African-American attorney general. University Trustee Eric H. Holder Jr. '73, '76L is a groundbreaker. He was the first black United States Attorney for the District of Columbia and later the first black deputy attorney general. Now he has been nominated by another groundbreaker, President-elect Barack Obama '83, to be the first black attorney general in U.S. history, pending confirmation by the U.S. Senate.
In announcing the nomination of Holder on December 1, Obama said, "Let me be clear: The attorney general serves the American people, and I have every expectation that Eric will protect our people, uphold the public trust and adhere to our Constitution."
Senator Patrick J. Leahy (D-Vt.), who heads the Senate Judiciary Committee and has been a frequent critic of the Justice Department, said Holder was a superb choice to carry out the agency's top priority, "rebuilding morale and public confidence."
Holder was a senior legal adviser in Obama's Presidential campaign and among those who vetted the selection of Joe Biden for Vice President. "I think we share a world view," Holder said last summer in an interview published in The American Lawyer. "[Obama] is not defined by his race. He's proud of it, cognizant of the pernicious effect that race has had in our history, but not defined by it."
Holder, 57, majored in American history at the College and served as a mentor at a Harlem youth center. Upon completing law school, he joined the Department of Justice Public Integrity Section, where he investigated official corruption. In 1988, President Reagan nominated him to become associate Judge of the Superior Court of the District of Columbia, and in 1993, President Clinton nominated Holder as U.S. Attorney for the District of Columbia. As the first African-American to hold the post, he formed community outreach programs to address domestic violence, hate crimes and child abuse.
Four years later, President Clinton appointed him as the first black deputy attorney general. Holder supervised all of the department's litigating, enforcement and administrative components in civil and criminal matters. Under Holder's direction, the Justice Department developed guidelines on the criminal prosecution of corporations (the so-called Holder Memorandum) and the use of the False Claims Act in civil health care matters. At the request of the President, he also created and directed Lawyers for One America, a multi-agency partnership designed to diversify the legal profession and promote pro bono work.
After serving briefly under President Bush until John Ashcroft was confirmed as attorney general, Holder joined the Washington, D.C., law firm Covington and Burling, where he handled, among other matters, complex civil and criminal cases, domestic and international advisory matters and internal corporate investigations. At Covington & Burling, his clients included Merck, Chiquita Brands and the NFL.
Upon confirmation, Holder will succeed Michael Mukasey '63, who served as attorney general under President Bush since November 9, 2007.
"If you look at the depth and breadth of Mr. Holder's career, he's had a tremendous career in public service as a prosecutor, as a deputy attorney general, as a line prosecutor," said John Podesta, co-chair of the Obama transition team.
Since graduation, Holder has been an active alumnus, making repeated trips to campus and devoting much time to the University. Prior to being named to the Board of Trustees, he served on the Columbia College Board of Visitors, participated in the Alumni Partnership Program and helped to support Columbia's first chaired faculty position to focus on African-American studies.