Around the Quads
Jisung Park '09 Wins Rhodes Scholarship
By Ethan Rouen '04J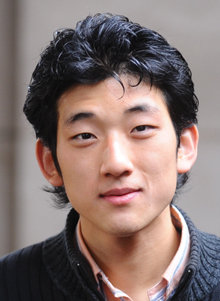 Jisung Park '09 PHOTO: EILEEN BARROSOJisung Park '09 has been awarded a Rhodes Scholarship to pursue an M.Sc. in nature, society and environmental policy at Oxford. He is one of 32 students selected out of a pool of 769 applicants nationwide.
Park, who is from Shelton, Conn., and is majoring in economics and political science, has traveled the world studying sustainable development and the constantly shifting line where environmentalism and economics merge.
"Jisung is an outstanding student," says Michael Pippenger, associate dean of fellowship programs and study abroad. "He has really worked hard to create a curriculum for himself dealing with economics and sustainable development. A lot of the activities he has done have allowed him to test his theories."
Park always had an interest in sustainable development, but says he was particularly inspired by Quetelet Professor of Sustainable Development, Professor of Health Policy and Management and Director of the Earth Institute Jeffrey Sachs' "Challenges of Sustainable Development" class, which he took as a first-year.
Park has traveled to the rainforests of Australia and spent his junior year studying at Oxford. On campus, he is on the editorial board of Consilience, a journal of sustainable development. He also sings in the a cappella Uptown Vocal Group and is on the male practice squad of the women's basketball team.
Park's parents drove to New York immediately after hearing the news of the scholarship to celebrate with him and his friends.
"The best part about this is being able to share it with all of my friends here," Park says. "My professors are all so happy, which has made me really happy, too."
Faculty and students critiqued Park's application and conducted mock interviews to prepare him for the grueling process of winning the most renowned international fellowship for recent college graduates. The award covers all expenses for up to four years as he pursues his degree.
The Fellowships Office at Columbia has helped students and alumni win three Rhodes Scholarships, a Marshall Scholarship and 18 Fulbright Scholarships in the last three years. To read about recent Columbia scholarship winners, visit www.college.columbia.edu/cct_
archive/jan_feb08/quads4.php and www.college.columbia.edu/cct/may_jun08/around_the_quads5.