Around the Quads
Alumni in the News
Barack Obama '83 clearly tops College alumni in the news — you may have heard that he's officially starting a new job in Washington, D.C., on January 20. Joining him as part of his cabinet is attorney general-designee Eric H. Holder Jr. '73, '76L, who has been nominated to head the justice department.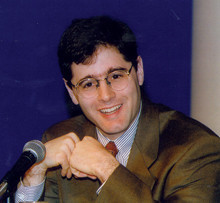 Julius Genachowski '85 A key member of Obama's transition team has been Julius Genachowski '85, a technology expert who was former legal counsel to ex-FCC chairman Reed Hundt and who clerked for Supreme Court Justice David Souter and, before that, for retired Supreme Court Justice William Brennan. Genachowski also spent eight years in senior executive positions at Barry Diller's IAC/InterActiveCorp. and has served on the boards of The Motley Fool, Beliefnet, Website Pros, Mark Ecko Enterprises, Expedia, Hotels.com and Ticketmaster. He is a co-founder of Rock Creek Ventures and Launch Box Digital and a special adviser at General Atlantic.
Genachowski's presence on the Obama transition team was seen as an indication that technology will play an important role in the new administration, perhaps including a Cabinet-level chief technology officer position. "Julius is a true believer in the power of technology to change lives, and I think it bodes well for the Obama administration that someone like him is part of the transition team," Rick Whitt, Google's Washington, D.C., telecom and media counsel, told The Washington Post.
Speculation in Washington was that Genachowski might take a position in the Obama administration once his role on the transition team is completed.
Donald Keene '42, '50 GSAS, University Professor Emeritus and Shincho Professor Emeritus of Japanese Literature, is the first foreign-born winner of the Japanese government's prestigious Order of Culture. Keene and seven others, including three Nobel Prize winners and conductor Seiji Ozawa, received the government's highest honor for contributions to the nation's culture in a special ceremony at the Imperial Palace on Culture Day, November 3.
Keene has devoted almost his entire life to translating and explaining Japanese literature from ancient to modern periods for English readers.
"I am surprised because I thought that foreigners were not eligible to receive the award," Keene said. "I feel that I am receiving this award not personally, but I believe that the country of Japan has recognized the efforts made by foreign scholars of Japanese literature and that I am being given this award by chance."
The three members of the Apollo 11 mission, who were involved in the first moon landing in 1969, were awarded the Order of Culture under diplomatic protocol.
During his long career, Keene has covered a wide range of genres, from the classics, such as Kojiki, the oldest surviving history book in Japan, completed in the eighth century, to the plays of Chikamatsu Monzaemon (1653–1724) and the works of contemporary authors, including Yukio Mishima (1925–70) and Kobo Abe (1924–93).
"Since there were so few scholars of Japanese literature, I thought I had to teach everything about Japanese literature once I was employed at a university," Keene said. "I was so moved by the beauty of the words. The passion to inform others about that beauty is what drove me."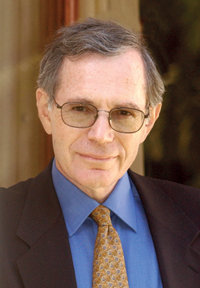 Eric Foner '63, '69 GSAS Eric Foner '63, '69 GSAS, the DeWitt Clinton Professor of History, has been elected to the Board of Directors of the Harper's Magazine Foundation, owner and publisher of Harper's Magazine. Founded in 1850, Harper's Magazine is the oldest general-interest monthly in America.
"Eric is an eminent historian and his perspective is invaluable," observed John R. "Rick" MacArthur '78, president and publisher of Harper's Magazine and president of the Harper's Magazine Foundation. The foundation's board consists of chairman Robert C. Volante, MacArthur, Walter Cronkite, George McGovern, Nikolai Stevenson and Foner.
Foner, who has been a history professor at Columbia since 1982, served as president of the Organization of American Historians in 1993–94 and of the American Historical Association in 2000. He received a John Jay Award for distinguished professional achievement from the College in 2007.
William P. Barr '71, '79 GSAS, attorney general under President George H.W. Bush, retired at the end of 2008 as e.v.p. and general counsel of Verizon Communications.
Barr began working in telecommunications in 1994, when he joined GTE as e.v.p. of government and regulatory advocacy, general counsel. He served in that capacity from 1994 until GTE merged with Bell Atlantic to become Verizon in 2000.
Barr started his legal career as law clerk to Judge Malcolm Wilkey of the U.S. Court of Appeals for the District of Columbia. From 1982–83, he served on the White House domestic policy staff under President Reagan, and then returned to the Washington, D.C., law firm of Shaw, Pittman, Potts & Trowbridge. Barr started with the Department of Justice as assistant attorney general in charge of the Office of Legal Counsel in 1989, and then served as deputy attorney general before his appointment as Attorney General in 1991.
Miguel Centeno '91, v.p. of strategic market development for Aetna, received the LISTA 2008 Corporate Citizen Award from the Latinos in Information Sciences and Technology Association on October 30 in Miami. The award is one of a series that are presented to individuals and organizations that have not only contributed to the Hispanic community but also have supported LISTA's mission to help the Latino-American community attain opportunities that educate, empower and motivate.
Centeno, who joined Aetna in 2007, is responsible for leading Aetna's efforts in the Northeast Region to better serve the needs of targeted growth market small business owners, which are those owned by Hispanics, African-Americans, Asian-Americans, women, and gays/lesbians/bisexuals and transgenders.