Cover Story
New York Governor David A. Paterson '77 Overcomes the Odds
The nation's first blind governor and only the third African-American to lead a state has faced challenges head-on and emerged as a consensus builder in New York and a warm and witty figure on the national stage.
By David McKay Wilson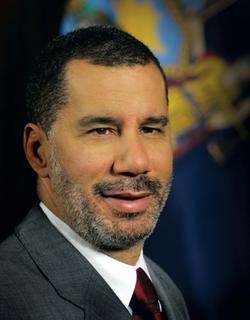 "We need to reamplify the idea of helping our neighbors as we would help ourselves, because our neighbors are ourselves." PHOTO: Judy Sanders, Office of the GovernorFacing 37 reporters, 12 television cameras and six photographers, Gov. David A. Paterson '77 stands ramrod straight at a press conference to explain his administration's ruling that same-sex marriages from other states will be recognized by the state of New York.
It's just two months since Paterson, then lieutenant governor, ascended to the state's top post on March 17 after Gov. Eliot Spitzer resigned following revelations that he frequented a prostitution ring. Republican legislative critics have already begun to attack the state's action, saying it's a way to circumvent the state Legislature, which has yet to legalize same-sex marriages in New York. But Paterson, a longtime supporter of same-sex marriage, says New York is only recognizing legal marriages in other states, as it already does for heterosexual couples.
"It's not an end run around anybody," Paterson tells the media from his midtown Manhattan office. "And if there are legislators who think I'm doing an end run, maybe they should go to the Legislature and actually work on something."
Paterson's retort — a bit sharper than expected from a politician whose accommodating manner stands in contrast to his predecessor's bitingly hard edge — surprises the reporters.
"Whoa!" declares Henry Goldman of Bloomberg News. "All of a sudden, David Paterson is Eliot Spitzer."
By autumn, however, observers were quick to say that David Paterson is anything but Eliot Spitzer. In fact, as New York's 55th governor continues to champion a property-tax cap and call for cuts in state spending to bridge an ever-widening state budget gap, his critics arise from the left as education advocates and public-employee union leaders vow to fight his plans. His tax-cap allies, meanwhile, are Republicans and conservatives who support his plan to rein in school spending.
Through it all, Paterson, the nation's first blind governor and only the third African-American to lead a state has emerged as a consensus builder in New York and a warm and witty figure on the national stage, where he has spoken out for the rights of the disabled, urged federal aid to states and called on civil rights leaders to move beyond those issues to make important contributions to the world.
He has shown ability as a prodigious fundraiser — for his own campaign committee and for the Senate Democrats. He has become an inspirational role model for the disabled and African-Americans. He also has become a favorite of the media, appearing often on television and radio, both on local stations and on national outlets, talking on a board range of topics. One afternoon, you may hear Paterson on WFAN sports radio analyzing the travails of his favorite baseball team, the New York Mets. The next night, you may see him on television, quoting Montesquieu and Thomas Jefferson in a conversation with Tavis Smiley on PBS.
Paterson speaks at ServiceNation on September 11 at Columbia. PHOTO: Darren McGee, Office of the GovernorThe toughest part of the job, Paterson says, is managing his schedule and addressing the flood of demands on his time. Paterson, who is married to Michelle Paige Paterson, splits his time between the Governor's Mansion in Albany and his apartment in Harlem. They have a son, Alex, 14, who attends New York City schools, and his wife has a 19-year-old daughter from her first marriage, Ashley, who attends Ithaca College.
"There are 62 counties of people who want to see you," Paterson says in an interview with Columbia College Today. "Everybody wants a meeting with you, personally. So what if you have 100 staff members who can see them? That's not good enough. There are candidates who want you to raise money for them. And there are media outlets asking for interviews constantly. You just can't manage it in a day, so that's why it's a good thing that there are eight days in a week and 30 hours in a day."
Dean Austin Quigley, Samantha Elghanayan '09, Paterson and President Lee C. Bollinger at the 2007 John Jay Awards Dinner, where Paterson was one of five alumni honored for distinguished professional achievement. PHOTO: EILEEN BARROSOFor the first time in his career in public life, Paterson says he's learning that it's simply not possible to meet all the demands.
"I found that if I really asserted myself, I could do all the things I wanted to do when I was minority leader of the state Senate or lieutenant governor," he says. "Now I'm painfully getting used to the fact that as governor, I can't."
Paterson clearly has his hands full. After celebrating Barack Obama '83's election as the nation's first African-American President and the Democratic takeover of the New York State Senate in November, he was forced to grapple with the dire financial fallout from the 2008 meltdown of the nation's financial system.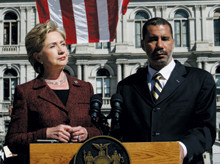 Sen. Hillary Clinton and Paterson honored firefighters who lost their lives in the line of duty at the Fallen Firefighters Memorial in Albany in October. PHOTO: Judy Sanders, Office of the GovernorFor Paterson, the recession and ever-widening budget gap presented his stiffest challenge yet in his first year at the helm of New York's sprawling government bureaucracy. [Editor's note: This story was completed prior to Hillary Clinton being nominated for Secretary of State. Since the governor has sole say in choosing who will serve the remainder of Clinton's senatorial term, this is another issue that will put Paterson to the test.] Two weeks after the election, Paterson called the state Legislature back to session to address a $1.5 billion deficit in the current year's budget while preparing for shortfalls in state revenues in 2009 that will create budget troubles this spring. He has warned lawmakers of a whopping shortfall of $47 billion projected by 2011, but the Legislature balked at any action, unwilling to make the deep mid-year cuts he'd requested.
"He's going to be spiritual and pray a lot. It's going to be tough. The most important thing he needs to remember is that democracy is based on an educated populace. People need to know what's going on. His biggest job is to convey the facts to the public."
The November election changed the dynamic in Albany, with all branches of government in the hands of the Democratic Party. But Democrats in Albany are far from united on what to do to address the burgeoning state deficit. To drum up public support, Paterson has reached out to New Yorkers through Town Hall meetings, such as the one held in early November that was later aired on WNET Channel 13. In the hour-long forum, he fielded questions from the audience and answered with the directness that has earned him high marks among state residents. The handpicked audience of 200 greeted him with a standing ovation in The Little Theater at the Westchester County Center. The governor accepted the applause with the self-deprecating humor that has a way of disarming his opponents.
"I'm very flattered by the reception," Paterson said with a broad smile. "But I'm worried about the reaction I'll get when I leave."
After an hour of questioning, Paterson emerged relatively unscathed in the respectful exchange in which he warned that "everything is on the table" for mid-year budget cuts, including education aid to local school districts. But he ruled out higher taxes for the rich. Then he made himself available to three local reporters who peppered him with questions on local issues.
"David Paterson is intelligent and witty, he charms the average person and he charms the average reporter, and on the whole, he's a pretty straight shooter," says Norman Adler, a longtime public affairs consultant and lobbyist based in Manhattan who knows Paterson through political circles. "If he follows his instincts during the next 12 months, he'll do just fine."
That charm has paid dividends for Paterson, says Justin Phillips, assistant professor of political science at Columbia.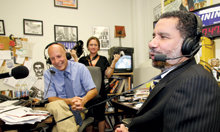 Paterson makes a visit in August to New York Post Albany bureau chief Fredric Dicker's talk show. PHOTO: Judy Sanders, Office of the Governor"The public sees him as a likeable guy," says Phillips. "So far, that's worked for him. He has maintained a connection with New Yorkers, and when it comes to high-profile leaders, their general affect can be almost as important as their policy positions. He's a warm, funny guy who seems open, which is a refreshing change, given the hostility and nastiness that has come out of Albany."
Paterson's image is burnished by his openness to the media. It began a day after he took the oath of office when he acknowledged that he and his wife had engaged in infidelities many years ago. And he has enhanced his reputation through his willingness to engage with the press.
In Albany, he appears often on the half-hour radio show hosted by Fredric Dicker, the hardnosed veteran New York Post bureau chief. On one hot August morning, when the Legislature was back in town to cut $1 billion from the budget, Paterson strode into Dicker's cramped Capitol office in his standard blue pinstripe suit, white shirt and tie, where a clock counts down his time in office — he had 863 days, 13 hours and 52 minutes remaining in his term. He sat in a tattered red leather chair, put on the headset and went head-to-head with Dicker.
Outside the office, the halls of the Capitol echoed with the chants of activists for the disabled, including dozens in wheelchairs, who had settled into the War Room on the Capitol's second floor, within earshot of Paterson's office. Inside the New York Post studio, Dicker tried his best to get Paterson to reveal what's going on behind the scenes. Paterson did not take the bait.
"I try to answer the questions I'm asked and I try to be as available as much as I can," Paterson says later. "There are times when the media is overly simplistic. They have only two questions — are you raising taxes and what [services] are you going to cut? You can't answer those questions because you are having those specific discussions, and whenever leaders have to make decisions, they are not going to let you see who they thwarted in the process because then you make enemies."
Paterson's political instincts were developed at an early age around the dinner table where his father, Basil Paterson, would share his experiences in the rough-and-tumble world of New York City politics, as seen from his leadership perch in the Harlem clubhouse. There, Paterson was among Harlem's powerful political aristocracy in the 1960s and 1970s as part of the so-called Gang of Four, along with Rep. Charles Rangel, Mayor David Dinkins and Manhattan Borough President Percy Sutton. Basil Paterson was a state senator for several terms, was secretary of state under Gov. Hugh Carey and ran for lieutenant governor in 1970 on the Democratic ticket with Arthur Goldberg. An archived news photo captures a teenage David Paterson in an Afro standing at the podium with his father, who is celebrating his victory in the Democratic primary.
Basil Paterson, a labor lawyer with the firm Meyer Suozzi English & Klein, remains close to David, his eldest son. David's younger brother, Daniel, works in the state court system. Basil Paterson understands that David will need all the help he can get in the coming months.
"He's going to be spiritual and pray a lot," says Basil Paterson. "It's going to be tough. The most important thing he needs to remember is that democracy is based on an educated populace. People need to know what's going on. His biggest job is to convey the facts to the public."
David Paterson's roots extend deeply into the United States' African-American past. His mother, Portia, traces her family to the colonial days in North Carolina and South Carolina. His paternal grandmother was secretary to black nationalist leader Marcus Garvey. His maternal great-grandfather was the blacksmith for a mare named Upset, who in 1919 handed the legendary thoroughbred Man 'o War the only defeat of his career in a race attended by 20,000 in Saratoga. Upset's owner, philanthropist Payne Whitney, was so ecstatic with the victory that he bought houses in Brooklyn for the trainer and blacksmith.
"That house was passed down through the family," says Paterson. "That's how they moved to Grand Avenue in Brooklyn."
Basil Paterson recalls that his son had a knack for politics at an early age. When the elder Paterson was running for state Senate in the mid-1960s, his son would man the microphone on the sound truck. As it made its way slowly through Harlem, he would urge voters to pull the lever for his dad.
"He had a clear voice, and you could tell that he really loved it," says Basil Paterson.
His way with words developed as David Paterson came of age in the 1960s, without the benefit of sight. An infection contracted as an infant spread to his optic nerve, leaving him without sight in his left eye and with limited vision in his right eye. Paterson is considered legally blind: his eyesight is rated at 20/400, which allows him to read print held an inch from his eye but not at a distance.
While many children with his vision impairment were sent to schools for the blind, Paterson's parents didn't want their son to grow up within the strictures of the disabled community. Instead, they bought a home in Hempstead, Long Island, so he could attend a school district that made accommodations for disabled students such as Paterson within its regular classrooms. His parents maintained two residences — one on Long Island, where Paterson and his mother lived, and another in Harlem, where his father was state senator.
Paterson never learned Braille nor had a Seeing Eye dog to guide him. Instead, he learned by listening to audio books or by having books and academic material read to him. His keen memory helped him excel in high school and at the College, where his mother and his classmates helped by reading to him when needed. And it has served him well in public office, as he memorizes his speeches and listens to taped messages from aides to keep updated on state policy matters.
Paterson finished high school in three years and began looking at colleges. He took a liking to Columbia, which at the time had a program for the visually impaired sponsored by the state of New York, his father recalls. But after Paterson was accepted and had enrolled, the state discontinued the program in a time of fiscal austerity.
"It was quite a jolt," his father recalls. "It would have paid all his tuition. Luckily, we were able to do it."
At Columbia, Paterson lived in John Jay Hall for three years and in his parents' Harlem apartment as a senior and majored in political science. He readily recalls classes taught by the late history professor James Shenton '49, English professor John Faldo and Nathan Huggins, an expert in African-American history. He also remembers socializing with friends such as Julio Castillo '74, an attorney who now serves as executive director of the Public Employment Relations Board in Washington, D.C.
Castillo, who was born in the Dominican Republic and grew up in Washington Heights, says he and Paterson hung out with other minority students, who formed a close-knit community on campus. It was a time when Columbia had begun an effort to recruit more African-American and Latino students, but they still were a distinct minority on campus. Castillo recalls upper-classmen helping lower-classmen figure out their schedules, sharing textbooks or lending each other a few bucks if someone ran low on cash.
"We were very supportive of each other," says Castillo. "It was a community within the College. We were minority students when there weren't that many of us."
Castillo had a job checking IDs at John Jay, and Paterson would linger and shoot the breeze on his way back to his room.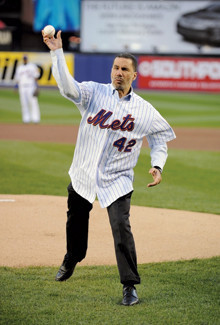 Paterson throws out the first pitch at Shea Stadium last April wearing Jackie Robinson's number. PHOTO: Marc S. Levine, chief photographer, N.Y. Mets"We'd have conversations for hours," says Castillo, who last summer went to hear Paterson speak at the National Press Club in Washington, D.C. "We'd talk about baseball and politics. If it wasn't the Mets or the Yankees, we'd talk about Nixon and Watergate and the calls for Nixon to resign."
Paterson's fascination with baseball dates back to his childhood, when his father took him to the fabled Polo Grounds to see the New York Mets from seats right behind home plate. When Paterson went into a full wind-up to throw out the first pitch of the season for the Mets last year, he wore the number 42, Jackie Robinson's number when he played for the Brooklyn Dodgers.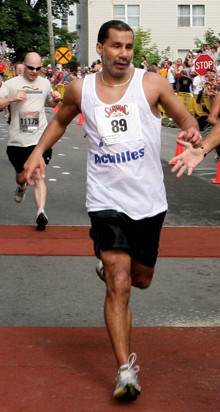 Paterson finishes the 9.3-mile Utica Boilermaker road race in August. PHOTO: Judy Sanders, Office of the GovernorAs an adult, Paterson has kept in shape. He has run the New York City Marathon, and in August he ran the 9.3-mile Utica Boilermaker road race in 1:35, finishing 5,412 out of 9,773 participants. He runs with a guide — in Utica it was his nephew, Kayah Paterson, along with several New York State troopers.
During his early days in Albany in the late 1980s, Paterson and former assemblyman Willis Stephens Jr. occasionally would frequent Capitol drinking holes. One night, while at a club with a dance floor, Stephens recalls how Paterson cleared the floor and proceeded to do a standing back flip, to the astonishment of his legislative colleagues. While he no longer does the back flip, Paterson can still master the cartwheel, which he showed off at a Columbia alumni gathering last summer.
"I wanted to let some people know I still had it," Paterson says.
Like his father, Paterson went to law school, obtaining his law degree in 1983 from Hofstra. He never passed the bar but instead worked two years in the Queens district attorney's office before entering the family business in 1985 as an aide to then-New York City Clerk David Dinkins, who was running for Manhattan borough president. When the sitting state senator from Harlem died that August, Paterson entered the fray in a fractious special election for the seat once held by his father.
He won, and at 31 became New York's youngest-ever state senator. It's a post he held until 2007, when he was sworn in as lieutenant governor. While in Albany, Paterson became known for his incisive debating skills on the floor of the ornate Senate chambers, where he would engage the Republicans on the big issues of the day — abortion and the death penalty — and do so in a way that respected his opponents.
"He was always lecturing like a Columbia professor, with wonderful references to history and society and philosophy," says state Sen. Suzi Oppenheimer '58 Business, who served with Paterson for 21 years. "But the reason that people are fond of David is because he is very warm, very friendly and very kind. You can't imagine a harsh word or nasty thought coming from David. He has skills in saying what he wants said in a thoughtful, polite manner. He gets his points across, but doesn't do it in a harmful way."
In the city, Paterson developed a reputation for building trust and cementing relationships between the community and the institutions that served it.
When St. Luke's-Roosevelt Hospital announced in 1995 that it would close its obstetrics service at 114th Street and Amsterdam Avenue, the Morningside Heights community howled. Patients there didn't want to travel to St. Luke's other facility in midtown to deliver their babies. At the time, St. Luke's-Roosevelt was in rough financial shape and needed to close money-losing services, says Shelley Mayer, who at the time was the hospital's v.p. of government affairs.
Mayer says that Paterson was a leader in rebuilding the relationship between the hospital, which is one of P&S' teaching hospitals, and the community. The obstetrics unit was saved.
"David was always open-minded about the substance of the issue and realistic about the challenges faced by St. Luke's-Roosevelt," recalls Mayer, who later served under Paterson as counsel to the Senate Minority. "He was mindful and sensitive in helping the hospital meet those challenges."
In the Senate, Paterson also showcased his political muscle. In November 2002, he led the coup that ousted then-Minority Leader Martin O'Connor, playing the insider political game to ascend to the Senate's second-highest post. That positioned him for Spitzer's surprise announcement in 2006 that Paterson would be his running mate. And he was ready to step up when Spitzer stepped down.
Among those who have watched Paterson's ascension is Assemblyman Richard Gottfried '73L, who has served under seven governors since his election in 1970, while still at the Law School.
"Getting elected minority leader didn't fall into his lap; that was a major organizing effort," says Gottfried. "That was testament to a variety of strengths on his part, such as the ability to win the confidence and support of his colleagues, who are independently elected legislators who do not lightly put their fate in the hands of someone else."
Becoming governor put Paterson in demand across the country and back on campus at Columbia, where he had been an adjunct professor at SIPA from 2000–07, teaching courses such as "Urban Planning and the Challenge of Equitable Development," "Legislative Processes and Policy" and "Issues in Urban Health Care." The course on equitable development addressed issues of power, money and racism in the development of affordable housing in cities, with a focus on New York City.
Paterson believes that a university such as Columbia can become an engine for economic development by establishing systems to transfer technological innovations from the research laboratory to the marketplace.
"We haven't used our university systems as they have in Massachusetts and California to drive economic development," says Paterson. "In New York, we need to take information technology, medical and scientific research, and cutting-edge research in the area of clean and renewable energy, and manage them through universities and the state to make New York a leader in those fields."
When the economy began turning sour last year, one of the people Paterson sought for advice was University Professor Joseph Stiglitz, the Nobel Prize-winning economist. He met with Stiglitz in July and the following month named him to his Council of Economic Advisors. Stiglitz encouraged Paterson to use the downturn as an opportunity to boost state investment in public construction, as a way to jump-start the sluggish economy.
"He may have hoped I was a more enthusiastic supporter of budget cuts," Stiglitz says. "I told him: 'Don't focus on cuts; think about growth, and having government serve as the engine for the rebuilding.' "
Paterson was to deliver the keynote address at Teachers College's convocation on May 20, but his appearance was cancelled when he needed emergency eye surgery. He was back on campus on September 11 at a nationally televised forum on service and civic engagement that featured Presidential candidates John McCain P'07 and Barack Obama '83.
That balmy night, thousands of Columbia students sat on the Low Steps, watching the forum on a huge screen. Inside Roone Arledge Auditorium in Alfred Lerner Hall, Paterson was introduced by University President Lee C. Bollinger, who told the national audience that the governor had "taken on the leadership of our state with his characteristic decency and determination, his intelligence and extraordinary good humor. Governor Paterson personifies the commitment to public service that so many in the Columbia community have shared over the decades."
At the podium, Paterson talked about the history of service by New York governors, noting that two governors named Roosevelt who had attended the Law School, Republican Teddy and Democrat Franklin, were linked by their "service to human dignity." He talked about Obama's service to the poor in Chicago and McCain's service to the nation in the U.S. military during the Vietnam War. And he called on those in the auditorium, outside on Low Plaza and at home viewing the event on television to ponder the words of a 12th-century Christian, who wrote that in times of crisis, individuals start to see others as part of themselves.
"I'm hoping that adage will take on a new meaning in the 21st century," said Paterson. "As more of us are involved in service and we come closer to that oneness of the human spirit, we need to reamplify the idea of helping our neighbors as we would help ourselves, because our neighbors are ourselves."
Gov. David A. Paterson '77 at ServiceNation
David McKay Wilson, a New York-based freelance journalist, writes for university magazines across the country. He covered the State House for The Journal News from 1990–92.