Features
Dean Austin Quigley Presented With 2008 Hamilton Medal
Quigley was presented with the 2008 Alexander Hamilton Medal at a black-tie gala commemorating the many achievements of his 14-year tenure.
By Lisa Palladino and Ethan Rouen '04J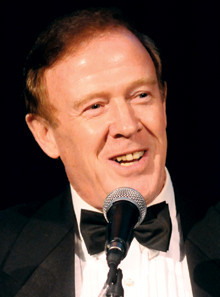 PHOTO: Eileen BarrosoDean Austin Quigley was presented with the 2008 Alexander Hamilton Medal on November 13 at a black-tie gala held in the Milstein Hall of Ocean Life at the American Museum of Natural History. Quigley was honored for his 14 years of service as dean, during which the College has been significantly enhanced in many different ways. What is widely viewed as an historic period in the history of the College will end when he steps down in July, at the end of this academic year. The Alexander Hamilton Award, for distinguished service and accomplishment, is presented by the Columbia College Alumni Association and is the highest honor the College bestows.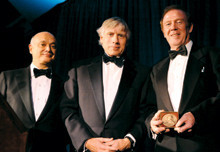 Alumni Association President Geoff Colvin '74 and President Lee C. Bollinger presented Dean Austin Quigley with the Hamilton Medal.PHOTO: Eileen BarrosoLast May, Quigley announced his decision to step down. When he leaves his position, he will have served longer than all but one of those who preceded him — Herbert E. Hawkes was dean from 1918–43. Quigley will continue to teach at Columbia and conduct research as the Brander Matthews Professor of Dramatic Literature and also will serve as special adviser to the president for undergraduate education.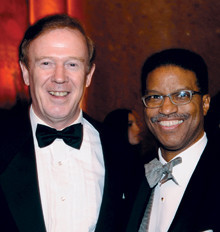 Quigley with University Trustee George Van Amson '74.PHOTO: Eileen BarrosoAlmost 700 alumni, students, faculty, family members and friends attended the dinner, which also helped support The Columbia Campaign for Undergraduate Education. The campaign provides funds for financial aid, faculty support and student services. University Trustees Chair Bill Campbell '62 announced at the dinner that the event had raised more than $2 million.
Fernando Ortiz '79 and his wife, Ofelia, with Conrad Lung '72 and his wife, Lin.PHOTO: Eileen BarrosoThe dinner was highlighted by 10 speakers who took the podium to praise Quigley for the remarkable progress the College has made during his tenure, for the high standard of leadership he has set, for the bonds he has established among so many in the Columbia community and for the close relationship he has forged with every constituency in the College's impressively inclusive student body. Attendees also were treated to a video tribute, in which many members of the College community spoke of Quigley's vital role in getting the College to where it is today.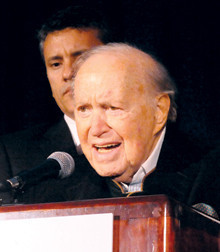 John W. Kluge '37, honorary dinner chair.PHOTO: Eileen BarrosoClaire Shipman '86, ABC news correspondent and mistress of ceremonies for the evening, expressed pleasure in her role, noting that she "wouldn't wish to miss this great opportunity to join so many others in honoring Dean Quigley." She recognized Tussi and John W. Kluge '37, P'05, honorary chairs and the University's largest benefactors. Kluge, whose speech was a highlight of the evening, noted Quigley was "much more than a dean. He befriended a great many students in the school … and I want to thank him for being my friend."
Cheryl Milstein '81 Barnard, toasting Quigley.PHOTO: Eileen BarrosoGeoffrey J. Colvin '74, P'08, P'10, president of the Columbia College Alumni Association, praised the Hamilton selection committee for choosing Quigley, stating, "No one is more deserving. He has restored the College to its historic place at the center of the University." Colvin then introduced Kluge Scholar Sarracina Davis Littlebird '09, who spoke about Quigley's commitment to the students and the wonderful opportunities Columbia has opened to her as a College student and a Kluge Scholar.
Quigley with his wife, Patricia Denison (second from left) and their daughters (left to right) Laura Brugger, Catherine Quigley, Caroline Quigley and Rebecca Cooper.PHOTO: Eileen BarrosoLisa Landau Carnoy '89, vice-chair of the Board of Visitors, spoke about the evolution of the College since it began enrolling women in 1983 and the achievement of a record-breaking overall admit rate under Quigley of below 9 percent. Representing the faculty, the Zora Neale Hurston Professor of English and Comparative Literature and jazz expert Robert G. O'Meally praised the improvisational, out-of-the-box thinking promoted by the Core Curriculum and Quigley's evident devotion to it, complimenting the dean's intellectual leadership by calling him "the Duke Ellington of deans. He taught us to play through the changes and make life swing!"
Student guests congratulate Quigley, including featured speaker Sarracina Davis Littlebird '09 (front right, with shawl), a Kluge Scholar.PHOTO: Eileen BarrosoPresident Lee C. Bollinger noted Quigley's role in enabling the character of the College to help define the character of the University. "The College is a link to our youth, a time of promise and of infinite possibilities. Every institution needs a future to discover as well as a past to hold dear." To mark Quigley's exceptional achievement as a fund-raiser and his lasting impact on the stature of the College, Lisa '97 TC and Richard Witten '75, P'10 announced the establishment of the $50 million Austin E. Quigley Endowment for Student Success, more than half of which has already been raised, to focus on enhanced advising and career counseling.
Quigley with Norma Lerner.PHOTO: Eileen BarrosoCheryl '81 Barnard and Philip Milstein '71, P'09, P'10 toasted Quigley for his outstanding deanship and presented him with a commemorative sculpture of the Scholar's Lion, created especially for the occasion by Greg Wyatt '71, who also sculpted the original. Witten and Milstein are vice-chairs of the University Board of Trustees.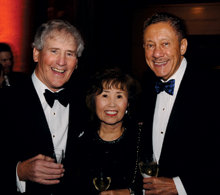 University Trustees Chair Bill Campbell '62 with Kassie and Carlos Muñoz '57.PHOTO: Eileen BarrosoQuigley, visibly moved by the tributes of the evening, said, "Whatever the difficulties they have confronted in life, Columbians never get together to lament what the world can be at its worst, but to discover what each of us can be at our very best. We come to Columbia not with chips on our shoulders but with aspirations in our hearts for what we can make of ourselves and do for each other. I'm very proud of the rapid progress we've been able to make at the College in recent years, but I reiterate that these have been collective achievements, and I am deeply grateful to each and every one of you."