Features
Science at Columbia: A New World
From "Frontiers" to E3B to faculty and student recruitment to a major new building, Columbia is meeting the challenge of science in the 21st century.
By Shira J. Boss-Bicak '93, '97J, '98 SIPA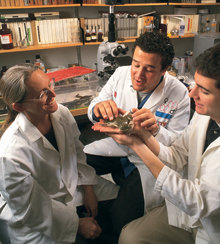 Darcy Kelley, professor of biological sciences, spearheaded the creation of "Frontiers of Science," with David Helfand, professor of astronomy (below). PHOTO: COLUMBIA COLLEGEAmong the many changes in the academic sphere at the College during the past 15 years, none has been more pronounced than in the sciences. An innovative science course, "Frontiers of Science," has been developed by senior faculty and added to the Core Curriculum. A new department was created in 2001 for the first time in nearly 50 years, the Department of Ecology, Evolution and Environmental Biology. Students interested in majoring in math or sciences are being more actively recruited, with the help of faculty and students. New majors have been added in environmental biology and environmental chemistry, the numbers of math and astronomy majors have tripled during the past 15 years and physics majors have doubled.
Both at Columbia and nationally, there has been an increase in investment in scientific research and teaching science. "To attract and retain scientists doing top-tier research and teaching undergraduates, the bar has gone up," says Ann McDermott, the Esther Breslow Professor of Biological Chemistry and the University's associate v.p. for academic planning and science initiatives. "Our peers and we are upping the ante." The University has committed resources to reinvigorating departments in part by renovating labs, building faculty housing to help with recruitment and starting construction of a new science building on the Northwest corner of the Morningside Heights campus.
Building and Rebuilding Science Departments
Department of Astronomy chair David Helfand says the science research fair held in conjuction with the annual "Days on Campus" has encouraged top science students to matriculate at Columbia. PHOTO: ALAN S. ORLINGColumbia historically has had top-rated science departments, especially in the early- to mid-20th century, when I.I. Rabi '27 GSAS, Enrico Fermi and other current and future Nobel laureates worked in the physics department, and groundbreaking work in evolution and genetics was done in biology by more current and future Nobel winners. Thomas Hunt Morgan ran pioneering genetics experiments in the famous "Fly Room" in 613 Schermerhorn, where he worked with fruit flies. In 1933, he became the first American-born winner of the Nobel Prize in Physiology or Medicine. Five others associated with Morgan also won Nobel prizes, including Hermann J. Muller (Class of 1910), '16 GSAS and Joshua Lederberg '44.
University Professor Eric Kandel wrote in a fall 1999 Columbia magazine article, "An American Century of Biology," "Morgan's discovery that the gene was the unit of Mendel's inheritance, that it was the fuel for Darwin's evolution, and that it served as the control switch for development inaugurated an American Century in biology that accompanied the emergence of the American research university and with it the assumption of American leadership in all areas of science."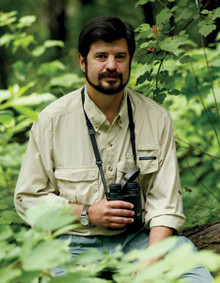 Don Melnick, the Thomas Hunt Morgan Professor of Conservation Biology, views the Center for Environmental Research and Conservation's mission as "educating the environmental leaders of tomorrow." PHOTO: BRUCE GILBERT/COLUMBIA UNIVERSITYIn 1966, however, the University's zoology and botany departments closed and merged into the Department of Biological Sciences. "Organismal biology, including the study of evolution, population genetics, botany and zoology, was diminished in favor of molecular and cellular studies," says Don Melnick, former chair of the anthropology department.
Melnick, the Thomas Hunt Morgan Professor of Conservation Biology, joined Columbia in 1981 as a member of the anthropology department, and from the beginning had an interest in rekindling organism-level biology at the University. Then an experience in the mid-1980s partly changed his career course and in turn helped Columbia re-enter broader biological study.
Melnick was in Sri Lanka studying monkeys in 1986 when, on a drive to a remote research site, he saw his first wild elephant, snacking on leaves in trees along the side of the road. He stopped his Jeep and watched the huge animal eat and then quietly, almost imperceptibly, slip off into the forest. Three months later, on a drive back along the same route, Melnick was shocked to see "the entire area had been cleared and burned. … It led to a moment of realization. It struck me that I was making a living off of studying animals in their natural habitats, but doing nothing to ensure that the habitats or the species would persist over the long term. I was taking but not giving. I knew then that I had to use my science for something beyond just basic inquiry, and I made a commitment to spending a significant portion of my time on conservation."
Today, Melnick has taken this even further by dividing his time among his primary fields of study, population and evolutionary genetics and conservation biology, and efforts to bring science into policy debates and policy formulation. He co-chairs the U.N. Task Force on Environmental Sustainability, chairs science and technology for the 30-country Coalition for Rainforest Nations and advises several heads of state on measures to achieve environmental sustainability.
In the mid-1980s, Melnick taught a course in biological anthropology, "The Human Species: Its Place in Nature." "I thought not many students would show up," he says. "On the first day, one entire floor of Hamilton Hall was full of students; 279 showed up. I said, 'Let's go outside.' I stood on the sundial to talk to them. The class was moved to Altschul Auditorium. You could tell there was a lot of interest in organisms, and very few places for students to go to satisfy that interest."
About 12 years ago, people were beginning to realize there was a problem," says Shahid Naeem, chair of the Department of Ecology, Evolution and Environmental Biology, known as E3B. "We had climate changing, species were going extinct, we had students interested in ecology and the environment, but we didn't have any courses covering these topics." (Columbia does have, however, the Lamont-Doherty Earth Observatory, the research campus in Palisades, N.Y., founded in 1948 and now part of the University's Earth Institute. It is renowned for geosciences research, from the earth's oceanic core to its atmosphere and climate.)
The Strategic Planning Committee that was established in the early 1990s, headed by then-Provost Jonathan Cole '64, '69 GSAS, set a goal of having all Arts & Sciences departments rated by peers as among the top 10 nationwide. "While some sciences, like chemistry and earth sciences, remained among the best in the nation, there was evidence that some of the sciences, social sciences and humanities departments had slipped from that," Cole says. "There was an effort to invest in those departments to bring them back to their historical positions as in the top five or top 10."
External advisers estimated that achieving that goal would cost close to $1 billion across 10 years, including the upgrading of facilities, efforts to target and attract more high-ability science students and recruitment of academic stars and younger faculty with extraordinary promise. To attract this kind of world-class talent to the University, new facilities needed to be built and older ones renovated, competitive salaries and start-up packages had to be in place, and faculty housing and exceptionally good schooling were required. In response, several hundred faculty apartments were added, including in a newly constructed faculty residence on Broadway at 110th Street, The Columbia School for children was founded, and a new science facility on the North campus was planned. In addition, in the late 1990s, an external advisory committee of preeminent scientists was brought to campus to assess the science departments and make further recommendations for improvement.
It is hard to determine departments' current rankings nationally, says Nicholas Dirks, v.p. of arts and sciences, but "it's generally agreed that we have very strong departments of earth and environmental sciences, chemistry, math," he notes. "Physics is back to its former strength. The biological sciences are getting better. Overall, we feel very confident our sciences are in the top 10."
CERC and E3B
In 1994, the Center for Environmental Research and Conservation (CERC) was created, as a consortium among Columbia, The New York Botanical Garden (founded by a Columbia botany professor, Nathaniel Lord Britton (Class of 1879, School of Mines), in 1891), the American Museum of Natural History, the Wildlife Trust and the Wildlife Conservation Society (which runs the Bronx Zoo, Central Park Zoo and New York Aquarium, among others).
CERC had no departmental status, but quickly developed an undergraduate major in environmental biology and a Ph.D. in ecology and evolutionary biology, starting in 1996, followed two years later by an M.A. in conservation biology. "While it was a research center, since we had a stellar group of scientists at these five institutions, it was important to see what we could contribute to the educational process," Melnick says. "I've always tried to think of how best to use the intellectual resources of the city for the benefit of the students.
"Immediately, students started showing up in large numbers," he says. "We clearly hit a vein of student interest. It made sense to institutionalize this in a permanent way by creating a department."
Many universities have two (or more) biology departments, one for molecular and cellular study and one for ecological and evolutionary study. Columbia had a biology department that had evolved into a molecular and cellular biology department (no plant study), and the Department of Earth and Environmental Sciences, which was the original Department of Geology and looks mostly at geological, geochemical and atmospheric processes, though it does some organismal and evolutionary work, including dinosaurs and marine biology. DEES has close ties to the Lamont-Doherty Earth Observatory, which McDermott describes as "on a very elite list of institutions looking at the planet."
Both at Columbia and nationally, there has been an increase in investment in scientific research and teaching science.
A proposed new department would study, as Naeem describes it, biology from the "skin out" rather than from the "skin in."
The process of creating what in 2001 became E3B took several years. "You won't find many universities that have risen to the challenge of creating a new department. It's rare," Naeem says.
A new department had not been created at Columbia since 1954, when the Middle East Languages and Cultures department was formed (now the Department of Middle East and Asian Languages and Cultures). A key issue was whether the University could afford to support the proposed department, and whether it should, alternatively, exist as part of the Department of Earth and Environmental Sciences. "Space is tight and resources are tight, but we needed to do it," McDermott says of the new department. "There's a mandate based on the enthusiasm for the future of the field."
Initial funding for CERC and ultimately the E3B it spawned came from a grant of $12 million from the V. Kann Rasmussen Foundation, and from within the University. Now in its seventh year, the department has seven full-time faculty, 40 undergraduate majors and teaches about 700 students per semester. Melnick's "Biodiversity" course is among the most popular science for non-science majors courses, with more than 70 students typically enrolling per year. E3B offers concentrations, two majors, a master's and two Ph.D. programs. "They focus on some practical issues," McDermott says. "Their students have a real-world orientation."
Adjunct faculty members are drawn from the more than 80 members housed at the four institutions affiliated with CERC, and they advise students as well as teach. "We're not in the middle of a corn field in Kansas," Melnick says. "Why wouldn't we want to bring together all of the intellectual resources already in the city?" Students gain access not only to the staff of the museum, zoo, garden and trust, but also to the laboratories, collections, field sites and research initiatives of the member institutions.
Frontiers of Science
Adding a central science course to the Core Curriculum was a key part of strengthening the curricular role of sciences at the College. "The Core was dominated by the humanities and social sciences, and Columbia had lost its appeal for young people interested in the sciences," Cole says.
The single-semester "Frontiers of Science" was developed by senior faculty, including David Helfand, professor of astronomy and department chair, and Darcy Kelley, professor of biological sciences, and debuted as a requirement on a pilot program basis in 2004. "It's almost unheard of, especially in a research institution, that two outstanding scientists would put that much time and effort into changing an undergraduate curriculum," says Don Hood, the James F. Bender Professor in Psychology.
Half of the first-year students take the course in the fall and half in the spring. It consists of one large, weekly lecture given by senior faculty who teach three- to four-week segments, and seminar meetings of 20 students each. Seminar sections are taught by senior faculty and by Columbia Science Fellows, Ph.D. scientists who are recruited to do three years of research and teaching at Columbia, and who have what Helfand describes as "an interest in, and demonstrated capacity for, communicating science to non-scientists."
The course, which recently was renewed for another five years, has content that varies with faculty expertise and the topics of each semester. Optional evening lectures delve more deeply into topics. The fall 2008 syllabus included a unit on the human genome and evolution taught by Robert Pollack '61, professor of biological sciences and former dean of the College; an astronomy unit focusing on the history of the universe and the discovery of extrasolar planets, taught by Helfand; a unit on global climate change taught by Sidney Hemming, associate professor of earth and environmental sciences, and by Wallace Broecker, the Newberry Professor of Geology in the Earth and Environmental Sciences Department and a winner of the National Medal of Science; and an examination of biodiversity and the impact of humans thereon, taught by Melnick.
Recruitment of Science Students
Around the time of the formation of E3B, the College, working closely with faculty in the sciences, increased its efforts to aggressively recruit prospective science students. They were confronted with the nation's shrinking pool of high school students who expressed an interest in, and displayed a high aptitude for, the sciences. Biology always has drawn large numbers of pre-med students, and psychology also has endured as a popular major. But in other science fields, including the physical sciences and mathematics, the competition among top schools for the highest-ability students is fierce.
The recruitment of students likely to major in math and science starts in their sophomore year of high school. The Office of Undergraduate Admissions works with science faculty to send mailings to targeted students. Admissions officers include math and science specialty high schools in their travels across the country, and the College hosts online chats where high school students interested in science can connect with Columbia students doing research.
Science faculty have long been involved in selecting and then recruiting the ultra-talented Rabi Scholars, of which there are about 10 per year. The four-year fellowship guarantees a summer research job and free on-campus housing during the summer, among other benefits.
In recent years, a faculty committee was formed to review hundreds of application folders of students expressing an interest in majoring in sciences. Faculty and current students then are involved in recruitment of the admitted students, through phone, e-mail, online chats and the science research fair that is part of the annual "Days on Campus" event in April for admitted students. "Science students, even more than other students, are focused on the opportunity to work with faculty and the opportunity to do research," says Jessica Marinaccio, dean of undergraduate admissions. "If they didn't have an opportunity to speak with faculty, they probably wouldn't come."
"These are top students with lots of options," says Helfand, a longtime advocate of faculty involvement in the student selection and recruitment process. "It has become a very successful collaboration."
Some College students who were not initially interested in majoring in the sciences are potentially being won over by the "Frontiers of Science" course. A new program, funded by a gift from Darren Manelski '91E, supports summer research internships in labs on campus for students who have become interested in sciences since starting Columbia. Last summer there were nine such research interns. "Some changed their minds and will be science majors," Helfand reports.
Shira J. Boss-Bicak '93, '97J, '98 SIPA
is a contributing writer to
CCT
and other publications. She is the author of
Green with Envy: A Whole New Way to Look at Financial (Un)Happiness
(www.shiraboss.com).