Within the Family
Interesting Times We Live In
It was the best of times, it was the worst of times, it was the age of wisdom, it was the age of foolishness, it was the epoch of belief, it was the epoch of incredulity, it was the season of Light, it was the season of Darkness, it was the spring of hope, it was the winter of despair, we had everything before us, we had nothing before us, we were all going direct to heaven, we were all going direct the other way …
— Charles Dickens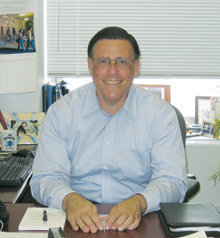 I'm not sure why the opening of A Tale of Two Cities came to mind when I was deciding what to write for this issue, but when I looked it up and reread it, it surely seemed fitting.
These certainly are interesting times we live in. As I write this in early December, the U.S. economy is in the midst of its deepest recession since the Great Depression, with few signs of a quick turnaround on the horizon. (By the way, who was the genius who thought it would be a good idea to announce that yes, we were indeed in a recession and have been since December 2007, thus sending the Dow Jones Industrial Average down another 670 points in one day?) Unemployment is up, foreclosure signs mar the landscape and the line of banks, investment houses, auto manufacturers and who knows who else seeking bailouts from the federal government seems to grow by the day. People today consider themselves lucky when their employer only announces hiring and wage freezes rather than imposing layoffs and demanding givebacks.
Reading the newspaper is a depressing experience. Consider these stories from the front page of The New York Times' December 4 business section:
Harvard announced that its endowment had decreased by $8 billion during the past four months — a sum greater than Columbia's total endowment — and could drop another $3 billon before the end of the fiscal year.
Publishers Simon & Schuster laid off 35 people, and Random House announced a sweeping reorganization aimed at cutting costs.
Fortress Investment Group, once a leading player in the worlds of hedge funds and leveraged buyouts, saw its stock price fall 25 percent in one day.
And that's just from one page of one day's business section. I'm sure you get the picture, and it's not a pretty one.
Meanwhile, young Americans still are dying halfway around the world in Iraq and Afghanistan, more than 5½ years after President Bush helicoptered onto an aircraft carrier for a photo op with the banner "Mission Accomplished" in the background; pirates have made a cottage industry out of seizing control of ships ranging from fishing trawlers to oil tankers off the coast of Africa and holding them for ransom; and terrorists continue to ply their trade of death and destruction in places from Madrid to Mumbai, and let us not forget the World Trade Center and Pentagon.
This is the world Barack Obama '83 inherits as he becomes the first African-American President, and the first to hold a degree from the College. To his credit, Obama appears ready to hit the ground running when he becomes the nation's 44th President. Fully six weeks before his January 20 inauguration, he already had announced his selections for 13 of the 24 most important positions in his administration, far more than any newly elected President in modern times. By comparison, Bill Clinton had filled only one of those jobs by that point in his transition, and Jimmy Carter and Ronald Reagan only two.
"We need action — and action now," Obama declared on December 6 as he committed to the largest public works program since the creation of the interstate highway system a half-century ago in an effort to jump-start the reeling economy.
Perhaps an appropriate wish for the new year is that this winter of despair indeed will give way to a spring of hope, if not a season of Light.