Alumni Profiles
Daniele Baliani '87 Built Culinary Career from Scratch
By Nathalie Alonso '08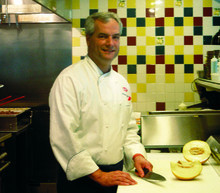 Daniele Baliani '87 has had a varied career in the culinary industry, from chef to consultant to running a boutique travel company that offers gastronomic tours. Photo: Damian de MagistrisLong before his face graced boxes of frozen pizza, culinary artist Daniele Baliani '87 was a College senior making a not-so-smooth transition from the classroom to the kitchen.
Baliani spent his last few months at Columbia blanching and peeling vegetables as an apprentice at Le Cirque, the legendary French restaurant in Manhattan, under the mentorship of renowned New York City chef and restaurateur Daniel Boulud. Despite possessing no culinary skills at the time, Baliani convinced Boulud to take him on as an apprentice.
"I was doing the most menial work. The Columbia education was what made me feel good because at the time, I was floundering in a new environment," recalls Baliani, who end­ed up at St. Luke's Hospital's emergency room on his second day at Le Cirque after cutting his ring finger while slicing a tomato. The gash required seven stitches.
Despite Baliani's initial struggles, Boulud recognized his potential and arranged for Baliani to train at several restaurants in Italy and southern France. Unable to pay for his plane fare, the 21-year-old Baliani agreed to accompany a couple on their month-long trip to Italy as an au pair in exchange for $1,000 and a round-trip ticket. The days he spent changing diapers were well worth it, as the old-world culinary training he subsequently received proved to be transformative.
"I spent 12 hours a day in the kitchen doing everything from peeling onions to plucking chickens," recalls Baliani, who especially enjoys cooking with seafood and Mediterranean vegetables. "On our days off, we would go fielding for porcini mushrooms. Without that experience I would have never been able to understand and appreciate what I was doing."
After a year of training in Europe, Baliani returned to New York and became sous chef at an Italian restaurant, San Dom­enico NY. In 1991, he returned to Le Cirque as sous chef under Boulud, a position he held until 1993. The following year, Baliani moved to Massachusetts and opened restaurateur Lydia Shire's Pignoli, an Italian restaurant in Boston, where he created the menu and was chef de cuisine until 1999.
Baliani originally conceived the dream of becoming a chef while studying abroad at Reid Hall in Paris during his junior year in the College. It was there that he met a French chef who inspired him to pursue a career in the culinary world.
"I fell in love with what he did. I thought this was the greatest thing in the world — to be able to cook and to be able to make people feel happy with your talent and your skill," says Baliani.
He adds, "I can hear food. It's very musical for me."
Eric Butte '87, '99 Business, who was Baliani's roommate during three of their four years in the College, recalls his friend's initial attempts at cooking.
"I was sort of the guinea pig, happily because I got to eat well," says Butte, who allowed Baliani to stay in the basement apartment of his Brooklyn home after graduation while the aspiring chef earned the minimum wage as an apprentice at Le Cirque.
After working at Pignoli, Baliani went on to consult for Freschetta, a brand of frozen food, from 2000–07. As a member of the company's Culinary Council, he was featured in print and televised ads and on the back of its frozen pizza boxes. His affiliation with Freschetta also led to an appearance in a 2007 episode of Food Network's Unwrapped.
It was a very different tra­jec­tory compared to the life Baliani had envisioned while growing up in suburban New Jersey. Baliani was born in Jersey City and was 5 when his family returned to their native Italy. Much to his chagrin, when he was 11, his family moved back to New Jersey, this time to Roselle.
"I really did not want to stay in this country. I told my parents every day, 'When I'm 18, I'm going back to Italy.' That was my goal and my dream," explains Baliani, who fondly recalls living around the corner from the Pantheon in Rome as a child and bouncing soccer balls off Bernini fountains in the Italian capital.
It was his love of soccer that ultimately led Baliani to Colum­bia. His plans to return to Europe changed when Dieter Ficken, head coach of Columbia men's soccer from 1979–2006, approached him after one of his soccer matches at Abraham Clark H.S. and suggested he apply to the College.
"When I got the acceptance letter, I was floored," says Baliani. "I never thought I'd be going to an Ivy League school. All the things that came along with that letter convinced me to stay in the United States."
Baliani, who majored in political science, saw little playing time as a first-year soccer player and left the team after being injured for most of his sophomore year. He thoroughly enjoyed the Core Curriculum, however, in part because he felt it brought his childhood to life.
"I remember going to Art Hum and everybody else was looking at these things with wide eyes," recalls Baliani. "Meanwhile, I had literally lived next door to many of those artifacts."
Baliani now owns and operates Pantheon Adventures, a boutique travel company that offers personalized, gastronomic tours of the Mediterranean basin. He resides in Westwood, Mass., where he continues to cook for his wife, Claudia, and stepdaughter, Michelle.
Nathalie Alonso '08, from Queens, majored in American studies. She is
an editorial producer of and contributing writer to LasMayores.com,
Major League Baseball's Spanish language Web site.