Alumni Profiles
Charles Saliba '00 and the Punk Rockers of China
By Katherine Reedy '09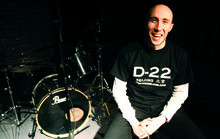 Charles Saliba '00 at D-22, his popular rock and punk club in Beijing. PHOTO: D-22It's not what one expects to hear shouted at a bar in Beijing: "Another Columbian!"
But it's likely what you'll be greeted with if you step into D-22, the preeminent rock and punk venue in China's capital. It's how Stephanie Chou '09 was welcomed when she met Charles Saliba '00, the club's co-founder, in summer 2008. Chou and Saliba chatted about campus 7,000 miles away from alma mater. "He excitedly told me all about his time at CU, how he ended up as the manager of D-22 and what he'd been up to in Beijing," she says.
On the phone from Beijing, Saliba laughs when asked if he gives special treatment to Columbians. "Well, I always felt that we should promote D-22 as the Columbia Club of Beijing," he says.
In fact, D-22 likely wouldn't exist without a Columbia connection. While taking a course at SIPA as an undergraduate, Saliba reconnected with Mike Pettis '81 SIPA, '84 Business, whom he knew from their common hometown of Malaga, Spain. Pettis now is a professor of business at the prestigious Tsinghua University in Beijing and a leading expert on Chinese finance. He had started a rock club while living in gritty 1980s New York, and hatched the idea of D-22 when he took his teaching position in China. Saliba, seeking a break from his post-graduation job in technology consulting in New York and London, was intrigued by Pettis' description of the thriving scene and change of pace in Beijing. Saliba recalls his leap of faith: "Why not? I'll give it a try."
Without any knowledge of Mandarin, Saliba took a job teaching English in Beijing and met up with Pettis in 2004. Together, they laid the groundwork for a rock club, D-22, and record label, Maybe Mars. They scoped out locations in the hip university district, Wudaokou, far away from the expatriate hangouts, in order to ground their project in the authentic tastes of Chinese students. "Most of the expat bars are clustered in one area, and we had no desire to be a part of that. We wanted to promote the local music here," Saliba says.
Pettis, who claims he initially convinced Saliba to attend Columbia, says he always assumed he and Saliba would work together on the project. From the beginning, Pettis says, the two friends "took Chinese artists very seriously, much more seriously than we took the foreign artists who often visit, and placed them firmly at the center of the music scene."
As for the difficulties of foreigners starting a business in China, Saliba contends that it was easier than it seemed. "People assume there's a lot of red tape, but in some ways it's easier to start a business here. You go ahead and do things, and then worry about the details later." Pettis noted that investors who understood the burgeoning scene helped them get their record label off the ground.
Since it opened its doors in May 2006, D-22 — Pettis says the name is a play on Detroit, which he wanted to use to connote a hard, urban sensibility — has launched the careers of several major rock bands, and its presence among ambitious young Beijing rockers is unparalleled. The club enjoys significant appeal for tourists as well; it appeared in the travel section of The New York Times in 2007 as a must-do for "younger, and more adventurous" visitors to China. The bands it helped foster appear regularly in Western entertainment-focused media, and reviews of the venue's acts have cropped up in the Atlantic Monthly, The New Yorker and elsewhere.
Saliba, who is studying for his master's in international development at Tsinghua University, says he doesn't have concrete goals for D-22 and Maybe Mars, the record label he now manages full-time, but that he wants to see how far they can go. After all, he explains, the Chinese rock scene "is moving in tandem with a youth culture explosion happening here." Pettis writes that, "Gao Ming, one of the Peking University students who works here, once told a journalist that we never make money but we do make history, and I think that pretty nicely sums up our ambitions."
Saliba explains that the influence of recent Chinese cultural history is apparent in which bands influence young rockers. "The kids here haven't grown up being able to pick up just any CD," he says. As a result, contemporary rock music contains decades of influences combined. "It's a random and interesting mixture. Bands here don't sound alike," he says. The Ramones-influenced Carsick Cars, whose most famous song is a double-entendre called Zhongnanhai — both a popular cigarette brand and the home base of the Communist Party of China — jostle against the jangly folk of Xiao He, and still other bands play music that recalls New Wave and a gamut of pop and rock styles.
In November, Saliba led a tour of Maybe Mars bands across the United States. Carsick Cars, P.K. 14, Xiao He and White played shows from New York to Chicago, with stops in Richmond, Va., and Washington, D.C., and both the tour and a discussion on Chinese music were partly sponsored by the CU Arts Initiative.
Gregory Mosher, director of the Arts Initiative and a fan of the "amazing" D-22, says the collaborations between the club and Columbia have long been in the works, and previously featured CU's Louis Armstrong Ensemble playing at the Chinese venue. Mosher notes that the Arts Initiative operates to connect Columbia with global culture: "Most of us don't know much about China. The astonishing richness and complexity of the country starts to be revealed when you see the films, hear the music, study the art," he says.
While D-22 may be the unofficial Columbia Club, Saliba also is v.p. of the official Columbia Alumni Association of Beijing, continuing his long, personal career of outsized school spirit. His College class' president for all four years, Saliba also was involved with student theater groups, Columbia Television, Columbia Community Outreach and CU Concerts, which brings bands to campus each fall and spring.
As for his equally varied academic career, Saliba switched majors multiple times, beginning with chemistry and crossing the finish line with political science. "The woman in the registrar's office got to know me after a while," he jokes. While Saliba is the first to admit he "truly embraced the liberal arts," he also made lasting connections to professors, such as Leonard Fine in chemistry and the John Mitchell Mason Professor Emeritus, Provost Emeritus and Special Service Professor in East Asian Language and Culture Wm. Theodore de Bary '41.
Whether Saliba's club and label kick off a new Mandarin-language rock craze is unclear, but for Saliba, it's just a matter of time. "We believe the music speaks for itself," he says.
Katherine Reedy '09 lives in Clinton Hill, Brooklyn.