Around the Quads
Five Alumni To Receive John Jay Awards
By Lisa Palladino and Jesse Thiessen '11 Arts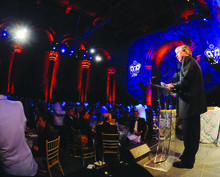 President Lee C. Bollinger addresses the crowd at the 2008 John Jay Awards Dinner, the last time the event was held at Cipriani 42nd Street.Photo: Eileen BarrosoOn Wednesday, March 3, Columbia College will honor five accomplished alumni — Brian C. Krisberg '81, Frank Lopez-Balboa '82, Tracy V. Maitland '82, David Rosand '59 and Julia Stiles '05 — with 2010 John Jay Awards for distinguished professional achievement.
Cipriani 42nd Street in New York City will be the setting for the black-tie dinner benefiting the John Jay Scholars Program, which aims to extend and enhance previous academic and extracurricular experiences for outstanding first-year College students. John Jay Scholars are offered the opportunity to participate in special programs such as panels, discussions and outings.
Krisberg, who graduated from the Law School in 1984, is a partner with Sidley Austin in its real estate department. His areas of specialty include commercial real estate finance, warehouse lending, structured finance and securitization. He previously was a partner at Latham & Watkins and at Milbank Tweed Hadley and McCloy.
Krisberg serves the College as an ex officio member of the Board of Visitors and as chair of the Columbia College Alumni Association Board of Directors. He has sat on the CCAA board since 1986 and was its president from 2006–08.
Lopez-Balboa has been at Goldman Sachs since 1991. A managing director since 1997, he oversees the telecom, media and technology sector for investment grade clients in the Financing Group of the Investment Banking Division. He also is a member of the firm's Credit Market Capital Committee.
Lopez-Balboa earned an M.B.A. from Harvard in 1986. He served on his class' 25th Reunion Committee.
In addition to being on the Advisory Council of the Association to Benefit Children of New York City, Lopez-Balboa is a member of the Board of Trustees for St. Mark's School in Southborough, Mass., and a member of the Board of Directors of the Madison Square Boys & Girls Club in New York City.
Maitland, who majored in economics, is president and chief investment officer of Advent Capital Management, which manages more than $4.5 billion in long-only products, hedge funds and closed-end mutual funds. Prior to founding Advent in 1995, he was a director in the Convertible Securities Department in the Capital Markets Division at Merrill Lynch. While at Merrill Lynch for 13 years, Maitland advised institutions on investing in convertibles, fixed income and equities.
Maitland serves on the Board of Directors of the Apollo Theater Foundation in Harlem and is a trustee of the Studio Museum in Harlem.
The Meyer Schapiro Professor of Art History, Rosand has been on Columbia's faculty since 1964 and earned a Ph.D. from GSAS in 1965. Currently chair of the Art Department's Wallach Art Gallery Committee, Rosand has twice chaired the Department of Art History and Archaeology, and has been director of Art Humanities and chairman of the Society of Fellows in the Humanities.
Rosand has been developing a project for Raphael's Stanza della Segnatura, extending visual and cultural analysis through digital imaging and computer graphics. He also has been instrumental in acquiring, developing and fundraising for Casa Muraro, Columbia's Center for Study in Venice, Italy.
Along with other "Tenured Teachers of the Core," Rosand received the Alexander Hamilton Award in 1994. He also received the Great Teacher Award from the Society of Columbia Graduates (1997) and the Award for Distinguished Service to the Core Curriculum from the Heyman Center for the Humanities (2000), among other honors.
Stiles is a critically and commercially successful actress with experience on stage and in film. She began performing with the Ridge Theater Company at 11 and has gone on to star in diverse theatrical leading roles, from Shakespeare in the Park's production of Twelfth Night to a revival of David Mamet's Oleanna in London. She reprised the role of Carol in Oleanna on Broadway last fall.
Stiles' film credits include all three Jason Bourne movies; Save the Last Dance; Mona Lisa Smile; and State and Main. She is slated to star in an upcoming film adaptation of Sylvia Plath's The Bell Jar. In 2007, Stiles wrote and directed her first short film, Raving, which stars Zooey Deschanel and Bill Irwin. The film premiered at the Tribeca Film Festival and on the Sundance Channel.
For more information on the dinner, contact Jennifer Freely, assistant director of alumni affairs: jf2261@columbia.edu or 212-851-7438.