Around the Quads
Graybill Awarded Rhodes Scholarship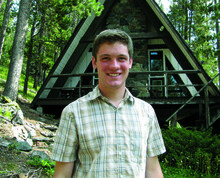 Photo: Courtesy of Raphael Graybill '10Raphael Graybill '10 has been awarded a Rhodes Scholarship to pursue an M.Phil. in politics at Oxford. He was one of 32 winners selected out of a pool of 805 applicants nationwide.
Graybill, who is from Great Falls, Mont., and majors in political science, has worked extensively with Senator Max Baucus (D-Mont.) and plans to devote himself to public service in his home state after leaving England. "The best way to live out your values is in public life," said Graybill, who at 19 was elected to serve as a delegate for Montana at the 2008 Democratic National Convention.
Graybill spent last summer in Washington, D.C., as a health care associate for Baucus, working on one of the nation's most important domestic issues.
Graybill also volunteers as a New York City auxiliary police officer and is the cap­tain of Columbia's Ski and Snowboard Racing Team.
He recently was awarded a Marshall Scholarship, but turned that down when the Rhodes committee called.
Graybill is one of four College students to win the Rhodes in the last four years. Columbia students and alumni also have won two Marshall Scholarships and more than 18 Fulbright Scholarships in the same time.
Michael Pippenger, associate dean of fellowship programs and study abroad, attributes the recent successes in part to the entire Columbia community coming together to assist in the application process. Students, faculty, staff and alumni critique applicants' submissions and conduct mock interviews to prepare them.
"We've really increased the number of ways that we assist students in terms of having them work with faculty, work with alumni, work with administrators," Pippenger says. "We try to put them in touch with as many people in the Columbia community to put together the best application possible. That has really come together in the last four years to create a great success."
To read more about Graybill, see "Student Spotlight" in the September/October 2009 issue. To read about last year's Columbia scholarship winners, see "Around the Quads" in the January/February and March/April 2009 issues. 
Ethan Rouen '04J