Around the Quads
5 Minutes with … Ruth DeFries
Ruth DeFries is Columbia's first Denning Professor of Sustainable Development. She teaches in the Department of Ecology, Evolution and Environmental Biology and is working to establish an undergraduate major in sustainable development. A winner of a 2007 MacArthur Foundation "genius" grant, DeFries is a member of the National Academy of Sciences and the American Association for the Advancement of Science. She received a Ph.D. from Johns Hopkins and a B.A. from Washington University in St. Louis.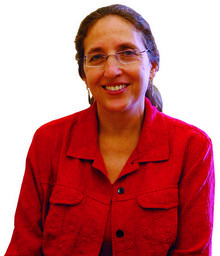 Where did you grow up?
The Washington, D.C., area.
As a child, what did you want to be when you grew up?
A veterinarian. A violinist. I always loved looking at landscapes, maps and pictures of other places, but I never thought it could be a career.
How did you get into environmental science?
When I was growing up, the environmental movement was in its heyday. There was the first Earth Day. That was right around my adolescence, and it made a big impact.
How did you come to Columbia?
I was at the University of Maryland since the early '90s. A change seemed like a good idea. Columbia was very attractive because of the Earth Institute, the opportunities to engage with so many colleagues in interdisciplinary research, the focus on sustainability, the fabulous students.
What are you teaching this spring?
I'm teaching a class with John Mutter from the earth and environmental sciences department on science for sustainable development.
What are you working on?
I work on land use change, which is the major way that people change their environment. I work mostly in the tropics using satellite data to observe land use changes and what that means for climate, conservation and ecosystems in general. Land use is a balance between transforming the landscape for society and what it needs in terms of food and urban spaces, and the environmental impact these things cause. Most often it's only the direct, short-term human needs that are factored into these decisions. One technical leap that has allowed this field to move forward is the availability of satellite data, which gives us the ability to see large landscapes and changes over time.
Where do you see this movement going?
Right now, there's a movement to incorporate ecosystem services into the market so that landowners get actual economic bene­fits out of managing the landscape in ways that are congruent with maintaining ecosystem services, whether that's protecting climate, the watershed or conservation of biodiversity. The movement now is to build those aspects into the economic decisions people make about how they manage the land. It's a very exciting and promising time. There also is a major focus in the international climate negotiations and U.S. climate legislation to provide incentives for tropical countries to reduce greenhouse gas emissions from deforestation as one way to mitigate climate change.
What on your resume are you most proud of?
None of the awards. There's enormous internal pressure to live up to them, which is essentially impossible. I'm most proud of the work we did with our Brazilian colleagues to improve their deforestation monitoring. That went into effect and was influential in making decisions about reducing deforestation.
Do you travel often?
I just got back from India. I've worked in Brazil. We have a project in Peru.
If you could be anywhere in the world right now, where would you be?
There are so many wonderful places. The Himalayas is one. The confluence of the rivers in the Amazon is another. I like the so-called pristine places away from human influences, but I prefer the places where you can see people and their environment interacting on a daily basis. India is a place that I really love for that reason.
What's something your students would never guess about you?
My husband and I have a house next to a tiger reserve in central India. The tigers pretty much stay in the reserve, but once in a while, they come out.
Do you have children?
My daughter graduated from the College in 2006 and then got a master's at Mailman. My son is 22 and doing an engineering degree at Northeastern.
What are your hobbies?
Playing piano, reading, hanging out with friends and family.
What's the last good book you read that wasn't related to work?
I loved The Inheritance of Loss by Kiran Desai.
How do you recharge?
Travel is a great way that I remind myself that there is a big and varied world out there.
What's your favorite food?
Chocolate and spinach. Not together.
As someone who studies how to protect the natural world, how do you feel about living in New York?
One of the solutions to protecting the natural world is for people to live in high-density urban environments. I'm very happy to have reduced my carbon footprint by moving to Manhattan.
Where do you live?
On Claremont Avenue.
What's your favorite spot in New York City?
My apartment.
Do you have a green space in your apartment?
No, but Riverside Park is great.
Interview and photo:
Ethan Rouen '04J
Watch DeFries talk about the challenges of working in her field: